---
Reading Time:
9
minutes
THE WEEK THAT WAS: Pressure is mounting on the AFL to adopt a send-off system for unacceptable head-high violence – and rightly so, writes RON REED.
BILLY SLATER has a wife and kids and many friends and fans, this column certainly one of the latter. For all concerned an already painful and pretty angry week must have become frightening when one of the world's most respected newspapers, the New York Times, came up with a stupendous statistic that has ramifications for football in this country. Of 111 NFL players whose brains were examined after they died, 110 had been damaged. That's 99 per cent. It wasn't much less for players from lower grades of the game, where the physical collisions would not have been quiet so violent.
These mind-numbing numbers were aired just days after the popular Melbourne Storm star was KO'd by a cheap-shot late tackle by Canberra's Sia Soliola, with a judiciary hearing told that Slater had lost his memory for the preceding fortnight. Not just the match, and prominent sports doctor Peter Brukner stating that such a blow could have been fatal. And yet, in another grim hit for the image of the most crash 'n' bash code of them all, the perpetrator was not even sent off, a decision that has been unanimously labelled absurd. He was suspended for five weeks, a hefty penalty in most circumstances – but was it enough here?
The AFL will have watched this dangerous drama unfold with intense interest. It has never had a send-off system and remains extremely reluctant to consider one, although it may soon have little choice but to revisit the issue. There are many differences between League and AFL and there is usually no need for knee-jerk reactions in one because of what might happen in the other. But the need to wipe out hits to the head – by whatever means available – is plainly mutual. That's why the AFL is coming under greater pressure than ever before to adopt the red card.
There have been at least three incidents this season – Bachar Houli and Thomas Bugg in the big league and former AFL executive Ali Fahour in the burbs – drawing extra attention to it and the clamour is growing louder from many voices, both well-known and rank and file. Gerard Healey, Chris Judd, John Longmire, Luke Hodge, Dyson Heppell, Leigh Matthews, Mick Malthouse, Terry Wallace and Jimmy Bartel are among those who have expressed some degree of support for it in the past year or so, albeit with some equivocation about how, when and why such a rule would be applied. That's a pretty powerful cross-section of concerned expertise.
And in its annual fans' survey, the Herald Sun has found that 83 per cent of supporters backed tougher penalties for serious indiscretions. They were far less adamant about the need for a red card, 48 per cent supporting it and 51 per cent not, but while there were no such figures reported from previous years it would be a surprise if the yes vote was not growing. Certainly, it is significant enough already to give the boss Gill McLachlan food for significant thought.
The footy-obsessed daily is also to be applauded for having an overdue crack at the players responsible for much of the mayhem that has long been excused on the grounds that it is just part of a game for tough men. Senior writer Jon Ralph has named names, going so far as to label Giants serial offender Toby Green as the game's biggest sniper, and compiling a sort of rogues gallery – if rogue isn't too soft a word – that includes champions of the ilk of Luke Hodge, Jordan Lewis, Steve Johnson and Jack Ziebell, among several others whose tribunal attendance records are way out of whack, so to speak.
When asked last season, McLachlan insisted there was no need for the red cards because the game was heavily scrutinised and offenders properly punished as it is. As well, there would be significant complications in applying it, he said. But this week, a spokesman told the Herald Sun that a review would be conducted with the laws committee and the match review panel at the end of the season – presumably that means the cards will be part of it.
There is also the matter of what happens when a coward punch prematurely ends a star player's participation in a grand final while the perpetrator plays on, safe from expulsion and the victim's team plays a man short. The uproar if this ever happens will be something to behold. There are more than enough reasons that it is time to paint the game red.
FRANK SEDGMAN is soon to turn 90 so there are not many, if any, people who have watched more tennis than the man who kick-started the Australian tennis dynasty in the 50s, winning two Australian Opens, Wimbledon and the US Open as well as dominating the Davis Cup. And he is not impressed with what he saw at Wimbledon recently.
Speaking at the monthly lunch of the Vingt Cinq Club, the gathering of old identities from various sports and the media, the disdain dripped from his voice as he said he had watched one player not try at Wimbledon and another cry into his towel during the final. "I think tennis has dropped a rung or two and we have lost respect for some of the top players," he said.
Sedgey, one of the most dedicated and fiercest competitors in his day, would have choked on those words about the game he loves. Bernard Tomic, of course, deserved the whack, while Marin Cilic did attract a bit more sympathy in other quarters for his breakdown, on the grounds that it was disappointment that an injury was ruining the biggest moment of his career, not mental weakness.
SEDGEY IS usually the oldest person at the VCC lunches, although it must be said the average wouldn't be much short of 70. The RSL of sport, we call ourselves. But this time he was reduced to junior status by former VFL umpire Ken Wolfe, who is 91. As Nick La Galle's photo shows, both men are still in very good nick. Wolfe recalled that his first match was the first for triple Brownlow medallist Bob Skilton, another club member. Wolfe said he was told he was making his debut at training on one Thursday night in 1956 but because it was the Queen's Birthday weekend the match wasn't until Monday "so I had plenty of time to be nervous." Asked who was the best umpire he saw, he said: "Ted Whitten, the best ever!" Wolfe would not, of course, be the only man in white who benefited from the irascible old Footscray champion's unasked-for advice. Skilton, who is also looking as fit as a fiddle again after a number of lengthy hospital sojourns, was asked whether he was coached to be as good as he was. "My old man used to take me for a kick in the park and wouldn't kick it back to me unless I used both feet, which came in very handy later," he said.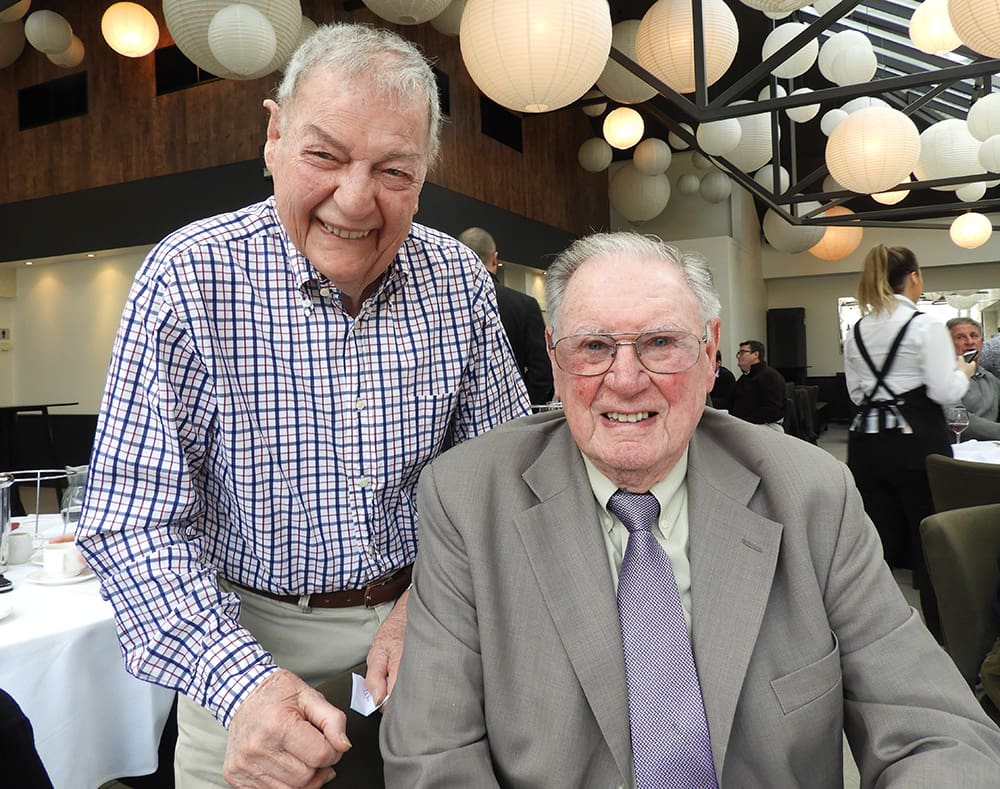 PETER DOOHAN, who has just died of motor neurone disease at age 56, was a good enough tennis player to reach 43 in the world, but his main claim to fame was knocking the then dominant Boris Becker out of Wimbledon in 1987. I know, I was there. Well, should have been. It was a Friday afternoon, I didn't have to file for the Sunday papers, so because it was a milestone birthday _ for me, not Doohan _ I decided to have a celebratory lunch with a couple of like-minded colleagues rather than watch a match the little-known Aussie was sure to lose and which would therefore be unnewsworthy. I paused only to request an interview with an Indian player, whose name I have forgotten, for late afternoon.
When we went to pay for the meal — and the champagne – the restaurant owner, twigging our accents, asked why we weren't back at the courts watching our man pull off the biggest upset of the tournament. Oops! First we knew of it. I scurried back just in time for the Indian interview and too late to cancel it. He too expressed deep puzzlement that an Australian journalist would be wanting to talk to him given what had just transpired. The interview was never published.
And I was too late to interview the Becker-wrecker, as Doohan instantly became known. Moral? Never turn your back on an underdog Aussie at any big sports event – you just never know. At least it ended well – that was the year Pat Cash won.
HAVING worked closely, on both sides of the fence, with Australian Olympic Committee boss John Coates and his controversial media director Mike Tancred at five Games, I get no joy from watching Tancred's reputation compromised, to say the least, by a severe reprimand after a panel of retired judges found he had engaged in disreputable conduct. Bullying another executive, Fiona de Jong, in other words. But I have to say I am surprised that Coates has left the door open for him to return to the job, saying: "It doesn't mean you don't employ him. It just means that he's got to understand the outburst he had was totally inappropriate, and for which he has apologised." Even for someone of Coates' legendary ability to get things done his way, this might prove a hard sell on the long road to Tokyo 2020.
AFL PLAYER OF THE WEEK
Well, he's no longer a player – though he was a pretty handy one with Fitzroy and Collingwood – but GARY PERT gets the nod anyway for the dignified, emotional manner in which he handled his departure as chief executive of the Magpies. Jumped or pushed? Doesn't really matter in this context.
WINNER OF THE WEEK
Basketballer PATTY MILLS, a permanent inclusion on this column's list of the most watchable athletes in Australian sport, picked up a four-year contract worth $65m, or $16.5m a year, with the San Antonio Spurs, reportedly making him the second highest paid Australian sportsman behind golfer Jason Day, who earned $23m last year. Mills then won more friends than he already has by lamenting that his lucrative commitments will prevent him playing in next year's Commonwealth Games.
LOSER OF THE WEEK
NICK Philippoussis, father of former Australian tennis star Mark, spent the week behind bars in America after being accused of 14 molestation offences against young players who were taking tennis lessons from him. Two of the charges related to a child under 10. Bail was set at $2.5 million and so far no-one has antied up.
YOU READ IT HERE FIRST
For a dude who won two Grand Slam tournaments, two Davis Cups and was unofficially ranked three in the world, tennis star Merv Rose's death at 87 passed with surprisingly little acknowledgment in the mainstream media. Not here. We explained why Rose was never a fan of the legendary coach Harry Hopman, which was never a good career move in those long-ago days.
THEY SAID IT
"Looking at the line-up of Sportshounds.com.au I get an intense feeling of nostalgia. It reads like a Sun or a Herald Sun team of three decades ago. Good luck to all involved." Thank you to controversial public affairs commentator ANDREW BOLT, with whom many of the Hounds go back a long way.
"It doesn't mean you don't employ him. It just means he's got to understand the outburst he had was totally inappropriate, and for which he has apologised." Olympic supremo JOHN COATES stands by his severely reprimanded main man, media director Mike Tancred.
"It might be the very best thing that's ever happened to our footy club, that we've been challenged by injury and challenged by some early-season form." Hawthorn coach ALISTAIR CLARKSON seeks – and finds – a silver lining.
"I just about collapsed. I couldn't believe it." Long-retired footballer JOHN RANTALL remembers the golden olden days when North Melbourne produced a bag stuffed with more money than he had ever seen to lure him away from South Melbourne.
"It's been a tough day at the office." Former cycling star PHIL ANDERSON wakes up in hospital after a training ride fall he can't remember, with a collarbone and all his ribs on one side broken.
"My biggest fear is that I won't love the baby as much as I love Izzy – I love Izzy our Rottweiler to pieces (laughs) – but I'm sure I will once she arrives. I can't wait." Collingwood footballer TYSON GOLDSACK is adjusting for impending fatherhood.
"You enjoy it when it happens because a lot of times it doesn't." Racehorse trainer ROBERT SMERDON speaks for everyone who has ever had a bet on the neddies.
"He has the talent to become probably Australia's greatest-ever cyclist. I can't see a classic he can't win. The world title is just a matter of time." Retired champion STUART O'GRADY might be Tour de France green jersey winner Michael Matthews' biggest fan.
"That's the sort of thing that not only breaks a jaw and gives concussion, it kills people. We have people die every weekend from getting king-hit in nightclubs and on the street and you don't have to be hit any harder than Billy." Sports doctor PETER LARKINS says rugby league star Billy Slater was lucky to escape as lightly as he did from being KO'd by Canberra's Sia Soliola.
"She feels to me as if she has strengthened up a little bit with natural development and it's probably as good as she has ever trialled in all honesty." Jockey HUGH BOWMAN has bad news for wonder mare Winx's rivals – she might be getting better.
"I think there's a reasonable expectation that if you're going to host a television show you're in good nick to do it and that you're visually appealing to the audience. The weird part is that I actually lost 16kg. But I'm still overweight. It was just too far to come back in such a short period with the commitments I've got. That probably sounds like a bit of a cop-out because I could have got myself in better nick. No question." CRAIG HUTCHISON sizes things up honestly after losing his job as host of The Footy Show.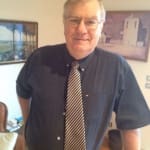 Author:
Ron Reed
RON REED has spent more than 50 years as a sportswriter or sports editor, mainly at The Herald and Herald Sun. He has covered just about every sport at local, national and international level, including multiple assignments at the Olympic and Commonwealth games, cricket tours, the Tour de France, America's Cup yachting, tennis and golf majors and world title fights.
Comments
comments
0 comments