---
Reading Time:
5
minutes
A TRAUMATIC introduction into the high-pressure world of the Davis Cup did not stop Mervyn Rose from becoming a star, writes RON REED:
MERV Rose, a prominent member of the golden era of Australian tennis of the 1950s, had an impressive list of achievements, including a role in two Davis Cup victories against the might of the USA. His overall career deserves better than to be remembered for the first of those, in which he was a highly controversial selection – and lost both his singles matches.
Rose, who has died aged 87, was picked to play in the Challenge Round in Sydney in 1951 despite the famous coach Harry Hopman not wanting him in the team. Hopman was over-ruled by an even more powerful figure, Sir Norman Brookes, the chief selector, who wanted Rose because he was a left-hander even though the right-handed Ken McGregor was in better form. Brookes, once a highly successful left-handed player himself, believed that the Sydney venue's prevailing breezes assisted the serve of left-handers and insisted on getting his way even though Hopman offered to take full public responsibility if McGregor was selected and failed.
The other singles player was Frank Sedgman, who was virtually unbeatable in singles (won 16, lost 3) and doubles (won 9, lost 0) in Davis Cup play and given that he and McGregor were also practically invincible as a doubles pair, the second singles slot was not necessarily going to be crucial, which turned out to be just as well. When the draw was announced in the Australia Hotel on Christmas Day, there was a moment of complete silence – then a spontaneous round of applause, presumably to congratulate Rose, broke the tension. According to Sedgman, though, McGregor was so furious he wanted to pull out altogether.
This was a huge occasion, the first Challenge Round played in Sydney since 1910, a gap of four decades. In his book, The Story of the Davis Cup, the late Alan Trengove, then Australia's leading tennis writer, said that extra seating was installed at White City to increase the capacity to 15,300 and hundreds of people attended practice sessions. Davis Cup news dominated the front pages as well as the sports and social pages of the newspapers all over the country and by the time the event started the nation was in a state of high excitement. Sedgman recalls he and Rose driving through such big queues of people on the way to the stadium they had to tell police who they were for fear they wouldn't be able to get there.
McGregor's mood wasn't improved when Rose promptly lost the first rubber to Vic Seixas 3-6 4-6 7-9, a reasonably close scoreline in a match Sedgman remembers as "a slaughter." Sedgman accounted for Ted Schroeder in four sets, leaving the question of how McGregor would perform in the doubles given his bitter disappointment. He was so emotionally churned up, according to Trengove, that he couldn't focus on practising and went for a run instead. In my book about his life GAME SEDGE & MATCH, published three years ago, Sedgman said: "He was still mad as hell. He said to me, 'We'll beat these bastards,' and so I told him to serve first. He served an ace first ball and I thought, 'We're off to a good start here.'" They beat Schroeder and Tony Trabert in straight sets, putting the pressure back on Rose, who had to play Schroeder.
This was Rose's big opportunity. The American knew his own lacklustre doubles performance was a sign he was just about at the end of the road. He had one big match left to play and his pride made him desperate to win it. Only Rose stood in the way. He went to legendary team captain Jack Kramer's room on the eve of the match and asked to play cards. During a game of gin rummy that lasted until 4 am they indulged in some nostalgic memories of the heights each had scaled. Then Schroeder suggested they go for a walk They strolled around Sydney until sunrise, returned to the hotel and had breakfast. Without sleep, Schroeder then began to get ready to play.
Relying on nervous energy, he beat Rose 6-4 13-11 7-5 in a battle royal, Rose making him fight for every point. Such was the tension throughout the match that Sedgman's shirt was saturated in sweat – and he was only watching. A few minutes after it finished, Sedgman was back on court for the decider against Seixas, which he won in straight sets, a win that catapulted him into the status of national sporting hero a year before he would go on to win Wimbledon and the US Open.
Rose waited a relatively long time before he was able to play a more satisfying role in a second Cup triumph. In 1957, in Melbourne, he and Mal Anderson defeated Seixas and Barry McKay in straight sets in a 3-2 win over the States. Asked now whether the earlier loss at such an important time in his career might have set Rose back on his heels a bit, Sedgman said: "I think it did get him down to a certain extent. It was unfortunate."
Rose, who was known for his fiery nature – someone once labelled him the John McEnroe of his day – did not forget that Hopman had shown so little faith in him and the pair never got on. "Harry never liked me much," Rose told sportswriter Harry Gordon in the book Young Men In A Hurry. "I was a bit older than the others and I used to like to think for myself. He always used to encourage us to say nothing to the Press or anyone else … no wonder they used to call us the dumb Australians. He never once showed me how to hit the ball but he was great on conditioning.
"The year I was finally chosen to play in the Davis Cup after being in the squad six or seven times, Hopman fought tooth and nail to keep me out. Oh, I must say it's nice to read in the paper that your captain is bitterly opposed to your being in the team."
Rose said it was no different in 1957. "He didn't say a word to me. I played in the doubles and we won the Cup. It was the biggest thrill I ever got out of tennis but Harry Hopman didn't contribute to it in any way."
In 1952 Sedgman played Rose in the semi-finals of three Grand Slam tournaments – the Australian, Wimbledon and the US – and beat him every time.
None of that prevented the popular Coffs Harbour-born star carving out a highly impressive CV, winning the 1954 Australian Open and 1958 French and making the semis of Wimbledon three times and the US once. He was unofficially ranked No 3 in the world in 1958, turning pro the following year and winning two major tournaments there. He coached numerous male and female players, including Billie Jean King, Margaret Court and Arantxa Sanchez Vicario. He was awarded the Australian Sports Medal in 2000, inducted into the International Tennis Hall of Fame in 2001 and the Australian Tennis Hall of fame in 2002. He was appointed a Member of the Order of Australia (AM) in 2006 for service to tennis.
Like most tennis players of his era, he enjoyed the life. "We played for fun and the locker room was full of card games," he told his home-town newspaper, the Coffs Harbour Advocate, a few years ago. "Now it's just agents making big money deals. Players these days get paid $50,000 just for turning up for a tournament. In my day there was no money."
He loved the tough situations, citing his five-set win over local champion Nicola Pietrangeli in the final of the 1958 Italian Open as his best win. "I outplayed him all match and the crowd didn't like to see their local champion defeated so they pelted bottles and cans at me," he said. "I was in such a hurry to get off the court I never did get my hands on the trophy."
Sedgman, who is rising 90, paid tribute to his old sparring partner, saying: "He was very quick around the net, had good reflexes and hit hard. He was a good interceptor, probably better at doubles than singles. He was good to travel with, always playing practical jokes. There were always light-hearted moments instead of being tied down by Harry Hopman's discipline. McGregor and I played him and his doubles partner Don Candy often and there was a lot of camaraderie. He was well-liked around the world because he liked to have fun."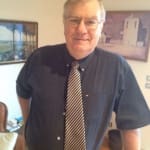 Author:
Ron Reed
RON REED has spent more than 50 years as a sportswriter or sports editor, mainly at The Herald and Herald Sun. He has covered just about every sport at local, national and international level, including multiple assignments at the Olympic and Commonwealth games, cricket tours, the Tour de France, America's Cup yachting, tennis and golf majors and world title fights.
Comments
comments
0 comments