---
Reading Time:
6
minutes
SEVEN DAYS IN SPORT: AS usual, there was a lot to like about the Test skipper's performance when the waters got choppy, writes RON REED.
PAT Cummins had another impressive win this week.
But he was also reminded that you can't please all of the people all of the time. The Test captain was widely applauded for his explanation of his and his team-mates' role in the messy departure of coach Justin Langer, and so he should have been.
It was a classy performance – honest, unevasive, dignified, thoughtful, committed to the team's unity and respectful and grateful to Langer, while also comfortably deflecting the flak he had been getting from former players of other eras who had been claiming he had led a dressing-room mutiny against the coach.
And yet, he still has plenty of critics who believe he hasn't come completely clean on the full story of why the upheaval was deemed necessary, or at least desirable.
What more do people want from him?
He confirmed what has been common knowledge for months, that the players were uncomfortable with Langer's intense style and unconvinced that the tweaks he had made to it were sustainable, and that he had been told that to his face consistently for two years.
There was nothing to be gained by spelling Langer's perceived shortcomings out chapter and verse, so Cummins didn't.
Much has been made about Cricket Australia surrendering to "player power" but why shouldn't the people who are actually best placed to understand the dynamics of the dressing room not be entitled to an opinion and to have it listened to – not necessarily acted upon, but acknowledged – when the road forward is being charted?
That applies to nobody more than the captain – or both captains in this case, with white-ball leader Aaron Finch also included – who is, after all, more in charge, more responsible for results, than the coach. Or should be.
That may or not have been the case with the previous incumbent, Tim Paine, who came into the job at the same time as Langer but with less obvious seniority and untested authority, as well as vastly different circumstances.
But as brief as Cummins' reign has been so far, it is already apparent that he is running the show, and that is a very good thing. He has instilled a crisis-proof calmness and confidence and greatly enhanced the team's once controversial image by insisting on conduct that does not push the boundaries of the elusive "spirit of the game."
"We understand the importance of always playing to the highest ethical standards," he said.
He says the dressing room is harmonious and motivated.
And so far at least, he is a winner – undefeated in four matches in charge.
All in all, then, there has been nothing not to like about his leadership, either its style or its substance.
That's why it was so disappointing to hear former team-mate Mitchell Johnson call him gutless in a newspaper column, and to suggest that the players had reduced the baggy green cap – the pride of Australian sport – to a symbol of selfishness.
If there was an award for the stupidest public commentary of the summer, Johnson wins hand down – and should have apologised by now.
Johnson and others seemed to believe that Cummins was dodging his responsibilities – and hanging Langer out to dry – by having nothing to say while Cricket Australia dealt with the biggest upheaval to cross their desks, probably since the sandpaper scandal that brought Langer to the job in the first place.
But as Captain Pat correctly pointed out, it wasn't his decision to make and until it was made whatever he might say could only inflame an already delicate and damaging scenario.
Embed from Getty Images
When the right time arrived, he made both a written statement and invited questions, which he answered without exception – and did a far better job of it than the CA CEO Nick Hockley was able to do a day earlier.
I'm not sure what more he could have done.
Also, there is no reason to doubt that Cummins' respect and empathy for the ex-coach was sincere. "We owe him a lot, both as a team and me personally – and he will always be a welcome face in the dressing room," he said.
As for Langer himself, he has handled himself superbly throughout this difficult and long-winded affair.
He believed he was still the right man for the job – and given the undefeated results of the last four months – he is fully entitled to that view, so he elected to dig in and fight, as he always did when he played.
And when CA's response was a token offer of a six months extension, he took it as the insult that it was and walked way – but without firing any bitter bullets as he went.
Indeed, he offered an apology "if" his coaching style had been too intense, which Cummins said was unnecessary. He was dignified, humble and conciliatory. Unamicable exits do not come much classier than that.
If he has lost one battle, then Langer has certainly won another – in the eyes of the vast majority of the cricket public, he has been harshly treated and lost no respect or admiration.
The biggest loser has been Cricket Australia, who took far too long to come to grips with a situation that had been simmering for at least a year, and when they finally did they searched for a devious way of making Langer resign rather than looking him in the eye and telling him his time was up.
The decision to move on – "to transition to a new coach more suitable for the future," as Hockley put it – was not necessarily wrong, and in fact quite possibly correct given that all coaches have their use-by dates. Ask Alistair Clarkson.
But the way they have handled it has earned the scorn of vast sections of the cricket public, and recovery from that could take a long time.
They are lucky they have a Test captain with so much popularity, goodwill, respect, integrity and authority to "calm the waters," to employ one of his own favourite expressions.
RON REED is the author of the upcoming book CAPTAIN PAT: Cometh the Hour, Cummins the Man, about the events of the 2021-22 Ashes summer.

SPEAKING of use-by dates – and disingenuous admin manouvering – the Poms haven't missed many as they look for scapegoats for the Ashes disaster. Director of cricket Ashley Giles, coach and sole selector Chris Silverwood and batting coach Graham Thorpe have bitten the dust, while batsmen Rory Burns, Haseeb Hameed, Dawid Malan and Josh Buttler, wicketkeeper Sam Billings, spinner Dom Bess and veteran pace bowlers Jimmy Anderson and Stuart Broad have all been left out of the team to tour West Indies next month.
So it's finally the end of the road, is it, for Anderson, 39, and Broad, 35, with 1177 wickets between them? Well, the new interim boss, Andrew Strauss, claims it's not, that they're still "in the conversation" for the following home summer. Sounds to me like yet another example of decision-makers wanting to make a hard call but not quite brave enough to do it. Needless to say, both old-timers are far from chuffed, as they were – justifiably – about their selectorial treatment in Australia. It will be a shame if they do have to exit on anything but their own terms, perhaps even acrimoniously. Still, they must know they can't go on forever.

AT last some mainstream media scrutiny of the AFLW in the Hun this week, with Robbo pointing out that interest is waning for a range of reasons. He's right, of course, and it has been for at least three of its five years, with average crowds declining from about 6000 to about 4000 to about 2000 and now the most recent 10 games have pulled a tick under 1500 each. And it's costing a poultice to run.
So good luck to Melbourne player Libby Birch who filled some prime space in the Age sports pages to optimistically argue that the time had come for the girls to play regularly at the MCG. Of course that would be a feel-good experience  – and no-one would begrudge it, as such – but it is an expensive exercise opening the great stadium for anything and the "crowds," such as they currently are, would barely be visible.  Get real. There are more important issues for this cohort to worry about if they are going to survive, let alone thrive.

THE term "colourful racing identity" does not necessarily carry positive connotations, but it certainly applies – and in the best possible way – to Jack Styring, who died this week just before his 93rd birthday. Jack was best known – and very well known – as a race-caller at bush meetings, mostly in northern Victoria but most prominently at Hanging Rock, where he also served a stint as chairman. All callers have their own style and he was certainly no exception, employing a litany of unique expressions that did not necessarily add to the information he was imparting but unfailingly entertaining, all with a distinctive delivery.
Embed from Getty Images
In later years he was a permanent presence in the Press room at city meetings, joining in press conferences with trainers and jockeys, tape recorder in hand. Whether the results of this diligence were ever published, or where, was a mystery but it didn't matter – he was such a friendly and interesting character he was just welcome to be there. He will be missed.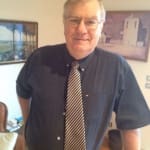 Author:
Ron Reed
RON REED has spent more than 50 years as a sportswriter or sports editor, mainly at The Herald and Herald Sun. He has covered just about every sport at local, national and international level, including multiple assignments at the Olympic and Commonwealth games, cricket tours, the Tour de France, America's Cup yachting, tennis and golf majors and world title fights.
Comments
comments
0 comments