---
Reading Time:
3
minutes
AN unlikely hero defies a surprise England fightback at the MCG, writes RON REED.
A THING of beauty, it wasn't – far from it. And satisfied by it, he certainly wouldn't be.
But Marcus Harris will find plenty of positives about the 76 he cobbled together against England at the MCG on Monday, the most obvious of which is that it has pulled his stuttering Test career back from the brink of oblivion.
That's the personal perspective.
Of broader importance, perhaps, is that without it Australia would have struggled to catch England's mediocre offering of 185 which they finally did midway through the second afternoon with all five specialist batsmen – and the nightwatchman – back in the shed, Cameron Green having now been widely identified as a bowling all-rounder.
The best way to measure the value of Harris's contribution is that it was more than all the big guns, David Warner (38), Marnus Labuschagne (1), Steve Smith (16) and Travis Head (27) were able to assemble between them against the best English bowling of the series so far.
When you look at it that way, it was priceless – and might yet be looked back on as a crucial component of the Ashes defence.
Embed from Getty Images
As they say, cometh the hour, cometh the man.
There was a real and unsurprising sense that the 40,000-strong MCG crowd—the native West Australian's adopted home crowd — were willing him to make a hundred for the first time in his 13 Test career, his previous highest being 79 against India in Sydney nearly two years ago, one of only two previous half centuries.
In four previous innings in this series he had managed a total of only 38 and a statistical flagging as one of the most poorly performed opening batsmen ever among those who had been givn a reasonable crack at it, as he has.
More of the same today would likely have spelled the end, given he is 29, and despite the undertaking by chairman of selectors George Bailey to give him every chance to prove himself.
That might have been the case when he was given out lbw to Ben stokes 36, only to be reprieved by the third umpire. He was also let of on 63 when wicketkeeper Josh Buttler's unagile footwork saw a clear stumping chance off spinner Jack Leach go begging.
There were plenty of other uncertain, unconvincing moments but in the end he occupied the crease for 189 balls across three sessions, shrugging off a bloodied finger the night before, before nicking James Anderson into the slips.
It wasn't quite job done – not by a margin – but it deserved the applause it got.
England, as belated as it was, finally enjoyed a day they could be proud of, thanks to Anderson and Mark Wood.
Anderson also disposed of Warner, Smith and Cummings to finish with 4/33off 23 overs at an economy rate of 1.43 and no wides or no-balls — immaculate, in a word. One six-over spell going for one run (a dropped catch) and claiming the massive wicket of Smith.
It was England's first bag of more than three wickets for the series, when it really deserved to have been his 32nd career five-for and second in Australia.
It was the sort of elite performance that his status as the most experienced and successful pace bowler in history suggested was always likely to unfold eventually, especially on the most bowler-friendly MCG pitch in recent memory.
Wood's tireless fierce pace also kept the pressure rating high, while Ollie Robinson picked up a couple of handy scalps without quite shutting down speculation that on this surface he really should have made way for Anderson's old partner and foil, Stuart Broad.
It brought the match alive and restored a pulse to the tourists' hitherto forlorn hopes of coming back from two-nil down, a feat not achieved since Don Bradman's troops did it the best part of 100 years ago.
It helped that the catches were taken, three of them by under-siege skipper Jack Root at first slip, who was once again coming under plenty of fire in commentary boxes and on social media for failing to turn the screws aggressively enough when he had the Australians with their backs to the wall pretty much for the first time.
With three days to go, could England possibly pull this match back out of the fire and keep the series alive?
Well, with Australia leading by a handy 82 it's unlikely but if Harris can turn his feeble form into a forcible fightback, there is theoretically no reason why they can't do the same – and set the hosts a challenging chase on the fourth or fifth day.
Much stranger things have happened. At least it's finally game on!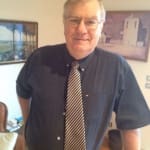 Author:
Ron Reed
RON REED has spent more than 50 years as a sportswriter or sports editor, mainly at The Herald and Herald Sun. He has covered just about every sport at local, national and international level, including multiple assignments at the Olympic and Commonwealth games, cricket tours, the Tour de France, America's Cup yachting, tennis and golf majors and world title fights.
Comments
comments
0 comments