---
Reading Time:
7
minutes
SEVEN DAYS IN SPORT: He's the tennis player Australian fans have loved to hate, but Nick Kyrgios seems to have sorted himself out, writes RON REED:
OK, NICK Kygrios … you win! Fingers crossed we don't ever regret saying this, because leopards don't usually change their spots, not totally and permanently. But the time has come for sports fans to fully embrace the wild child of Australian tennis for who and what he is – namely, a lavishly gifted racquet wielder who may or may not ever win a Grand Slam tournament and who won't lose any sleep if he doesn't. And if that doesn't bother him, what good reason is there for the rest of us to let it bother us?
Kygrios's colourful presence is good for tennis because he is an entertainer and an x-factor. The unpleasant, immature antics of his early years, which put so many people off-side to the point where there was a sort of national uprising against him, otherwise patriotic fans barracking for his opponents, have been toned down almost to vanishing point.
There has been a feeling for a couple of years now that the penny has dropped both for him and for his many critics and that he has been turning his image around. People, I think, have always wanted to like him, even begrudgingly, because there seemed to be so much up-side to his game, if not necessarily his personality, but he made it too hard to do so. Now it's getting easier.
That seems to have solidified at Wimbledon this week, where he arrived at the last minute declaring that he was "on vacation" but confident he could do some damage because he knew that nobody – and he meant nobody, Djokovic and Federer included – would want to play him.
Sure enough, he won his first two matches, beating Franchman Ugo Humbert in five sets spread over two days and Italy's Gianluca Mager in straight sets, with another winnable assignment coming up, as we write, against Canadian Felix Auger Aliassime, 20, who is ranked 17.
The match against Mager and its aftermath in what has often been another field of combat for Kyrgios, the interview room, were both positive experiences for him and for those who watch and comment on him.
Embed from Getty Images
He smashed 29 aces and 48 winners and on match point asked a fan where he should serve, leaning over as the woman whispered in his ear. He walked back over the baseline, served and volleyed and then thanked the fan before shaking hands with Mager. He later walked over and tossed her a ball in gratitude.
There is no script for that sort of stuff, at least not with any other player from any other country.
"I feel like the public and the crowds have really embraced me and really enjoyed me being back," he said, getting no argument. "I feel like I've got a lot to offer for this tournament."
Kyrgios admitted that the constant criticism that he wasn't trying hard enough to make the most of a God-given talent most sportsmen would kill for had worn him down to the point of depression and left him unable to enjoy the sport.
That borders on sad and probably explains a lot, but now, at 26, he's having fun again and has come to terms with what he wants to get out of his career.
"I'm OK with not winning Grand Slams," he said. "I know that's going to make a lot of people angry – 'he should be doing this' – but I shouldn't though. It's not your life, it's mine. I'm OK with just enjoying myself, putting on a show. Not everyone can be a Djokovic or a Federer.
"These are once-in-a-decade athletes that inspire millions of people. They're just gods. I seem them as that, too.
"You have to have some people, I believe, that are relatable, that people can bring other fans to watch, people that are just normal. I feel I am one of those people. I'm Nick Kyrgios, I know who I am."
Well, if that's who he authentically is, the Nick Kyrgios who has been on display this week and for some time now, then Australian tennis is in a much better place, whether or not he manages to go any deeper into Wimbledon. Hopefully it's not an illusion.
It's been a good few days – make that nights, sitting in front of the TV for most of us, switching back and forth from the tennis to cycling's biggest event, the Tour de France – with Ash Barty also winning her first two matches and sundry other Australians having moments in the London sun.
Whether you're there on the spot, as I have had the privilege to be a few times, or watching from afar, there is something quite beguiling about the first few days of the world's most famous and prestigious tournament that sets it apart from the other three big ones.
Everything is so immaculate, so pristine, so dignified, so traditional. The grass is immaculate, the players are in old-fashioned white clobber and the linesmen – some of them at least – wear pinstripe blazers and ties. I mean, who wears ties anywhere these days, let alone on a tennis court?
Djokovic was on the money when he said: "It is the most special, sacred tennis court in the world."
This time last year, of course, Wimbledon didn't happen, a victim of the pandemic – the only one of the big four to succumb. Maybe that's why it seems even more magnetic now.

The big bike race is also back to near-normal after being delayed for two months last year. While there is little doubt that Australian interest in the great race – at least in the mainstream media, but also among sports fans generally – has diminished over the last four or five years, it has been good to see Cadel Evans popping up on the TV coverage again.
This year is the 10th anniversary of his historic feat in becoming the first Australian to win the Tour, which I thought at the time was this country's greatest individual sporting feat of the past 50 years, at least. I haven't changed my mind.
Evans was a gritty character whose single-minded approach sometimes made for an uneasy relationship with the media – and no, that wasn't always just me! – but as anybody who has read his excellent autobiography, The Art of Cycling, would confirm, he has a huge amount to offer to students of the sport every time he opens his mouth or picks up his pen.
Judging by his stint in the SBS commentary box the other night, he isn't afraid to call it as he sees it either.
Embed from Getty Images
Unhappily, Australia's interest in this year's race nosedived – literally – when gun sprinter Caleb Ewan crashed near the finish of stage three, breaking his collar-bone in several places and abandoning.
Ewan, who I watched with great interest from close quarters as he rose through the domestic ranks as a teenage tyro, is now arguably Australia's No 1 road racer, and was in the sort of form coming into the tour that good judges were tipping him to win as many as three of four stages and perhaps the coveted green jersey for best sprinter. He will come again.
Australia's only WorldTour team, Bike Exchange, got off to a promising start when talented veteran Michael Matthews finished second on day one, but the stage wins for which the outfit have set themselves are proving elusive.
At least the team is still there flying the Australian flag into its second decade. Rumours have persisted about its future for some time but its owner, Melbourne businessman and sports entrepreneur Gerry Ryan, recently announced a new sponsorship deal with the Royal Commission for AlUla, in north-west Saudi Arabia. This is described as a "boutique heritage and cultural destination" hoping to attract tourists interested in the arts, nature and adventure in a place with a history dating back 200,000 years.
It's not what you'd call a cycling heartland – the Arabs are more interested in racing thoroughbred horses, another of Ryan's passions – but after an earlier deal with a Spanish business tycoon fell through last year, the team have welcomed them aboard with open arms.

BY NO means for the first time, the fight game has been its own worst enemy this week, with Victorian boxer Michael Zerafa pulling out of his highly-anticipated clash with the emerging champion Tim Tszyu, scheduled for Newcastle in the coming week. Zerafa claims to be worried about travelling into NSW where covid is creating problems, but Tszyu's camp rightly point out that the virus has not surfaced in Newcastle and accused Zerafa of cowardice and declared that he would never be allowed to fight on TV again. In other words, his career has been shot to bits without him even stepping into the ring. It is a very strange situation. Cowardice is a very strong word. It is fair to suggest that anyone who takes up professional boxing is courageous, some more than others of course. The ring has never been any place for someone who is basically scared – so what gives here? Zerafa has had 32 fights for 28 wins, including one against former world champion Jeff Horn, which is not the record of a gutless wonder. However, he is going to have to do a lot more fast talking to convince most people – especially promoters – that he has any future.
Embed from Getty Images
The sport copped another punch to the head when one of its highest-profile figures, Jeff Fenech, claimed that young heavyweight Justis Huni, who has pulled out of the Olympics after damaging his hand in his recent bout with rugby league identity Paul Gallen, had never really intended to go to the Games. Basically, Fenech poured scorn on the Huni camp for taking the sport for a ride. As with Zerafa, who knows what the truth really is? And the loser is … boxing.

RECREATIONAL golf is said to be on a roll since the pandemic kicked in, which just goes to prove that there is indeed a silver lining to every cloud. But another factor might be the fine work done for seven years now by Golf Australia's highly-regarded communications manager Mark Hayes, an old colleague of mine in the sports department of the Herald Sun. Hayesy moved on this week, not because he and the game had fallen out of love with each other, but simply because it had become difficult to align his residential and professional locations. GA's chief executive, former Cricket Australia boss James Sutherland, didn't have to look too far to fill this important job, with another vastly experienced sports journalist, golf aficionado and one-time cricket writer Martin Blake within shoulder-tapping distance. Just another example of how the sports media in all its forms has become an ever-changing scenario in recent years.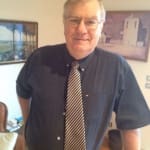 Author:
Ron Reed
RON REED has spent more than 50 years as a sportswriter or sports editor, mainly at The Herald and Herald Sun. He has covered just about every sport at local, national and international level, including multiple assignments at the Olympic and Commonwealth games, cricket tours, the Tour de France, America's Cup yachting, tennis and golf majors and world title fights.
Comments
comments
0 comments