---
Reading Time:
5
minutes
SEVEN DAYS IN SPORT: It's been a Big Bash campaign to forget for Victorian cricket fans — if they actually care, writes RON REED:
CRICKET Victoria would be hoping for a decent finish to the Sheffield Shield season because the Big Bash has been an embarrassment with their two teams, the Stars and the Renegades, finishing second last and last. And it wasn't as if the Big V had any great impact on the Test series against India, either, with Will Pucovski and Marcus Harris playing one match each.
The Shield resumes on February 12 with Victoria playing Queensland, who are top of the ladder, which is all over the place because some teams have played four games, some three and Victoria only two, for two draws. With the competition resuming at the same time as two Australian teams are likely to be touring internationally, you have to wonder whether there will be much interest in what will be heavily depleted contests.
But back to the Big Bash. I sometimes wonder whether it matters to the average Victorian sports fans whether the Stars or the Renegades succeed or fail.
Particularly the Stars, who I decided would be "my" team when the whole shebang started a decade ago. Then, there really was a Victorian flavour. They played at the MCG, Eddie McGuire was in charge, Shane Warne was the marquee player, Cameron White captain, Peter Siddle, Clint McKay, James Pattinson, Rob Quiney, Jon Holland and Alex Keath were home-grown talent, while David Hussey, Matt Wade and John Hastings were playing Shield cricket locally even if they were from elsewhere. Glenn Maxwell and Brad Hodge, who started with the Renegades, arrived later, as did the emerging Peter Handscomb.
Embed from Getty Images
So there was always plenty of reasons to check out the green team, and a very healthy rivalry with the Gades, which resulted in a crowd of 80,883 to watch them go head to head in 2016.
That dynamic has changed dramatically now, even if the rivalry remains intense. Maxwell, the Stars captain, is still the local hero, but wicketkeeper Seb Gotch is the only other home-grown regular (and probably not for much longer) while ex-NSW bat Nic Maddison now plays his first-class cricket with Victoria. Will Pucovski was added to the list but has yet to play a game.
Otherwise the Stars rely on interstaters Marcus Stoinus, Adam Zampa, Hilton Cartwright, Nathan Coulter-Nile, Nick Larkin and the now-sacked Ben Dunk, as well as various internationals who have come and gone without much impact.
All teams recruit heavily, of course, but at least the Renegades are making a point of encouraging probably the three best young talents in Melbourne (other than Pucovski) in Jake Frazer-McGurk, Mackenzie Harvey and Will Sutherland.
How much any of this matters – if at all – in a competition that is far more about entertainment than state bragging rights is a moot point, but Cricket Victoria is a proud organisation, and seeing both of its teams – and it is responsible for both – languishing on the bottom, the first time they have ever missed the finals simultaneously, and with just one flag between them in a decade, cannot sit comfortably, surely.
Operations manager Shaun Graf's seat might be becoming uncomfortably warm, especially as he has had run-ins with former State captains, the late Dean Jones and Darren Berry, over personnel issues. Another former Victorian star, fast bowler of the 70s and 80s and an experienced coach, Ian Callen, is also a regular agitator on social media about the lack of opportunities given to young local talent because of what he regards as an unhealthy emphasis on interstate recruiting.
It should be food for thought in Jolimont.

NOT much that Greg Chappell hasn't done along the way: one of the best-ever batsmen, Test and one-day captain, international coach (of India), Australian selector, talent spotter and all-round authority on the great game – not to mention terrific bloke to deal with. With that background, it is no surprise that his latest offering, as a columnist in the Saturday Age, has quickly become a must-read, insightful, forthright and nicely written. Last weekend, I messaged him to say so, for which he promptly thanked me.
But I should have waited a couple of days and killed two birds with one stone. On Australia Day, Greg was elevated to AO in the Honours list, this time not just for cricket but for his work helping homeless people, which he has been doing for a few years now.
Embed from Getty Images
This is one honour that nobody has suggested is anything other than fully merited.
And while we're on cricket stars of yesterday finding new ways to contribute meaningfully to the sport, former fast bowler Paul Reiffel – a sometimes under-rated performer in the 90s – is now as good an umpire as there is going around, and it showed during the India series. The two who stood with him, one-Test bowler "Blocker" Wilson and Shield-level spin bowler Bruce Oxenford, were good too, but "Pistol" is now the pace-setter.

LIKE Dan Andrews, I, too, am tired of sitting through a tedious controversy over Margaret Court's outdated views on life every summer. But she is entitled to hold them and to disagree with people who have different opinions. – as are we all. Those who rushed to denigrate her and the decision to upgrade her status in the Australia Day awards with an AO might want to consider the official explanation, which has now been made public, of why this took place. It was because they wanted to address a gender imbalance with Rod Laver, whose tennis career was roughly equal to hers, but who got the superior gong five years ago. That makes sense. Certainly, if it had been any other female player who had been Laver's equal but not recognised as such in this way, we would never have heard the end of the protests from feminists and other activists. But Court is the only one who qualifies. So she is entitled to the new nod.
I am not usually a fan of Alan Jones' public lectures, except perhaps for his masterful wordsmithery both verbally and in writing, but his take on all this, published the other day, was heavily in support of Court and was superb. It's not hard to find on the internet.

OVER the years, I have interviewed Sam Kekovich about his colourful footy career, and a few of the associated off-field antics, a number of times. It was usually an amusing exercise in linguistic gymnastics because Keka considers himself a master communicator and an expert on the English language – and who am I to dispute that? So nothing changed on Australia Day when the wheel turned full circle and I found myself being quizzed by him, and his partner Leon Wiegard, another master raconteur, on their popular podcast, Sport & Life, to talk about my new book, WAR GAMES, which has just been published. Apart from Sam causing a few ripples when he referred to a lifelong mate of mine, who hasn't had a drop to drink for at least 25 years, as "another old drunk" (I'll try to head off the defamation writ if I can, Sam!)  we got through a lively 45 minutes of chat about my late Dad's miraculous wartime survival of the atomic bomb in Japan and a few of my own adventures in half a century of travelling the world as  a professional observer of many different sports and the people who play them. The feedback has been very encouraging. War Games is available through Wilkinson Publishing, Amazon, Booktopia, other outlets and good bookshops.

THE recently-departed barrister Colin Lovitt, QC, a long-time mate of mine and many other people in the sporting circles in which we have kept each other company, mainly to do with cricket but also the Carlton footy club, decreed that he did not want a funeral, so he was privately cremated. But that won't stop a considerable number of us holding a lunch/wake on Tuesday at the North Fitzroy Arms pub, where former Blues star Percy Jones could usually be found holding court pre-Covid, and who is organising this. There are a lot of stories that cannot be left untold. Other mates of "the Embarrister" are welcome, although it would probably be wise to let the pub know.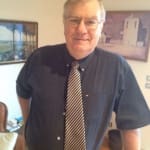 Author:
Ron Reed
RON REED has spent more than 50 years as a sportswriter or sports editor, mainly at The Herald and Herald Sun. He has covered just about every sport at local, national and international level, including multiple assignments at the Olympic and Commonwealth games, cricket tours, the Tour de France, America's Cup yachting, tennis and golf majors and world title fights.
Comments
comments
0 comments