---
Reading Time:
4
minutes
IT'S a pleasure to be back at the MCG on Boxing Day, although not necessarily if you're wearing a baggy green cap, writes RON REED:
WELCOME back! Even as you approached the MCG ample signage made it crystal clear that the great stadium – the old lady of East Melbourne, as it has sometimes been referred to in print – was very pleased to be back in action. And for the 25,000 or so cricket fans who were able to procure relatively scarce tickets for one of the great rituals of the summer, the Boxing Day Test, the feeling was certainly mutual. It's been a long absence – the last time a crowd assembled was for the women's T20 World Cup final on March 8 and the last competitive occasion was a footy match between Richmond and Melbourne on July 5, with no spectators allowed – just cardboard cut-outs. Remember them?
So the return to business as usual was awaited with more than the usual anticipation.
But the "as usual" part didn't really apply. The audience – which would have been at least double and maybe as much as triple in normal circumstances – was scattered thinly around the vast grandstands, diluting the atmosphere – but not be enough to matter. The many bars were unoccupied, only takeaway drinks on offer. Socialising, one of the main reasons people turn up in such big numbers each year, was strictly limited. QR code check-ins were compulsory if you wanted to move far and they didn't always work, while health and safety officers patrolled the aisles and corridors.
A more interesting point of difference was there for all to see out in the middle of the hallowed turf.
The MCG's drop-in wicket has for years now been saddled with an unfortunate reputation as a contest-killer, too sleepy for bowlers to extract much bounce or spin, and difficult for batsmen to play their shots with confidence.
But not this one. Liberally grassed and with some moisture, it looked like it might provide some entertainment, prompting some grizzled observers in the media boxes to declare it the best the ground has offered in recent memory. With 11 wickets falling in the day for fewer than 250 runs, the batsmen might not agree – but the quality of the bowling was more responsible for that than any misbehaviour by the surface.
It had enough character to prompt India's stand in captain Ajinkya Rahane to supply his best pace bowler Jasprit Bumrah with five slips, and when veteran spin bowler Ravi Ashwin entered the fray as first-change after only an hour or so into the first session he immediately extracted significant turn while employing four fieldsman within a couple of metres of the bat. You don't often see that before lunch in a Test match.
Between them Bumrah and Ashwin rapidly reduced Australia to 3-38 with the hopelessly out of form Joe Burns and the usually immovable Steve Smith both failing to score and Matthew Wade out for 30.
It was a scoreline to compare with Australia's 3-45 in Adelaide a week earlier, underlining the extent to which the baggy greens are reliant on their brilliant bowlers and how much they need David Warner back from injury.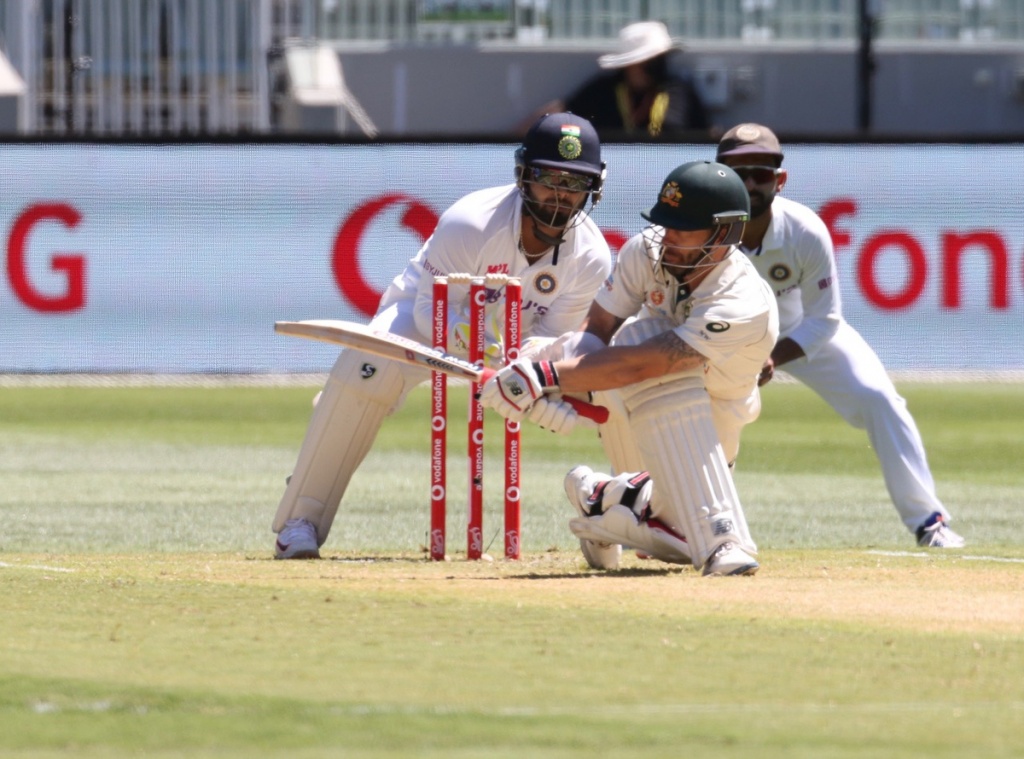 This must surely be Burns's farewell as a Test cricketer, even if he gets a decent score in the second dig, as he did in the absence of much pressure in Adelaide. He faced 10 balls and played and missed at three of them before inevitably edging one for his fourth duck in 11 first class innings, including the first innings in Adelaide. The Australian dressing room is big on loyalty towards anyone who plays in successful teams and so are the selectors, but as popular as Burns is with his peers he is no longer selectable.
Smith's brief appearance was another unusual contribution. When he gently turned Ashwin straight to an astutely placed leg-slip, it resonated like a lover's tiff. Smith enjoys the MCG more than any other ground, anywhere, and had previously played six Tests there for 908 runs at an average of 113.5 with four hundreds and three fifties. He hadn't made a duck since Perth, 2016 against South Africa, having scored 3096 runs at 70.36 in the meantime.
This left the bulk of the responsibility on Smith's soul brother and, in terms of idiosyncratic batting style, his doppelganger, Marcus Labuschagne, who responded with his customary determination, if a little luckily.
He survived a couple of disputed lbw shouts, one of which was given out, and was hit hard in the helmet by Bumrah, but managed to top-score with 48 as the rest folded in worrying fashion for the second match in a row, all out for a disappointing 195.
Despite having a lot of bad luck with the decision reviews, the tourists dominated the old-fashioned way – with very good bowling, attacking fields and, crucially given their butter-fingered efforts in Adelaide, safe catching.
After the 36 all out horror of Adelaide, and with superstar Virat Kohl missing among four changes to the team, this was an uplifting day for Rehane, who got his opportunity to captain his country on the occasion of the 100th Test between Australia and India, 50 in each country. Overall, Australia have won 43, lost 28, drawn 27 and tied one. In Australia, it is 30-7-12, a heavy imbalance that on all the evidence so far might be in danger of evening up a little.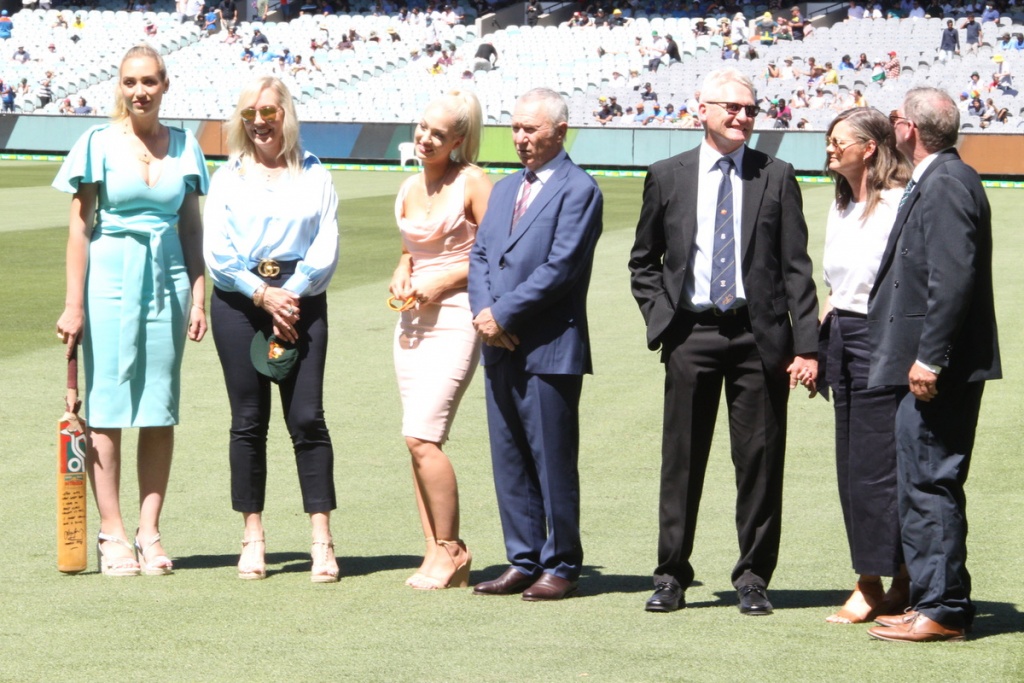 The most unusual feature of all brought the stadium to a silent standstill when a poignant tea-time tribute was offered, in the presence of his wife and two daughters, to former Test star Dean Jones, who died at 59 in September – not from a heart attack as reported at the time but a massive stroke. The MCG wasn't Deano's most productive venue at Test level, but few sportsmen – cricketers or footballers – have been more of a favourite son there. That much hasn't changed. That's why Cricket Victoria is to be applauded by making their peace with him by posthumously reinstating his life membership and naming status on the trophy for white ball player of the year, both of which Jones walked away from a few months before he died, disgruntled about being overlooked for coaching appointments among other things.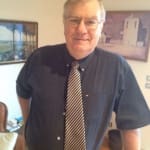 Author:
Ron Reed
RON REED has spent more than 50 years as a sportswriter or sports editor, mainly at The Herald and Herald Sun. He has covered just about every sport at local, national and international level, including multiple assignments at the Olympic and Commonwealth games, cricket tours, the Tour de France, America's Cup yachting, tennis and golf majors and world title fights.
Comments
comments
0 comments