---
Reading Time:
7
minutes
SEVEN DAYS IN SPORT: You don't hear from him all that often but  the old Hawk heavyweight suddenly can't stay out of the news, says Chief Writer RON REED:
DON Scott was back in the headlines this week, which is nothing new for him. The former Hawthorn captain comes and goes in the public eye, rarely spending much time in the spotlight for any given reason but always making an impact when he does emerge from the relative obscurity of his rural lifestyle.
That's been the case twice recently, once when he, Sam Newman and Mike Sheahan copped an expensive backlash for querying Nicky Winmar's famous anti-racism gesture, and secondly when he claimed his old club had been among the more egregious salary cap rorters back when they were winning multiple premierships in the late 1980s and early 1990s.
Stand by for a third appearance in the sports pages, but this time it won't be self-generated.
Scott is a central figure in the most controversial element of an excellent new book – to be published next month – on the short life and times of his old team-mate Peter Crimmins, who died of cancer at the age of 28 three days after the Hawks won the 1976 flag.
In CRIMMO, the Peter Crimmins Story, author Dan Eddy discusses the fallout from the emotionally challenging decision to leave the popular captain out of the team which lost to North Melbourne in the previous year's Grand Final, with revered coach John Kennedy and four other selectors, including Scott, deciding the illness, then it its relatively early stages, would be too burdensome.
Crimmins was shattered by the decision, furious with the men who made it, especially Scott and chairman of selectors Ken Herbert. But Scott, the acting captain, has told Eddy that he was only a token selector with no say and did not vote against Crimmins. "I had no control over selection decisions all season, no control whatsoever," he said.
"I really don't know why I got the blame but Crimmo had to vent at someone."
"Venting" is putting it mildly. In an audio tape he made straight after learning his fate, which remained secret until it was used on a TV program 14 years ago, Crimmins lays bare his anger towards and lack of respect for Scott, calling him "a super ego-maniac" who would die a very lonely man. "I despise him," he says.
When Scott eventually heard the tape, he responded by saying only: "That's Peter's opinion, to which he is entitled."
Over the journey, Scott – an aggressive figure on the field and sometimes flamboyant off it — has often ruffled feathers inside the Hawk nest, with tension between him and others evident during the final stages of his magnificent career, which yielded 302 games, three premierships, two as captain, and a seat in the AFL Hall of Fame.
Embed from Getty Images
Even this week, his relationship with old team-mates seemed fragile, with a few lining up to discredit his salary cap outburst, led by Dermot Brereton who called him an idiot.
Yet many regard him as a hero at Hawthorn for a second reason, having become a figurehead of the fight to prevent the club merging with Melbourne in 1996, a contingency which now seems ridiculous given its enormous success since then.
His image is a mixed bag.
For what it is worth, I admired Scott the footballer and have always enjoyed his company – not that we see each other very often – since I got to know him during a VFL schoolboys tour of Ireland in 1984, when he coached a team of 16 and 17 year olds of the ilk of Stephen Silvagni, Garry Lyon, Ross Lyon and John Blakey, among other emerging stars.
On the plane on the way over, he informed me – accurately enough — that I probably wouldn't have much work to do writing about the games so he had a job for me. I was appointed assistant coach, my only duty to plot the direction and length of every disposal by both teams on a page of notepaper, which ended up looking to me like meaningless scribble. When I queried this after the first game, I was advised to shut up and keep doing what I was told, which I did. And so did the kids in the team. He had us all bluffed just as he did a few of the ruckmen he played against.
But it's probably fair to say his coaching methods and persona didn't take him far. The following year he took charge of South Adelaide but lasted only six games, all defeats, before the players pointed him to the door.
To say the least, he has always been an interesting bloke to know. As for his salary cap "revelations," they really raised only a ripple of interest because does anybody seriously believe there were any clubs not doing their best to break the rules back then, with the possible exception of those who were broke? That's why the League had to introduce an amnesty.

BILL Lawry was one of the most likeable, engaging people I got to know in decades of working in the sports media. The former Australian cricket captain and long-time TV commentator was one of those people about whom you never heard a bad word – which is very rare in any form of the media, and probably not all that common in cricket either. That's why Channel 9's tribute, Bill Lawry: A Glorious Life, was so well received this week. It hit the spot, perfectly capturing the personality of a high-achiever in two related fields who never had any tickets on himself.
It is now nearly 50 years since Lawry, now 83, was axed as captain and dropped from the team in 1971 without warning or explanation from the selectors, Sir Donald Bradman, Neil Harvey and Sam Loxton. He either heard about it on the radio – the popular version – or from team-mates.
Embed from Getty Images
It was disgraceful treatment, especially if – as many suspected – it was because he signed his own death warrant by having the temerity to write to the Board of Control, as it was then, on behalf of his team, complaining about the squalid living arrangements they had been forced to endure on a tour of India.
Whatever the truth of that, Lawry took it on the chin and never protested, blamed anyone or exhibited any public bitterness. He just continued his love affair with the game from afar until Kerry Packer offered him a second career in the commentary box, in which he starred even more than he had on the field. And he did it by never having a bad word to say about anyone else. Great innings, Bill.

THE other archival TV special this week was 7's re-run of the Sydney Olympics opening ceremony. How did it scrub up 20 years later? Hmmm, it had its moments of course but nearly three hours of motor mowers, tap dancers, flying fish and repetitive shots of 13 year old Nikki Webster – deservedly one of the stars on the night, it should not be forgotten – was a lot to sit through, and a bit flat at times, to be honest. But I was determined to make it to the end just to see, again, the most memorable feature, Cathy Freeman lighting the flame, wet through and shivering stoically as a technical glitch delayed and threatened to ruin the climactic elevation of the cauldron to the top of the grandstand.
Opening ceremonies are always a mixed bag, but never lack at least one highlight to file away in the memory bag, and many are to do with the lighting of the flame. Among others I witnessed were a Superman figure flying across the Los Angeles Colosseum in 1984, the wheelchair-bound archer shooting a flaming arrow into the cauldron in Barcelona in 1992, Muhammad Ali overcoming his physical frailties to get the job done in the nick of time just as the director was on the verge of pulling the pin in Atlanta in 1996, and the cyclist who sprinted around the upper rim of the Beijing stadium in 2008. Cathy was less spectacular, perhaps, but no less riveting to watch for a range of reasons.
Embed from Getty Images
Whatever quibbles might be justified with the benefit of 2020 hindsight, as it were, Sydney's big night ticked three very important boxes.
One was the obvious pride all concerned – those taking part, those in the stadium and those watching remotely – took in showing off Australia to the world. There was a sense of coming of age.
The second one was the spotlight it shone in two different directions, female athletes and the indigenous community. In both cases, this was before its time. In the intervening two decades, women's sport has progressed beyond all expectations and, just lately, Aboriginal history has never been more on the agenda. Freeman, of course, linked both topics which is a large part of the reason why she will always be remembered as the face of Sydney 2000.
Thirdly, the ceremony managed to convey what has always been the reason the Olympic Games continue to exist, this ancient institution's overall capacity for promoting excellence, goodwill and dramatic theatre which, to me, has always far outweighed the negatives such as cheating with drugs, administrative green and corruption and political points scoring.
What followed was two weeks of pure enjoyment, with the then IOC boss Juan Antonio Samaranch declaring it to have been the best Games ever. There weren't many dissenters, so Channel 7 is probably on a winner with the remaining episodes of this flashback series.

IN the summer of 2004-05 Hoppers Crossing Cricket Club, near Melbourne, recruited a young English all-rounder who didn't exactly set the local competition on fire, playing 13 matches for 16 wickets at 24.88 (best 4/29) and making 381 runs at 29.31 (best 61) as an opening batsman.
This week, they were drinking a toast to their man Stuart Broad as he took his 500th Test wicket to complete a series win over the West Indies. He also scored a match-changing 60 to add to an all-round CV that also includes a Test hundred. So he's come a long way.
Obviously that puts him in very good company, the 500 club's other members being Muttiah Muralidaran 800, Shane Warne 708, Anil Kumble 619, Jimmy Anderson 589, Glenn McGrath 563 and Courtney Walsh 519.
But as former England captain Sir Andrew Strauss said on commentary, it is equally impressive to look at who he has gone past in the all-time, all-nations list. Just to name the pace bowlers, who are generally less prolific than the spinners who put less strain on their bodies, they are Dale Steyn, Kapil Dev, Sir Richard Hadlee, Shaun Pollock, Wasim Akram, Curtly Ambrose, Makayah Ntini, Ian Botham and Malcolm Marshall … the list goes on.
At 34, Broad is far from finished yet – indeed, some observers are claiming he's still getting better — and fully intends making it back to Australia for the Ashes at the end of next year. Surely that wouldn't have anything to do with his bunny David Warner suddenly making noises about retirement this week!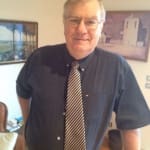 Author:
Ron Reed
RON REED has spent more than 50 years as a sportswriter or sports editor, mainly at The Herald and Herald Sun. He has covered just about every sport at local, national and international level, including multiple assignments at the Olympic and Commonwealth games, cricket tours, the Tour de France, America's Cup yachting, tennis and golf majors and world title fights.
Comments
comments
0 comments