---
Reading Time:
3
minutes
THE ghost of Stirling Moss watches Lewis Hamilton defy tyre dramas to win the British GP again, writes PETER COSTER:
THE Black Beasts, known as the Silver Arrows before their paint job against racism, were sharp of tooth and claw at the British Grand Prix on Sunday.
Lewis Hamilton was on pole with Valtteri Bottas close behind in the second Mercedes.
Max Verstappen was third, more than a second behind in the Red Bull.
Ferrari's Charles Leclerc was fourth, more than a second ahead of teammate Sebastian Vettel.
The four-times world champion has become one of the also-rans, this time complaining that his pedals didn't fit his feet.
This caused much shaking of heads among those with longer memories.
Nigel Mansell remarked that the choice of pedals when he first joined the Scuderia was at least 60 to fit the most strangely shaped foot.
Vettel has lost his mojo after myriad mistakes over the past season and being told he is no longer required at Ferrari.
The red cars have been humiliated. Mercedes is clearly the dominant force in F1 and nothing can be expected to change before sweeping new regulations are to be introduced in 2022.
An embarrassed Ferrari chairman, John Elkann, admits the Prancing Horse is unlikely to win before then.
Again, those with longer memories could not imagine Enzo Ferrari ever saying such a thing.
And so the race at Silverstone unfolded with Hamilton and Bottas setting the pace and Verstappen unable to make any impression on the magnificent Mercedes.
Which Mercedes would win?
With no fans at the track because of the coronavirus, there was little to do but watch the procession.
The only real race was in the midfield between Daniel Ricciardo, recently returned from driving the tractor on his parents' farm outside Perth, and the McLarens of Carlos Sainz and Orlando Norris.
But the millions who watch from their couches were shaken from their slumbers by what happened over final laps.
Second-placed Bottas saw a front tyre deflate on lap 50 of the 52-lap race.
Hamilton suffered the same fate on the final lap.
Embed from Getty Images
Before this happened, Verstappen took a dive into the pits to change tyres to pick up a point for fastest lap.
He was more than 20 seconds behind Hamilton with no chance of taking the lead. This was a mistake and one that does not require hind sight.
The front runners had all opted on a single pit stop in the hope the early change to hard tyres would take them to the finish.
When Bottas's tyre let go, it was apparent from the radio chatter that everyone was aware it could happen to them.
The likelihood was it would happen to Hamilton rather than Verstappen because it had already happened to Bottas.
Had Verstappen not been pulled into the pits for a tyre change to gain an extra point, he would have hunted down the stricken Hamilton on the last lap to win the race.
As it was, he failed to pass him by only five seconds.
Leclerc hung on to finish third ahead of a fast finishing Ricciardo. Orlando Norris was fourth in a McLaren, the team the Australian will go to next season, replacing Carlos Sainz, who will take over Vettel's seat at Ferrari.
Sainz might regret his decision with McLaren changing to Mercedes engines next year.
The second of the double-header at Silverstone next weekend will no doubt see the Mercedes team continue to humiliate the others.
More interesting this weekend were the nostalgic trips down memory road when Brits such as Stirling Moss won at least half of the hundreds of races he participated in.
He drove as if he were in an armchair beside an English fireside, arms outstretched, head tilted back and seemingly in repose.
He did not look like a man in a hurry. He was superior to even teammate Juan Manuel Fangio in sports cars, winning the Mille Miglia in 1955 with journalist Denis Jenkinson in a Mercedes 300SLR.
Such was the trust between driver and navigator that Moss would take a blind-brow at 170 mph, relying on the notes taken on practice runs by Jenkinson on what looked like an endless roll of toilet paper.
Words were impossible above the roar of the engine and Jenkinson used hand signals, caught by Moss out of the corner of his eye as he charged on over the 1000 miles of a race on public roads that was abandoned two years later.
The Marquess de Portago died along with American navigator Ed Nelson when a tyre blew on their Ferrari 335 S.
Nine spectators died. The crowds were so close they might have touched the cars, pushed back only by their rush through the air.
De Portago, named after his godfather King Alfonso XIII of Spain was a daredevil, flying a plane under London's Tower Bridge at the age of 17.
The race remains as Moss's greatest victory and at Silverstone on Sunday the echo of British glory past was heard when a Spitfire droned across the old airfield, dipping its wings to a crowd that was not there.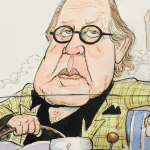 Author:
Peter Coster
PETER COSTER is a former editor and foreign correspondent who has covered a range of international sports, including world championship fights and the Olympic Games.
Comments
comments
0 comments