---
Reading Time:
4
minutes
CHIEF writer RON REED has witnessed Australia lose more World Cup finals than he has seen them win – and the memories are vivid:
OK, one night down and 47 to go. Like most big sports events, the build-up to the cricket World Cup has been a mixture of patience and anticipation. You can't wait for it to get started but there is a lot of waffle to wade through in the papers, on-line, in the electronic media and … well, just everywhere. And you know what, none of it means much until every team takes block or bowls their first ball in anger.
Then, it's game on, if not quite a matter of life and death then certainly massively important to the competing countries and their fans. Which is good to know given that at some point between every edition of this showpiece tournament there will be an outbreak of handwringing over whether the 50 over format has any future, just as there regularly is with Test cricket. That is as true in Australia as anywhere else, with contemporary crowd numbers and TV ratings not what they once were.
But for the next month or so, you won't hear a word about that because it's all about context – these matches matter.
You certainly won't hear it from the country – yes, us – that is the defending champion, and which has won the thing five times, including four of the last five, which is way ahead of anyone else.
It's also lost the final twice – which I mention only as an excuse to establish that I was an on-the-spot witness both times, in vastly different circumstances.
The first time the event was staged, in England in 1975, I just happened to be there on an extended holiday, mainly to enjoy half a season of club cricket in the Middlesex League five years after first experiencing that rite of passage for any young Aussie deluded enough to think he can bat or bowl a bit and wants to prove it.
Embed from Getty Images
The World Cup that year is fresh in the memory, 44 years later, for several reasons. One was taking my Australian girlfriend to experience the Holy Grail, Lord's, for the first time – only for her to look around disdainfully for half an hour before asking loudly enough for everyone nearby to hear: "What's so special about this place?" Astonishingly, given that sacrilege, I married her – and she's still on board, which is even more surprising.
I vividly recall being at The Oval the day Jeff Thomson unmercifully attacked the Sri Lankans, then a non-Test minnow, with what, to a couple of them, were unplayable rockets, capable of inflicting serious injury or worse. – and yet they still courageously made a very respectable 4-276. And there was the day the late Gary Gilmour extracted the maximum result from his immense but inconsistent talent by running through England in a semi-final at Leeds, taking 6/14 in a total of 93 and then, when Australia also collapsed to 6/39, smashing 28 not out from 28 balls to complete one of the best all-round performances ever.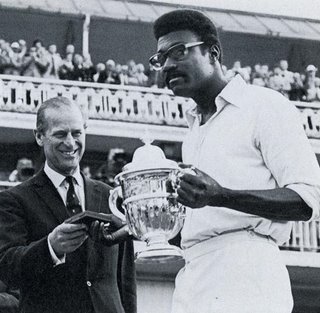 The final at Lord's, against the West Indies, was sold out and I have no idea now how I and a couple of mates managed to get in, but we did and witnessed huge history in creation as the match, 60 overs a side, went until about 9pm before the Caribbean kings triumphed by 17 runs.
Twenty-one years later, I was assigned to work at the 1996 event spread across India, Pakistan and Sri Lanka. Arriving in Colombo ahead of the Australian team, and in the wake of an acrimonious Test series in Australia, the flashpoint of which was a young Muttiah Muralidharan being called for chucking, I was lucky to get out alive when two suicide bombers blew up the national bank, killing 100 and injuring 1000. It was just up the road where I would have been walking 20 or 30 minutes later.
One of my first calls was to Cricket Australia, telling them the city was a war zone – which all of Sri Lanka was during a long civil conflict – and, as a result, the Australian team never did arrive and nor did the West Indies. The hosts, especially the powerful Indians, were outraged and the political fall-out, in sporting terms, was immense as the Australians were made to feel as unwelcome as possible.
Ironically, despite forfeiting that first match in Colombo, Mark Taylor's team made the final against – yes, Sri Lanka. On a dewy night in Lahore, the Lankans prevailed in the biggest sporting triumph in their country's history, before or since.
I finally saw Australia win one in Melbourne four years ago, which was pleasing but scarcely as memorable as the two defeats.
I won't be there this time – the entire England campaign for the Aussies is about four months, so I have decided to go only for the first two or three Ashes Tests.
But the TV is certainly in for a workout from now until then.
What I am hoping to see is obvious enough, what I don't want to see is the Poms win it for the first time. They're pretty cocky coming into it, and on exposed form, with good reason. So, the whole shebang could not have got off to a more pleasing start when they took only two balls to stumble against South Africa in the first match, Jonny Bairstow out for a golden duck.
But that was as far as it went. At no stage after that did the hosts look in any danger, winning comprehensively, and the ominous part was that their bowling was at least as good as their usually all-powerful batting.
In the very quick Jofra Archer they appear to have found an x-factor force to be feared.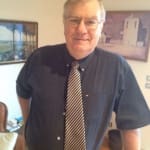 Author:
Ron Reed
RON REED has spent more than 50 years as a sportswriter or sports editor, mainly at The Herald and Herald Sun. He has covered just about every sport at local, national and international level, including multiple assignments at the Olympic and Commonwealth games, cricket tours, the Tour de France, America's Cup yachting, tennis and golf majors and world title fights.
Comments
comments
0 comments