---
Reading Time:
4
minutes
HE WAS a pioneer for Aboriginal footballers and nothing anyone said was ever going to stop him becoming a star, writes RON REED:
SYD Jackson has been an interested onlooker as the focus has once again zeroed in on racism in football as one of two new documentaries about Sydney champion Adam Goodes's treatment by crowds has been gradually unveiled to opinion influencers ahead of general release later this month, while Richmond and North Melbourne players linked arms in a related gesture on Friday night.
The gist of The Final Quarter is that Goodes – dual Brownlow medallist, dual premiership player, 300-gamer – was shamefully painted into a painful corner by the widespread booing that marred his last season or two.
At one point, he stopped playing – and ultimately, he declined to do a lap of honour at the MCG along with all the other retirees of his specific generation.
It is, rightly, a matter of angst for the game.
No documentary was ever made about Jackson, no book ever written (despite him asking me a number of times to do the latter quite a few years ago) but his story is no less worthy of attention than Goodes's in the history of indigenous football.
The former Carlton star – like Goodes, a dual premiership player (1970 and 1972) – experienced plenty of discrimination and insults during his 136 games, but he had to work out how to deal with it himself because for much of his eight years in the VFL, from 1969 to 1976, he was the only Aboriginal player. At least Goodes had plenty of company and support.
I have known Jackson well since those distant days and have always admired his no-nonsense, pragmatic approach to how his interesting and accomplished life unfolded on and off the football field.
He is 74, born in the West Australian outback on an unspecified date in 1944 – he was assigned July 1 as his "birthday" because it suited social worker bureaucrats to use the start of the new financial year for their records – and was taken from his family as a young child, never seeing his two older sisters or his itinerant father again.
He turned out to be a gifted footballer, graduating to East Perth where he tied for the 1963 Sandover medal as a teenager only to be disqualified because of a dubious suspension, but attracting the attention of Carlton coach Ron Barassi. He went on to be named in the indigenous team of the 20th century.
He spoke about it at the bi-weekly Friday lunch hosted by former team-mate Percy Jones at the North Fitzroy Arms pub, pulling a bigger crowd than most other speakers have done, including three other team-mates, Adrian Gallagher, Bryan Quirk and Denis Munari, as well as old Bulldogs goalkicker Simon Beasley, all of whom were there to confirm the immense respect they have for him.
Without quoting any one of them specifically, all would endorse this memory: "He copped heaps, from opposition players and people in the crowd. We could all hear it out on the field. But it never fazed him. He was a brilliant player and he just got on with it."
Indeed he did.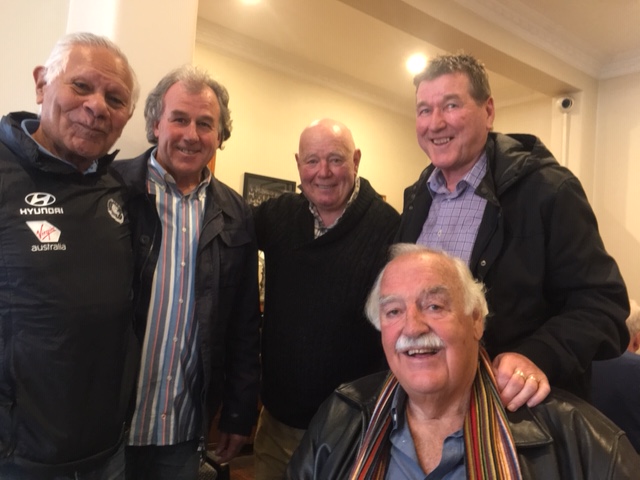 When I asked him if he had been comfortable being, literally, the odd man out and the often unsettling ramifications of that, he said: "The only uncomfortable thing was that when they all yelled out you black bastard, I knew it was me. There were no others. For years, no-one else was there."
Did he ever feel, like Goodes has, that it was all getting too hard, that it might be time to walk away, if only temporarily?
"That didn't worry me at all. When the sensitivities and protocols came into it (after he retired) that's when we kicked up about it. When I played, no-one cared about it. You just got on with it. That's the way it was in my time.
"There was a lot said. You could hear it from the sidelines. The crowd yelled it out. But little did they realise they were actually spurring me on.
"That's the way we treated it. I'll show you bastards, I'll kick another three or four goals. That's how I dealt with it."
He is embarrassed about only one thing concerning his Aboriginality.
In the 1970 second semi-final he and Collingwood's Lee Adamson were, rightly, reported for striking each other, but Carlton's combative president George Harris told him to claim that he had only reacted to racial vilification from Adamson. The tribunal bought it and cleared him, allowing him to go and star in the famous grand final win against the Magpies two weeks later.
"It was the only card I had to play," he said. He has since apologised to Adamson, who blamed Harris anyway, saying years later that he despised the controversial administrator for impugning his character.
Jackson also became an extremely good golfer – a game not popular among indigenous sportsmen at the time because, he says, "they didn't let blackfellas on some courses, fair dinkum". Again, that just made him practise assiduously until he could beat most people he played against.
Asked what his handicap was – it was as low as three at one stage – he would often reply with a wry grin: "I'm black."
Known to his mates as "Namgooey", a nickname bestowed on him by Jones for reasons never fully explained, Jackson is back living in Perth but has been back in Melbourne for the Indigenous round of footy. He is always warmly welcomed back, for reasons best articulated some years ago by another old team-mate, Robert Walls.
"I'd be surprised if there was a more popular player than Syd," Walls said. "The girls loved his good looks, charm, dress sense and eloquence. He was a man's man and his team-mates thought the world of the little fellow with the big smile, who would back you up to the hilt when trouble started on the field."
Racism? Yes, there was plenty of it about but it never stopped Sydney Jackson getting where he wanted to go – and still doesn't.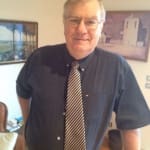 Author:
Ron Reed
RON REED has spent more than 50 years as a sportswriter or sports editor, mainly at The Herald and Herald Sun. He has covered just about every sport at local, national and international level, including multiple assignments at the Olympic and Commonwealth games, cricket tours, the Tour de France, America's Cup yachting, tennis and golf majors and world title fights.
Comments
comments
0 comments