---
Reading Time:
3
minutes
NOBODY SAID it would be easy at the top, as Australia's Test cricket captain is discovering, writes RON REED:
TIM PAINE turned 34 on Saturday, which is more or less middle-age if you subscribe to the Biblical edict that life lasts for three score years and 10. But he's hiding it well. If you call him up on the Cricinfo website the photo could just about pass for a teenager. He also adorns the cover of the official souvenir program for the Test series against India, looking a trifle more care-worn. If he poses for another shot any time soon, it might be possible to detect a grey hair or two emerging. Life as Australia's 46th Test captain is, unsurprisingly, proving to be challenging.
He's probably had happier birthdays than this one, if you count the days either side. He's had a hard time of it in the first Test, where most of the Australian players are under intense pressure in one form or another, the captain certainly no exception. History suggests it's a hard ask to do that job from behind the stumps and very few have done so. Paine is in charge of an inexperienced team up against the No 1 ranked outfit in the world and carrying all the baggage of you know what, so perhaps the gods of the game will cut him some significant slack at some stage of the summer.
You can only hope so because the tenacious Tasmanian is one of the good guys of Australian sport.
It is his only his fourth match in charge, against three countries, and the first in front of an Australian crowd so he can hardly be bagged for not having won one yet. But nothing will be more welcome than the breakthrough when it comes. There is no suggestion his tenacy is in peril at this stage, or for the rest of the summer, but no-one keeps this job indefinitely without putting runs on the board in every sense.
Apart from the results, he needs to perform, which was the gist of the message he received when he asked one of his more successful predecessors, Steve Waugh, for advice. Make sure you look after your own game, Waugh told him.
Like all wicketkeepers these days, Paine is expected to contribute worthwhile runs. His recent record in that respect is patchy to say the least. He averages 36 across his 16 Tests, helped by six lots of red ink, which is perfectly acceptable. And he earned enormous applause for a gutsy 61 not out that helped earn a heroic draw against Pakistan in Dubai a couple of months ago. He has a lot of credits for that but either side of it there have been five single-figure scores, not quite as bad as Shaun Marsh's dismal six in a row, but becoming a worry. He got a good ball in the first innings on Friday but five runs wasn't what he needed. Simultaneously, his understudy for the wicketkeeper-batsman job, Alex Carey, was making an unbeaten century for South Australia.
For a while on Sunday afternoon, things were just going from bad to worse for Paine, whose tactics were being queried in some commentary boxes. Wickets were hard to come by as India patiently assembled a formidable lead, the decision review system proved frustrating for a third time, the spearhead of his pace attack, Mitchell Starc, was bowling not just poorly but so wildly that he was responsible for four lots of four byes that went down, unfairly, as black marks against Paine's name in the scorebooks. There were 21 byes in all, the bulk of an extravagant 36 extras which threatened to become crucial in the ensuing chase after 323 to win. And then he missed a slightly tricky but eminently gettable stumping chance when Ravi Ashwin danced down to Nathan Lyon.
Despite Lyon engineering a reckless tail-end collapse by the Indians, forcing the door slightly ajar, things never improved much.
Aaron Finch was incredibly lucky to be saved from a pair when the DRS identified an uncalled no-ball after he was given out lbw, but then, just as incredibly, did not ask for a review when he was again given out, this time to a highly dubious catch. Marcus Harris and Usman Khawaja threw their wickets away with unprofessional shots, Peter Handscomb not much better. India ended the day still firmly on track to win comfortably, making it, on balance, one more disappointing day in the hot seat for the captain.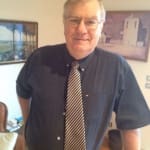 Author:
Ron Reed
RON REED has spent more than 50 years as a sportswriter or sports editor, mainly at The Herald and Herald Sun. He has covered just about every sport at local, national and international level, including multiple assignments at the Olympic and Commonwealth games, cricket tours, the Tour de France, America's Cup yachting, tennis and golf majors and world title fights.
Comments
comments
0 comments