---
Reading Time:
5
minutes
IT'S NOT quite true that there's no such thing as a likeable Collingwood supporter, admits long time Magpie hater RON REED. But that doesn't mean he's barracking for them:
WHENEVER Collingwood make it to a Grand Final  and praise the Lord, that's still a relatively rare event – my old mate Peter Eakins springs to mind. Magpie fans of the Baby Boomer vintage – but not many other people, perhaps – would remember the young blond adonis playing in the back pocket in the 1970 Grand Final, the most painful day in Collingwood history when they were steamrolled by Carlton after leading by 44 points at half-time. Yes!
I was living overseas at the time and didn't know Eako personally at that stage, but when I came home not long afterwards I soon heard from mutual mates of his sacrilegious response to this calamity. "Jeez, you wouldn't believe it, there were blokes in that dressing room crying," he said, downing his umpteenth beer a few hours after the match. "Jeez, it's only a game of footy."
Ah yes, tongue in cheek it probably was – mischief-maker Eakins was always looking for humour in anything and everything he did, and playing footy was no exception – but he wasn't that silly. Far from it. He later became one of the most successful businessmen in Perth, from where he had been recruited the year before after winning the Tassie Medal for the best player in the interstate carnival. He arrived in Melbourne when footballers still had day jobs and he worked as a journalist at the old Herald evening newspaper, firstly as a police roundsman and then with me on the sports editing desk, where we became firm friends until the day he died from cancer. That was tragically too soon, on July 4, 1999, the 20th anniversary of which is now just around the corner. He was just 52, almost exactly my own age, which evoked some sombre reflection when I helped his brother Bevan, also a great colleague and  mate, and others carry his coffin.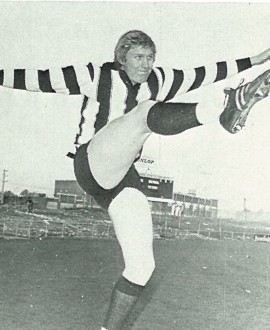 Eako wasn't the greatest footballer ever to wear the black and white. He could play alright, but his striking appearance and mop of blond hair may have had something to do with him winning the Tassie medal, which theoretically made him the best player in the land for a week or so. He played only 32 games with Collingwood, bookended by 68 in two stints with Subiaco for a total of exactly 100 before injuries forced him into retirement at 26. But he made an impact in another way. The Magpies paid him so much to sign on– $5000 plus $5000 a season for three years, $2000 more than Des Tuddenham was getting as captain —  that Tuddy and the late Len Thompson objected so strongly that there was almost a walk-out. For his stirring, Tuddenham lost the captaincy to Terry Waters and yet amid all this turmoil they still finished on top of the ladder and cruised into the decider. Eako just laughed all the way to the bank – and the pub, although that was because he was a born publican himself who later made a fortune running the hugely successful Cottlesloe rubbity on Perth's most popular beach.
If nothing else, he proved to me something that I had never really considered possible before – that Collingwood types weren't necessarily all to be avoided at all costs. Happily, that has subsequently been confirmed by the aforementioned Tuddy and Thommo, a couple of other old captains in Murray Weideman and Wayne Richardson, the great Peter McKenna, the departed Lou Richards and Bob Rose, just to name a few that I've had the pleasure of socialising with over the years. And not forgetting the Prez Eddie of course.
That said, the debate this week has been can you be even a little bit Collingwood if you don't already barrack for them. There's only one answer to that. Nope. They're nobody's second team. But then, neither are the Eagles – but they don't have anywhere near as much history antagonising everyone else, as the Maggies do.
And as a Carlton supporter, may I suggest that allowing them to join us and the Bombers at the top of the premiership ladder with 16 is a total no-no. And maybe going on to 17 alone next year? Ten times no-no.
The most pleasing stat, which has been rolled out at every opportunity this week, is that they hold the record for the most Grand Final defeats, 27 from 44 attempts. Go the Colliwobbles! Damn them, though – they still own the only four-peat,  from back in the thirties. And there's every chance they'll be dining out on it for … well, forever.
The rest of us do, of course, revel in the image that comedians love to present of the typical Collingwood supporter – toothless, unkempt, anti-social uber-bogans who if they're not known to police they should be.
Possibly that's unfair.
Well, probably it is.
But let's face it, nobody who doesn't bleed black and white is ever going to apologise for that.
However …  this inevitably brings us to Joffa, the personification of the Collingwood cartoon character. That would be Joffa Corfe, the leader of the Magpie cheer squad, whose colourful antics and grotesque dress sense featuring the famous gold jacket have made him a footy personality in his own right, like no other barracker ever.
That status was franked when he got a gig on Fox Footy's Open Mike interview show with Mike Sheahan during the week. In the jacket, a club scarf and summer shorts, he was nothing if not a character actor in costume. Maybe, but that didn't stop him also coming across as a real person, a likeable, sincere and intelligent one at that.
Compassionate, too. Listening to him describe his own not terribly privileged background and his current association with the Salvation Army, attempting to help others, you had to admire him.
The note that resonated most strongly was when he reminded us that there would be a lot of Magpie households with unpaid bills taped to the fridge and very little food on the table this week because they were spending beyond their means on finals tickets so they can continue to be exactly what they've always been proud to be – part of good old Collingwood forever.
When you put it that way, it  would be churlish in the extreme not to wish Joffa and his ilk their fair share of good luck in the granny, which is not the same thing as hoping they win. They get a lot of fun and plenty of pride out of barracking for Collingwood
Just like Eako did playing for them, however briefly.
I wish I could look forward to seeing him among the Magpie army in Melbourne this weekend, just for old time's sake.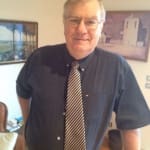 Author:
Ron Reed
RON REED has spent more than 50 years as a sportswriter or sports editor, mainly at The Herald and Herald Sun. He has covered just about every sport at local, national and international level, including multiple assignments at the Olympic and Commonwealth games, cricket tours, the Tour de France, America's Cup yachting, tennis and golf majors and world title fights.
Comments
comments
0 comments