---
Reading Time:
2
minutes
EVERYONE is a winner when the footy callers get their tongues tangled. LAWRENCE MONEY provides the evidence:
"WEST COAST have a chance to go two games clear on the top of the ladder with a win tonight over West Coast," Tony Tardio told 3AW listeners a few weeks ago.
In fact, the Eagles lost the game but, if Tony's right and they were actually playing themselves, they also won.  I dunno, footy gets more complicated every day.
As the season turns the corner and heads for the finals, the other Tony, Mr Leonard, is feeling the pressure too: "Tossed in, Hunter has it, lost it, handball found its way to Redden, he's tumbled it 35, 40 metres, is it going be called deliberate? Yes… it's… not."
So is Brian Taylor: "Let's see what McCartney does.  Comfortable distance, 40 metres out, and that's better, that is… not much better…  slightly better."
Even the little master, Bruce McAvaney, has at times been left gibbering: "Talk about Petracca being a tease, this bloke's a tease, this bloke could be anything, but he's not, but it will be interesting to see if he is, but he could be…"
Then again, he may not be. If we only knew who the hell he was, we could judge for ourselves.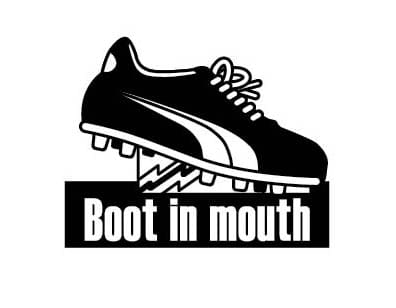 It is indeed gratifying to realise that Boot In Mouth never runs dry. Those howlers from the footy commentators come thick and fast, just as they did back in the 1980s when I first collected them for the In Black and White column in the Herald.
One of my key contributors back then was a bloke named Mark Corkill, of Collingwood, who posted in multiple sheafs of paper, neatly typed with his personal collection.
I came across one of his letters in my files the other day. This from 11 October 1989.
"Previous Boot In Mouth winner Don Scott has continued to wreak havoc on the language. 'Sydney have got to pull their pants up,' he asserted during one match.
"During another he said of an unfortunate player: 'He had a groin injury then came back and did the other groin.'
"Getting on to one of his favourite topics of conversation Don explained: 'There's a hole in the centre of the ground.' — which perhaps explains how Brad Hardie managed to 'hover underneath O'Brien'.
"Was it Peter Booth who was the culprit when another Boot In Mouth came floating out of the steam wireless and into my trusty notebook? Alas, I'm not sure. All I know is that, listening to the dying moments of the first half of the Demons-Saints clash, I heard one of the ABC commentators say: 'Viney's gone down on Winmar.'
"Perhaps it was Tim Lane. After all he did distinguish himself earlier in the year by giving the scores as 'a pair of 69s, head to head'.
Boot In Mouth. It's the gift that keeps on giving.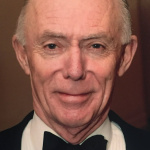 Lawrence Money has twice been named Victoria's best newspaper columnist by the Melbourne Press Club. He wrote columns for 37 years on the Melbourne Herald, Sunday Age and daily Age — and in Royalauto and Your Sport magazines — before retiring in 2016 after a 50-year career in journalism.
He still treads the speaking circuit, does radio gigs, tweets on @lozzacash and chases a long-gone 13 golf handicap. He clings to the eternal hope that the Melbourne Demons will once again win a flag.
Comments
comments
0 comments