Reading Time:
16
minutes
NEW AFL Hall of Famer Wayne "The Dominator" Johnston was not only a great player but a colourful – and often trouble-prone – character off the field, says chief writer RON REED:
HAVING WATCHED him play a starring a role in four premierships with Carlton, interviewed him now and again, played a bit of cricket together, enjoyed more than a few drinks with him and other Blues legends of the day from time to time, I knew Wayne Johnston well by the time his superb career ended in 1990. So we agreed to collaborate on a no-holds-barred book about it entitled, naturally, The Dominator.
I knew he had a hell of a story to tell, not all of which was about footy or was public knowledge. Indeed, even his coach for most of his glory years, David Parkin, said he found the book difficult to read because he was almost embarrassed to learn for the first time so much of what had been actually happening beyond the dressing room doors, much of it not pretty. And even then, Carlton's chief executive, Ian Collins, told me after I had given him an advance copy of the manuscript as a matter of courtesy (and also as a precautionary measure, legally) that there was still plenty that had gone unconfessed and unrecorded. This was despite some pretty lurid stuff involving what Johnno referred to as "a form of drug addiction" – to pain-killers, certainly not performance enhancers – and the pain of a first marriage that was drifting on to the rocks. With that in mind, it was uplifting to see he had his first wife Debbie, as well as his second one, Kate, on his family table at this week's induction ceremony, and that both were obviously enjoying themselves.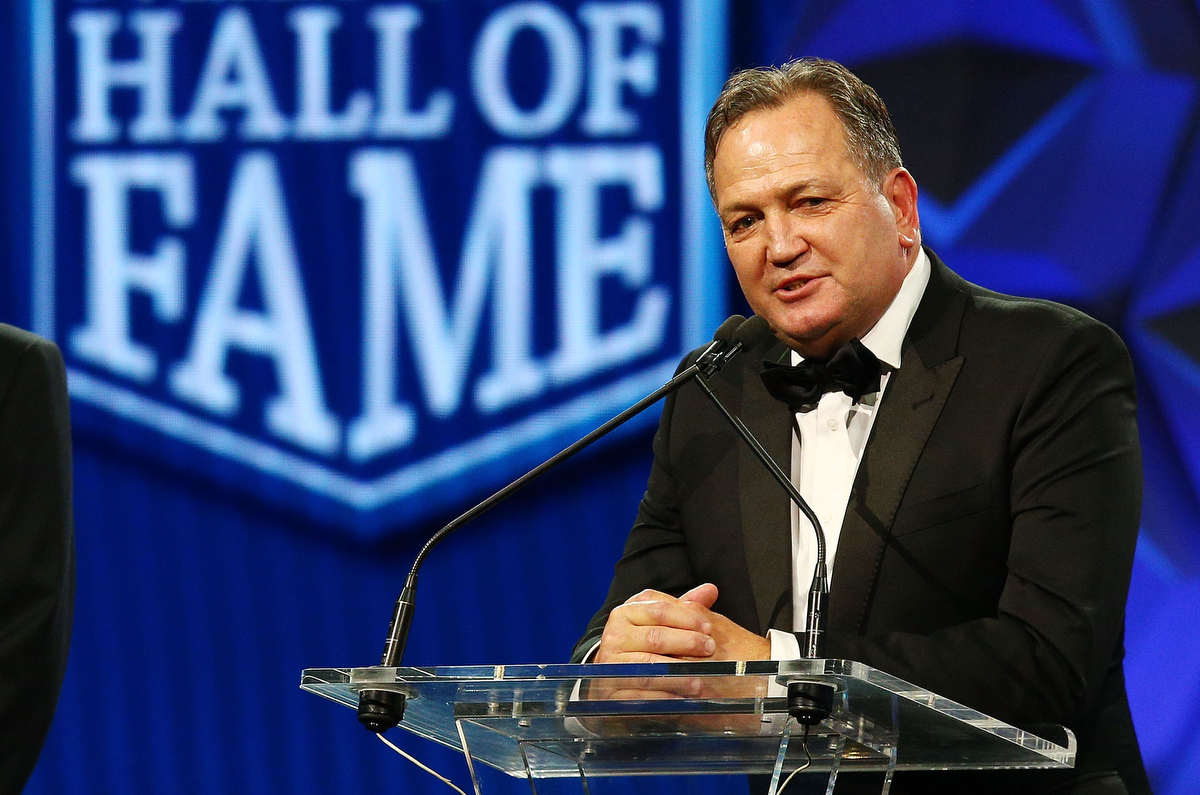 The Dominator has been through some extraordinary highs as a champion footballer but also a few pretty ordinary lows from time to time, but when I recently had lunch with him and our mutual mate, former team-mate Perc Jones, he didn't have a drop to drink because he had to drive back to work and seemed to be in a very good space. It is a pleasure to see his great contribution to the game finally recognised with the highest accolade available. For a taste of what his life was like back in the day, here is Chapter 14 from The Dominator:
CALL ME THE DOMINATOR
Believe it or not, I'm really just a shy country boy at heart. Or at least, that's how it was when I first came down from Wandin North to pursue a football career. As a teenager, I never drank or smoked and my only friends were the guys I grew up with. I had little or nothing to do with girls back then, and in fact I was a virgin until I was 19, which was pretty unusual for the seventies. I was just a very quiet kid.
That started to change when my parents shifted to Tasmania and I moved in with a friend named Peter Lowe, who was a policeman and who also played footy for Prahran. He was just about my best mate then and still is today, and I blame him for introducing me to nightclubs and the bright lights. At the age of 19, this was all new to me, but needless to say I soon learned my way around. My lifestyle changed and being a student I had little or no work to do and all the time in the world to indulge myself. How long had this been going on, I wondered. As far as making it in football was concerned, I was doing everything wrong. But it seemed to be a fairly common attitude among some of the boys I knew in those days. You had a good time while you could, got your footy money while you could, and the last thing you worried about was getting fit and concentrating on training. Perhaps that was why it took me three attempts to make it at Carlton before I was finally accepted. Certainly, once I started there I soon learned that I had to change my ways if I hoped to be successful. That didn't mean that it was impossible to combine footy and the good life, but you had to be a lot smarter about it than I had been. Fortunately, the Carlton teams in those days boasted a few experts at such matters, and so it wasn't hard to learn.
 Naturally, girls started to play a bigger part in my life, but I never had many serious girlfriends. A lot of acquaintances, sure, but not many serious ones. There was one, though, with whom I was madly in love. Her name was Shelly Miller, she was South African and Jewish, and we were very, very close. Eventually though our religious differences tore us apart, and I often regret that we didn't stay in contact. She is married with kids now and I hope she is very happy.
 Meeting girls wasn't difficult because a lot of them wanted to go out with footballers. They used to congregate at our haunts such as the Bear Cave at Caulfield Football Club and the Richmond Social Club, and I suppose they were fair game and so were we. They were great birds and they enjoyed a good time as much as we did. I still bump into some of them from time to time and it's good that most of them still say hello to you. It's the ones that don't that are a worry – and there's been a few cases of that! They were pretty wild times and I often wondered how long I could last the pace without either running out of money, getting my block knocked off or getting somebody pregnant, or all three.
It took until 1981 for me to apply the brakes a bit, or have them applied for me. That happened when we went to Bendigo for a practice match the day after I'd had a really big night, which featured an early hours phone call to David Parkin to give him a serve, which is another story. But it wasn't all bad news for me because on the trip I met Debbie Pang, now my wife. Even though we have had our difficult times, she has been a terrific stabilising influence on my football career and my life. Once you find the right person and get married you just have to slow down. She loved going out too, but she was also a fitness fanatic and very conscious of what she ate and drank, and that rubbed off on me a bit. Mind you, that's not to say that she never had a drink. Whenever she did have eight or 10 beers she would always turn into the best glass thrower in the land. She was forever throwing pots at people. She was quite famous for it until she threw one that was supposed to go into an incinerator at a barbecue, but instead smashed against it and the glass fragments sprayed over me. So I marched over and tipped a jug of beer over her head. We're were engaged at the time, and for an hour or so after that the wedding was in very grave jeopardy. But at least she never chucked another one in my presence. Her girlfriends still have to watch out, but I don't.
I owe my nickname, The Dominator, to my nightclubbing days rather than anything I might have done on the football field. In fact, I'm not even the original Dominator. That privilege belongs to a mate named Laurie Devitt who used to live with Peter Lowe and me, and also played for Prahran as well as the Reserves and Under 19s at Richmond. He once played for NSW against Richmond and got the job of tagging Kevin Bartlett. We all reckon he got flogged, but he claimed he had dominated against KB, so the name stuck to him. I inherited it, I suppose, where a mob of us were at Chasers one night. Mark Maclure, Jimmy Buckley and Michael Young were all there, along with a few of my other mates, and we had all had plenty to drink, especially me. Somebody asked me how I was going with the girls and I said: "I'm dominating." I was doing no such thing, of course, probably because I was tired and emotional – so tired, in fact that I decided I needed a snooze and flaked out under a table. When I woke up, the boys were still there. I was soon reminded about the "dominating" boast, and Maclure started calling me Dominator. The others picked up on it, and for the rest of the night they drove me mad with it. I didn't think it would stick at the football club, but Maclure and Young made sure at training the next morning that it did – and the funny thing now is that "Sellers (Maclure)", having invented it, never uses it. He always calls me Johnno. I must admit I quite like the name. It's affectionate and of course it has a positive football connotation. Getting a new nickname is one memory I have of Chasers nightclub. There is another unforgettable one which is not quite so amusing to look back on. It happened on Christmas Eve, 1980, and I had been partying all day, at work, then the pub and then, with Peter Lowe, to Chasers. To tell the truth, I was a bit legless in more ways than one. Not only had I been drinking day and night but I had one leg in plaster after a knee operation and couldn't walk properly.
At the end of the night we were just about to go home when I saw one of the girls from the Bluebirds, the dancing troupe that used to perform out on the ground before Carlton matches. She was trying to make her way through the crowd and this Greek guy was pushing her in the opposite direction and giving her a bit of a hard time. So I gave him an elbow in the chest to go on with, and while it was a hard enough blow to get the message across, I didn't think any more of it and I didn't think he would either. The girl thanked me for helping a damsel in distress, and Peter and I continued on our way. However, we got outside and Peter said to me: "Johnno, we're in a bit of trouble, I think. There's about 12 blokes walking behind us and they're not terribly happy."
They were, of course, the mates of the bloke I'd hit and they were clearly out to square off. However, what they didn't know was, one I was drunk and it wouldn't have mattered much how hard they hit me it wouldn't have made much difference, and two, Pete was the light heavyweight champ of the Victoria Police Force. I said to him: "Look, I can't walk let alone run, so we can't just bolt, so I'll just belt the nearest bloke and we'll see what happens from there." So I did, whacking the guy right in the head. As he's gone down, he's grabbed me by the leg, which of course threw me totally off balance. I rolled into the gutter and they were into me, boots and all, while Pete was in the middle of the road, knocking them down one after the other as quickly as they wanted to front up. He could really handle himself.
Naturally, it wasn't long before the police arrived and blocked off the street. The nightclub bouncers picked me up off the footpath. I was OK, if a bit bruised. Just then, I spotted Bernie Evans, who played for South Melbourne in those days but who later joined me at Carlton. "You're a nice weak bludger," I said. "Why didn't you come and help us? It was two on to about ten here. We could have done with a bit of help." Then I saw Barry Round, too, and gave him the same serve. It was pretty stupid of me, and I realised that when I woke up the next morning. They wouldn't have even known who was in the fight, I guess. I certainly owe them both an apology, and given that I have never offered it to them before, I should take the opportunity to do so now.
Notwithstanding the fact that Peter was a policeman himself, we were all picked up and taken to the station. We all explained ourselves the best we could, and as far as I was concerned that was the end of the matter. But the Greeks weren't happy and threatened to kill me and blow up my house. Were they serious? Who knows, but I didn't fancy the idea of finding out. Suffice to say that I'm still alive today – but that doesn't mean that I'd heard the end of it. Peter and I were later subpoenaed to appear for them when they alleged in court that they had been victims of police brutality. They apparently thought we had seen something which we hadn't. The magistrate sided with them a bit too, and suggested that I had provoked the fight outside the nightclub. That wasn't what the court case was about, but he still made a point of warning Peter and I to be more careful in the future. But he dismissed the charges against the police.
 I never saw those guys again until one day two years later when I was on the South Melbourne beach with Mark Maclure, and one of them, the ringleader, arrived on the scene. He recognised Sellers, but amazingly, not me because I was wearing a big sombrero which hid my face, I'm pleased to say. "Hey, Maclure," he said. "What's with your mate Johnston?" I was standing practically inches away, but he still wasn't a wake-up. "Is he mad, or what? All he wants to do is fight." Sellers just shrugged. I naturally did my best to fade into the background and the moment passed. At least it was a peaceful sequel to what had been an unpleasant experience from start to finish, especially as one of the consequences was that the court case made headlines in Truth. I've never minded getting my name in the papers, but not that way.
 I can look back on that brush with the law with a certain amount of amusement, just as I can another one. Not that either was funny at the time, and certainly not the second one. I was being investigated over a forged finals tickets incident, and it's true that I was involved. But it was unwittingly, and I wasn't guilty of anything other than being naive. I realise now that I could have got myself into serious trouble – even jail, perhaps. Certainly a lot of other people in football, including the No. 1 man, the late Jack Hamilton, took a very dim view of what happened, even if I wasn't overly perturbed.
 At the time of the 1981 Grand Final, in which we played Collingwood, I was working as a printer, and was registered as such. On the day, it became pretty clear to Melbourne Cricket Club and VFL officials that the Members' Stand was overcrowded and the word soon went around afterwards that somebody had printed masses of forged tickets. Me being involved with one of the competing clubs and having access to tickets, and being a printer, suddenly people were putting two and two together and coming up with … Well, let's say four and a half. I had no part in printing any tickets, but what did happen was that on the Friday night before the big match I went to Perc Jones's pub for dinner, as I often did. There, a fellow I knew asked me if I wanted any extra tickets. I sure did, I said, because as always people were pestering me because they always think all players have unlimited tickets. So here was my way out of a spot.
 He gave me a handful, and when I asked which part of the stadium the seats were in, he said they were for the Members, and the seating there was a matter of first in, best dressed, which of course it was. I asked how much he wanted for them, and he said no charge. Well, it's not unusual for Carlton supporters to look after the players and I assumed this was another case of it. I made a phone call to a couple of mates who came around to my place and I gave the tickets to them assuming they would distribute them. OK, I thought it was strange for somebody to be giving away bulk finals tickets, but I didn't think about it too much because obviously I had other things on my mind. So I just gave them away.
 After the game, which we won, some Carlton supporters at the official celebration function at the Hilton said to Jack Hamilton – who was not only the VFL boss, but a Collingwood man and therefore already less than entirely pleased with the day's events – that "we not only beat Collingwood today, but we beat the VFL. We got all our people into the grand Final." Understandably, Jack smelled a rat and didn't take too kindly to it. He spoke to Ian Rice, then the Carlton president, and one way or another it all came back to me. I got the shock of my life and protested to Rice to leave me alone because I had done nothing wrong. He had Peter Kerr, the club solicitor, with him and I told them both they could ask me all the questions they liked, but I was innocent. Rice said: "I'll back you up, but you had better not be lying to me."
 On the Monday morning I had to meet him and Hamilton at Rice's office in Nauru House, and the President was even more agitated by then because he had been quizzed about the matter by a reporter, Peter Stone of The Herald, who had also heard rumours about my alleged involvement. It was threatening to become a scandal that could embarrass the club. Hamilton said: "I hate to tell you this, but one or two members of the Carlton coterie told me you supplied them with tickets." I protested my innocence again. I was allowed to go, and when I rang work the young bloke there told me the Fraud Squad were searching for tickets. Where were they, he wanted to know – presumably so he could make sure they weren't found. But I was able to say: "Don't worry, we haven't got any." I arrived, and the police spoke to me. They hadn't found any tickets, of course, although in those days we did occasionally run off a few carpark passes and that sort of thing. They found some of those, but weren't worried by that. That was the last we heard of it, and the mystery was never solved. I think, though, it did lead to the introduction of more sophisticated ticketing systems. It also led to me deciding to be a little less naive in the future.
 It also proved again what I think I have already demonstrated – that if there is an unusual way to get into hot water, I'm a fair chance to find it. One of my best/worst efforts was the time I almost found myself ostracised from Carlton for punching up a team-mate. It happened during our training camp in Los Angeles before the 1983 season and David Parkin, as usual, had us playing competitive games. It could be touch ball, volleyball, soccer, anything – but it was always competitive. Parkin had his favourites, and one of them was Denis Leneghan, a kid from Bendigo who didn't drink or smoke and wasn't a bad bloke, I suppose. He used to do everything right at training, blitzing us on the runs, going his hardest on the weights, winning the sprints – and forever talking to the coach. He was probably just trying his hardest, but he somehow managed to rub a few blokes up the wrong way, including me. Jimmy Buckley was another, and he had been known to try to clean him up at training if he got a chance. Maclure was another, and for this particular exercise in LA, he was his team captain.
 On the final day, it was Maclure's team versus my team in the final game of touch ball, and the series depended on the outcome. Naturally Maclure and I had a side bet, and the game took on grand final proportions. Maclure knew that Leneghan and I had a couple of run-ins and didn't really get on. Being a smartie, Maclure assigned Leneghan to tag me. The game got off to a furious start. It's called touch ball because the ball is all you're supposed to touch – not other players. Hah! In this game, there were elbows and sly punches flying in all directions – but all in good friendly fun, you understand!
 I was getting ready to receive the ball and Leneghan whacked me in the ear. I thought, bugger it, I'm not putting up with this from him, and turned around and hit him with a big left hook, knocking his front tooth out. He hit the deck, with blood all over the place. Everyone waited for Parkin to stop the game, but of course he used to like a bit of physical stuff in the training and so nothing happened for a minute or two. I was a bit bemused myself, wondering what I'd done and why. With that Geoff Southby ran up and threatened to drop me. "Try it, and I'll belt you one too!" I retorted. I couldn't believe I was saying that to Geoff Southby, who was a terrific bloke. But I was in a rotten mood and really fired up. With that, Parkin had no choice but to stop the game. For what it was worth, Maclure's team was declared the winners. But I don't think that was much consolation to poor Denis Leneghan, minus his tooth. Everybody, including me was told to try to find it, so we've all formed a horizontal line and started scouring the field. Suddenly Bucks yelled, "Found it!" He held up a chicken bone! In the circumstances, no-one really knew whether to laugh or not.
 Eventually, we did find the missing molar, and Leneghan was bundled into a car and taken off to the dental hospital to see if it could be put back. Fortunately, it could. He was in a bad way, but so, ironically, was I. My hand was cut wide open and was bleeding profusely, and it turned out that I had actually broken it in a couple of places. I wasn't getting much sympathy, though. Mike Fitzpatrick, who was club captain then, gave me a serve for what I had done, and I swore back at him. Back at the hotel, I was stitched up. Leneghan arrived back, and the excitement died down a bit. But a few of the blokes let me know that they took a very dim view of what had happened and that they felt seriously about it.
 I was being made to feel a bastard and I didn't like it. That night I got on the phone to my wife and told her what had happened, and said I was a bit upset, none of the boys liked me any more and I thought I might come home. Do what you think is right, she said. But before it came to that, I had a dreadful night. My hand blew up during the night and I was in agony. By morning, I it was the size of a football, the wrist was starting to swell as well, and I was shaking and shivering. As always happens with me, I had become infected. The doctor cut open the stitches and the resulting discharge was not a pretty sight but least I felt a bit better.
 I went back to my room that night, still moping about what had happened. Nobody was speaking to me much and it had been pretty quiet at the dinner table. No-one offered to buy me a drink. Eventually Bucks and a few of the boys decided to go out and I went with them. But being in the mood I was, I went home early, rang my wife to cry on her shoulder because I was feeling so sorry for myself, and then pulled the bed sheet back. There was something under the bottom sheet and I didn't like the look of it. I dived for the phone and rang Parkin and Steve Gough who were in the next room. They were both still filthy on me, but Goughy came in reluctantly and looked at the lump in the bed and he was terrified too. He went to the closet and got out the biggest broom he could find, and gingerly we pulled back the sheet. And there it was – a two metre black snake. We both nearly fainted, which of course was the object of the exercise. Because on closer inspection – and only after it had copped several decent whacks with the broomstick – it turned out to be rubber. Guess who had put it there. Buckley, of course, who had bought it while out shopping that afternoon. No wonder he had wanted me to go out for a drink. While I was waiting downstairs for him, he sneaked into my room and stuck it in the bed.
 Well, I suppose I was just getting my right whack. But don't worry. Jimmy got plenty of other blokes with that snake before word got around about it, including Maclure. They were sharing a room and Jimmy made sure he had first shower, steaming everything up so that you couldn't see through the glass walls. Your turn, he told Sellers, who got in, soaped up his hair so that he couldn't see. Suddenly, he realised he was standing on something soft and slippery. He wiped the soap out of his eyes, looked down and found he was sharing the cubicle with a black snake. His reaction is best left to the imagination, but it is enough to say that Jimmy Buckley is very lucky to be alive today. At least all of this lightened things up a bit for me and I certainly needed that.
 The sequel of all this was that Denis Leneghan and I became better acquainted and got on much better for the rest of the time he was at Carlton. Parkin gave me a good talking to, saying I was one of the future leaders of the club and I should act more responsibly. He also told Denis he would be wise not to have a go at people who can hit back harder than he could. I also got a lecture from West Lofts, who told me to be more careful about how I went about using aggression. Before the trip was over, the infection flared up again, and when I got back to Melbourne I had to have an emergency operation. I nearly lost the joint of my index finger. The irony was that while I got all the blame for what happened and even though Denis lost his teeth, I was the one who suffered the most in the end. Poetic justice, perhaps.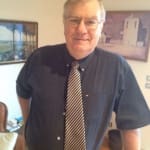 RON REED has spent more than 50 years as a sportswriter or sports editor, mainly at The Herald and Herald Sun. He has covered just about every sport at local, national and international level, including multiple assignments at the Olympic and Commonwealth games, cricket tours, the Tour de France, America's Cup yachting, tennis and golf majors and world title fights.