---
Reading Time:
8
minutes
IT'S BEEN a touchy subject indeed, but at least footballers are no longer likely to end up in the Supreme Court for making contact with an umpire, writes RON REED:
THE WEEK THAT WAS: WHEN John Sutcliffe, who umpired 214 League games including the drawn 1977 Grand Final and the replay, arrived at lunch during the week with a lot of old mates including several high-profile former players, he was bemused to find a couple refusing to shake his outstretched hand. They told him with a straight face they didn't want to touch him for fear of being fined or suspended. Sutcliffe laughed of course, but admitted that he, too, was bemused and confused by the week's biggest controversy – what constitutes deliberate, as opposed to accidental, touching of the man in white – or orange, yellow or green, as is now the case. And more to the point, what should be the penalty for it?
Now that Geelong's Tom Hawkins and Carlton's Ed Curnow have been hit with a week's suspension, while Curnow's brother Charlie and the Gold Coast's Steven May have escaped with fines, the only certainty is that the protocols are as clear as mud and need to be overhauled at the end of the season, by which time, surely, no more players will be silly enough or careless enough to put themselves into this perilous position. In my opinion – and Sutcliffe had no problem with it when I put it to him and others in our lunch group – a mere touch which is not meant to be aggressive or intimidatory in any way, even if it is deliberate, does not merit a suspension. If no harm is done or intended and no offence is taken, a fine should be sufficient, at least for a first offence. A serial offender would then deserve all he gets.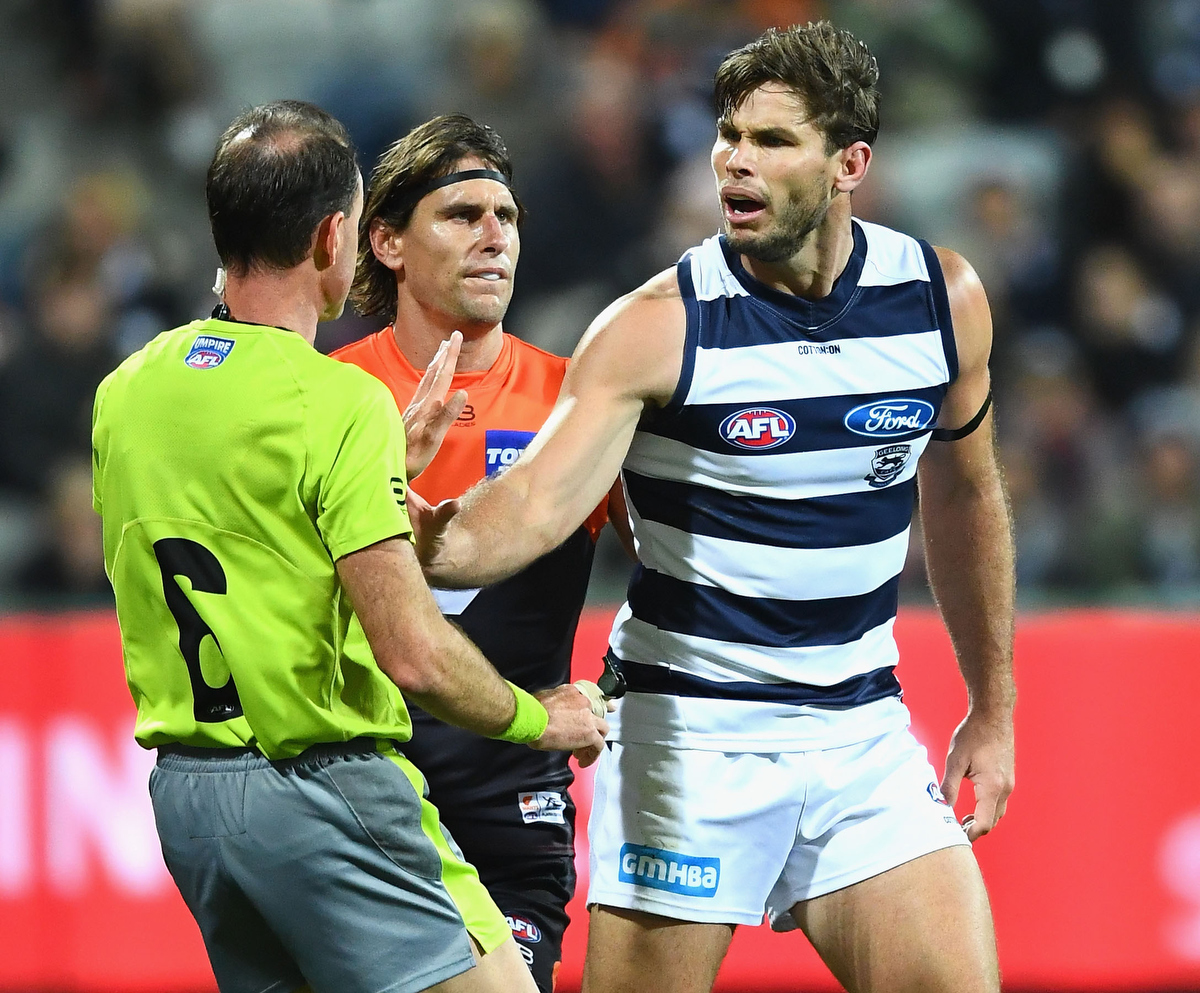 Of course, if it is aggressive, then the tribunal needs to respond with a very big stick. Somebody said on radio SEN the other day that the penalty should be a fine or 10 weeks, with nothing in between. That sounds about right. It goes without saying that you cannot have umpires being attacked, not that it has happened at AFL level for many years now. The last time was when Collingwood Reserves player John Bourke violently decked an umpire and then jumped the fence to attack a spectator, for which he got 10 years, later reduced to six. Five years earlier, multi-club star Phil Carman, playing for Essendon, head-butted a boundary umpire, which cost him 20 weeks. The most recent case was when dual Brownlow medallist Greg Williams, playing for Carlton, got nine weeks for pushing away field umpire Andrew Coates after the final siren in a fiery match against Essendon in round one, 1997.
The Bourke and Carmen cases were clear-cut but the Williams one was not, going all the way to the Supreme Court and beyond. Coates did not report Williams, explaining why in a letter to the League, in which he said the champion centreman had become extremely upset after being goaded by Bomber Sean Denham and was preparing to remonstrate. "Whilst trying to persuade Williams not to pursue the matter, he told me to 'go away' and simultaneously pushed me in the chest," Coates wrote. "I believe this was a reflex action of sheer frustration and anger directed at Denham. Whilst his actions could be construed as interfering with an umpire, at no time did I feel threatened norm, given the circumstances, that I was interfered with to an extent that would warrant such a serious charge and accordingly no report has been made.." Williams told the tribunal he was fixated on Denham and did not know who he had pushed away, and a neuro-psychologist gave evidence that he would not have known it was an umpire because Coates was outside his field of vision. Carlton obtained a Supreme Court injunction allowing Williams to play on before, some weeks later, Justice Hedigan ruled that there was no evidence that Williams had intended to interfere with the umpire. "It bordered on the trivial," he said. He called into question the AFL's tribunal process which offered no "middle stage" between a decision and an appeal to the Supreme Court. The League set up its own appeals board the following season, which it used to intervene in the cases of the Curnow brothers.
The AFL took the Williams reprieve to the Court of Appeal, which ruled in its favour on a split decision, 2-1, and his suspension began officially in round 17 of the same season. However, he retired and did not serve it. Media and sports lawyer Justin Quill told the Herald Sun it was unlikely there would be another such court case in modern football because "the systems and procedures are tighter and more likely to provide players with natural justice."
The circumstances of the Williams case resonated with Sutcliffe, who said there used to be some hairy moments when the big men like Carl Ditterich and Don Scott would take each other on and you had to get in the middle of it and break them up. "You never knew what might happen," he laughed.

WHY WOULD you name a first-class cricket team after a bunch of bank robbers and cop killers? That struck me as a mystery when, more than 20 years ago, Cricket Victoria decided to identify its Sheffield Shield team as The Bushrangers. They might as well have called them The Criminals and been done with it.
Google bushrangers and this is the definition you get: Bushrangers were originally escaped convicts in the early years of British settlement who had the survival skills necessary to use the bush as a refuge to hide from the authorities. By the 1820s it had evolved to refer to those who abandoned social rights and privileges to take up "robbery under arms" as a way of life. These :"Wild Colonial Boys," mostly the sons of convicts, were roughly analogous to British "highwaymen" and outlaws of the American Old West and their crimes typically included robbing small-town banks and coach services. In other infamous cases, such as … Australia's best-known bushranger, Ned Kelly, numerous policemen were murdered."
So it wasn't exactly a moniker for cricket fans to be proud of. When such nicknames officially came into fashion in 1995, no doubt at the urging of Cricket Australia, the other states, the other states all opted for something a little more respectable: The Western Warriors, the Tasmanian Tigers, the NSW Blues, the South Australian Redbacks and the Queensland Bulls. Now, Victoria has become the first State to bin the concept, announcing this week that the men's team will now be known simply Victoria, as it was for well over 100 years before the switch was made. So will the women's team, previously known as The Spirit. It's not before time and according to the jungle drums, it probably won't be long before the other states follow suit, leaving the concept of gimmicky team names to the Big Bash League, both men and women. Which, I suppose, brings us to the Renegades: according to my dictionary, the definition of that word is a deserter, a person who is faithless to a principle, party, religion or cause. Hmmm, not sure I'd be in any rush to adopt that as a handle, either. Perhaps someone at CV should have invested in an office dictionary, thesaurus or encyclopedia a few years ago.

MY OLD mate Rodney Malcolm Hogg, the former Test fast bowler of some note, makes a living these days – and also amuses himself and his many fans on social media – by making controversial statements on the noble old game, many of which make a lot of sense. And some of which make you wonder if he's just being controversial for the sake of it. That was the case, I would suggest, when, midway through the historic first Test match played by Ireland, with the hosts fighting hard to prove themselves worthy of their elevation to cricket's highest church, Hogg tweeted: Keeping a close eye on the Pakistan cricket team. Don't tell me the unthinkable may occur???
It is just possible he meant it would be unthinkable for an established team like Pakistan to be beaten by such a rookie outfit in any circumstances, but the tone of the comment – "keeping a close eye on (them)" – clearly suggests Hoggy was alluding to the possibility of match-fixing, which just goes to prove that when mud sticks to a blanket it is very hard to remove.
The Pakistanis duly won the game comfortably enough, by five wickets, although they did drop enough catches to make the task more difficult than it might have been. Oops … now I'm doing it too! The truth, to be sure, to be sure, is that the Irishmen were solidly competitive and entitled to be proud of their debut. Now we await Afghanistan's first appearance at this level, which is against India in Bengaluru next month. This will also be an historic milestone as the Afghan's become the 12th Test nation but the sense of occasion has been diluted by Indian captain Virat Kholi's decision to not play in it, opting instead for a stint in county cricket in preparation for India's tour of India. It is a gesture of arrogance and disrespect – for both Afghanistan and the game – by Kholi, and he shouldn't be allowed to forget that when he turns up in Australia later this year. You can bet Kholi was one of the loudest voices behind the Indians' refusal to play the Adelaide Test as a day-nighter. Just more arrogance.

AT THE aforementioned lunch this week, a regular gathering of the Vingt Cinq Club which is sort of an RSL for old sportsmen, member Alf Matthews, the former jockey arrived with his guest Darren Gauci, also now a retired hoop. Just as they were starting to regale the table with stories about what they had got up to and away with in the good old days, retired umpire John Sutcliffe sat down with his guest – former chief steward Pat Lalor. "Do tell me more," laughed Lalor, as the two hoops started watering down the tales.

SPORTSMAN OF THE WEEK: He didn't actually do anything this week, it's more what he has done for decades and won't be doing again – namely, entertaining us. Take a bow, Bill Lawry, who, at 81, has decided to retire from the cricket commentary box rather than make the switch from Channel 9, his long-time home, to the game's new broadcaster, Channel 7. The fact that 7 put in a call to the former Test captain and high-class opening batsman is proof enough of his enduring popularity. That's two superb innings, Phanto – one on the field and one off it.
WINNER OF THE WEEK: Similarly, rugby league superstar Cameron Smith deserves loud applause for what he has put behind him, namely a peerless career in representative football for Australia and for Queensland. His retirement from that level is hopefully good news for Melbourne Storm, who might now get another year out of a machine that has already put in an unprecedented amount of work in domestic football.
LOSER OF THE WEEK: Something had to give at the troubled Essendon Football Club as a much-anticipated season has turned to massive disappointment, and so its assistant coach Mark Neeld first out the door. He won't need to reach into his pay-out envelope for his subs to the Sacked Coaches' Club because he's already a member of it from his time at Melbourne, where he didn't even make it through his second year.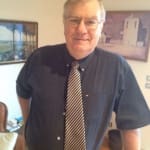 Author:
Ron Reed
RON REED has spent more than 50 years as a sportswriter or sports editor, mainly at The Herald and Herald Sun. He has covered just about every sport at local, national and international level, including multiple assignments at the Olympic and Commonwealth games, cricket tours, the Tour de France, America's Cup yachting, tennis and golf majors and world title fights.
Comments
comments
0 comments