---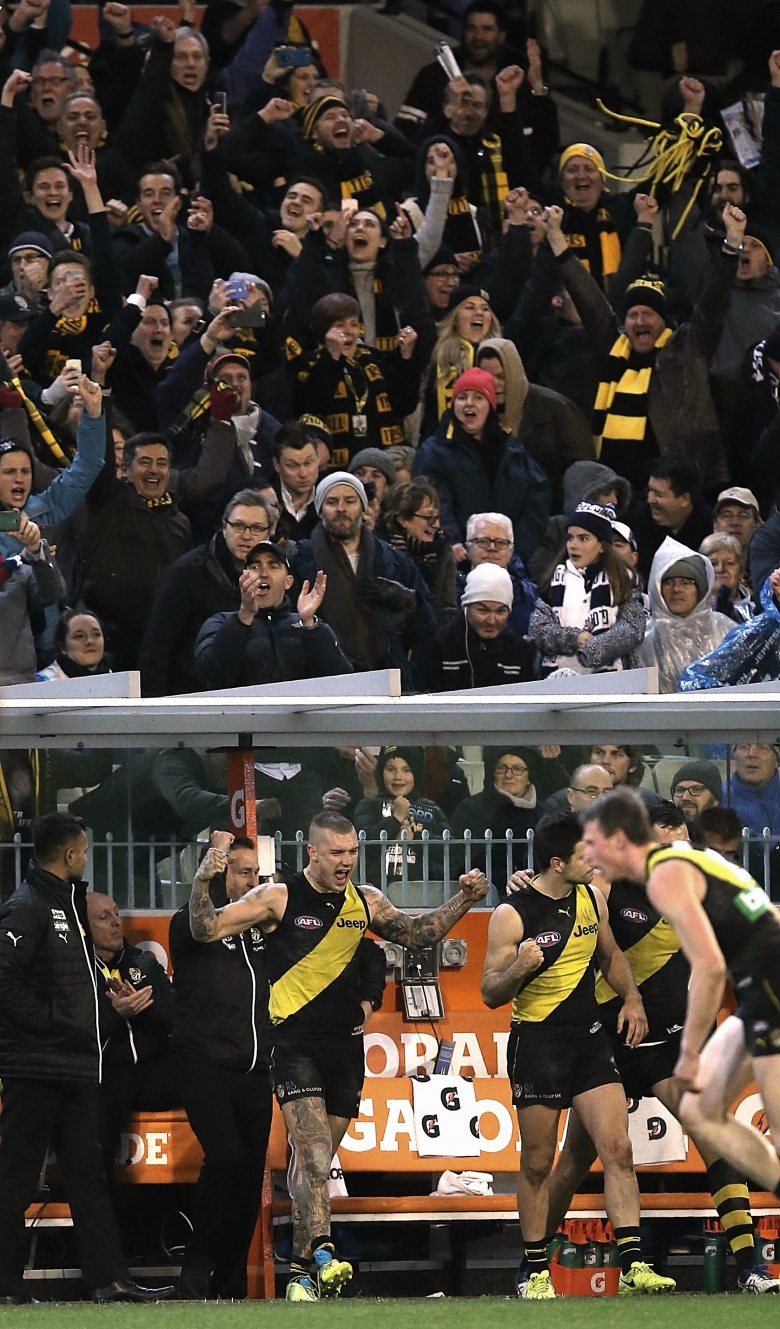 Reading Time:
13
minutes
THE WEEK THAT WAS: It is Tiger time and one of the mysteries of footy life is why a club that has always had so much to be proud of has had to fight its way back from death's door, says chief writer RON REED:
IT IS POIGNANTLY unfair that Neville Crowe should have missed watching Richmond return to premiership contention by such a narrow margin – he died almost exactly a year ago, aged 79. This Grand Final has arrived on the 50th anniversary of the drought-breaking Tiger premiership in 1967, which he was also robbed of participating in. Famously –  infamously, more like it – he missed the biggest match of his superb career when he was suspended for hitting Carlton's John Nicholls in the semi-final, which he simply didn't do. Big Nick took an Oscar-worthy dive and the umpire and tribunal fell for it. Devastated, Crowe retired immediately and took many years to get over the emotional pain, if indeed he ever did. As his Wikipedia entry says, that phantom punch was one of the unluckiest moments in the game's history.
Other than playing in a premiership team, there wasn't much he didn't do for Richmond on the field – 150 games, three best and fairests, captain for four years, nine games for Victoria, All-Australian and club Hall of Fame. But his biggest contribution was off the field. He was president from 1987 to 1993 and led the Save Our Skins campaign in 1990 which rescued the club from financial ruin. If not for Crowe and an army of other stalwarts, Richmond would not exist today. What a tragedy that would be.
I knew "Crowey", as everyone called him, well, especially in his later years through our mutual membership of the Vingt Cinq Club, a sort of RSL for old sporting warriors of various persuasions. He was a very popular member, largely because he was a very personable and decent man with a well-developed sense of humour – he always had a joke to tell. Sadly, though, Alzheimer's caught up with him, reducing his capacity to participate, and, ironically, he had a few financial problems himself which he confronted with the same determination he had shown on behalf of his beloved club.
It's not just Richmond people who should be pausing this weekend to reflect on the debt owed to the old ruckman. An AFL without the Tigers is unthinkable, even more so than an AFL without the Western Bulldogs – and that has nearly happened more than once too. Both clubs are survivors, which is one of the main reasons there was so much goodwill for the Bulldogs fairytale from supporters of other teams last year, and almost as much for the Tigers this time around. Both clubs have had to fight long and hard, and from a long way back, to be in this position and sports fans always respond generously to that.
In both instances, the AFL heavyweights have been able to have their cake and eat it too, in that they want the national competition to thrive – thus, it suits them to have an interstate team in the grannie – but they also need the heartland to be strong, so you need a Victorian team too. This is the sixth year in a row that has happened. As much as HQ want to see their creation, GWS, go all the way, if they had beaten Richmond last year and were lining up against the Crows now, the showpiece match just wouldn't have the blockbuster appeal that this one has.
You have to scratch your head now in wonderment that the Tigers ever came so close to the brink, given how much they have had going for them. They have always been more visible than any other Melbourne club because of their home base on the city's busiest thoroughfare – the old wooden grandstand impossible to miss by hundreds of thousands of people who drive past every day – and they play their home games on the MCG, where more people watch footy than anywhere else, by far. They have a long and pretty successful history – 10 premierships since coming across to the VFL from the old VFA almost 110 years ago – and they have always had a powerful, if sometimes latent, support base, which has allowed them to line up shoulder to shoulder with Collingwood, Carlton and Essendon as the traditional Big Four in Victoria. This year, more people have watched them play than any other club and those who identify as members of the black and yellow army do so with a sense of family that strongly challenges Hawthorn, whose motto is "the family club," and Collingwood, who have always insisted they are the epitome of sporting brotherhood.
All clubs have produced their share of great men, not just players and coaches but administrators and supporters, too. Richmond have certainly been no exception, and they tended to stick tight, no better example than N. Crowe. They have produced some truly outstanding servants to the game in general but always with Tigerland as an unforgotten, unforsaken backdrop. Kevin Sheedy has exerted enormous influence across the entire spectrum but he was a one-club player and learned about life during Richmond's most successful era. Tom Hafey made his name as a Tiger player and coach, and then spread himself to the benefit of three other League clubs and countless others in the bush and in schools for the rest of a life dedicated to football. Kevin Bartlett was also a one-club player, and how – 404 games, no less – and a huge part of the 1980 rescue mission and still, in his 70s, works in the footy media to the game's great benefit. Neil Balme, another one-club player, has been all around the other traps before returning to the Tigers; Brendon Gale has turned his back on opportunities to earn more elsewhere to work as CEO of the club where he, too, played all his footy. Matthew Richardson never went anywhere else and the list goes on. This is a football club with a powerful sense of solidarity and it was seen again only weeks ago when its best player, Dusty Martin, couldn't come to terms with the idea of selling himself to the highest bidders elsewhere, declaring that he loved the club and his team-mates. If his club has been the best collective feel-good story of the year, the tattooed titan has been the most successful, interesting and admirable individual.
There is nothing quite like the spectacle of a big Tiger win, with that stirring "yellow and black" anthem, as the 95,000 who saw their preliminary triumph will testify – the mighty MCG has hosted many memorable occasions but the atmosphere this one generated was something else. The build-up to the Grand Final has been so intense that if they win the party is expected to be the biggest in footy history, with the streets of an entire inner-city suburb likely to be closed to traffic.
And if they don't win? Well, their time will come, and soon. On the sports radio station SEN this week, I heard a fan who works in the media in Los Angeles say that he could handle defeat equably enough if it meant his club would be strong for the next six or seven years. That's the lesson reverberating from the distant past – when they last won, in 1980 and made the Grand Final again two years later they looked set to dominate for a long period – and were nearly cactus a decade later. This time, though, they are financially and politically stable and would appear to be in no danger of collapsing in similar fashion.
As a Carlton supporter I learned to hate Richmond – well, maybe "hate" isn't exactly the word for sports-related emotion, but you get the drift – but it's been impossible to do that this week. Sportshounds writer Terry Brown, as dedicated a Collingwood supporter as I know (and I do try not to know many of them!), nails it in his piece elsewhere on this site when he says he was walking through Richmond the other night and heard a loud cry of "Yellow and black" – and the truly scary part was that it was coming from his own black and white mouth.
I know exactly how he feels. Richmond almost certainly wouldn't want a decrepit old Carlton supporter on their heavily-laden bandwagon but hopefully they won't mind if I salute it as it chugs past, horns a-tooting. They have earned that much from the rest of the footy world. This one's for you, Crowey!
* * *
THE Brownlow Medal certainly produced the correct winner in Dusty Martin – there was not a skerrick of controversy about that. Not so with the goal of the year and the mark of the year. Young Tiger Daniel Rioli claimed the first one with a brilliant gather, evasion and snap from the boundary line ahead of champion Swan Buddy Franklin's dash down the wing and long shot from beyond 50m – a correct verdict, I thought. But Bomber Joe Daniher's nod for the best mark was wrong, with Magpie Jeremy Howe's huge leap against his old team Melbourne significantly superior. Howe looked distinctly unimpressed when the decision was read out and you couldn't blame him. These two coveted awards are decided by public vote and are therefore not completely objective. Collingwood president Eddie McGuire was outraged, but probably just as surprised that his huge constituency couldn't get a public vote over the line. Perhaps the real story might be that everybody else voted against Collingwood just for fun. Whatever, if Howe's manager Ben Niall is on the money when he claims the it will cost his man as much as $40,000 in prizemoney, endorsement bonuses and image rights, then a more reliable system is required. Happily, the League agrees, with CEO Gillon McLachlan promising to "have a look at it."
* * * *
WHICHEVER way they jump on the Ben Stokes affair, English cricket cannot win. If the gun all-rounder is banned from the Ashes over his street brawl – as he surely must be – then the competitive advantage will swing enormously Australia's way. If he is allowed to make the trip, then England's disciplinary and cultural credibility will have been desperately compromised, perhaps beyond repair.
Stokes has been suspended while the cricket authorities wait for the police to make the next move, and is said to be "shattered and fragile." Commentator Mark Nicholas didn't stop there. "He will surely be hurting – there will be guilt too, along with frustration, fear, angst and embarrassment. Most of all he will feel shock. A night on the tiles, especially one that ends in such disaster, is a mighty gamble when the world lies at your feet. England are unlikely to retain the Ashes without him, so he better be cleared by the police or family, friends and fans will hold him accountable," Nicholas wrote. Quite so.
So much is at stake here that every attempt is likely be made to find a way to justify keeping Stokes in the loop. Controversial journalist Piers Morgan has started that ball rolling by suggesting Stokes was defending two gay man who were being taunted by aggressors, one of whom was brandishing a bottle. Even if true, that doesn't mitigate Stokes' stupidity on a number of levels, and it certainly doesn't lessen how tragic the consequences might have been – as has been pointed out by former Victorian captain Darren Berry, who was present when David Hookes was killed in a street fight. As some commentators are pointing out, even if it started in self-defence it descended into thuggery.
Even if Stokes makes the trip, he will be a target for crowds – cue gleeful chants about another English convict being transported to Australia — and therefore a distraction for his team-mates, especially in the early part of the tour when the Ashes could be quickly won and lost before the dust settles. Whatever way you look at it, Stokes has provided the Australians with a massive free kick, which will be quietly welcomed by captain Steve Smith and his troops, who are under plenty of pressure themselves after a year of ordinary performances in all formats. It is a deeply disappointing note on which to begin the most anticipated sporting contest of the year.
* * * *
MICHAEL Matthews, who is probably Australia's best road cyclist these days, just ahead of Richie Porte, narrowly failed to follow up his green jersey win at the Tour de France with the world championship, finishing third behind Slovakian superstar Peter Sagan and Norway's Alexander Kristoff. Matthews was gesturing in frustration and may even anger as he crossed the line after being held up for the sprint, but he shouldn't be too dismayed – a bronze medal in a race of that significance is not too shabby. Certainly, it is no disgrace to be beaten by Sagan, who has now won the title three years in a row and is not just a champion performer but a colourful character who adds to the appeal of the sport. There was probably an element of karma too, with Sagan having been DQ'd from Le Tour in highly controversial circumstances, clearing the way for Matthews to claim the coveted green garment.
SPORTSMAN OF THE WEEK
No contest … Brownlow medallist DUSTIN MARTIN not only won clearly as expected but handled the occasion with an aplomb not always expected of a bloke who clearly does not enjoy being in the public spotlight anywhere but on the field.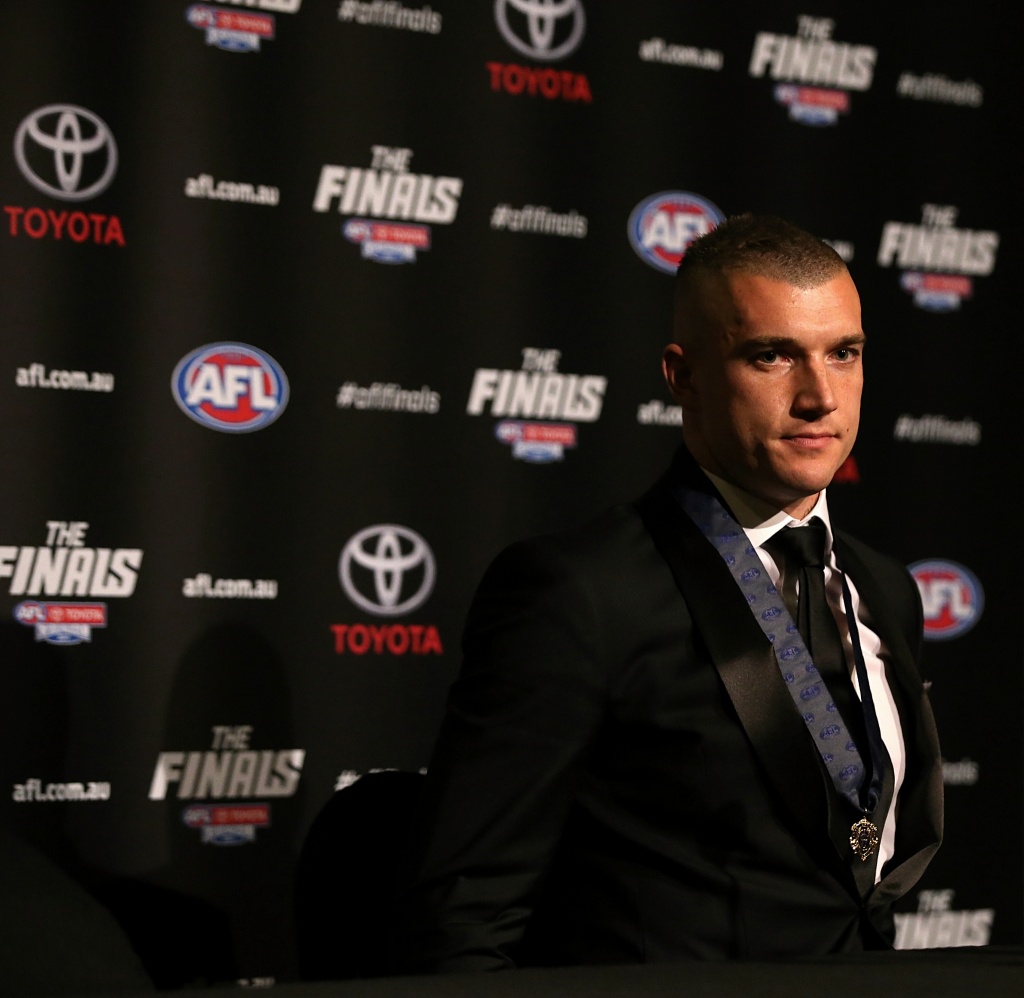 WINNER OF THE WEEK
Well, footy fans – and yes, their rugby league counterparts – are about to find that out, aren't we?  My tips: Adelaide and Storm.
LOSERS OF THE WEEK
All those Richmond fans who have been waiting for decades for a Grand Final to come along and now have been unable to get a ticket. Yes, it happens every year but given the length of the drought and the size of the Tiger army, it's especially cruel this time around.
QUOTE UNQUOTE
 "I was just a young bloke who liked to play up every now and then and Ralph (Carr, his manager) and my old man were sick of it. They sat me down and told me to pull my head in or they weren't going to help me any more. So, I've pulled my head in a little bit." Tiger hero DUSTIN MARTIN reveals one of the secrets to winning the Brownlow.
"I just wanted to say to my dad, I wish you were here mate. I love you."  MARTIN has only one regret.
"I probably found out in a nutshell I was probably the worst thing for us at that stage. The first thing is, look at your own performance and if you are really honest and upfront, and Mrs Hardwick certainly had input as well, (she said). 'You're not the man I married.' I wasn't the happy go lucky bloke. It was not what I wanted to be, it reflected poorly on me and my players – and I had to embrace the vulnerability of being who I am." Tiger coach DAMIEN HARDWICK took the proverbial good hard look at himself on the way to being named coach of the year.
"Processes and procedures – that's where everybody goes, 'How boring is that stuff?' So it is governance and that is the boring part often. But I think making the best decision you can sometimes means you've got to take time, gather the information and then sit back in the cool light of day and decide what to do." Richmond president PEGGY O'NEAL on how the club decided to retain Hardwick, rather than sack him.
"I might take a Richmond gap year and not work for an entire year. I did say once that if we won I would wear my footy jumper every day of the year until the next Granny, so watch out." Comedian and Tiger tragic MICK MOLLOY leads the way as fans of the yellow and black plot just how over-the-top their celebrations might – might – get.
"The challenge now for us is not to think we're close and need to go only that little bit further next year. The harsh reality is we've got a long way to go … everyone has to start again." Geelong superstar PATRICK DANGERFIELD echoes his coach Chris Scott in warning that the Cats have nothing to purr about.
"We're taught to tackle in this game and if you don't you've got answer to your own team-mates about why you didn't. It's pretty difficult when the answer is, 'Well, I was concerned with the safety of my opponent.' Like, come on." The outspoken DANGERFIELD again, advocating a few changes to the Match Review Panel processes that nearly cost him a second Brownlow.
"The reason why I'm probably contemplating this is the joy I had last year playing with the younger guys and helping them develop – it's probably another stage of my development if I do want to coach a bit more." Hawthorn stalwart LUKE HODGE finds a reason to contemplate coming out of one of the shortest retirements on record and joining the Brisbane Lions.
"We have all been doing it for 20 years. Guys have back surgeries, I have had shoulder operations, it does take a toll because we don't just roll up and do 10 on the day. It's the constant training and rehab we have to go through." Grand Final umpire Simon Meredith doesn't expect the bounce to be around come next year's playoff.
"Aah, the pig. It has stood the test of time, the pig. The pig's had a hell of a run. It's 25 years old, the pig. It's the longest living pig in history. People get a laugh out of it and that's what we're here for. I get a laugh about it." Footy's greatest goalkicker TONY LOCKETT didn't always see the funny side of a porker with his number 4 being let loose during a match in 1993, but he does now.
"Everyone's got regrets. Ask anyone and if they say they haven't, well, I don't know whether they've lived. It's no good looking back at regrets because I don't think it does you any good. You have to move forward in life. Yesterday's history, tomorrow's a mystery." LOCKETT again, taking life after footy as it comes.
"He said, 'Would you do mum and I a favour? When (the Governor of Victoria) Rohan Delacombe hangs the medal around your neck, please wear long sleeves to cover your tattoos.' A lot of the Fitzroy supporters were pretty wild with me about that." Can't imagine Dusty Martin's old man making the same plea that 1969 medallist KEVIN MURRAY'S dad did in the days when skin ink on footballers was almost unheard of.
"We've heard some rumours that they are going to try to get me sent off somehow. I'm not sure what they are going to say or do but there could be an Alastair Lynch-style exit to my career." Big, bad BARRY HALL knew there as trouble brewing before the Queensland Grand Final in which earned himself a suspension for whacking an opponent – again.
"It was New Year's Eve. My mate had a party that started at noon. I'm not that big on discipline as you know. It got to 2pm and I thought a can of Jim Beam won't hurt just to be sociable. At 3pm I had another one. I had to leave at 4 to be at the ground by 4.30 and I was really hungry on the way so we stopped at McDonald's and had two chicken burgers." Reformed footy bad boy BRENDAN FEVOLA prepares with the utmost professionalism for the 1999 Carlton v. Collingwood off-season match in which he kicked 12 goals.
"Whenever I've been in his side at a representative level, no matter what the scoreboard is, you never feel you're going to lose. It doesn't matter what the clock or the scoreboard says, you know you're going to win with him in your side." Rugby league superstar JONATHAN THURSTON is a fan of his only rival as the game's greatest current player, Storm captain Cameron Smith.
"You talk about player welfare and the duty of care to players and you've got little half-backs going to the line and passing and you've got big front-rowers smashing them in the back when they're not looking. It's a coward act. It's absolutely dirty play." Rugby League icon ANDREW JOHNS is distinctly unimpressed by Brisbane Broncos front-rower Adam Blair's tactics against Storm veteran Cooper Cronk in the preliminary final.
"He's the best rehab patient I've ever had. The commitment he showed. Wow! The motivation. Fantastic. He only came back because of his desire. Anything I suggested he'd do three or four more times than I said." Surgeon JOHN TRANTALIS reveals the mindset that got Storm star Billy Slater back from a shoulder injury that "was like a car crash".
"It's a different format (to the Ashes) but I'd certainly like to start winning some games of cricket in every format, to be honest. It's pretty ordinary and we need to start turning some results around and winning some games." Cricket captain STEVE SMITH is starting to feel the heat ahead of a long hot summer – and rightly so.
"I'd definitely rather play with Andrew Bogut than against him. He'd beat me up normally. But it's very cool having him on our team. Obviously, championship pedigree." Los Angeles Lakers recruit BROOK LOPEZ doesn't see Australia's biggest hoops star as a rival as they join forces.
"Wouldn't you love to see one of these NFL owners, when somebody disrespects our flag, to say, 'Get that son of a bitch off the field right now'? He's fired. He's fired!'" The Prez, DONALD TRUMP, invites yet more scorn for his response to football players making civil rights protests in the good old US of A.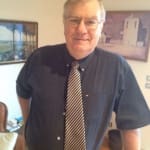 Author:
Ron Reed
RON REED has spent more than 50 years as a sportswriter or sports editor, mainly at The Herald and Herald Sun. He has covered just about every sport at local, national and international level, including multiple assignments at the Olympic and Commonwealth games, cricket tours, the Tour de France, America's Cup yachting, tennis and golf majors and world title fights.
Comments
comments
0 comments