---
Reading Time:
7
minutes
AUTHOR DAN EDDY looks back at the Norm Smith medallists from the Magpies and Eagles and presents their memories, good and bad, from that memorable day:
SINCE 1990, Collingwood and West Coast have appeared in a collective 12 Grand Finals (including the 2010 draw and replay): The Magpies claimed the coveted Premiership Cup in 1990 and 2010, the Eagles in 1992, 1994 and 2006.
While the 2018 Grand Final will be the first time they have met on the AFL's grandest stage, over the past 28 years they have played each other in seven memorable and, at times, controversial finals, with the bragging rights in Collingwood's favour (four wins, two losses and a draw).
With the Big Birds from Western Australia taking on the Mighty Magpies – the most admired (or despised) club in the land – their upcoming encounter promises to be another classic contest between two of the greatest clubs of the AFL era (1990-2018).
Notably, of their 12 AFL Grand Final appearances to date, the two clubs share seven Norm Smith Medals between them: the stories behind each winner's performance the subject of my latest book, appropriately titled The Norm Smith Medallists: The Players Who Delivered on Football's Grandest Stage (Slattery Media Group).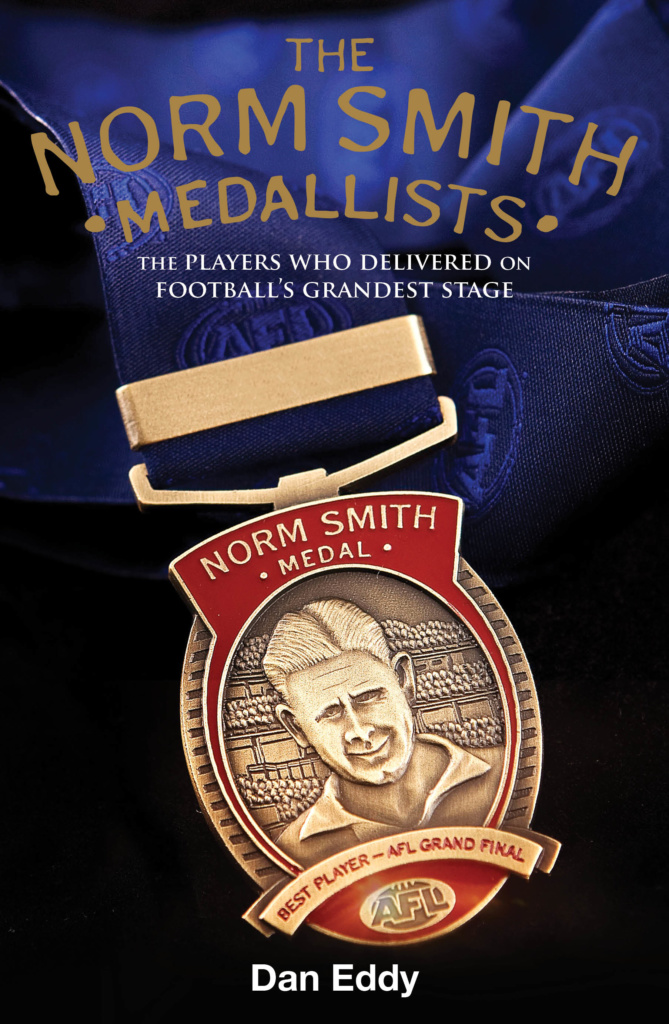 As discussion turns towards who will claim the 2018 edition of the award (first presented in 1979), those seven Grand Final champions reflect on the day their deeds entered into footy folklore.
1990 – TONY SHAW
Inspirational Collingwood captain Tony Shaw led the Magpies to the promised land in 1990 when they famously broke a 32-year premiership drought, beating Essendon by 48 points. The 30-year-old Shaw had 22 kicks and 10 handballs, took eight marks and laid four tackles in his best-on-ground display.
"[The AFL's] Tony Peek came up to me after the game and said, 'You're going to get your medal shortly,' and I assumed he meant the Premiership Medal. I already knew I had to go up to receive the Cup anyway, so I said, 'Oh yeah, the Grand Final Medal?' Then he said, 'No, the Norm Smith!' It didn't sink in straight away, and it doesn't sink in until later. I think that night, at the Southern Cross Hotel … that's when I sat back and thought: 'You're now a member of a winning Grand Final side, you're the captain of that side, and you've won the best on ground which means you can play in the biggest of games.' I remember thinking, 'Whoa! It doesn't get much bigger than this.'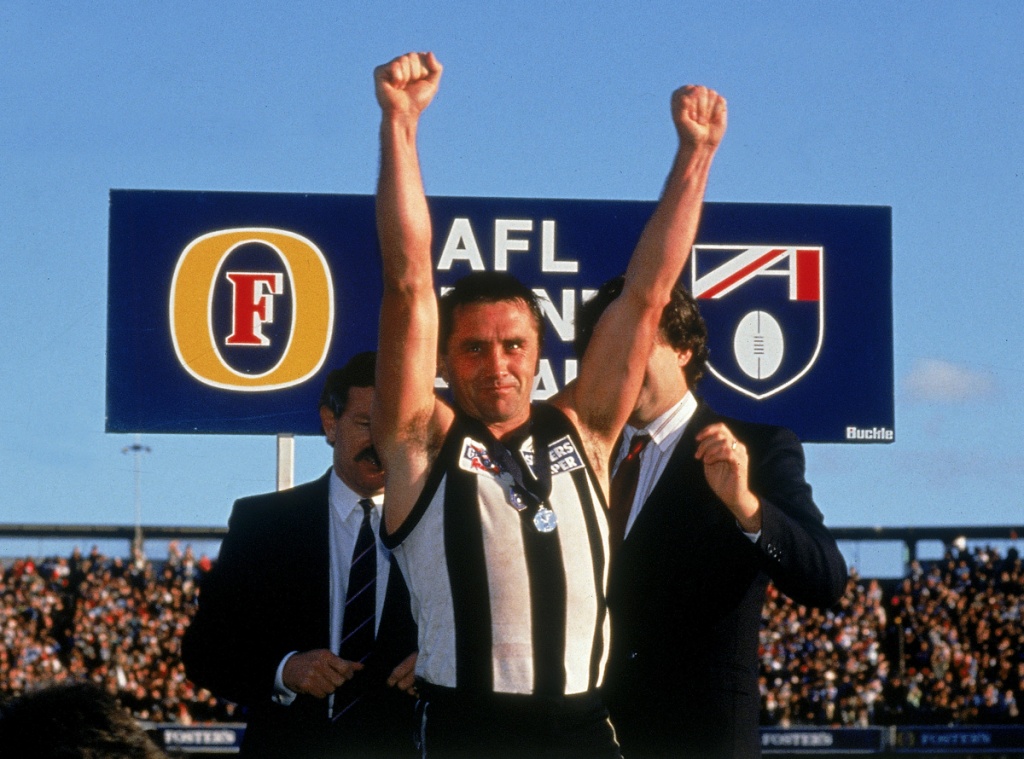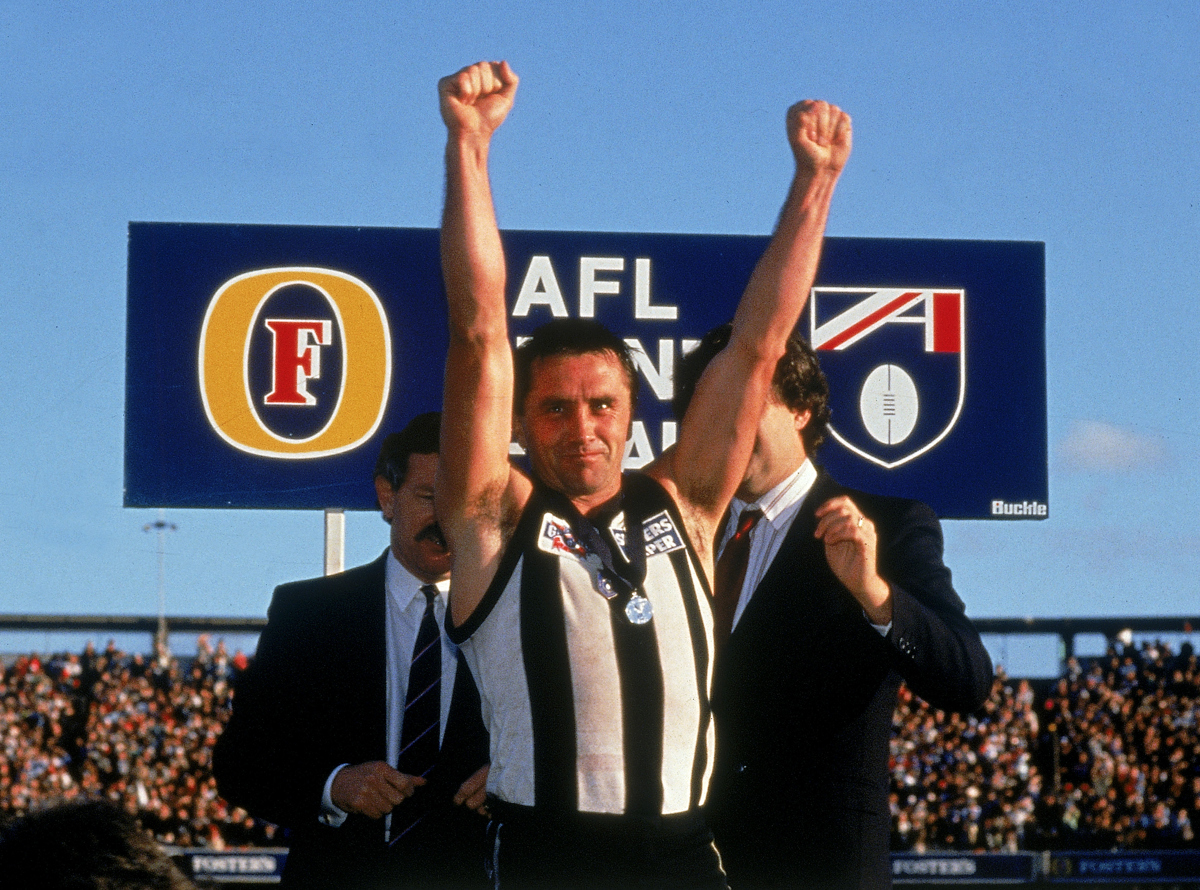 1992 – PETER MATERA
After losing the 1991 Grand Final to Hawthorn, West Coast were determined to become the first non-Victorian team to win a Premiership when they faced off against Geelong the following year. In an entertaining, seesawing contest, it was the brilliance of wingman Peter Matera who broke the game open during the third quarter. The 23-year-old collected 15 kicks and three handballs, took four marks and kicked five memorable goals to shatter Geelong hearts for the second time in four seasons.
"We were all huddled in the middle of the ground, the happiest men in Australia, when an AFL official marched over to me and said, 'You have won the Norm Smith Medal.' 'Oh, piss off,' I told him. I had not even considered the possibility of winning the award for being best player on the ground. I was happy enough just to be in a Premiership team. However, the official refused to 'piss off' and told me again that I had won the medal. This time I believed him and told Glen Jakovich, who hugged and congratulated me … I had dreamed for so long of winning an AFL Premiership Medal, but to be named best on the ground in the most important match of the year took my joy to a new dimension."
1994 – DEAN KEMP
Two years after Matera's heroics, it was the skinny, blond-haired Dean Kemp who shattered Geelong's premiership ambitions. The 25-year-old was superb from start to finish, gathering 18 kicks and five handballs, taking five marks and scoring two goals in West Coast's 80-point dominance.
"You always want to play well in the big games; that was something I prided myself on. I wanted to play well and do my part for the team. If you get a few more kicks and have a bit more fun, and are lucky enough to win a Norm Smith Medal, then that's something that's incredible and unexpected. To win the Norm Smith was amazing, but to win that first Grand Final in 1992 sticks in my head as the biggest thing we achieved. To have been a part of that success was awesome."
2002 – NATHAN BUCKLEY
When Collingwood fell agonisingly short against Brisbane in the 2002 Grand Final (by nine points), skipper Nathan Buckley became just the third player (after Richmond's Maurice Rioli in 1982 and Geelong's Gary Ablett in 1989) to be judged best afield in a losing side. Buckley, then 30 years old, gathered 28 kicks and four handballs, had eight clearances and kicked one goal.
"You're pretty numb straight after the game. As a group, we were just gutted. It was such a close result, and while you didn't feel it in those initial moments, there was an element of pride in what we had done as a team that day. It was hard to handle, really hard, but everyone knew that we could look each other in the eye and know that we'd all had a crack … You're consoling each other, and no-one's thinking about the Norm Smith Medal. So, it came out of the blue when it was announced that I had won it … In a sense, it was a microcosm of my entire playing career. I would have much preferred the team success over the individual accolades, but that eluded me as a player.
"Embarrassment is pretty close to how you feel when you accept the Norm Smith Medal in a losing side. It's the fact you haven't achieved what you set out to achieve. As captain of the team, I was not going to go back to the group wearing a medal when my teammates didn't have one as well, so that was why my instinctive reaction was to take it off straight away … I took it off, held it in my hand, and accepted the congratulations of everyone there, but it was cold comfort for how we were all feeling at the time."
2005 – CHRIS JUDD
Three years after Buckley's great performance, West Coast's Chris Judd became the fourth player to win the Norm Smith Medal in a losing team. In one of the most thrilling Grand Finals of the AFL era, the Eagles fell four points short of Sydney and Judd, then 22 years old, had 14 kicks and 15 handballs, recording game-high contested possession numbers (17) plus clearances (11).
"The Norm Smith Medal was something I wasn't expecting. I wasn't even thinking about it, to be honest. I don't remember feeling embarrassed, but I did feel like I just wanted to get off the ground and move on. Without being flippant towards the award, it doesn't hold a huge place in my heart because it doesn't signify that we did what we were there to do that day, which was win the game. The Brownlow signifies recognition of a great season (Judd won the award in 2004 and 2010), and the Norm Smith recognises that you played a really good game in a Grand Final, but the reality is that we lost that day as a team. I rate it a good game, personally, but not the best game I ever played. I don't know if it would be different had we have won."
2006 – ANDREW EMBLEY
The following year, West Coast's brilliant midfield of Judd, Ben Cousins, Daniel Kerr, Dean Cox and Andrew Embley helped secure a one-point victory against the Swans – another classic final between the two sides. The 25-year-old Embley was the standout, playing all over the field and having 14 kicks, 12 handballs, six marks and scoring two goals.
"You don't think that you're a chance to win the Norm Smith Medal. It's just pure relief in those moments after the final siren … a wonderful moment, and the thought of winning the Norm Smith Medal did not even enter my mind. Then suddenly my name was called up, and I'm walking up there thinking, 'What am I going to say?' About a month before, I was diagnosed with a paralysed vocal chord, so I had spent the whole finals series unable to talk properly. So, when I spoke on the podium, my voice didn't sound very good, and I lost it completely a week or two later. I'm extremely proud of being a Norm Smith medallist. Now whenever I get introduced anywhere it's: 'Norm Smith medallist Andrew Embley.' So, it's certainly special in that sense. But, it's not something I think about too much day to day, to be honest."
2010 REPLAY – SCOTT PENDLEBURY  
Having gathered just 19 disposals in the 2010 drawn Grand Final against St Kilda, Collingwood's Scott Pendlebury was more dominant in the replay as his Magpies charged to their 15th premiership. In the 56-point win, the 22-year-old Pendlebury had 20 kicks, nine handballs, took seven marks, laid 11 tackles and had six clearances.
"The Norm Smith Medal didn't enter my mind … I remember an AFL staff member tapped me on the shoulder and said, 'Scott, you've won the Norm Smith Medal.' I didn't even really take it in when he said it! A few seconds later it sank in, but I still didn't know what to think. Due to the strength of our side that day, we had five or six guys who would have been worthy Norm Smith medallists. Winning the Premiership was enough for me. The Norm Smith Medal was a little bit of icing on the cake. Arnold Briedis got my name wrong when he presented the Medal to me. He couldn't say my name and instead mumbled 'Scott Embereem.' I still cop flak from the boys for that today."
2018?
On Saturday, another Collingwood or West Coast player will add their name to the Norm Smith Medal's growing chapter of champions. Will Pendlebury become just the fourth player to win the award twice, joining Gary Ayres (Hawthorn 1986, '88), Andrew McLeod (Adelaide, 1997-98), and Luke Hodge (2008, '14)? Or will Jeremy McGovern do what Brian Lake did for the Hawks in 2013 and backstop his team to glory? Maybe the ever-consistent Steele Sidebottom or dynamic Elliot Yeo will set the MCG alight? Will it be Josh Kennedy who kicks the Eagles to victory? Can the big American, Mason Cox, join Jason Johannisen (Western Bulldogs, 2016) as the only foreign-born players to win "Normie"? And let's not discount Willie Rioli joining Maurice, Michael Long (Essendon, 1993) and Cyril (Hawthorn, 2015) by adding a fourth Norm Smith to the family's collection. One thing is certain: whoever is judged best afield in this year's Grand Final will have a fascinating story to tell.
Dan Eddy's new book, The Norm Smith Medallists: The Players Who Delivered on Football's Grandest Stage, is available now at https://books.slatterymedia.com/ for $39.95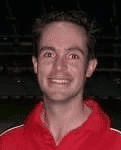 Author:
Dan Eddy
DAN EDDY is a storyteller with an impressive collection of works. He is the author of four books, including King Richard and Larrikins & Legends, and co-author of three more, including Champions and The Shinboners. 
He has a Master of Arts degree which explored the connection between Essendon champion Dick Reynolds and the Essendon community, and is a currently researching a PhD on another AFL Legend in Alex Jesaulenko. He is also a regular contributor to Inside Sport magazine, and has had articles published in the AFL Grand Final Record.
Comments
comments
0 comments