---
Reading Time:
6
minutes
LOSING a preliminary final by a single point must be a crushing experience. Losing two by the same margin, just three years apart, would be shattering. But one team were able to endure the pain and then march to a flag, as DAN EDDY recounts:
AS ADELAIDE, Geelong, Richmond and Greater Western Sydney prepare for their preliminary final clashes this weekend, all players will be desperate to experience the reward that await the victors—a Grand Final appearance. Preliminary final day is where dreams are made or broken. Essendon supporters certainly know all too well the agony and ecstasy of preliminary final day. In 1993, the Bombers trailed Adelaide by 42 points at half-time before storming home in the second half to pull off a stunning 11-point victory, one of the most famous finals victories in club history. But their next two preliminary finals, in 1996 and 1999, did not go to the same plan.
The two games that stick in the morbid memory of Essendon supporters like few others are the 1996 and 1999 preliminary finals. Players say that playing in a preliminary final is more stressful, more challenging, than playing in a Grand Final. Said Joe Misiti, who played in five preliminary finals for three wins and two losses, "There's a lot more tension surrounding a preliminary final. In a prelim, you not only have to be desperate enough to win, but you've got to toe the line and not get yourself reported. Everyone's on edge." That tension rings true for supporters, too. Just like the players, seeing your team play in a Grand Final is the ultimate of highs, and so to lose two preliminary finals, both by one point, was as devastating as it could get—for everybody associated with the Essendon Football Club.
Sydney had finished on top in 1996 for the first time since 1945 (as South Melbourne). The Swans then defeated Hawthorn in the qualifying final to move straight into the preliminary final. Essendon finished sixth, then lost the second qualifying final by one point to Brisbane, before rebounding to beat West Coast in the first semi-final by 77 points. The Bombers and Swans had met twice during the season: in Round 6 they played a thrilling draw at the Sydney Cricket Ground (SCG), while in round 21, at the MCG, Essendon won by 18 points.
The Bombers led by 25 points early in the preliminary final, shocking the Sydney crowd. But, led by skipper Paul Kelly, the Swans charged back in the second quarter, and the game soon became an arm wrestle. At half-time, Essendon lost young goalkicker Matthew Lloyd, who had ruptured his spleen in the second term. Dean Wallis, Joe Misiti, and Gavin Wanganeen were also carrying injuries. Mark Harvey, playing his 200th game, recalled, "We were running short on players the longer the game went on. Yet, we managed to hold the game in the balance."
With four minutes remaining in the match, the Bombers appeared to have booked their ticket for the big dance when they led by 12 points. Suddenly, Sydney found something, and goals to Dale Lewis, then Daryn Cresswell, tied the scores. Champion full-forward Tony Lockett had been held to just one goal by Dustin Fletcher, but, with less than 15 seconds remaining, Wade Chapman kicked the ball to a hole at centre-half-forward and Lockett marked on his chest. Harvey recalled the moment with a shake of the head: "There were some teammates in the vicinity who could have intercepted, or spoiled that kick, before it reached him. When he marked it, I knew we were in trouble because the siren sounded straight away. Lockett was a long kick, and he was a big boy, and he only had to score a behind for them to win."
From the 50-metre line, Lockett's kick stayed left, but went through for one of the most famous behinds in AFL history, and he was mobbed by his teammates and trainers. The Swans had won by the narrowest of margins: 10.10 (70) to 10.9 (69).
Misiti wonders whether the team would have been competitive had they made it through to the Grand Final the next Saturday: "If we had defeated Sydney, we would have had to make about eight or nine changes to our side for the Grand Final. We had a heap of blokes with serious injuries who would have struggled to get up the next week."
The only consolation for the club was when, two days later, James Hird—with Brisbane's Michael Voss—won the Brownlow Medal. That moment, too, is almost as famous as the photo of the Swans piling on top of Lockett, with Hird holding the Medal in front of a swollen cheekbone replete with a fine set of stiches.
Three years later, in 1999, and with a new and improving side, Kevin Sheedy's Bombers stormed to the top of the ladder, losing just four matches. The feat was remarkable considering they had been without Hird (foot) since Round 2, and Scott Lucas (broken leg) since Round 10. Essendon belted Sydney in the fourth qualifying final, moving straight through to the preliminary final, to meet arch-rival Carlton, who had finished sixth and lost the second qualifying final in Brisbane, before winning the first semi-final against West Coast. In Round 1, Essendon had beaten the Blues by 39 points, then, in round 16, scored a dominant 76-point victory. Come preliminary final day, Essendon was odds-on favourites to reach a sixth Grand Final under Sheedy.
The night before, North Melbourne had beaten Brisbane in the first preliminary final. Misiti said, "We had smashed North both times during the year (by 35 points in round one, and 26 points in round 17), and we really felt that we could knock them off in the Grand Final.
Perhaps the Essendon players were over-confident? Before the game, a line had already started forming outside the MCG, with Essendon supporters queueing for Grand Final tickets. It was a bad sign. When Carlton then jumped to a 16-point lead at quarter-time, and increased it to four goals at the main break, 80,519 people were shell-shocked. Essendon had kicked just five behinds for the second term. Years later, Lloyd wondered whether over-confidence was an issue: "People say that we got ahead of ourselves, and maybe some guys did think that way. But, we got jumped by a good team, and even though we fought back we kicked inaccurately during the second quarter (0.5 to Carlton's 2.1) which ultimately proved costly."
Stung into action, Essendon kicked 7.7 to 2.2 in the third quarter to lead by 11 points at the final break. With four minutes remaining in the last quarter, Carlton had wrestled back an unlikely eight-point lead, thanks to an inspired performance by midfielder Anthony Koutoufides. Ninety seconds later, Steven Alessio took a brilliant mark, then Misiti—Essendon's finest player on the day—found Mark Johnson, who goaled from 45 metres: two points the difference. A minute later, Mark Mercuri roved off the pack, side-stepped an opponent and dribbled the ball towards goal…and missed. One point down, 55 seconds remaining.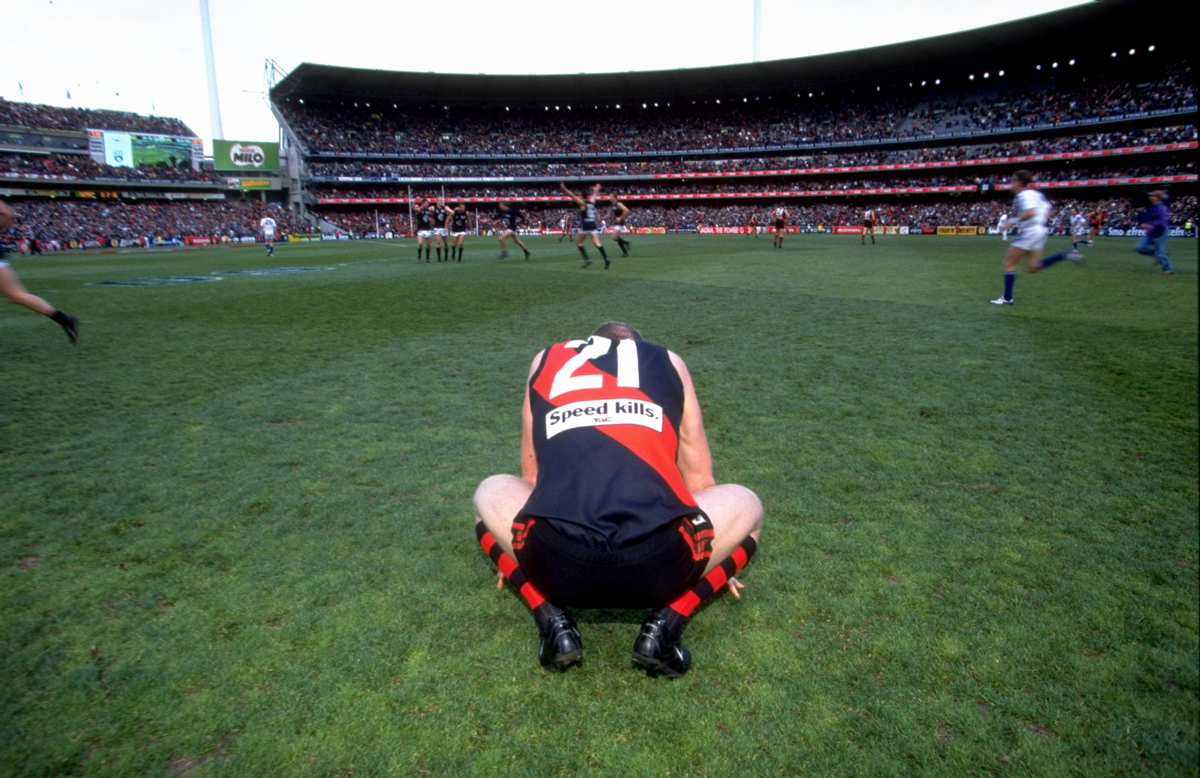 With 39 seconds left, Dean Wallis marked in the centre, alone, and took off towards goal. Only Fraser Brown stood between Essendon having a shot on goal, or Carlton pulling off the miracle win. Brown's tackle stuck. Carlton won by one point: 16.8 (104) to 14.19 (103). Misiti said, "Everyone blamed certain moments, or key individuals like "Mercs" when he missed that goal, Dean when he tried to baulk his opponent and got tackled, but, we had two hours to win that match and we couldn't do it. I don't blame anyone."
Lloyd, then 21, and playing his 81st game, is still hurt by the loss. "It remains the biggest regret of my career that we lost that preliminary final to Carlton," he said. "We'd beaten North a few weeks earlier, so we had the talent to go all the way."
Said Misiti: "After losing that, we had to go and watch the Grand Final as a team, which was hard because we felt that we should have been playing in the game instead of watching it. We did a bit of soul-searching after that, and then in 2000 no-one could get near us, we were that driven."
This is an extract from DAN EDDY'S recent book, Always Striving: The Key Moments That Have Made the Essendon Football Club. The book is available in the Bomber Shop, online at www.slatterymedia.com, and all your favourite book stores.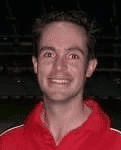 Author:
Dan Eddy
DAN EDDY is a storyteller with an impressive collection of works. He is the author of four books, including King Richard and Larrikins & Legends, and co-author of three more, including Champions and The Shinboners. 
He has a Master of Arts degree which explored the connection between Essendon champion Dick Reynolds and the Essendon community, and is a currently researching a PhD on another AFL Legend in Alex Jesaulenko. He is also a regular contributor to Inside Sport magazine, and has had articles published in the AFL Grand Final Record.
Comments
comments
0 comments