---
Reading Time:
8
minutes
THE BIGGEST notch on a footballer's belt is to be recognised as a big-game player—performing on the biggest stage, when the heat is at its most ferocious, and when thousands of people are desperately willing your team to bring them the ultimate glory: a premiership. Author DAN EDDY meets men who have won that famous Grand final medal:
WHAT A PLAYER DOES on Grand Final day can determine his legacy: play well and earn a level of respect which stays with them throughout their life; play poorly and a stain is attached to their name. "He was a good player during the season, but…."
In any team sport (except perhaps the NBA, where one or two star players control a team's fate), a coach demands that all his players play their role, stick to the structures, do the little things like block for a teammate or centre the ball rather than take a low-percentage snap for goal from the boundary line (unless you're Malcolm Blight, Jason Akermanis or Peter Daicos!). If everyone does those little team things, a victory becomes possible; be too individual, too selfish, and the team will fall apart.
There have been many examples of champion players who have shone under the spotlight of an AFL Grand Final. One thinks of Brent Crosswell (1970 and 1975), Dermott Brereton (1985), Wayne Johnston (1979, 1982 and 1987), Maurice Rioli (1982), Leon Baker (1984-85), Robert Dipierdomenico (1978), Michael Voss (2002), Alex Jesaulenko (1970 and 1972), Bill Barrot (1969), Barry Richardson (1969), Kevin Sheedy (1973-74), Kevin Neale (1966), Phil Baker (1978), Michael Long (1993), Gary Ablett (1989), Andrew McLeod (1997-98), Luke Hodge (2008 and 2014), the list goes on. There are the unlikely heroes, too, whose names would be forgotten in the passing of time but for their heroic deeds on Grand Final day. Think Bob Keddie (1971), Peter Francis (1979), Shane Ellen (1997), Paul Barnard (2000), Brad Scott (2001), Anthony Rocca (2002), Lewis Roberts-Thomson (2005) and Daniel Chick (2006).
Since 1979, the AFL (then VFL) has awarded the Norm Smith Medal for the best player afield in the Grand Final. In a team sport, the recipient of "Normie" (named after six-time premiership winning coach, Norm Smith) has entered his name into football folklore. What follows are the memories of a few of those Norm Smith medallists.
Wayne Harmes (1979 winner): I had a fear of stuffing up on the big stage, which I almost did in 1979. What ultimately drove me on Grand Final day was knowing that there were millions of people in and outside of the ground who were watching it. You just run on adrenalin, and maybe it makes you run a bit quicker or jump a bit higher—I don't know? I should not have been in the top ten in the Norm Smith Medal voting. I would have had Peter Francis as best on the ground, with Wayne Johnston not far behind him. Then you had guys like Billy Picken, who played a ripper for Collingwood, as did Mark Maclure for us. But, it was the first time the medal had been awarded, Norm was my great-uncle, and the VFL knew that, of course they did. For a bloke who had just 17 touches in a Grand Final and to be awarded the Norm Smith Medal, of course they had to have known the connection. I'm certainly happy to have it, and I won't give it back, but I'm a little bit embarrassed at times to have it.
Colin Robertson (1983): I like to think I'm a humble person. People ask me where my Norm Smith Medal is, and I tell them it's in the cupboard somewhere. I don't gloat about it. Yes, it's a nice feeling to know that I've won one, and you get introduced as a winner of the medal which is nice; it gives you a warm feeling. But, on game day it didn't mean a cracker because we were all so excited to have won the premiership. My kids were young in those days, but I think down the years they've become pretty proud of what Dad achieved.
Bill Duckworth (1984): Coming from Western Australia, I didn't really know the Norm Smith Medal existed. Winning it had not even entered my mind. Friends still joke, how did you win it? I laugh and say, "Someone must have thought I played alright." But it could have been Leon Baker who won it, or Darren Williams. But I was lucky enough to get voted the winner, and I'll certainly accept it; I won't hand it back! It's up on the wall at home. It's probably just something that happened as part of my journey, more so than the pinnacle of my career. I never aspired to play in Victoria, and never aspired to win a Norm Smith Medal. I was lucky enough to be playing in a VFL Grand Final, and was lucky to get enough votes to win the medal. You certainly accept the accolades now, but at the time it didn't really mean as much as winning the game did. The excitement of winning a premiership outweighed everything else. Just seeing the joy on people's faces was more satisfying than winning the Norm Smith Medal. But, it's something I look back on with pride now that my career is over.
Simon Madden (1985): I joke that I made Chris Langford's career, because they played him in the ruck and I won the Norm Smith Medal. They then moved him to full-back, and he played 300 games! I have had days where I just couldn't get near the ball, but that 1985 Grand Final was a day where the ball just seemed to follow me. I knew that I was up against a make-shift ruckman in Langford, who was a really hard worker and strong player, but wasn't a ruckman per se. So, I was confident enough to back myself in to be able to out-ruck and out-mark anybody. We used to do a lot of competitive marking at training with full body contact, and so technique wise and fitness wise I was really at my peak for that Grand Final. It's great that I won a Norm Smith Medal. I'd rather have it than not. But the 1984 premiership still ranks as my most special day in footy.
Gary Ayres (1986 & 1988): How I played in the 1986 Grand Final hadn't entered my mind immediately after the game. All I had focused on was doing something to help the team win after losing the previous two. Winning the Norm Smith Medal was the last thing on my mind. It's a bloody lonely place out on the MCG if you lose, watching the victors go up on the dais and receive their medals. You just want to dig a hole and bury yourself, and not reappear again until the start of next season. A lot of us contributed to the team cause in 1986, and that is always the most important thing in my mind. If I could have hopefully inspired my teammates to be able to do something that would get us near our best, that was always paramount in my mind.
Tony Shaw (1990): [AFL general manager] Tony Peek came up to me after the game and said, "You're going to get your medal shortly," and I assumed he meant the premiership medal. I already knew I had to go up to receive the Cup anyway, so I said, "Oh yeah, the Grand Final medal?" Then he said, "No, the Norm Smith!" It didn't sink in straight away, and it doesn't sink in until later. I think that night, at the Southern Cross Hotel, with my wife and all the players there, along with all the trainers and everybody, and just seeing the joy on their faces, that's when I sat back and thought, "You're now a member of a winning Grand Final side, you're the captain of that side, and you've won the best on ground which means you can play in the biggest of games." I remember thinking, "Whoa! It doesn't get much bigger than this." I had a lot of possessions and I controlled things, but I thought there were better blokes on the day. Whether I was awarded the medal or someone else was, I didn't care either way. It was nice to win it, but it wasn't the be-all and end-all.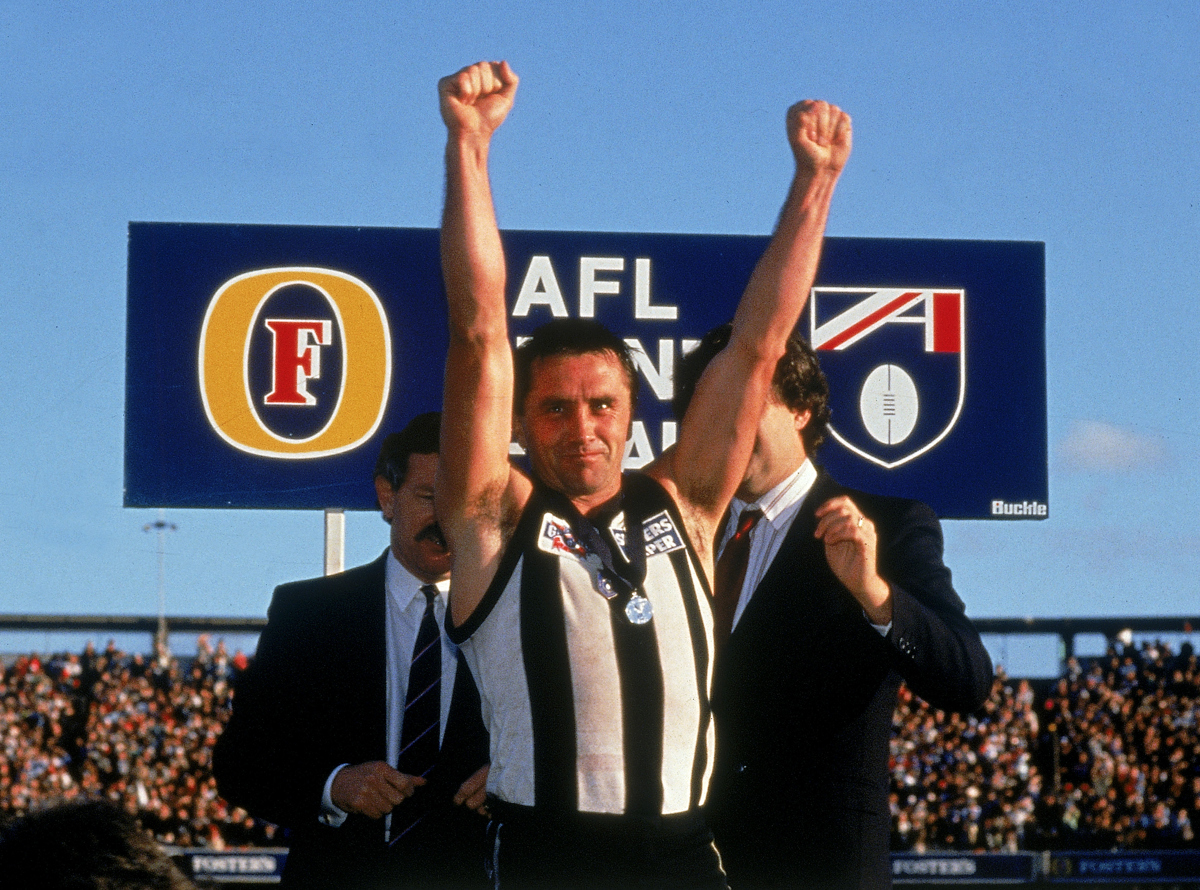 Paul Dear (1991): It's interesting winning the Norm Smith. You are singled out for your performance, when it really is a team performance. It's quite different to a Brownlow Medal, because you can win a Brownlow Medal when your team is performing badly, but very rarely can you win a Norm Smith Medal if your team is performing badly.
Dean Kemp (1994): When the game was over, all I was thinking about was getting my hands on a premiership medal; the Norm Smith Medal didn't come into it. When I was announced the winner and I walked on to the podium, I sent a cheer back to my mates in Kalgoorlie. I had gone from Kalgoorlie to the MCG pretty quickly. You always want to play well in the big games; that was something I prided myself on. I wanted to play well and do my part for the team. If you get a few more kicks and have a bit more fun, and are lucky enough to win a Norm Smith Medal, then that's something that's incredible and unexpected. To win the Norm Smith was amazing, but to win that first Grand Final in 1992 sticks in my head as the biggest thing we achieved. To have been a part of that success was awesome.
Nathan Buckley (2002): Embarrassment is pretty close to how you feel when you accept the Norm Smith Medal in a losing side. It's the fact you haven't achieved what you set out to achieve. As captain of the team, I was not going to go back to the group wearing a medal when my teammates didn't have one as well, so that was why my instinctive reaction was to take it off straight away. I took it off, held it in my hand, and accepted the congratulations of everyone there, but it was cold comfort for how we were all feeling at the time.
Andrew Embley (2006): I'm extremely proud of being a Norm Smith medallist. Now, whenever I get introduced anywhere it's: "Norm Smith medallist, Andrew Embley." So, it's certainly special in that sense. But, it's not something I think about too much day to day.
Steve Johnson (2007): Every player would like to say that they performed well on the big stage of a Grand Final, and I am certainly no different in that regard. But until you get there, you just don't know how you're going to handle it. The more of the big games you can play in, the more comfortable you get in that environment. You learn to embrace the energy that comes from big games in front of big crowds. You worry less leading into those games when you know that you have done the preparation. If you can perform your role, then the outcome is generally going to be good for you, and hopefully your team. Every single guy in our team contributed in 2007, and the Norm Smith Medal could have gone to any number of players. While I was awarded the medal, I was just so relieved to finally get a premiership.
Jimmy Bartel (2011): I was too busy dishing out hugs to be thinking about winning a Norm Smith Medal. In that euphoric moment after winning a Grand Final, you get a burst of energy and think you could play another game. It's amazing! An AFL official came up and told me that I'd won the medal, but even then I didn't appreciate that I'd won it. There is something special about winning a Norm Smith Medal. With no disrespect for the Brownlow, the Norm Smith is significant in that it signifies that you helped your team win a premiership; that's what sets it apart. It is reinforced when you have a premiership reunion, where you know that you have helped to contribute to that moment and you can share it with your teammates. Whereas, you can't do that with a Brownlow. Every time the Grand Final comes around, I think that not only did I get to play in four of them and win three, but I actually had a significant impact on that particular day as well. As I've got older, and now experiencing the build-up to Grand Final week from afar, I feel a part of it in a different way. Not only have I won premierships, but I've won a Norm Smith, and I can genuinely say that I helped significantly in Geelong winning a flag. That's pretty cool.
Wayne Harmes, Colin Robertson, Bill Duckworth, Simon Madden, Gary Ayres, Tony Shaw, Paul Dear, Dean Kemp, Nathan Buckley, Andrew Embley, Steve Johnson and Jimmy Bartel were all interviewed for Dan Eddy's new book on the Norm Smith Medal. Due for release in 2018, the book will be available through www.slatterymedia.com.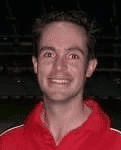 Author:
Dan Eddy
DAN EDDY is a storyteller with an impressive collection of works. He is the author of four books, including King Richard and Larrikins & Legends, and co-author of three more, including Champions and The Shinboners. 
He has a Master of Arts degree which explored the connection between Essendon champion Dick Reynolds and the Essendon community, and is a currently researching a PhD on another AFL Legend in Alex Jesaulenko. He is also a regular contributor to Inside Sport magazine, and has had articles published in the AFL Grand Final Record.
Comments
comments
0 comments