---
Reading Time:
7
minutes
THE WEEK THAT WAS: HE'S BEEN the best Australian basketballer for a decade and now Andrew Bogut is back in the local league, which is another big deal for a sport that is going places, says Chief Writer RON REED:
WHATEVER HE is being paid, exactly – and it will be seven figures – basketballer Andrew Bogut is already earning his keep. The man mountain's decision to sign up for a two-year stint with the Sydney Kings, bringing to an end his decorated career in the American NBA, created more media interest everywhere than anything else that has happened in basketball in recent years and that will multiply when he actually sets foot on a court later in the year.
With the exception of entrepreneurial businessman Larry Kestleman spending $6m to buy it a few years ago, Bogut is the best thing to happen to the National Basketball League in memory because he is a package of many parts. He has been one of the world's best players – perhaps he still is – and has vast experience in the world's best competition, he has the best interests of the game at heart, and he is still ambitious, with enthusiastic designs on the elusive Olympic medal, which was just one spot away in Rio two years ago. He has also declared himself bent on winning the premiership for the under-performing Kings, not merely using his name to flog tickets.
Plus, he is an entertainer on and off the court. He is a prolific presence on Twitter, where he has 373,400 followers, and his erudite observations are often controversial because he calls it as he sees it. There have been suggestions he might have to tone it down to avoid offending people but that is, of course, rubbish – the fans are going to want to know exactly what he thinks. And he is perfectly willing to tell them.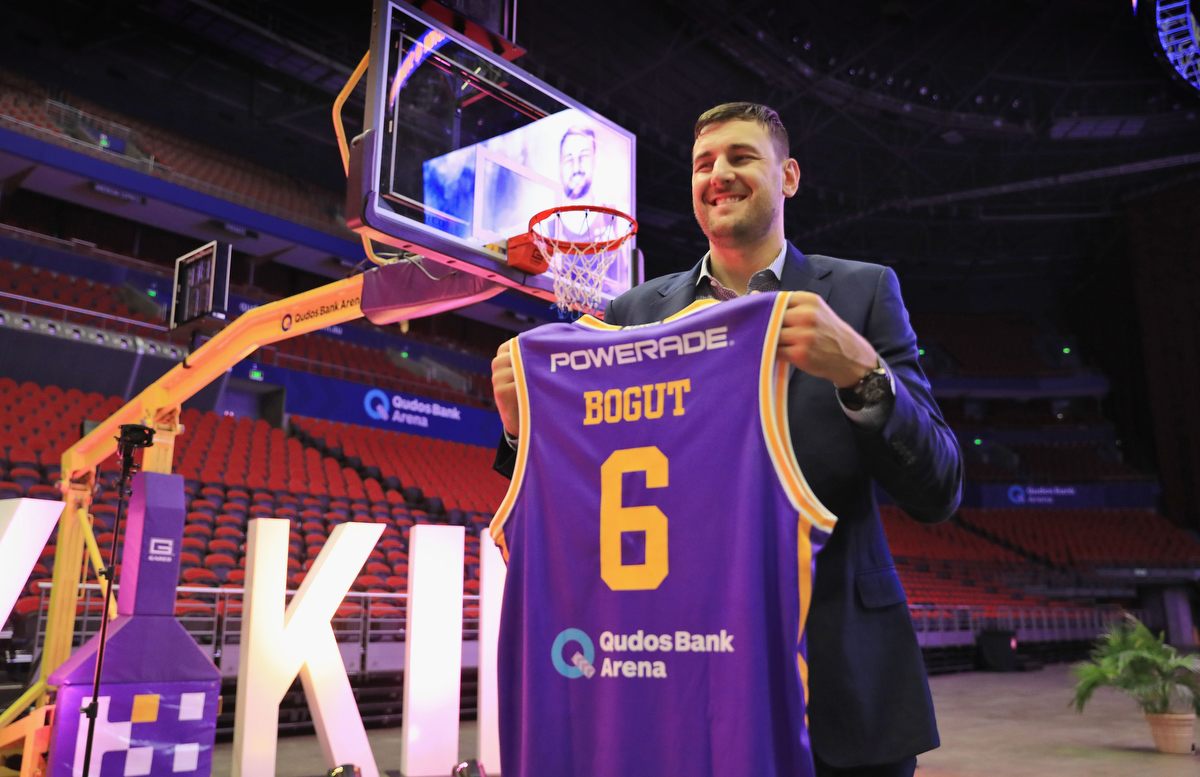 Not the least appealing aspect of his arrival is that he will be teaming up with Kings coach Andrew Gaze, who has been the No 1 personality in the Australian game for many years. Gaze is also an extremely personable presence – media-savvy, amusing, hugely knowledgeable and devoted to putting back into the game that has been his and his famous father Lindsay's life. Between them, Gaze and Bogut should add up to a promoter's dream, which is why Kestleman was also looking like the cat that got the cream during the week.
Kestleman has done a terrific job in dragging the NBL back to something like the prominence it enjoyed two or three decades ago, when Gaze was in his prime. The finals series this year, won by Kestleman's own team, Melbourne United, the modern version of the Melbourne Tigers for whom Gaze used to dominate, was a thriller that went all the way to a fifth match against the Adelaide 36ers. It was followed immediately by a runaway gold medal win at the Commonwealth Games by a team made up entirely of NBL players. Meanwhile, Australian players continue to make their biggest impact yet on the NBA. You don't need a very long memory to recall when there was only Bogut there. Now, as the post-Bogut era begins, there are 10 there, none more prominent than Melbourne-born young gun Ben Simmons, whose brilliant rookie year is continuing on the big stage, the title play-offs. It seems safe to suggest that it won't be long before he becomes the best player in the world. Joe Ingles is another who is earning plenty of American applause, just as Matthew Dellavedova did a couple of years ago. The prospect of all this world-class talent assembling at the next world championships and then at the Tokyo Olympics in two years is mouth-watering for the many Australian fans of the sport. Bogut's arrival at a court near you very soon will be symbolic of it – and not to be missed.

SOCCER'S A-LEAGUE has, it seems, been losing traction with the fans for at least a year or two now. One reason might be that it has become light on for players that uncommitted sports fans might pay their hard-earned to come and watch. There was a time when this column would gladly line up most weeks to savour the spectacular work of Victory's Archie Thompson, who we rated as one of the most watchable footballers of any code in Melbourne – Melbourne Storm's Billy Slater was the rugby league equivalent, and remains so. There are too many AFL stars to count in such an exercise but for what it's worth, Adelaide's Eddie Betts is a personal favourite.
All of which is to say that Victory's Besart Berisha, 32, has reminded us again why he is – and has been for a few years now – as good a reason as any to watch the soccer. His stunning, acrobatic "bicycle" kick that won the semi-final against the Adelaide Reds with less than two minutes to play was, he said, the best goal of his career, and he's scored more of them than anyone else in the competition – ever. The Albanian and Kosovo international is the only A League player to score 100 times, 48 for Brisbane and 68 for Victory for a total of 116 – and counting. It's not just his prolific consistency but the colourful, aggressive and dynamic style that makes him stand out so clearly on the field. Hopefully he can power the Victory through to the title play-off and if so, count me in as a spectator.

LANCE ARMSTRONG might be banned from cycling for life but that doesn't mean the sport has seen the last of him. Indeed, the disgraced drug cheat, who last week settled his $131m lawsuit with the American Government for about $6m, has said he will be in Jerusalem for the start of the Italian Giro in the coming week, for the purpose of reporting on it for his podcast Stages. Needless to say, he is not officially welcome – but his skin is a lot thicker than that.
Will he ever be forgiven? Not likely – the damage he inflicted on a great sport was off the scale. However, three years down the track, there is now a debate surfacing about whether it's time to admit that he has been a victim of sorts himself, in that there are plenty of other confessed or convicted drug cheats who have been allowed to keep their Tour de France wins and to manage teams or work as commentators. This is an unfair double standard, it was argued in a very sensible piece by London Telegraphy cycling writer Tom Cary, which appeared in The Age during the week. It's hard to dredge up much sympathy for the unlikeable American, but Cary's point – and it's Armstrong's point too, of course – is valid. The question is, how much slack does the sport cut him now without inflicting more damage on its integrity.
This is complicated by the presence on the starting line in Israel of Armstrong's successor as the world's best road race, England's Chris Froome, who has had an unresolved positive test – for salbutamol, an asthma medication – hanging over his head for about six months. Froome's Team Sky insists he is entitled to keep competing until it is resolved and Giro organiser Mauro Vegni has said he is welcome to start, but there is widespread unease that the case is dragging on for so long and might still be problematic in another two months, when the Tour de France arrives. The question has also been asked about what happens if a decision arrives in the middle of the Giro, which lasts for three weeks – or even afterwards, in the event that Froome wins, as he is expected to do. Might he be forced to withdraw mid-race in what would be a terrible look for all concerned? By no means for the first time, cycling is navigating an extremely bumpy road when doping raises its ugly head.
Meanwhile, the Australian team Mitchelton-Scott has declared itself in search of its first Grand Tour victory with not one but two riders, Colombian Esteban Chaves – winner of the Herald Sun Tour earlier this year – and Englishman Simon Yates. In another pointer to the team's policy of becoming more and more cosmopolitan and less reliant on home-grown riders, the eight-man squad includes only one Australian, Jack Haig, 24.

THE Victorian cricket team was bowled to victory over NSW in its second last Sheffield Shield match of the season – a showpiece occasion for the opening of the impressive new Junction Oval facility – by the consistently well-performed leg-spinner Fawad Ahmed. This week, without public explanation, the Bushrangers sacked the popular Pakistani, who many regard to be the best leggie in the competition. It is a disappointing way for his uplifting story to stall – he arrived in Australia as an asylum seeker and devoted himself to achieving his dream of playing Test cricket, and got as close to it as the last Ashes tour of England without ever quite forcing his way into the baggy green. In this column's experience he is a pleasant character with a huge work ethic – he often bowls alone in the nets for hours when he is not playing – and has been a matchwinner in first class cricket, i.e. the Shield. Former Test star Rodney Hogg picked up on that when he tweeted: Red ball cricket gets another kick in the backside with Fawad Ahmed @bachaji23 not being re-signed by the Vics. Hogg quickly got plenty of support along the lines of "cannot believe this, is the best four-day bowler in the country".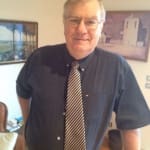 Author:
Ron Reed
RON REED has spent more than 50 years as a sportswriter or sports editor, mainly at The Herald and Herald Sun. He has covered just about every sport at local, national and international level, including multiple assignments at the Olympic and Commonwealth games, cricket tours, the Tour de France, America's Cup yachting, tennis and golf majors and world title fights.
Comments
comments
0 comments