---
Reading Time:
3
minutes
IT TAKES a very special player to push the mighty Alex Jesaulenko out of a team of all-time champions, but GEOFF POULTER reckons that Buddy Franklin has now earned that honour:
THE time has come. Buddy must be included in the best team of all time. On the bench! That's my verdict after Lance Franklin's spectacular start to his 14th AFL season. He is the best player of the new century – the best since Wayne Carey.
Buddy is the fastest, classy 6ft 6in player that has ever graced the sacred footy turf. And the longest kick. And on the run! He's active, leads well and rarely plays poorly. And remember he has been operating in an era of stacked defences, floods, zones, crowded houses.
Criticism of his overhead marking is unfair. He is adequate there. He is usually challenged by two or more opponents. Like Peter Hudson, from a previous generation, he prefers to accentuate his ground skills rather than risk an aerial spill and recovery.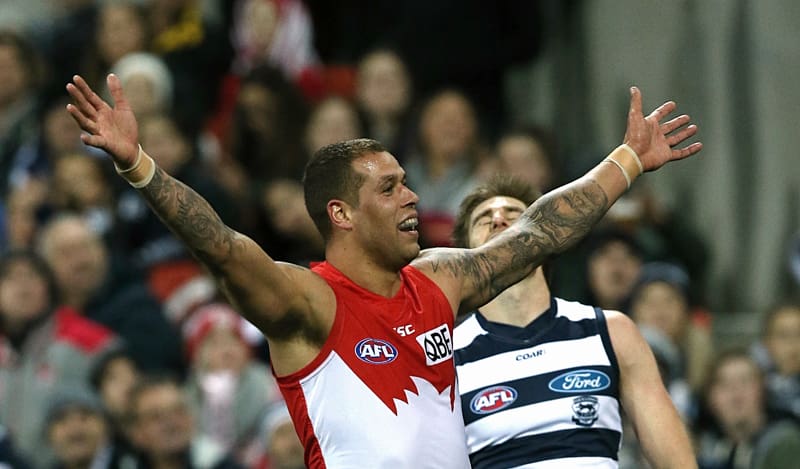 The casualty from my best 22 is Carlton wizard Alex Jesaulenko from the bench. The new interchange now reads Haydn Bunton, Royce Hart, Malcolm Blight and Franklin.
The revised team is:
F: Gary Ablett (last played 1996), John Coleman (1954), Leigh Matthews (1985).
HF: Laurie Nash (1945), Wayne Carey (2004), Darrel Baldock (1968).
C: Keith Greig (1985), Ian Stewart (1975), Robert Flower (1989).
HB: Peter Knights (1983), Ted Whitten (1970), Kevin Murray (1974).
B: Bruce Doull (1986), Jack Regan (1946), Albert Collier (1942).
R: Graham Farmer (1967), Ron Barassi (1969), Bob Skilton (1971).
Interchange: Haydn Bunton (1937 – plus two games in 1942 on army duties), Royce Hart (1977), Malcolm Blight (1982) and Franklin (2021?).
It's sad to lose a star like Jezza – but we made a similar decision in the early 2000s when Wayne Carey replaced Royce Hart and, in turn, Hart went to the bench to squeeze out the great Ron Clegg.
Clegg was media shy but I knew him in his later years through his former teammate Fred Goldsmith. Fred took me to his home when Clegg was ailing and I saw his magnificent scrap books.  "Smokey" once took more than 30 marks in a game against Fitzroy.
Like Laurie Nash, Clegg could play centre half-forward and centre half-back with equal effect, often on the same day, particularly if it was very windy. CHF with the wind, CHB against it. There are only 22 positions available from more than 13,000 to have played AFL (before that VFL) football in 121 years.
Asked why junior Ablett was not in the team, my response is he could get there eventually. Peter Matera and Andrew McLeod were my two favourite extremely quick and exciting ground players. They couldn't get in and I rate them alongside young Gary.
The team is representative of all eras from the beginning of the 12-team competition in 1925 when Hawthorn, North Melbourne and Footscray were admitted.
Collier, Bunton, Nash and Regan represent the 1920s, 1930s and 1940s: Coleman, Whitten, Barassi, Skilton, Murray, Baldock, Farmer and Stewart, the 1950s and 1960s.
Hart is from the 1960s/1970s: Matthews, Knights, Doull, Blight, Greig and Flower from the 1970s/1980s. Ablett represents the 1980s/1990s, Carey, the 1990s/2000s and Franklin the 2000s/2010s.
You might believe the team is centred too much in the past but this old codger considers these were the dream days of pure football.
Explanations for a couple of selections which may not seem obvious: Jack Dyer said that "Leeta" Collier was the best Collingwood player he ever saw. In this team he also serves as a back-up ruckman.
Full-back Jack "The Prince" Regan had a great record against the champion full-forwards of his day, and significantly in finals. And Dick Reynolds said he was outstanding in interstate games for Victoria against the crack spearheads from South Australia and Western Australia.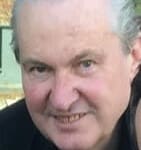 Author:
Geoff Poulter
GEOFF POULTER, 69, has spent 51 years in sports media. He was the last Melbourne Herald chief football writer. CV: Sports oracle, author, historian, impersonator, raconteur, poet, quiz whiz, philosopher, song-writer, intellectual scholar – and still employable!
Comments
comments
0 comments