---
Reading Time:
5
minutes
Four decades on new light continues to be shed on the most important story in cricket history, which has now been told again, writes RON REED:
IT WILL be no surprise if Ian Chappell sneaks a wry look at the calendar when play begins in Adelaide on Saturday, with the Australian and England cricket teams playing a Test match together under lights for the first time. Chappell, and perhaps his brother Greg, may even permit themselves to raise a glass at some stage of the proceedings. For them – and for the game in general – the date, December 2, will constitute a significant anniversary.
On December 2, 1977, precisely 40 years ago, the brothers took part in the first of the 16 so-called Supertests that defined Kerry Packer's two-year war with the cricket establishment, which did much to revolutionise the ancient game both on the field and on television. Perhaps its greatest legacy was to prove that cricket could be played at night, under floodlights – which soon became the new normal for one-day limited overs matches, leading eventually to the Twenty20 phenomenon and then, finally, almost four decades later, to Test cricket. Now, it promises to be the highlight of the summer, perhaps even challenging Melbourne's Boxing Day blockbuster – if such a suggestion isn't sacrilegious.
Blockbuster wasn't the word for it when Chappell's Australian team took on Clive Lloyd's formidable collection of West Indies superstars at the now defunct Melbourne suburban football stadium VFL Park in front of only a few hundred curious onlookers. They made a rocky start with opener Rick McCosker out off the second ball of the match and Greg Chappell and David Hookes quickly following also without troubling the scorers – the visitors went on to win by nine wickets – but it could only get better from there, and it did.
World Series Cricket is now a distant memory – in fact, it's not even that for most modern cricket fans. Obviously, anyone not approaching 50 or well past it would not remember it at all. Attempts have been made over the years to recreate it in various forms, including a TV miniseries Howzat in 2012 and a number of books. The best of the latter, titled simply The Cricket War, by noted Melbourne cricket writer Gideon Haigh has recently been republished by English publishers Bloomsbury, who are responsible for the cricket bible Wisden. Haigh's offering – first published in 1993, 15 years after peace was declared – has been declared by The Times of London to be one of the 50 greatest sports books. It has been rightly acclaimed as a masterpiece of research, in fact the conversational detail is amazingly precise, to the point where you are entitled to wonder whether his many interviewees – he lists 48 of them, as well as almost 200 references in a lengthy bibliography – all had memories as well developed as their cricket skills. The book also contains full scoreboards of all 16 matches, which make nostalgic reading.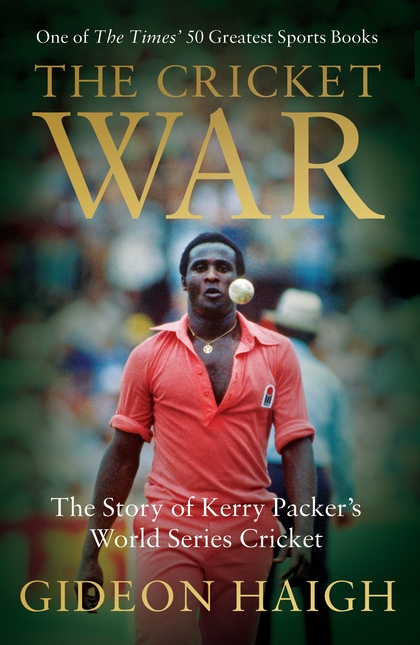 As thorough as he has been, Haigh did not succeed in getting everybody's versions of events. Perhaps there were too many relationships damaged, friendships fried, for that. In a fresh introduction to the book's second innings, he writes: "Approaches to several key figures on both sides of the divide, were firmly rebuffed; rather than nostalgia, there was at the time a general sense that sleeping dogs were best let lie."
No doubt to Haigh's regret, the most important voice missing is Packer's himself, although others have contributed freely to a colourful insight into what it must have been like dealing with and working for a bloke who knew exactly what he wanted (the cricket broadcast rights for Channel 9) and didn't seem to mind what it took to get it, and to whom "no" was never an acceptable answer from anybody – except himself. We won't be hearing from him again. Packer died in 2005 – on Boxing Day, the biggest day on the cricket calendar. Wherever he is, he is not short of someone with whom to talk cricket. Several of the most famous people connected with his project have also gone – Richie Benaud, Tony Grieg, Max Walker, David Hookes, Gary Gilmour, Bob Woolmer and commentator Tony Cozier – as have the three heavyweights who led the fight on behalf of the Establishment forces, Sir Donald Bradman and Melbourne identities Bob Parish and Ray Steele, both former chairmen of the board.
Not many others, among the Australians anyway, remain directly connected with the game at the elite level. In the last year or so Rod Marsh quit as chairman of the national selection panel and Dennis Lillee walked away from the presidency of Western Australian cricket. Perhaps not surprisingly the Chappell brothers have been the most resilient survivors. Greg is the talent manager for Cricket Australia and a selector while Ian is still one of the TV commentary team installed by Packer, and in his mid-70s he shows no inclination to retire.
Perhaps that's no surprise. Among the players, he was always the main protagonist, given a free reign by Packer to select and run the Australian team as he saw fit. And he took great pride in doing so, recognising that the matches against teams from the West Indies and the rest of the world were of a better quality than the Test matches being played at the same time by a clearly inferior Australian team. Chappell took the job so seriously that in a little-remembered incident that has not escaped Haigh, he was once charged by police with assault during a WSC tour to the Caribbean when he punched a local public relations officer and ground announcer in the stomach during an argument over player safety in Guyana. He pleaded guilty and was fined all of $44. Chappell also has a permanent connection with WSC in that he met his second wife Barbara-Ann, nee Loois, while she was working as a tour co-ordinator.
Conventional wisdom is that WSC changed the way the game was played and presented and provided the players of the era who took the risk of walking away from their mainstream careers with much greater respect and bargaining power, which eventually benefited all future generations including the multi-millionaires who wear the baggy green cap today. But is that the truth, the whole truth and nothing but the truth?
Haigh seems unconvinced. In his new observations, he writes: "For players, the summers of WSC provided a glimpse of th shape of things to come. If day/night cricket was a powerful innovation WSC mainly accelerated changes already afoot, such as the popularisation of of shorter formats, the intensification of scheduling, the predominance of fast bowling and the development of protective equipment.
"It also distributed its benefits unevenly, promoting an elite at the expense of the mass. For once Packer and the Australian Cricket Board made peace, neither had much interest in further significant enhancements of the terms of cricketers' employment. Without a collective bargaining agent until the mid 1990s, Australian first-class cricketers remained poorly paid – the recruiting agents of the South African rebel tours found them comparatively easy pickings."
However, Haigh notes that the Australian Cricketers Association – that's the one that conducted the bitter pay war with Cricket Australia earlier this year – soon after Packer's death inaugurated an award in his name to "recognise outstanding contributors to the ACA and its membership." He adds: "At forty the legacy of WSC and Packer's personal reputation look secure. When WSC reaches its fiftieth anniversary the world will look different again. But I suspect I shall still recognise the abiding influence of Kerry Packer and his colourful cohorts."
When the lights go on in Adelaide on Saturday night he will not be alone in that sentiment.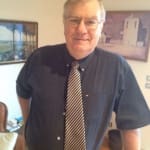 Author:
Ron Reed
RON REED has spent more than 50 years as a sportswriter or sports editor, mainly at The Herald and Herald Sun. He has covered just about every sport at local, national and international level, including multiple assignments at the Olympic and Commonwealth games, cricket tours, the Tour de France, America's Cup yachting, tennis and golf majors and world title fights.
Comments
comments
0 comments