---
Reading Time:
5
minutes
RIDING OFF into the sunset – the last link with the start of Australian involvement with the world's greatest bike race. Chief Writer RON REED says vale to Iddo and Alan Munro.
AN IMPORTANT slice of Australian sporting history petered out a few days ago with the death of former professional cyclist — and accomplished water-skier – Alan "Snowy" Munro, just a few days short of his 96th birthday. Munro was the son of Iddo Munro, also known as Snowy because of his light-coloured hair, who was one of the first two Australians to ride in the Tour de France.
Iddo and his mate Duncan "Don" Kirkham, both from Melbourne, competed in the 1914 Tour, the 12th edition of what has since grown into the world's toughest mainstream sporting event – and the last for five years, with the First World War breaking out five days after the race finished, putting paid to it and much other major European sport for the duration.
Plenty of families have graced Australian cycling with distinction but the Munro father-son combination was special, creating significant history and spanning well over a century. And there was a third contributor. Iddo's brother Hercules, a good rider who did not rise to the same heights, became president of the Victorian League of Wheelmen, which ran the sport at state level for many years. They are unusual Christian names and Christian was the operative word. Their father was an Anglican priest and he named all of his eight children after Biblical characters. Iddo is the name of a prophet or seer and given his vision for the future of Australian cycling he was well-named.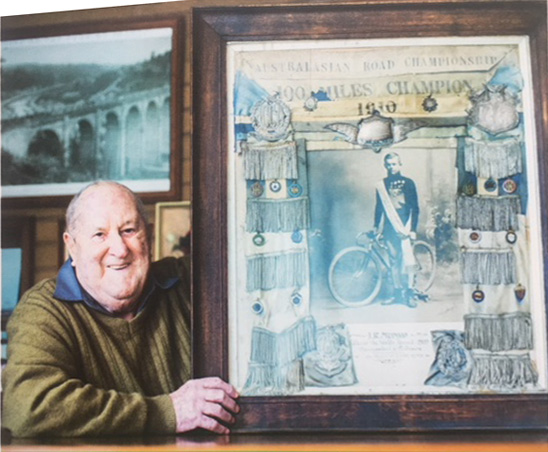 Iddo was born in Warrnambool, one of cycling's heartlands and the home of the Melbourne-to-Warrnambool road race, and moved to the Melbourne suburb of Coburg as a boy where he learned to ride – but the "Warrnambool" was always a major influence for as long as he lived. In 1909, when it was raced in the opposite direction, Munro caused a nation-wide sensation by completing the 265km journey over rough dirt and metal roads full of ruts and cobblestones in seven hours, 12 minutes and 51 seconds. Not only was that a record, one which stood until 1931, it beat the steam-train from Warrnambool to Melbourne by five minutes, much to the embarrassment of the Victorian Railways Commissioners. Munro drew level with the train at Werribee and then outpaced it over the final 30 or so kilometres.
"Beating the train was a pretty big thing at the time," Alan Munro said in an interview for the book Green Gold and Bold, a history of Australia's involvement in the Tour de France, written by former star rider John Trevorrow and me in 2013. "I don't think the Railways were too happy about it. To do it on dirt roads with a heavy bike, fixed gears and no brakes – it was marvellous really. Now the riders have 15 or 16 gears, light wheels and decent roads." Because the race was a handicap, the 21-year-old Munro, riding off three minutes, finished behind the winner, one W. Knaggs, who started from 41 minutes and recorded 7 hours 32.19.
Five years later Munro and Kirkham, a hard-working dairy farmer from Carrum, and four other top riders, Charlie Piercey, George Bell, Charles Snell and Fred Keefe, set off on a seven-week sea voyage to see if they could get a start in the Tour de France, each paying his own way and agreeing to share any prizemoney. To the French they were mere curiosities, especially as the great race had yet to embrace an English-speaking rider. And they were from a faraway country that had no cycling tradition. For that reason, even at home they were relatively anonymous.
After some promising early results, Munro and Kirkham – but not their travelling companions – were invited by sponsors to ride the Tour as domestiques, or helpers, for noted French rider Georges Passerieu, who had finished second, fourth and third, winning seven stages, between 1907 and 1908. So, their dream had come true – and a new chapter in Australian sporting history had begun, even if most sports fans at home had little idea then, or for many years to come, just what an important development this was.
Unfortunately, their celebrated leader proved to be well past his best and dropped out after only three stages. The Australians both finished, Kirkham in 17th place, 11 hours 53 minutes and 39 seconds adrift of the winner, Belgian Philippe Thys, and Munro 20th, at 12 hours 34 minutes and 57 seconds.
With stages ranging from 323km to 470km and raced only every second day, usually at night – these days riders are rarely asked to go beyond 240km, often less than 200 – Munro and Kirkham found their bodies and minds severely tested from the start. On one early stage, Munro desperately needed a drink but with nobody around him speaking English he resorted to sign language, which seemed to work – until he drank out of the bowl he was given and realised he was swigging not water but fresh cologne with which he was meant to wash himself. He soon fell ill. Worse was to come. They almost quit the race at one stage after an argument over opposition tactics, and became so exhausted they couldn't dismount from their bikes and officials had to carry them to their bedrooms. However, their persistence paid off and they proved to the sceptics that this daunting event was not, as many suspected, beyond the capabilities of Australian riders.
Kirkham died in 1929 after becoming seriously ill from complications after being run down on his bike by a drunk driver while riding home from a race. Munro tried to serve in the war but was twice rejected because of flat feet. Another disappointment was that the cycling community was oddly dismissive of what he had achieved, so he lost the will to keep racing. He went into business by creating the very successful Embassy Taxi service, with young Alan learning the ropes as a staff member – when he wasn't off on his bike, training to emulate his dad. Iddo lived to 92, dying of heart problems in October, 1980. He was also one of the driving forces behind the creation of the Sun Tour in 1952, now known as the Herald Sun Tour.
He took a keen interest in his son's racing career and provided enough financial assistance for Alan to have a crack at following in his wheel-tracks by travelling to Europe in 1947. "He never pushed me into the sport, but he was happy to see me take it up and gave me all the time I needed for training," Alan said. His own foray into the big-time was enjoyable but challenging for some of the same reasons as it was for his father, particularly the language barrier.
"The biggest trouble was you couldn't speak to anybody," he said. "If you wanted food it was a hell of a job and you finished up hunger flat half the time. Now half the Australian riders speak French and all of the Europeans speak English. I won a few races but they weren't worth much money, and I rode in the Paris-Roubaix and Paris-Brussels classics for a team called Riva Sport without doing much good. But they treated me well."
Bikes weren't the only mechanical methods of getting from point A to point B that Munro the younger mastered. He won national and state water-ski championships and was president of the Victorian Water Ski Association for 25 years as well as a long stint as chairman of the organising committee for the Moomba Masters, the sport's biggest showpiece.
He was a licensed pilot, owning several aircraft. He flew from one end of Africa to the other as well as in Indonesia, Malaysia and the United States, where he claimed he once "buzzed" the Statue of Liberty. Alan took over the taxi business and built it up to something far bigger than his father imagined when he was founding it, and retained a significant interest, owning a fleet of cars, until well into his 90s. Reflecting that he and his father both enjoyed very long lives, he said: "Riding bikes must do something for you."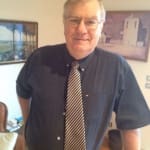 Author:
Ron Reed
RON REED has spent more than 50 years as a sportswriter or sports editor, mainly at The Herald and Herald Sun. He has covered just about every sport at local, national and international level, including multiple assignments at the Olympic and Commonwealth games, cricket tours, the Tour de France, America's Cup yachting, tennis and golf majors and world title fights.
Comments
comments
0 comments