---
Reading Time:
4
minutes
THE West Indies pace attack wasn't as effective second time around and this might be why, writes IAN CALLEN:
LOCAL knowledge should never be discounted.
The difficulty, however, is determining fact from fiction and this I am afraid is where all the planning and preparation for the West Indies came unstuck in the second Test against England last weekend.
For me sitting in front of my TV 16,959 kilometres away from Manchester and keen to see a revival in their cricket, I was alerted just prior to the toss that the Old Trafford wicket, renowned for having pace in it, was under-prepared.
The information had been passed on by David Lloyd, a Lancastrian Test player and England coach, now a longtime Sky Cricket commentator.
He told viewers that consistent rain had been falling over the county for three weeks and because of this, there was no way this pitch would be as fast as normal or as fast as many were saying (me included, I'm sorry). The curator apparently had not been able to put the work into it.
This would be the kind of information captain Jason Holder and his strategists might have thought worthy of considering before they announced an unchanged team.
If this information were to be true, their pace attack had just been reduced in effectiveness by a factor of two plus the collateral.
As I saw it, Gabriel and Roach (who both bowl wide of the crease and rely on pace off the deck) had been taken out of the contest before the umpire called "Play".
This would also have a follow-on effect to Holder, who is rewarded with wickets because he backs up and complements his pace attack.
So he too would suffer as a consequence.
England on the other hand had all of a sudden decided on a rotation policy, resting James Anderson. I couldn't understand it at the time, but thinking about it, it wasn't as if James would be playing in front of any home town support because no crowds are allowed.
So it seems his time in the game at 37 years of age is not up, just yet. Perhaps he will make another tour of Australia after all.
And how much can we believe about the Jofra Archer incident?
The star fast bowler was found to have broken COVID protocols by stopping by his home on route to Manchester but surely it couldn't have been a ruse to distract the West Indies selectors — could it?
Who knows, but into the England team came the captain Joe Root and three new bowlers, Curran, Broad and Woakes. A bowling attack more than capable of combatting a slower than expected pitch.
So as Holder led his team out onto the field of play, I noticed he looked to the overcast skies and I bet he was thinking about capitalising on what he thought would be perfect bowling conditions.
Embed from Getty Images
Instead he was in for a rude awakening, the pitch had no pace, it was slower and more suitable for those who can move the ball through the air with disciplined lines.
Not his pace men.
The exact moment Holder realised he'd misjudged the conditions might have been his first bowling change. I witnessed six of the most wayward overs that I can remember in Test cricket, including Gabriel's first which reminded me of that infamous "Harmison" first ball at the Gabba in 2006, which was collected by second slip not the wicketkeeper.
All would have fallen apart for the Windies, except for the flukish bowling change that saw off-spinner Roston Chase quickly setting his field for a hat trick delivery.
Thirteen overs later Alzarri Joseph, one of the few in his team with the ability to take the ball away from right handers, did exactly this and had the English captain caught by his counterpart in slip.
The Windies were still in game with England at 3/81.
But from that moment on, Dom Sibley and Ben Stokes stubbornly set about playing their opposition out of the match.
When Chase claimed the third of his five wickets, Sibley had scored his second Test century (120) and had contributed 85 of the of a 261 run partnership with Stokes who was 155 not out.
What a player Stokes is! He had led England to 4/342 and the West Indies pace attack so threatening in Southampton were relying solely on the spin of Chase. He didn't let them down either and by the time he'd claimed Pope, his fourth wicket, he was the only effective bowler.
But the game was over at that stage and of the other bowlers, Kemar Roach had bowled 81 overs in the series without a wicket. As for Gabriel, the West Indies paceman so dangerous in Southampton was all at sea, as was Holder, so heavily reliant on the pressure exerted by his fast men.
The West Indies had offered so much and if conditions were as tradition dictated they should have been, I think the story would have been different but they now had to rely on their notoriously susceptible batting to save them. Not surprisingly, it didn't happen.
If you thought it couldn't get any worse for the West Indies, England have had all the time in the world to prepare two wickets for the next Test is at the same venue with only a few days of rest.
I like many cricket lovers around the globe have been waiting for a Caribbean resurrection for the sake of the game.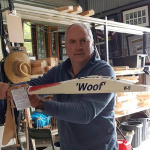 Author:
Ian Callen
IAN CALLEN is a former Victorian and Australian fast bowler, Test cap No 291.
Comments
comments
0 comments