---
Reading Time:
3
minutes
IT'S the debate that has the cricket world talking — who is the best all-rounder currently playing, Jason Holder or Ben Stokes? Former Test bowler IAN CALLEN is in no doubt what the numbers say:
AS EVERY cricket coach will tell you, the game is all about the contributions made by players over the entire journey of a match. A century with the bat can be cancelled out by a simple dropped catch that might cost 150 runs. This is where runs made or stolen at the crease or saved in the field contribute to the success of the team just as much as wickets taken.
There are other determining factors that may turn a game of cricket. A runout, a misfield or an overthrow may change the course of the game, but some of these statistics are not recorded when calculations are finalised to place the value on a player.
In this regard, I like to use a simple formula based on five wickets being the equivalent to a century and by dividing five wickets into 100 runs I have found the value of a wicket, catch, stumping or runout to be 20 runs. So by this method you can average out the value of any player over a career, with the proviso that for it to be as accurate as possible you need a player to have demonstrated longevity by playing at least 50 Tests.
Embed from Getty Images
But it is still a useful guide to assessing any reasonably experienced player across a match, a series or an unfinished career.
It means that the most valuable players are likely to be those who excel in the various disciplines. The exception to this rule — perhaps the only one — is, not surprisingly, Sir Donald Bradman.
The Don (147.59 per match) is on my list of highest Test match contributors behind the legendary West Indian, Sir Garfield Sobers (160.33), Bangladesh's Shakib Al Hasan (152.53) and England's Sir Ian Botham (149.59). One of the best current cricketers in the game today is England's Ben Stokes (134.04). However cricketers do improve and we are witnessing this with the late developing Jason Holder, the West Indies captain.
Watching him collect career-best figures of 6-42 as Test cricket resumed in England the other night, he reminded me a lot of Glenn McGrath, bowling great lines and working the crease to advantage. They both moved the ball off the seam late and both ways with varied pace.
Holder might lose height with a bent front leg but then he gains in other areas. He cushions each delivery which helps him bowl longer spells but it also allows that big frame to rotate over the front leg and this enables him to get the shoulders and body into a position from which the seam can be released with the angle required to achieve late movement off the wicket. There are few in the game today that can achieve this for the technique is no longer coached and that is a shame.
There are other similarities with McGrath, the long arm levers all in synch as the body transfers through the crease generating the momentum into the follow-through towards the target line every time. Not a lot can go wrong with this action and so few runs are given away, which such a huge advantage for the not only the bowler but those who get to bowl in partnership with him because it keeps the pressure on.
I found it fascinating to watch Holder bowling to Stokes, the man he is chasing down for the title of the best contemporary all-rounder in the game.
Embed from Getty Images
Both are burdened with captaining their respective sides — Stokes for the first time — and yet there they were; challenging each other in an "eye for an eye" if you take my wicket, I'll take yours scenario. So for this reason I think we should compare their contribution rates over the past couple of years.
Since January 2018 Holder has played 11 Tests (Sri Lanka 3, Bangladesh 2, India 3, England 2, Afghanistan 1) scoring 685 runs and taking 58 wickets; giving him a contribution rate of 185.72 per Test. Stokes over the same period, has played 24 Tests (South Africa 4, New Zealand 4, Australia 5, West Indies 1, Sri Lanka 3, India 4 Pakistan 1) scoring 1897 runs for 56 wickets at a very consistent contribution rate of 135.45 per Test.
So on recent form Holder is the best performed cricketer in the game, confirming the ICC official rankings for all-rounders, and it will be interesting to see how this current series turns out and whether the captaincy motivates Stokes as it has done for his counterpart.
With two days remaining England were coming from behind but they are not out of the game by any means. The "Windies" failed to close the door on the game and because of it, they might find themselves in a "clutch situation" chasing down a target to win.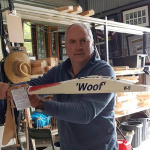 Author:
Ian Callen
IAN CALLEN is a former Victorian and Australian fast bowler, Test cap No 291.
Comments
comments
0 comments