---
Reading Time:
3
minutes
THE doyenne of tennis in Queensland, Daphne Fancutt, is one tough customer.  Raised on a remote cattle station, she worked with the men and, when she began playing tennis, she played in the men's competitions.  A feisty competitor on court, she's been a fighter off it.  A champion of women's rights, she was one of the driving forces in the formation of Womensport Queensland.  Now battling poor health, she was honoured by the Brisbane City Council in 2015 with an amphitheatre in her name. PETER MEARES reports:
A COLOURFUL era in Queensland tennis came to an end in 2018 when the Fancutt Academy closed down.
The courts were knocked down to make way for a retirement village and the grand old heritage-listed Queenslander house was moved from its site for 54 years at Lutwyche. It was lovingly restored to its former glory as part of Ambiwerra, a sports complex at Corinda, south-west of Brisbane.
The Fancutt family is synonymous with tennis in Queensland. Mum Daphne, dad Trevor and their three sons, Charlie, Michael and Chris have all played in the main draw at Wimbledon.
They are the only family in the world to have achieved the feat. They opened their tennis centre in 1962 and coached thousands of youngsters, including former world number three Wendy Turnbull and former Wimbledon Doubles champion Geoff Masters.
The matriarch, 87-year-old Daphne grew up in the Depression on a cattle farm near Monto, 560 km from Brisbane. The youngest of nine children, she learned to play tennis by hitting against an old wooden door as a practice wall.
Her father Charlie Seeney taught all the kids how to play from a book and challenged 10-year-old Daphne: "When you can hit the door 100 times in a row I'll take you to a tournament."
Accustomed to rising before dawn to work the cattle with the men, Daphne developed a strong work ethic, so it wasn't long before she met the challenge. Charlie took her to a small tournament in Bundaberg where she not only watched, she won it.
After coaching from Rod Laver's legendary mentor, Charlie Hollis, in Rockhampton, Daphne developed a strong left-handed serve and solid groundstrokes. She stayed with the Laver family for several months and she and Rod became close friends.
Six of the Seeney siblings formed their own team and played local tournaments, winning the pennant grade four years in a row. Daphne improved rapidly, toughened by hard work on the farm and regular practice. She played in the men's competition, where she learned that speed, skill and a fearless approach were just as important as power.
She was a member of the Queensland Wilson Cup team which won the National Junior Championship two years in succession. In 1953 she was unbeaten in doubles and had a singles win over Australian number one Mary Hawton.
In 1955, at the age of 22, Daphne was almost unbeatable in the Queensland bush, at one stage winning six tournaments in a row. Her goal was to play at Wimbledon and nothing would stop her.
When she won three titles in one tournament in Bundaberg, her mixed doubles partner, Reg Flanders, a tall, good-looking young man from Warwick, invited her to the movies. But, having promised her dad she would be in bed by 10pm, they left at the interval!
When her doubles partner, Fay Muller, was selected in the official Australian team to travel overseas, Daphne was left out.
However, thanks to the generosity of the people of Monto, who raised enough money for the fare, Daphne finally realised her dream. So, with two racquets and 75 pounds in her pocket, she caught the Queen Mary and made a private tour.
At Wimbledon she and new partner Loris Nichols lost in the second round but she teamed with another Australian, Bill Gilmour, to beat a French combination including the famous "Musketeer" Jean Borotra in the Mixed Doubles, and reached the quarter-finals.
The following year, this time as part of the Australian team, Daphne and Fay Muller caused the upset of the Women's Doubles when they beat the defending champions, Angela Mortimer and Anne Shilcock, en route to the final.
Up against the formidable team of Althea Gibson (the first African American to win a Grand Slam) and singles finalist Angela Buxton, the Aussie girls were naturally nervous. On the hallowed Centre Court, they lost the first set 6-1 but came back to make a fight of the second, before going down 10-8.
At the post-match presentation, the Queenslanders were each presented with a medal and a 20-pound voucher to Lilywhites sports store. A far cry from the 270,000 pounds awarded to the runners-up in the Women's Doubles in 2019!
She may have lost the match, but she won the heart of her new Mixed Doubles partner, South African Davis Cup player Trevor Fancutt. Both players were using Dunlop Maxply racquets and Pat Hughes, the manager of Dunlops told Trevor:
"There's a young Queensland girl going to Belfast for the next tournament. She'll probably get lost so can you keep an eye out for her at the airport and look after her?"
Now, 64 years later, Trevor is still looking after her.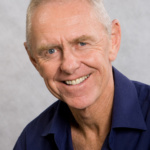 Author:
Peter Meares
PETER MEARES has covered sport on radio, TV and in print for 50 years. He's the author of six published books on sport. His favourite sports are cricket, rugby union, rugby league, athletics, golf and tennis. His career has included Olympics, Commonwealth Games and a host of minor sports.
Comments
comments
0 comments