---
Reading Time:
5
minutes
THE World Cup drew fans from all around the world, including a father and son from Geelong. JOHN CRAVEN tells what it was really like to be there in Russia:
SO FRANCE is officially the world's best soccer playing nation and FIFA's Swiss-Italian president Gianni Infantino has declared that Russia staged the "best ever" World Cup. That would please the Russians, perhaps even make them happy.
There is a hard edge to the Motherland, stern and uncompromising. My doctor warned me before my son and I departed on a grand expedition to the 32-nation tournament that a mate told him Russia was a "dung-hole country". Vladimir Putin wouldn't appreciate that. Probably make him angry.
The Russians yearn for themselves and their nation to be liked. In our two-and-a-half weeks and nine flights of criss-crossing the world's largest country, Jeremy and I were asked numerous times, eagerly: "What do you think of Russia?" We always answered politely and diplomatically, usually resulting in a beam of satisfaction from our inquirers. But no smiles. Most Russians don't smile, not even to each other. It can be a little unsettling to strangers. Geez, do they need a smiling coach over there!
In my wildest, fertile imagination during a seven-decade life (so far), travelling 20,000 kilometres to a far-off often-frozen land to watch the World Cup finals would not have stirred even remote interest. But my son is a soccer nut (even more so than I thought). He played the round ball game at university and achieved far more on the pitch than he did in the lecture room (by his own admission – and mine). That led him to Western Australia and a career in the mining game at some godforsaken places. He's done well, but the Great Sandy Desert is a long way from Geelong.
Some months ago, we agreed to go to the World Cup together – a glorious father-son adventure, at least in my eyes. It got me thinking a bit. My grandfather's brother Harold Craven was a VFL star in the 1920s. He captained Geelong and represented Victoria at interstate carnivals. I met him a few times as a kid, but my impressions are vague. Our extended family revered him. He must have been tough, though, as he was a construction foreman when the MCG grandstands were being re-built for the 1956 Melbourne Olympic Games. Union strife was rampant, reportedly fuelled by the Communists. Uncle Harold dealt with the troublemakers his way – he was pretty handy with his fists.
Sixty-two years later his great and great-great nephew headed-off to a soccer extravaganza at the birthplace of communism. Not sure how Uncle Harold would have handled that, but I can't visualise him jumping through hoops of joy. Jeremy was so excited by the whole project that he took a self-styled crash course in basic Russian. Did that come in handy! It got us out of so many fixes and the locals loved it when a youngish bloke from the other side of the world tried to communicate with them in their lingo. I usually stood by passively and proudly.
There was nothing passive about our attendance at the Socceroos' opening match against France in Kazan. It was hot, around 28 degrees, and my son thought he'd get organised and pack a few necessities into a small bag. Our taxi driver ditched us five kilometres from the stadium entrance because a squadron of security guards told him to. We strode to the gate and the guards pounced on us again as, one-by-one, we were ushered through the turnstiles after photographs, identification checks and body searches.
I couldn't see Jeremy. Among other items, he'd loaded a magnifying glass, binoculars, camera, eye drops and headache tablets into his bag. I'm not even going to try offer an explanation for all this. The security people had a field day. A computerised check of his match identification pass revealed he held an explosives licence back in Australia. Cripes! What they didn't know was that he also had a firearms licence. He emerged after about 10 minutes. His explanations in teach-yourself-Russian did the trick, but they told him he didn't need two strips of aspirin and confiscated one.
We were subjected to six more security checks and a couple of body searches before reaching our destination. One of the most glamorous young women I've ever seen was assigned to make the final tick-off as we climbed towards our corporate box. No problems about a body search here, I thought. I know Jeremy was thinking something similar. With great poise, she waved us through without laying a hand on us. Damn! She even smiled the most gorgeous smile we saw in Russia.
It was suggested that France would slaughter Australia by about six goals to zero, so I expected nothing but a nice day out and a couple of cold beers. The pre-match ceremony was brief, but brilliant, firing-up my easy-to-fire-up green and gold patriotism. The contest had barely got underway when it occurred to me that the French thought they were in Hollywood, not Kazan. They'd drop to the grass clutching their legs and writhing in agony at the mere sight of an Aussie defender, all in the hope of conning the referee, and I reckon they did a fine job of it.
The immortal VFL/AFL legend Ron Barassi raised this grating issue about soccer tantrums some 30 years ago – in the era when he could be pretty fiery – and was roundly condemned. He was right, of course, and he still is. The referees in Australia's next two matches – against Denmark and Peru – were on the ball, so to speak. When a Dane or Peruvian went down early in those games, the refs ignored the theatrics and called play-on (or whatever they call – I couldn't hear for the noise) and the action flowed beautifully.
I am proud to admit that I derived immense pleasure from watching Australia play soccer on the gigantic international stage, conceding only five goals but netting only one point for its tie against Denmark. Disappointingly, the Aussies did not score a "real" goal, just two penalties through bearded captain Mile Jedinak. Just to make the final 32 and get to the World Cup finals was a wonderful achievement, in my view, considering that the round ball code lags a long way behind Aussie Rules and rugby league for popularity and resources in our country.
I can't ever visualise Australia winning a World Cup, even making the semi-finals. We watched Belgium play Tunisia in Moscow and the leap in standard was mesmerising. I should have listened, but a few weeks before our departure, Jeremy declared that Belgium would win the cup and that Croatia was the dark horse. I looked up the odds and the Belgians were paying $31. I'm still kicking myself that I didn't have a few bucks each way (Do they bet each way in soccer?).
There are 211 soccer-playing nations in the world, according to FIFA, which plans to expand the finals format to 48 countries for the 2026 cup in the United States, Canada and Mexico. I doubt that I'll be there, but I will have some lasting memories of Russia – the security was near-oppressive but I felt totally safe at all times, the organisation was spot-on, the architecture in cities like Kazan, Samara, Moscow, Sochi and St. Petersburg was stunning, the food was generally high-standard, the beer from the local brewery in Sochi was the best, and the taxi drivers all over the country were thieving bloody rascals.
The FIFA chief was probably right – Russia did stage the best World Cup, and it was a privilege to be there.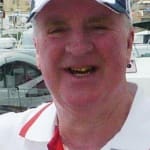 Author:
John Craven
JOHN CRAVEN was a highly-regarded sportswriter at the Geelong Advertiser, Launceston Examiner and Melbourne Herald before leaving full-time journalism in the early 1980s to embark up on a career as a publisher-promoter.
His company, Caribou Publications and Events, grew into Australia's largest cycling promoters, employing up to 150 full and part-time staff, and organising the Herald Sun Tour for 16 years, the Melbourne to Warrnambool for 18 years, and creating other modern-day classics.
Craven has written three books – the biographies of Raelene Boyle and racecaller John Russell, and an acclaimed history of the 122-year-old Melbourne to Warrnambool Cycling Classic.
He is currently collaborating with the recently-retired race broadcaster Greg Miles on his biography.
Comments
comments
0 comments