---
Reading Time:
4
minutes
TASSIE JAVELIN thrower Hamish Peacock is one of the truly colourful characters of track and field. JOHN CRAVEN tracks him from a Burnie cricket ball-throwing competition to a silver medal at the Gold Coast Games:
THE GREAT American showman and circus ringmaster Phineas T. Barnum was not present at the Gold Coast Commonwealth Games. It was not possible. He died 127 years ago but left a sky-high legacy of wise and universally-memorable quotes. Several apply to the Tasmanian javelin thrower Hamish Peacock, a gallant silver medallist at the closing track and field session of this marvellous 12-day sports extravaganza.
"Fortune always favours the brave, and never helps a man who does not help himself," Phineas T. wrote. And this one: "When a man is on the right path, he must persevere." And again, and perhaps his most notorious: "Never give a sucker an even break."
Hobart-based Peacock, 27, stands 1.86 metres and weighs 98kg – an ample frame but not massive when standing alongside some of the bruising shot putters, hammer throwers and discus giants who have flung their weapons all over the Carrara stadium in the quest of chunks of gold, silver and bronze at the 21st Games.
Hamish was just 16 when he won the javelin silver medal at the world youth championships in the Czech Republic. His throw of 76.3 metres signalled the prospect of a glittering athletics career ahead. Without being sparkling, it's been impressive but not lucrative. There have been some missed opportunities, however, and one of those occurred at the iconic Tasmanian Christmas Sports Carnivals in the summer of 2013-14.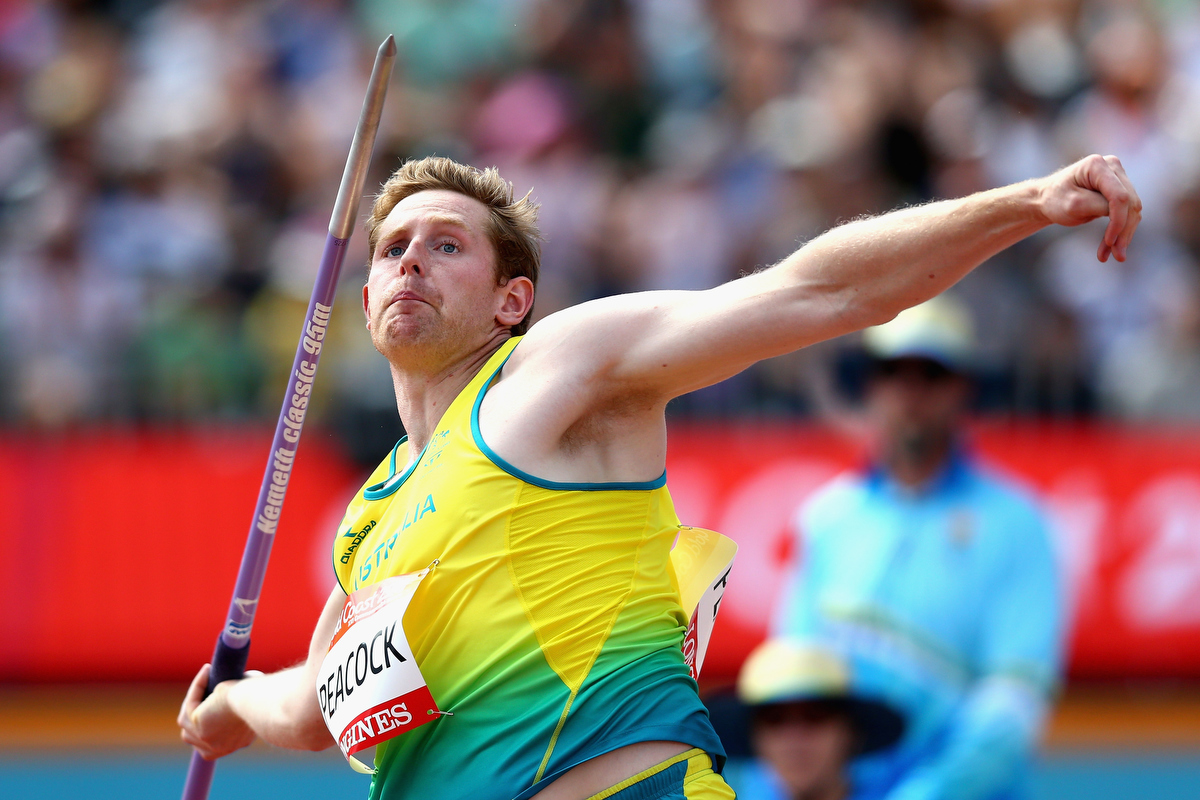 The carnivals, featuring athletics, cycling and wood-chopping, were founded 132 years ago. They are a revered Tasmanian sports institution, patronised by numerous all-time stars of Australian sport, including cyclists Sid Patterson and Danny Clark, runners Cathy Freeman and Craig Mottram, and wood-choppers Jack O'Toole and the Youd brothers.
Crowds at the carnivals have fluctuated over the years. There was a golden era during the 1950s to 70s when about 14,000 paying customers would flock to Burnie's West Park on New Year's Day for the morning and afternoon sessions. Then the entire venue would be cleared and the patrons would be invited back in for the night's racing – provided they paid again at the gate. Some 10,000 would saddle up again.
Something went horribly wrong in subsequent years and spectator numbers took a nosedive. New ideas were introduced at Burnie and the other venues – Latrobe, Launceston and Devonport – in a near-desperate bid to salvage and reinvigorate the week-long carnivals. A cricket ball-throwing competition was one of them, with preliminary rounds at Latrobe and Devonport and the final at Burnie.
Overall prizemoney was more than $5,000 and the young university student Hamish Peacock decided to help himself to some of it. He barely raised a sweat at Devonport when he qualified for the final and lined-up at Burnie a couple of days later against what appeared to be a field of suckers throwing for the minor spoils only. Things didn't go according to plan.
Burnie can occasionally serve up cold, wet and miserable weather on New Year's Day, as it did in 2014. A 90-metre corridor was marked out on the grass field and finalists were required to heave the ball as far as they could within these bounds. Organisers did not want to see cyclists, runners and wood-choppers king-hit by a flying leather missile inside the arena. They didn't think they'd need to worry about spectators over the fence.
Peacock's turn arrived and he propelled the slippery ball high into a back-drop of darkening clouds with his javelin-style sling. It was a massive throw but his aim was crooked. Cries of, "Look out! Duck!" floated out of the mist as the projectile landed on the bike track and bounced ominously over the rail into the crowd. Nobody was killed or maimed, but it was close. Two more throws produced a similar result.
Hamish's best throws travelled about 30 metres further than his nearest rival's, but rules are rules and he was disqualified, earning nothing. He took his medicine on the chin, although he wasn't happy about it and vowed revenge. Organisers never gave him a chance at redemption, however. The cricket ball-throwing competition was banished into the bin of ideas that didn't work.
Thankfully, Peacock persevered with his javelin career and won a bronze at the 2014 Glasgow Commonwealth Games with a best throw of 81.75 metres. He heaved a personal best of 84.39m in 2016 and emerged as a medal contender at the Rio Olympics. Disappointingly, form deserted him in South America and he finished in 25th place in the qualifying round with 77.91.
Peacock was on top of the pack after the javelin qualifying round at the Gold Coast Games on Thursday and a gold medal was certainly on the cards. That was until a 20-year-old Indian with a movie star following in his home country entered the battle. Neeraj Chopra unleashed a mighty throw of 86.47m, nearly four metres further than the best Hamish could muster, and the Tasmanian was relegated to runner-up status.
Mild-mannered Hamish was pleased with his effort, though: "I hadn't been throwing well this season so it was a really good result," he said. "The Indian lad is very talented and was far too good on the day. The Birmingham Commonwealth Games is four years away and I'll probably have another go at gold. That would give me the full set."
The Peacock family had a strong presence at the Gold Coast Games. Younger brother Huw finished 11th in the hammer throw. They are coached by their father Evan, a former rock-climber, at Hobart's Domain Athletics Centre. Dad and his sons were joined by grand-parents Jan and John Peacock for a celebratory dinner on Saturday night.
Another of P. T. Barnum's gems was: "The noblest art is that of making others happy." Hamish had all the Peacocks smiling at the celebration.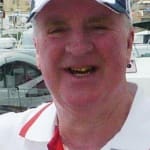 Author:
John Craven
JOHN CRAVEN was a highly-regarded sportswriter at the Geelong Advertiser, Launceston Examiner and Melbourne Herald before leaving full-time journalism in the early 1980s to embark up on a career as a publisher-promoter.
His company, Caribou Publications and Events, grew into Australia's largest cycling promoters, employing up to 150 full and part-time staff, and organising the Herald Sun Tour for 16 years, the Melbourne to Warrnambool for 18 years, and creating other modern-day classics.
Craven has written three books – the biographies of Raelene Boyle and racecaller John Russell, and an acclaimed history of the 122-year-old Melbourne to Warrnambool Cycling Classic.
He is currently collaborating with the recently-retired race broadcaster Greg Miles on his biography.
Comments
comments
0 comments