---
Reading Time:
5
minutes
WHAT'S a young bloke of 26 doing playing lawn bowls? He's representing Australia at the Gold Coast Games and doing it in style. JOHN CRAVEN reports:
HE STARTED Thursday with a walk in the park and a bowl of spaghetti Bolognese for breakfast at the Gold Coast athletes' village. Then he demolished his Northern Irish opponent at Broadbeach. On Friday night he hopes to be celebrating with something "delicious". It's a roller-coaster ride, this lawn bowls caper.
His name is Aaron "Disco" Wilson. At 26, he is the youngest male in Australia's Games bowls team. He is also the best. All he has to do is win two more matches on Friday to be crowned Commonwealth men's singles champion, a distinction achieved by only two Aussies – Rob Parrella in Auckland in 1990 and Kelvin Kerkow in Melbourne 16 years later.
Wilson, born in St Arnaud, raised in Bendigo and now ensconced in Sydney, had won five preliminary round matches in swashbuckling fashion before taking up his position on the sun-baked fading green at the Broadbeach Bowls Club on Thursday to humiliate the hapless Gary Kelly in a quarter final knockout encounter. The Irishman was on the canvas after nine ends, trailing 4-15 in a first-to-21 contest.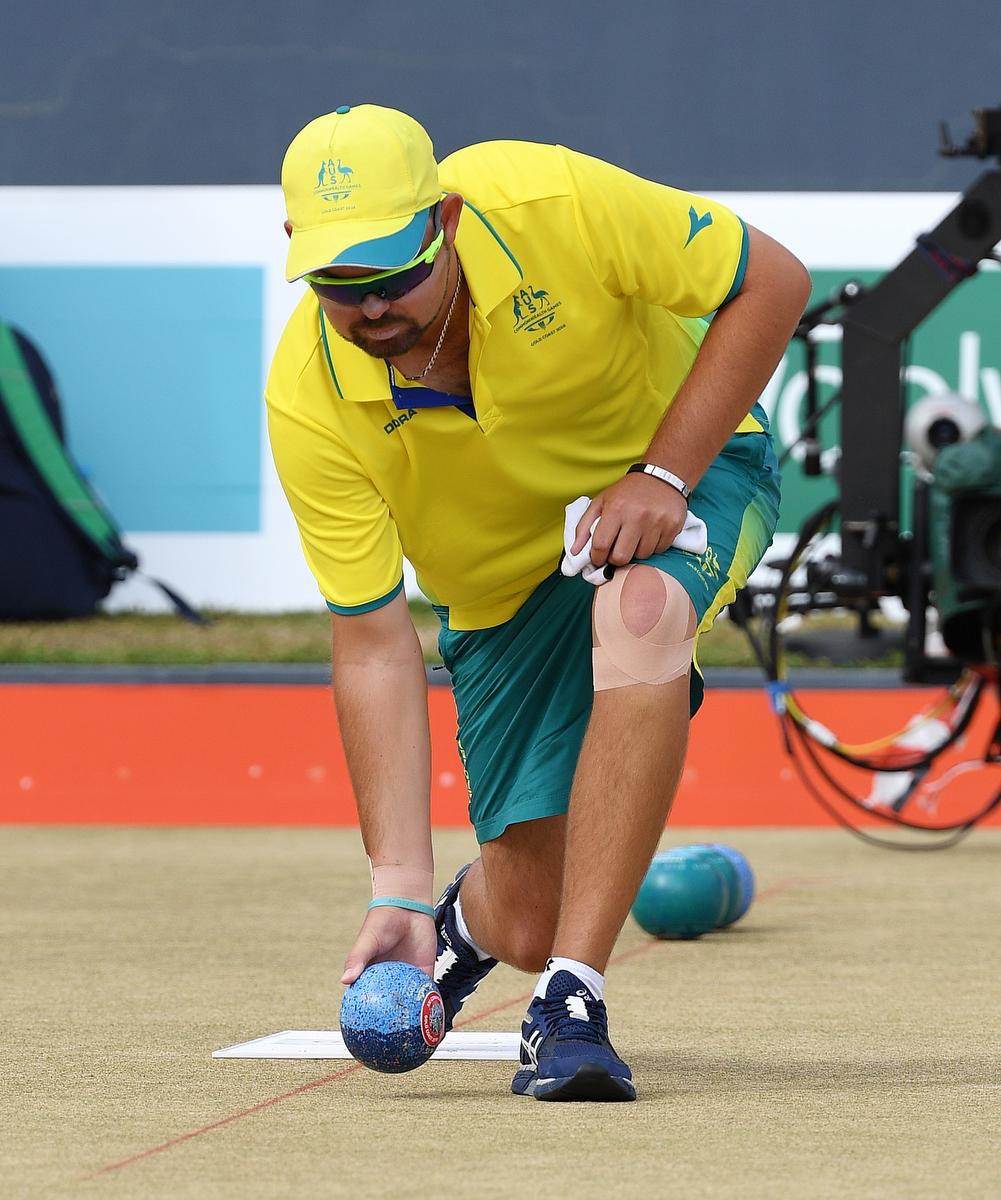 Kelly rallied like a true Irish scrapper and scrambled to 9-15 while the lightly-bearded Wilson munched on mixed lollies, towelled his perspiring face and paced up and down like an impatient panther. He never allowed his rival another point and won on the 16th end in the runaway train time of 63 minutes.
He will face the Englishman Robert Paxton in a lunch-time semi-final on Friday and, if victorious, will challenge either Scotsman Darren Burnett or the Canadian favourite Ryan Bester for the gold medal a few hours' later. There are 650,000 registered lawn bowlers in Australia and most will watch the game on television. The Broadbeach venue will be chock-a-block and the fans will make plenty of noise. Among them will be his parents Roger and Deborah and a vocal line-up of other family members and friends.
Mum and Dad have never played lawn bowls. They have five sons and a daughter and the family moved from rural St Arnaud to North Bendigo in 1999. The children attended St. Peter's Catholic primary school, just across the road from the North Bendigo Bowls Club.
Third-eldest son Matthew, aged just 11, poked his head over the bowls club fence on his way home from school one afternoon and was absorbed by the action: "Would you like to come in and have a go?" the elderly bowlers invited. He jumped at the opportunity and excitedly told brothers Travis, 14, Cameron, 13, Aaron, 9, and Nathan, 7, upon arriving home. Sister Nicole was only four, but she tuned in too.
Soon Matthew, Cameron, Aaron and Nathan were rocking up regularly to the club, which had a cupboard full of discarded bowls stashed away for the use of aspiring youngsters. It was two years before the boys could save enough money to buy their own projectiles but their progress was rapid, especially Aaron's.
By age 16, Aaron was being driven to Melbourne each weekend by Bendigo resident Geoff Boyd to captain one of the Essendon Bowls Club teams in the Victorian Premier League. He was a tremendous skipper – some of his team-mates were more than three times his age. A year later, he won the Victorian Under 18 singles championship and repeated the effort in 2009.
The triumphs became more impressive – a Victorian masters' singles crown, a world junior championship, the Australian open singles title and – in 1916 – a world pairs championship in New Zealand with partner Brett Wilkie. Last year, he received a supreme accolade from Bowls Australia – the nation's bowler-of-the-year award. Not surprisingly, he was anointed with the coveted men's singles role for the Gold Coast Games.
Cameron Wilson, who is also on the Gold Coast this week to support his younger brother, said Aaron was "always pretty quick" to catch on: "Our whole family is very proud of him. He is at the top of his game and it's the pinnacle of lawn bowls to play for your country. He's nice and relaxed. Nothing too much worries Aaron, he takes it as it comes. We nicknamed him Disco."
Aaron certainly hopes the gold medal comes his way on Friday night: "I am happy and enjoying the journey," he said after his Thursday win. "I am just trying to think positively. I am representing every individual in the whole of Australia and will give it all I've got. A gold medal is what you prepare for – fingers crossed."
Living with 6,600 other athletes at the Athletes' Village at Parklands is a unique experience for Aaron, and he can see the humorous side to it: "I've taken to eating spagbol for breakfast," he said. "'I'd rate it a 6.9 but I won't be changing the routine. It's working for me. I'm loving every second of the Games.
"I've also been on the dry. If I win Friday night, there'll be a celebration somewhere. I'm looking forward to drinking something delicious."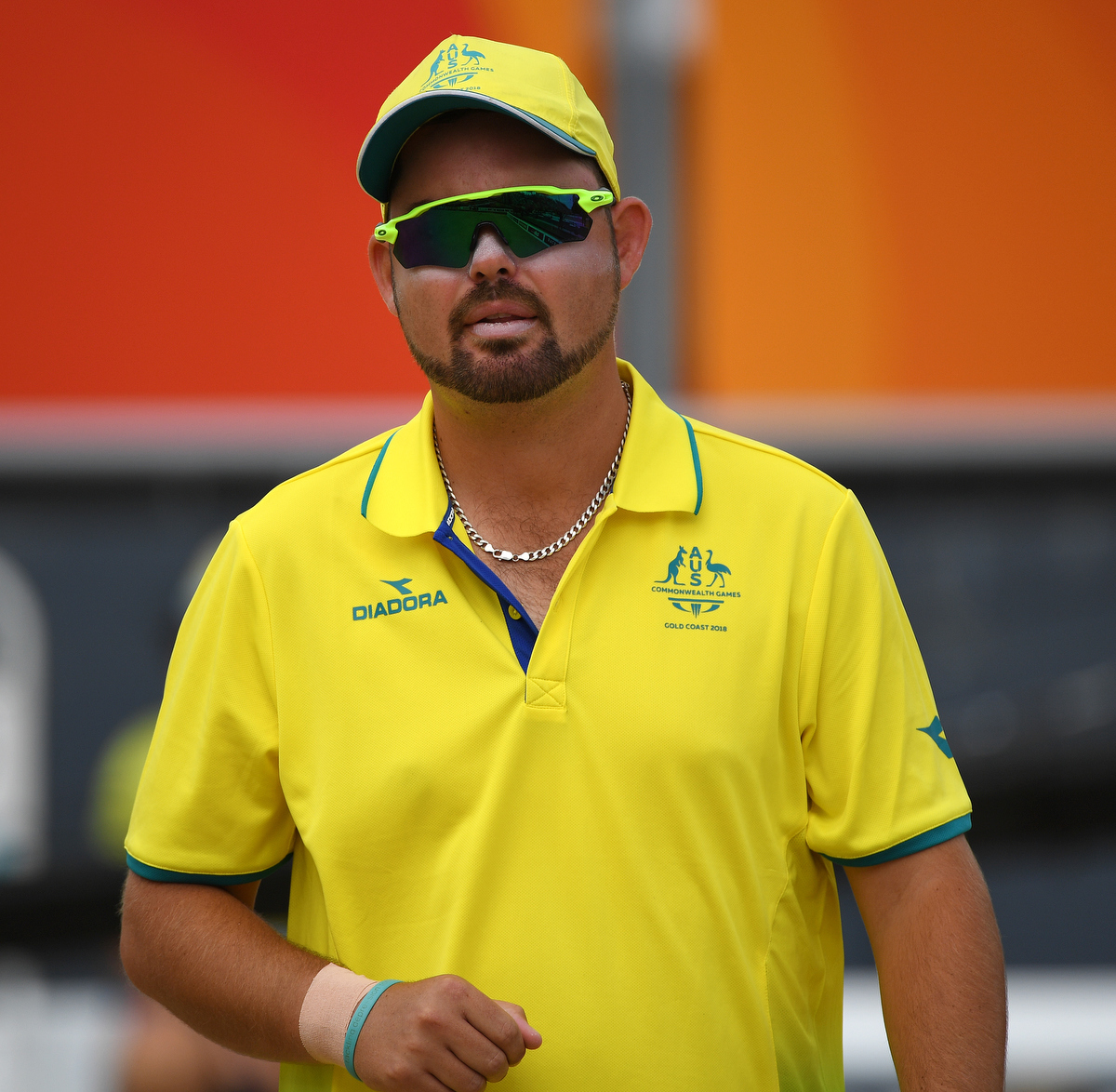 When the 12-day Commonwealth Games conclude on Sunday, Aaron will return to his full-time job as a professional coach at the Cabramatta Bowls Club. There are lucrative opportunities for bowlers in Australia now and the kid from North Bendigo is poised to capitalise on his success and popularity. Even league and pennant players in metropolitan and country cities are negotiating fees to sign on for their respective clubs.
Aaron's income does not stop with his pro job at Cabramatta. He is involved in personalised coaching and is sponsored by the bowls manufacturing company Henselite. It's not difficult to visualise him in television advertisements in the short-term future.
The whole Wilson family has something great to offer when promoting bowls. Five of the six kids are heavily involved in what was once regarded as a one-foot-in-the-grave sport. Matthew, Cameron, Nathan and 21-year-old Nicole all play at the upper-level. Travis, the local baker at Elmore, is the sole non-participant but sponsors the town's local bowls club.
So where do Roger and Deborah Wilson sit with all this? "Dad loves following Aaron," Cameron says. "He is on the edge of his seat all the time – you'll hear him if Aaron wins."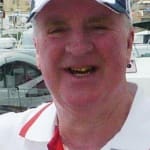 Author:
John Craven
JOHN CRAVEN was a highly-regarded sportswriter at the Geelong Advertiser, Launceston Examiner and Melbourne Herald before leaving full-time journalism in the early 1980s to embark up on a career as a publisher-promoter.
His company, Caribou Publications and Events, grew into Australia's largest cycling promoters, employing up to 150 full and part-time staff, and organising the Herald Sun Tour for 16 years, the Melbourne to Warrnambool for 18 years, and creating other modern-day classics.
Craven has written three books – the biographies of Raelene Boyle and racecaller John Russell, and an acclaimed history of the 122-year-old Melbourne to Warrnambool Cycling Classic.
He is currently collaborating with the recently-retired race broadcaster Greg Miles on his biography.
Comments
comments
0 comments