---
Reading Time:
4
minutes
WHILE SPORTS FANS across the nation were left stunned by the ball tampering outrage, Sportshound writer and cricket nut COLIN DALE was right in the middle of the travelling Aussie diehards at Newlands as our reputation was being trashed. He returned (reluctantly) on day four to gauge the mood of the fans let down by Smith and Co:
AROUND HALFWAY through the now infamous second session at Newlands, I remarked to a slightly stunned fellow tragic seated on the grassy embankment that I seriously did not enjoy Test cricket at times.
And that was only when we were getting beaten. But a few hours later I genuinely hated Test cricket and for the first time in my life I didn't want to watch it – and it had nothing to do with the result.
I've never been regarded as one of the best losers in sport and with the South African batsmen stretching their second innings lead, I was contemplating the slow, excruciating defeat we were going to have to endure. And despite the unbelievably picturesque surroundings, full strength pints costing just $2.50 and some terrific combative cricket on display, I didn't think I could take the pain.
Then very suspicious closeups shots of Cameron Bancroft appeared on the big screen, the locals began booing, the umpires quizzed the opener – and this game and my love of it – was turned on its head.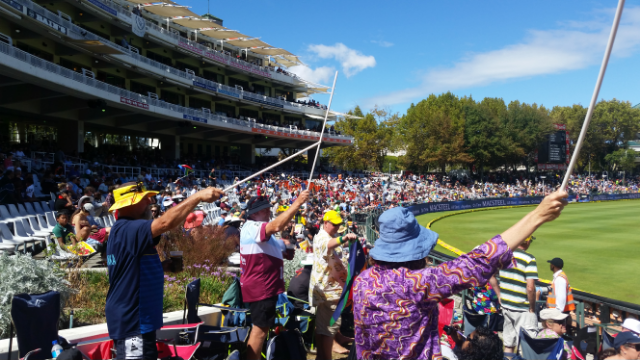 Test cricket, to the delight of us all, can change a side's fortunes in a matter of a few balls. But in the matter of a few minutes here on a very overcast day three afternoon, the fate of this Australian side's character was blown to pieces – and suddenly the state of the game or the result did not matter anymore.
Hundreds of supporters had travelled over 11,000 km across the Indian Ocean to hopefully cheer on, experience, support and be part of our national side's triumph in this most combative of series. But as dawn broke over Cape Town on day four and the full extent of the planned cheating was confirmed, I, like so many other, did not want to be part of any of this anymore.
It was with mixed emotions I joined the other "flaggers" – the unofficial main Australian world-wide travelling "Waving the Flag" supporters group – on the rickety slow train from the city around the side of Table Mountain to the stunning suburban ground. Should we at least clap the Australian side? Jeer them, maybe? Should we turn our backs on them? Or should we be supporting the South Africans? None of us had ever felt like this at cricket before. None of us felt so flat heading to a game. None of us cared about the result. None of us really knew what to do.
So as the Australians made their way on to the pitch at 1025am, the 70-strong group did … nothing. No clapping, no normal flag waving, no messages of support. Instead of Australian flags flying there were bare poles. With no planning involved, unlike those who had betrayed us the day before, we just stood there in eerie silence. These, the most passionate of Australian cricket supporters had been muzzled by their own heroes – Test cricket and sport should never be like this.
The South African batsmen continued on their merry way without any of us seeming to care until the next flashpoint: wicket! The big one of AB de Villiers. Normally cue for a huge celebration – but what to do? Some did nothing, some clapped, a few flags we raised but sadly for most of us, we become the "Waving the Poles" group. An impromptu protest that no one wanted to be a part of.
"I thought I would never, ever not want to wave the Australian flag – but I'm just too embarrassed," said veteran supporter Peter Holt from Sydney while holding his bare pole. "As un-Aussie as it is to cheat it's just as un-Aussie not to wave the flag. We're here to support our national team but I can't support them because of what happened yesterday. I'm gutted."
Likewise, Neil Linklater, of Darwin: "We are all just sitting ducks now for abuse and likewise from the local supporters – and through no fault of our own. We just have to sit here and cop it. We have no comeback. These players, they owe all of us an apology. We've spent thousands of dollars to come here and then they do this. But I don't think any of them care about the supporters these days."
Boos and jeers from the locals and the now familiar silence from the Aussie supporters greeted openers David Warner and Bancroft as they began the 430-run chase mid-afternoon. Reaching 47 without loss at tea, the eerie feeling of not wanting them to do well returned among us.
But just like the fans they had so badly let down, the humiliated Australian cricketers clearly did not want to be there as well. As Table Mountain's mighty shadow cast a gloom over Newlands right on stumps, this dreadful Test for Australia's sporting reputation and this dire day for its loyal devotees came to a sudden halt.
But at least the pathetic 10-wicket collapse by the shattered Australian team, saved us an equally painful and embarrassing day five.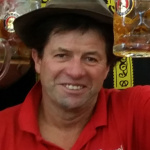 Author:
Colin Dale
Melbourne-born sports nut, Colin "Bomber" Dale began his career in journalism with The Herald as copy boy in 1980. Stints with the Sunday Press and The Sun followed along with a year with NTV Channel 8 in Darwin. Chasing his dream to work in Fleet Street and follow all sports and drink beer around the world, Bomber landed on his feet in the UK, founding a tour company specialising in festivals such as the Oktoberfest in Munich, Rugby Internationals and Royal Ascot. Prost!
Comments
comments
0 comments