---
Reading Time:
6
minutes
FOOTBALL legend Ken Hands, the last survivor of the infamous Carlton-South Melbourne Grand Final of 1945, has died aged 91. He played 211 games and booted 188 goals for Carlton from 1945 to 1957. Sportshounds writer GREG HOBBS interviewed Hands three months ago and this was his report:
IF YOU think the 1989 Hawthorn-Geelong Grand final was a brutal match you would be right. But, it was child's play compared to the war at Princes Park.
On Grand Final day this year it will be 72 years almost to the day since Ken Hands was one of 38 players who waged the bloodiest GF in VFL/AFL history. So bloody, the game is remembered as "The Bloodbath Grand Final".
It was football warfare in the days when you didn't dare go off injured unless you were damn near dead. Once off you were off for the game. Each club had only one reserve and there was no interchange.
Today, all of the Carlton players, except Hands, have left the scene. Our investigations also reveal that none of the South side is still with us to reminisce and yarn about old-time football.
That leaves Ken Hands the last man standing.
He is living in Melbourne, approaching his 91st birthday and became Carlton's sole survivor when Alex Way, died aged 89, in 2014.
Hands told me this week: "I'm good. My health is OK. I walk for 20 minutes each day (with the aid of a walker)."
Hands still watches the football on TV but hasn't been to a game for a couple of years. Like most of us, he thinks there is far too much over-kill on handball.
His long-term memory isn't too bad either. When I was a youngster I lived over the road from Ken when he was building his new house in Glen Iris. We recalled those days and he didn't miss a beat.
September 29, 1945, and Carlton met the mighty top-of-the-ladder South Melbourne in the Grand Final. The game was played at Princes Park, Carlton's home ground, because the MCG was in use as a war-time base. A crowd of 62,986, crammed into PP, the biggest squeeze in the ground's history.
Ken Hands was 18 and the youngest member of the Carlton team. He was playing in his 18th game and it must have been daunting as he looked at an opposition that contained super names such as Laurie Nash, Herb Matthews, Ron Clegg, Jack Graham, Don Grossman, Jim Cleary and Jack "Basher" Williams.
Nash was the Buddy Franklin, Patrick Dangerfield or Dusty Martin of the South line-up. He lived up to his box-office status, always quick to tell you he could do the work of three players and that he saw the greatest player of all time every time he had a shave. Skiting aside, he was a genuine football superstar and a Test cricketer into the bargain. Few who saw it happen could ever forget the day he kicked 18 goals for Victoria after being moved to full-forward to replace an injured team-mate.
While the game is remembered for many of the wrong reasons, Hands is the only player left to recall the brutality that took place. Yet, there are parts of the match, he, too, can't remember.
The simple reason is that he was felled in the second term by "Basher" Williams, yet managed to regain consciousness and play on — minus two teeth and sporting a broken nose and a split mouth. He finished with three goals, but not before figuring in another incident with South full-back Jim Cleary, who on this occasion did not live up to his "Gentleman Jim" nickname. Cleary was outed for eight games.
Hands said he bumped into Williams many years later in Brian "The Whale" Roberts's hotel in South Melbourne. It was a far friendlier atmosphere than their previous meeting.
It is an understatement to say Hands was thrown in the deep end in his first season and first Grand Final. There were spot fires, bushfires and raging infernos breaking out everywhere and 10 players appeared before the tribunal the following Tuesday night.
South's Ted Whitfield received the biggest whack – suspended for 21 games, all of the 1946 season and the first two games of 1947 for his part in numerous incidents. South's hardened "Basher" Williams copped eight games for adopting a fighting attitude to the umpire and to Carlton's Rod McLean and another four for abusing a goal umpire.
We have touched on Cleary and it must he said Hands also made the report sheets, charged with jumping into the back of Ron Clegg (winner of the 1949 Brownlow Medal). He beat the charge.
The picture would not have been complete without Carlton iron-man and leader Bob Chitty getting into the act. He went down for elbowing South's Bill Williams (eight games), and Carlton's Ron Savage copped eight for striking Don Grossman. But, perhaps the most remarkable incident involved Carlton player Fred Fitzgibbon, who wasn't even playing! He was already serving three weeks suspension and was hit with another four when he ran on to the field and joined in the fighting. Whitfield, who as mentioned suffered a season's loss, also provided some comedy when goal umpire Whyte chased him up the ground to take his number. Whitfield didn't want to know about it and pulled his jumper over his head to hide his number.
The umpires, led by field umpire Frank Spokes, took two hours sifting through their reports. It seemed unless you were reported you weren't there.
Truth newspaper called it "the most repugnant spectacle League football has ever known".
Hands's career journeyed on until the last of his 211 games in the first semi of 1957 against Hawthorn. It was Hawthorn's first-ever finals appearance since entering the VFL in 1925.
Current Sydney Swans leader Josh Kennedy's grandfather, John Kennedy, was the Hawks' captain and by 1960 he was the non-playing coach and in 1961 coach of the Hawks ice-breaker premiership.
Ken Hands was as tough and wise as they come and some of the less complimentary opposition called him "Solvol" – taken from the brand of soap that washes, would you believe, very dirty hands.
The young Hands lived in Geelong, was a guest of the Melbourne FC at a semi-final and was approached by Fitzroy, South and St Kilda, but it was Carlton who won the day. His contribution to Carlton has few peers.
He was a premiership player in 1945 and 1947, a Victorian representative 12 times and captain-coach of the Big V in 1954 and 1957, Carlton captain 1952-57, best and fairest winner in 1953, a member of Carlton's Team of the Century, induction into the AFL's Hall of Fame, named an Official Carlton Legend and Carlton coach from 1959-64. Not on the honour boards are his long, but successful, hours on the recruiting beat.
His coaching appointment, when he replaced Jim Francis before the 1959 season, created much ill-will around the club. Some wanted Francis; others Hands. But, Hands won the day and Francis took over at St Kilda. Hands and Francis had been close friends; Francis was best man at Hands's wedding but this coaching issue drove a wedge between them.
Carlton's 1945 grand final leader Chitty was as tough as Ned Kelly. In fact, Chitty once played Ned Kelly in the Australian film of that name. A few days before the 1945 preliminary final he went close to chopping the top off the middle finger of his left hand in an accident at work.
He was told his finals campaign was over. Chitty wouldn't hear of it, had the finger sewn back and with a patched-up hand he played. And, as the reports show, with plenty of fight.
Among Hands's 1945 teammates were Bert Deacon, who would go on and win the 1947 Brownlow Medal, Rod McLean, Jim Baird, Jim Mooring, Ron Savage and Jim "Racehorse" Clark.
South finished on top of the ladder with four losses in the 20-game home and away '45 season. Carlton, by contrast, just made it to fourth (there was a final four in those days) with a comeback that resembled the Swans season this year.
The 2017 Swans looked gone for all money after losing their first six games this year but stormed home to play finals. Carlton, in 1945, was a bit the same, losing its first four games to sit on the bottom, but surged to fourth place and the finals with victories in eight of the last nine games.
Carlton became the first club to win the flag from fourth, scoring by 28 points. Carlton supporters chipped in 500 pounds for the players and amid the celebrations was a reception at the Melbourne Town Hall.
The Blues had to wait only another two years to win the premiership again. Western Australian Ern Henfry, who had played two games with the Blues in 1944, was back and took over the captaincy from Chitty. We are told all of those 1947 premiership Blues have also gone to greener fields.
Alas, in years to follow, South Melbourne lost its way as a finals team, and after the "Bloodbath" defeat didn't share in the September action until a lowly losing first semi-final in 1970. At least it was a final and the only one for the great Swans triple Brownlow Medallist Bob Skilton.
It wasn't until 2005 that the Swans finally won another flag – the club's first since 1933. Remember some of the modern-day heroes? Barry Hall, Adam Goodes, Brett Kirk, Jude Bolton, Leo Barry etc.
For Ken Hands, he just keeps on keeping on. He has much to look back on and be proud.
On learning of Ken Hands's death, Tiger great Kevin Bartlett tweeted:
I once asked Ken Hands how many players from the 1945 bloodbath grand final between Carlton and South Melbourne would get a game in today's game. He said not too many but added not too many of today's players would have got a game in 1945. Brilliant answer. RIP.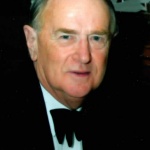 Author:
Greg Hobbs
GREG HOBBS spent more than 50 years covering all the major sports for Melbourne newspapers. As well as being a formidable newsbreaker, he was a talented writer and held a number of executive positions. He edited The Sporting Globe and was chief football writer for The Herald. Later he was Editor of the AFL Football Record. Greg was also one of the co-founders of the AFL Media Association.
Comments
comments
0 comments