---
Reading Time:
3
minutes
SIX experts. Fifty years of football. Fifty Brownlow Medallists to choose from. After a week of deliberation, the Sportshounds panel selected IAN STEWART as the greatest Brownlow Medallist of the past 50 years. GREG HOBBS recalls the player who had it all:
IAN STEWART was a jewel in the football crown. Courage, skill, a fierce will-to-win … Stewie had the lot. Two clubs, St Kilda and Richmond, had the privilege of his services. With the Saints, he won two Brownlow Medals and he added another at Richmond.
His domain was the centre and all paths leading to the goals. When he played with St Kilda the Stewart-Darrel Baldock combination was second to none. Those two Tasmanians ripped opposition centre and back lines to shreds.
In a nutshell, Stewart played 127 games for St Kilda (1963-70) and 78 games for Richmond. Add to that a truckload of trophies and honours and after his playing days were gone he did a spot of coaching.
Then there was the football bombshell of all bombshells after the 1970 season. It saw Stewart and Richmond favourite Bill Barrot as the main characters and the unthinkable happened: they swapped clubs with each other.
So, in 1971 Stewart was a Tiger and Barrot a Saint. I remember it as if it was yesterday. I wrote the breaking story and I was the one who actually broke the news to Stewart that the sensational move was on. He knew it was coming and was waiting on confirmation after giving the Tigers the nod five weeks earlier.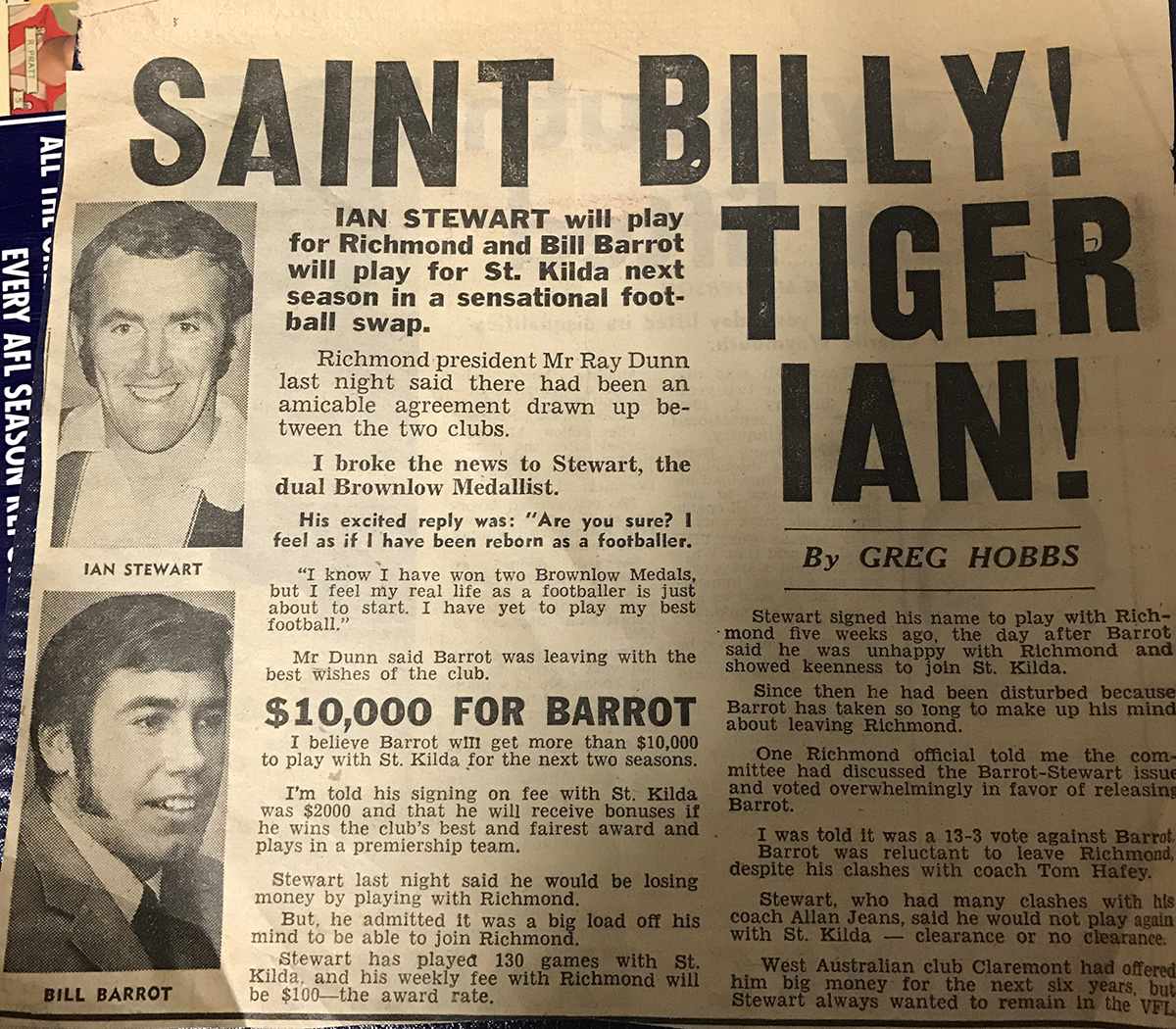 "Are you sure?" he asked. "I feel as if I have been reborn as a footballer.
"I know I have won two Brownlow Medals, but I feel my real life as a footballer is just about to start. I have yet to play my best football."
When the story was published there was a feeling of disbelief among football followers. The upshot of it all was that Stewart slipped into his new colours with ease and in 1971 he won his third Brownlow and also Richmond's best and fairest award. He also played in the finals, with Richmond departing in the preliminary final against, of all clubs, St Kilda.
But, there was no Barrot in the St Kilda ranks that day. In fact, there was no Barrot at St Kilda. Things didn't work out at his new home and after two games and almost before he had time to learn the names of his teammates he was off to Carlton, where he played another 12 games in the '71 season.
That was the last of Barrot in the VFL. For Stewart, his career kept rolling on and he was a member of Richmond's losing 1972 grand final team and in the middle when the Tigers won the flag in 1973.
Stewart was a gifted kick with precision passing off either foot, he was balanced, he was a strong pack mark, he hated losing and he didn't mind getting his hands dirty. He originally played with Hobart and within a month of making his debut was selected in the centre for Tasmania. That started the thread of his career – from strength to strength to strength.
For Barrot, who died aged 72 in 2016, his career also took off from the start. He was loved at Richmond and was a premiership star in 1967 and 1969, but sadly, it didn't finish the way he would have liked.
The Richmond faithful remember the great centreline of Francis Bourke, Barrot and Dick Clay, but they also look back with pride on what Ian Stewart gave the club after his glittering days at St Kilda.
These days Stewart lives on the outskirts of Melbourne and likes to keep a low profile. You wouldn't know he had won anything.
Ian Stewart
Born: 14.6.1944
Played: 1963-1975
Games: St Kilda 127 (1963-70)
Richmond 78 (1971-75)
Honours:
Brownlow Medals: 1965-66 (St Kilda),1971 (Richmond)
AFL Hall of Fame (Legend, 1997)
St Kilda Team of Century (centre)
St Kilda B&F: 1964-1966
St Kilda premiership: 1966
St Kilda captain: 1969
Richmond Team of Century (interchange)
Richmond B&F: 1971
Richmond premiership: 1973
Tasmanian Team of Century
Tasmanian Hall of Fame (Legend)
All-Australian 1966
Coach: South Melbourne 1976-77, 1979-81 (111 games), Carlton 1978 (3 games).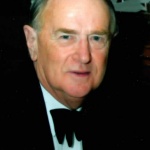 Author:
Greg Hobbs
GREG HOBBS spent more than 50 years covering all the major sports for Melbourne newspapers. As well as being a formidable newsbreaker, he was a talented writer and held a number of executive positions. He edited The Sporting Globe and was chief football writer for The Herald. Later he was Editor of the AFL Football Record. Greg was also one of the co-founders of the AFL Media Association.
Comments
comments
2 comments