---
Reading Time:
5
minutes
HE'S the 2017 Brownlow Medallist, the player whose power and presence on the MCG could spearhead Richmond to their first flag in 37 years. But is Dusty Martin the greatest Tiger of all? GREG HOBBS examines the case for and against:
IS DUSTY MARTIN edging closer to being the best, most complete player in Richmond's history? His form and the destruction he is causing opposition clubs suggests he is.
Let's say he has another season next year like 2017; he'd have a good case then.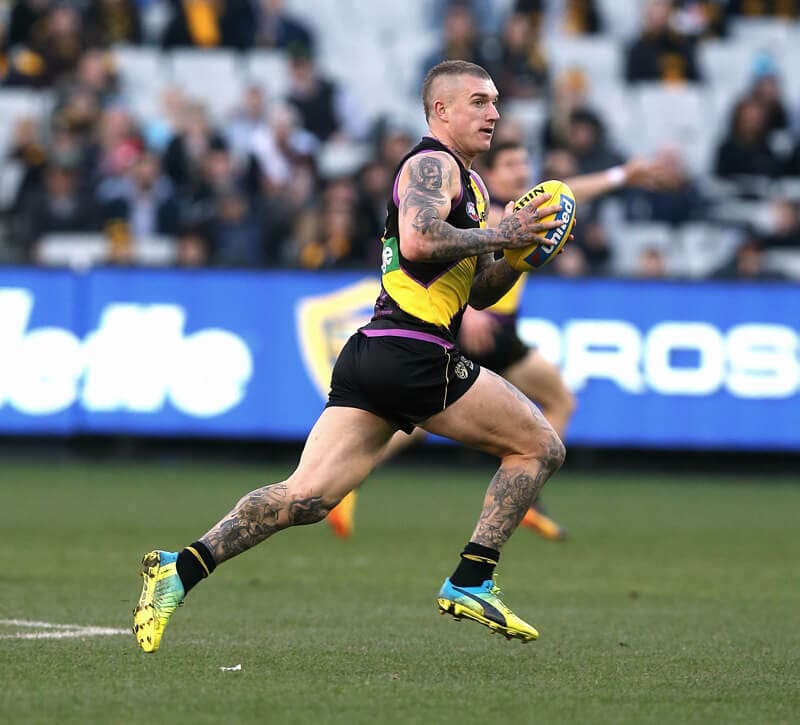 The Richmond fans have whipped themselves into a frenzy during this year's finals, due to the club's lofty position on the ladder and in no small measure to the presence of their hero and matchwinner Martin.
Few players, if any, have had the exposure that has followed Martin at every step this year. Both on and off the field. It has been a saturation coverage by the newspapers and other forms of the media.
Martin has been an absolute star this year. His extended arm that fends off the opposition in the tightest and most rugged corners of the game is his trademark.
His haircut, his tatts, his reluctance to go before the cameras off-field have made him a different character to the rest. At the other end of the scale is Geelong's Patrick Dangerfield, widely recognised as the second best player in the competition this year. He appears to be completely at home in a television studio or giving an off-the-cuff interview.
Dusty likes to do his stuff almost exclusively out on the ground. His brilliance this year has helped put Richmond back on the football map. No wonder the Tigers are splurging millions of dollars to keep him.
That sort of money would have bought all Punt Road when Jack Dyer was kicking the leather and breaking opposition collarbones.
Dyer, or "Captain Blood" as he was known, is the spiritual leader of all things Richmond. A bit like John Kennedy senior is to Hawthorn and Ron Barassi to Melbourne. Dyer did his damage in the 1930s-40s and early 50s and his ferocious leadership built the club's "Eat 'Em Alive" war-cry.
Is it also possible to mention Martin in the same breath as Kevin Bartlett, the champion rover who is a member of League football's very select 400-games club? Hard to think Martin is up there with Bartlett just yet, but give him another season and a repeat of 2017 and he will be near the summit.
Martin's games tally is in the 170s which, from a long-service aspect, means he still hasn't put in the hard yards of a Bartlett. It is the way Martin is playing his games that makes him such a rare commodity.
Length of service isn't always the key factor. Take the famous Essendon full-forward John Coleman, who played in the 1940s-50s. A knee injury killed his VFL career after only 98 games, yet in 1996 he was named the VFL/AFL's full-forward in the Team of the Century. He is also an AFL Legend.
Coleman's games and 537 goals were far less than, say, Collingwood's Gordon Coventry who is also an inducted Legend. Coventry's statistics swamp Coleman – 306 games and 1,299 goals from 1920-37, but Coleman beat him to the Team of the Century spearhead role.
Laurie Nash of South Melbourne is acknowledged as one of the game's best but he played only 99 games from 1933-37, 1945. That small bundle of games hasn't diminished his standing among the greats.
So, Martin is just about ripe at this stage of his career to be judged. Some will say his current teammate Alex Rance also deserves a big vote following his outstanding play in defence and selection this year as the captain of the All-Australian side. They would not be wrong.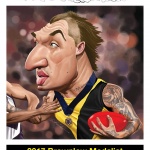 Grab your dusty poster here:
Bartlett, whose roving days from 1965 to 1983 won't be forgotten, stands as Martin's biggest hurdle to taking the top berth. Bartlett's play in Richmond's last premiership of 1980 was phenomenal – six goals in the qualifying final, eight in the second semi and seven in the grand final. His career goals tally of 778 goals is another snag for Martin.
Martin wouldn't give a hoot about exercises of this nature. If ever a player was put on this earth to let what happens out in the middle do the talking and the rest take a back seat, it is Martin. The long-running saga about whether he would stay at or leave Richmond and the problems surrounding his father over immigration matters, haven't fazed him.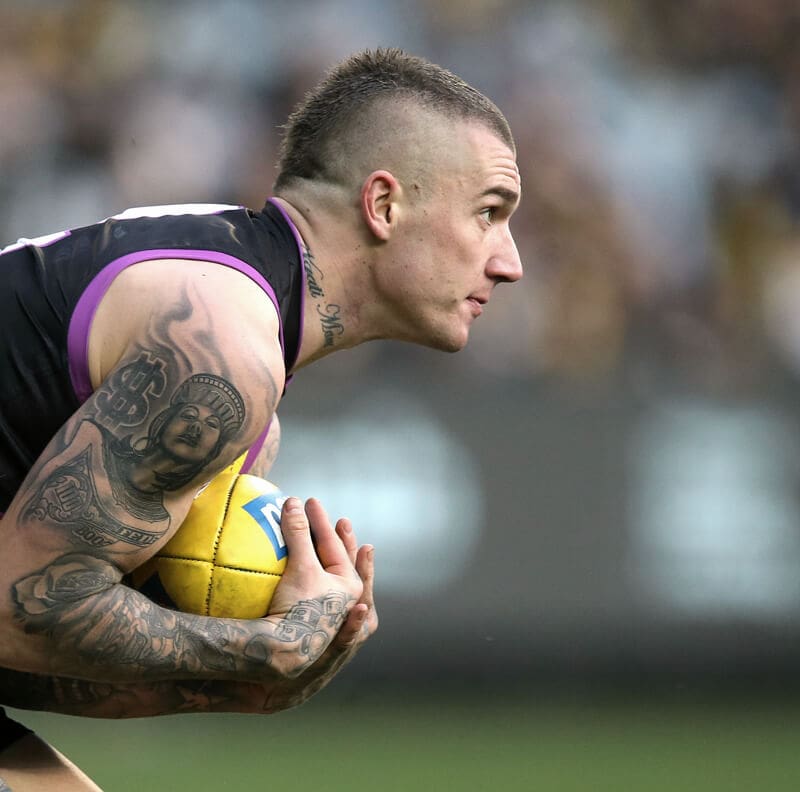 That long arm of the Martin law, that "don't argue stay-where-you are" arm, has thrashed its way through a memorable season.
While Richmond hasn't won modern-day premierships, it has a proud history. If Martin does, one day, pass Bartlett, Dyer and co. in the best-player stakes he will never topple the might of the Dyer name. Dyer is Richmond.
Richmond is not just about Martin, Bartlett and Dyer. There are players down through the ages who have every right to be on the top rung or near it.
Tasmanian Royce Hart has plenty of admirers. He was special at centre-half-forward and played in the 1967, 1969 and 1973-74 premiership teams. For sheer quality, he could be Richmond's best-ever.
Richmond has had no tougher player than centre-line specialist turned superb backman Francis Bourke. Courage and a will-to-win was the Bourke style of play.
There are so many players to be considered: Ian Stewart may be No.1 today if he had played his whole career at Richmond. He played 78 games from 1971-5 and won the 71 Brownlow Medal. His other two medals came as a St Kilda player and he didn't quite give enough service at Tigerland to shadow Bartlett, Hart and a few others.
Take a look at these players (in no particular order): Bill Morris, Roy Wright, Matthew Richardson, Roger Dean, Dick Clay, Kevin Sheedy, Jack Titus, Doug and Gordon Strang, Alan Geddes, Des Rowe, Michael Roach, Geoff Raines, Dale Weightman, Bill Barrot, Wayne Campbell, Matthew Knights, Trent Cotchin, Maurice Rioli, Basil McCormack, Ray Martin, Billy Wilson, Percy Bentley, Dan Minogue and Vic Thorp. Apologies to many more who made their mark in the yellow and black.
It will be interesting to watch the next chapter in Martin's career unfold. Looks exciting.
Greg Hobbs has seen all the Tigers since the early 1950s. From the days of Roy Wright, Des Rowe and Billy Wilson, through the Kevin Bartlett, Royce Hart, Francis Bourke years and now to the Dusty Martin, Alex Rance and Trent Cotchin era. There have been many champions along the way. Maybe, one day, Martin will stand supreme.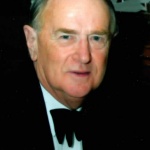 Author:
Greg Hobbs
GREG HOBBS spent more than 50 years covering all the major sports for Melbourne newspapers. As well as being a formidable newsbreaker, he was a talented writer and held a number of executive positions. He edited The Sporting Globe and was chief football writer for The Herald. Later he was Editor of the AFL Football Record. Greg was also one of the co-founders of the AFL Media Association.
Comments
comments
1 comment