---
Reading Time:
2
minutes
THE Big Bash is losing followers at a rapid rate that must be worrying our cricket chiefs. GRAHAM BICKNELL explains why he is disenchanted:
IT TOOK some time but eventually the truth emerged. The Big Bash League is selling. But not to true aficionados of the game. Sheer curiosity and a mild case of mental flagellation had me watching it off and on during the summer.
Eventually even the commentators are beginning to complain. They've had a gutful too. Perhaps they are among a select few who aren't being paid by the promoters.
This isn't cricket and never will be. Lee, Gilchrist and the silly O'Keefe must have spent their young lives transfixed by the game and they rose to the very top internationally. But sadly, it's now their job to make the Bash seem entertaining.
The crowds deserve pity and understanding. They appear to be made up of the young, their adoring dads and those afflicted with the American disease, instant gratification.
And then of course there are the players. Some of them come from other countries. They are lured by the aroma of the lucre.
The guys spend most of their time smiling, sometimes genuinely laughing. And the fieldsmen and opposition batsmen have what appear to be genial conversations. What?
Hey, call me an old timer. I can hardly take offence but when I played three seasons in the Middlesex league there was no congeniality on the field. We'd have a beer or three together after a game. But nothing more. No friendships were ever made.
Now the Australian cricket situation is rocky. You don't need too much grey matter to see the cause. Reverse sweeps to deliveries on middle stump, the "ramp" shot over the keeper. It's becoming an epidemic of non-cricketness.
Can any members of the ACB see this? Probably not. The dollars are blinding.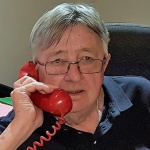 Author:
Graham Bicknell
Graham "GB" Bicknell began his journalistic career as a copy boy on Rupert's first paper, the Adelaide News.
Sent to the Melbourne bureau he wrote his first weekly sports column, "Over the Border" with Aussie rules the subject of course.
After joining The Herald, he covered football, general news and police rounds.
He spent four years in London where he reported on the first cricket World Cup, the Ashes series, two FA cups, Wimbledon and the world swimming championships. 
Back in Australia in 1975 Bicknell joined the Australian, just in time for the election after the dismissal of Gough Whitlam. 
He then bounced over to the Daily Telegraph where GB found himself writing three different columns as the same time — one a daily on the goings-on in the town, two sports columns, one for the daily and one for the sister Sunday.
He later worked in magazines and freelanced before spending 11 years, up until his retirement, as Deputy Editor and a writer of fine features for the Geelong Advertiser.
Comments
comments
0 comments