---
Reading Time:
3
minutes
Daniel Ricciardo rocked the world of Formula 1 during the break by announcing that he will leave Red Bull at the end of the season.
The Australian has apparently grown tired of playing second fiddle to Max Verstappen and he has decided his future lies elsewhere. He will join Renault for the 2019 season, and his announcement has been the talk of the F1 paddock during its annual break. But will the decision pay off, and what will it mean for the rest of the current campaign for the popular driver?
Red Bull team boss Christian Horner immediately went public to declare that he feared the growing speed and confidence of his young teammate. "Daniel had his reasons, I think it comes back to wanting to take on, his words, 'a new challenge,'" Horner said on F1's official podcast. "But I also feel he sees Max growing and growing in terms of speed and strength and he doesn't want to play a support role I guess, for want of better words. It's not that they were treated in any way different. They would have absolute equal status, as they've always had. I can't help but feel that was perhaps a large part of Daniel's decision."
The bookmakers are unconvinced. Take a look at a BetOnline review, find strong odds from a reputable betting site and you will see that Ricciardo is +1600 to win the next race, the Belgian Grand Prix, while Verstappen is +1400. That is despite Ricciardo leading Verstappen by 13 points in the Drivers' Championship standings and having won more races this season.
There is a feeling that Verstappen is now very much the future of this team, and it will throw its weight firmly behind the wunderkind for the rest of the year.
Red Bull can boast a pretty strong record at Spa Francorchamps. It won the Belgian Grand Prix in 2013 when Sebastian Vettel took the chequered flag and in 2014 when Ricciardo stormed to victory.
Mercedes has won it for the last three years, but Ricciardo was third last year and second in 2016. The track is well suited to his strengths and the Red Bulls should thrive there, so it will be fascinating to see if the two drivers still have equal status after Ricciardo's dramatic announcement.
Renault is the fourth placed team this year, but it is well behind Red Bull. Mercedes leads the way with 345 points, followed by Ferrari on 335. Then Red Bull is on 223 points, before a sharp drop to Renault on 82. It therefore represents a real gamble for Ricciardo. But he was never going to move to Ferrari or Mercedes and, if his mind was made up on leaving Red Bull, he has few alternatives.
Honda is a real unknown, while McLaren is struggling, so he will just have to hope Renault seriously kicks on in the off-season.
His arrival is a real coup for the French team, where he will link up with Nico Hulkenberg. Jerome Stoll, president of Renault Sport Racing said that Ricciardo's arrival represents a "unique opportunity" for the constructor.
"We welcome Daniel's arrival to our team, still in the making, but more motivated than ever," he said in a press release.
It expects his talent and charisma to spur everyone on, and that it will repay his faith by delivering the best car possible. Some, Horner included, have declared it to be a backwards step for Ricciardo, but he feels the team is on the up.
"I realise that there is a lot ahead in order to allow Renault to reach their target of competing at the highest level but I have been impressed by their progression in only two years," Ricciardo said on Renault's official website.
"And I know that each time Renault has been in the sport they eventually won."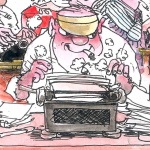 Comments
comments
0 comments