---
Reading Time:
4
minutes
MID-SUMMER through autumn is prime time for bread and butter bay species, writes STEVE COOPER:
MOST at this time of year effort is on King George whiting, but anglers will find alternative offerings including calamari squid, salmon, flathead, garfish and pinkies. Bigger fish like snapper are still available, and there are yellowtail kingfish moving in around Port Phillip Heads. However, most fishing effort is aimed at inshore table fare.
Every season is different. In my local area, Corio Bay outer harbour, the fishing was slow to start. King George whiting, calamari squid and even flathead, were reluctant to bite until about mid-January. The story was repeated in some northern and eastern parts of Port Phillip, but not the southern end where King George whiting and squid at least were being caught in good numbers from mid-spring. Hot spots were between Portsea and Sorrento, and Lonsdale Bay to St Leonards.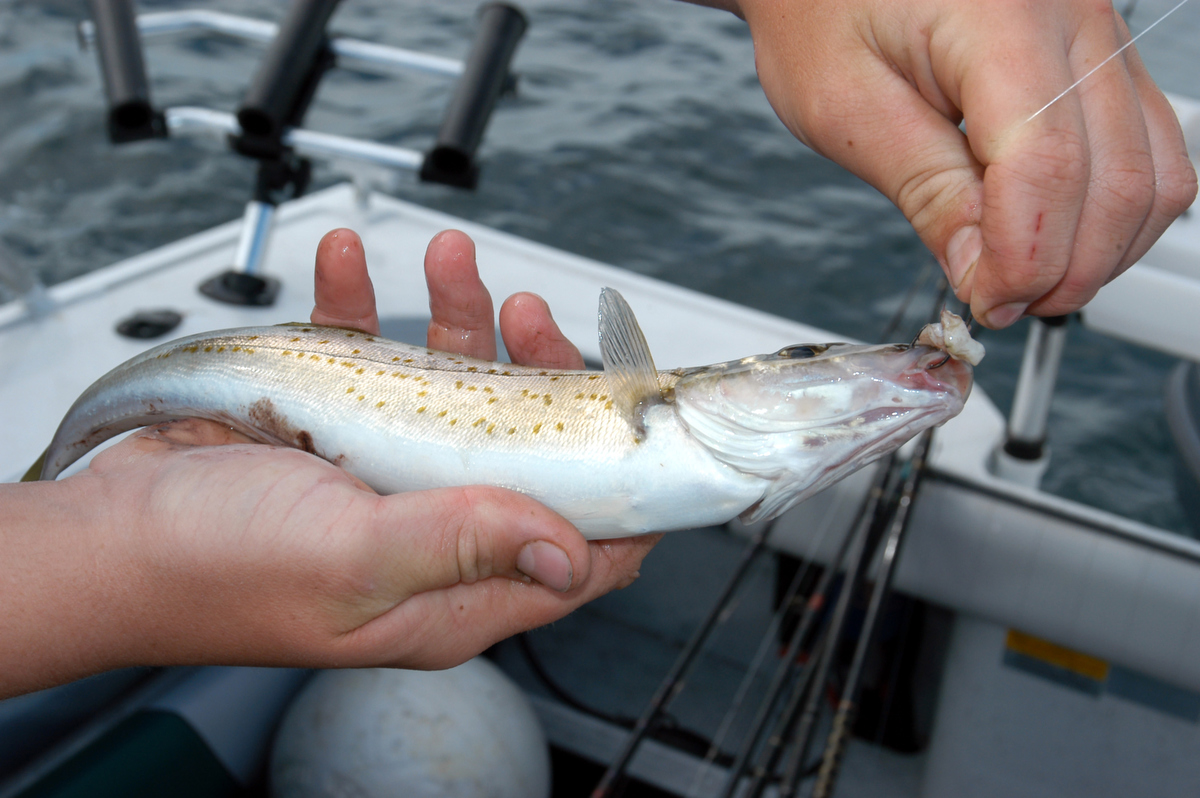 In Western Port, whiting fired from 35cm to 48cm are being caught. Looking farther afield, Anderson Inlet is producing whiting 36cm, mullet and flathead. At Shallow Inlet, whiting are in good numbers and size, up to 45cm. Anglers fishing this water are also catching silver trevally, mullet and flathead. Port Welshpool's Lewis Channel is a consistent whiting producer, and there are always flathead to be caught. In the Gippsland Lakes, whiting, mullet, silver trevally, and flathead are making up a fair portion of the catch.
Head west to places like Killarney and Portland and the story is the same. Fish from Portland's Lee Breakwater and you can hook whiting to 50cm, and on the next cast have your bait taken by a snapper, gummy shark or kingfish; it's a freaky place.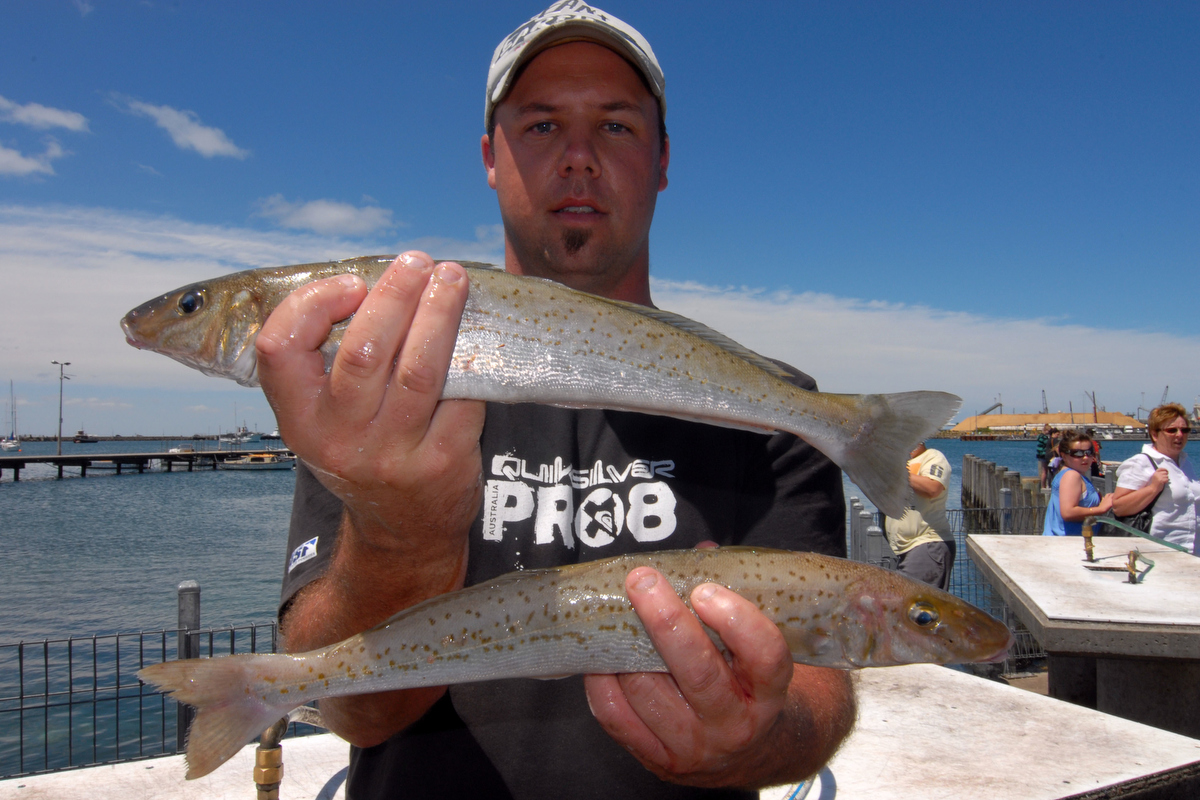 Most inshore saltwater anglers prefer to hook whiting to any other species listed. A bag limit catch of solid whiting is a bonus; the rest is by catch, and all can be caught while fishing the same grounds as you do for whiting.
Flathead feed on the bottom and bait for whiting should always be presented below the sinker, so you would expect to hook flathead. If your mullet, garfish or salmon show, you would normally present bait higher in the water column. As for squid, leave a jig out under a float and wait for it to be taken.
I fished the whiting recently off Pt Wilson. I arrived on the grounds later than I would have preferred, but working berley over the rubble and weed bottom in four metres of water soon brought the fish on the bite. The whiting were taking baits well, a light inquiry followed by a hard take.
There were not a lot of whiting, and they were not big as these fish go. Still, the fish we kept were from 30-33cm, but as you expect at this time of season, there are always throwbacks. I have a rule of thumb (and forefinger) with whiting: if I can put my hand around them and my thumb touches my forefinger, the fish are too small. At this size, the fillets are too thin, and you can forget the fork, start licking what meat there is off the skin.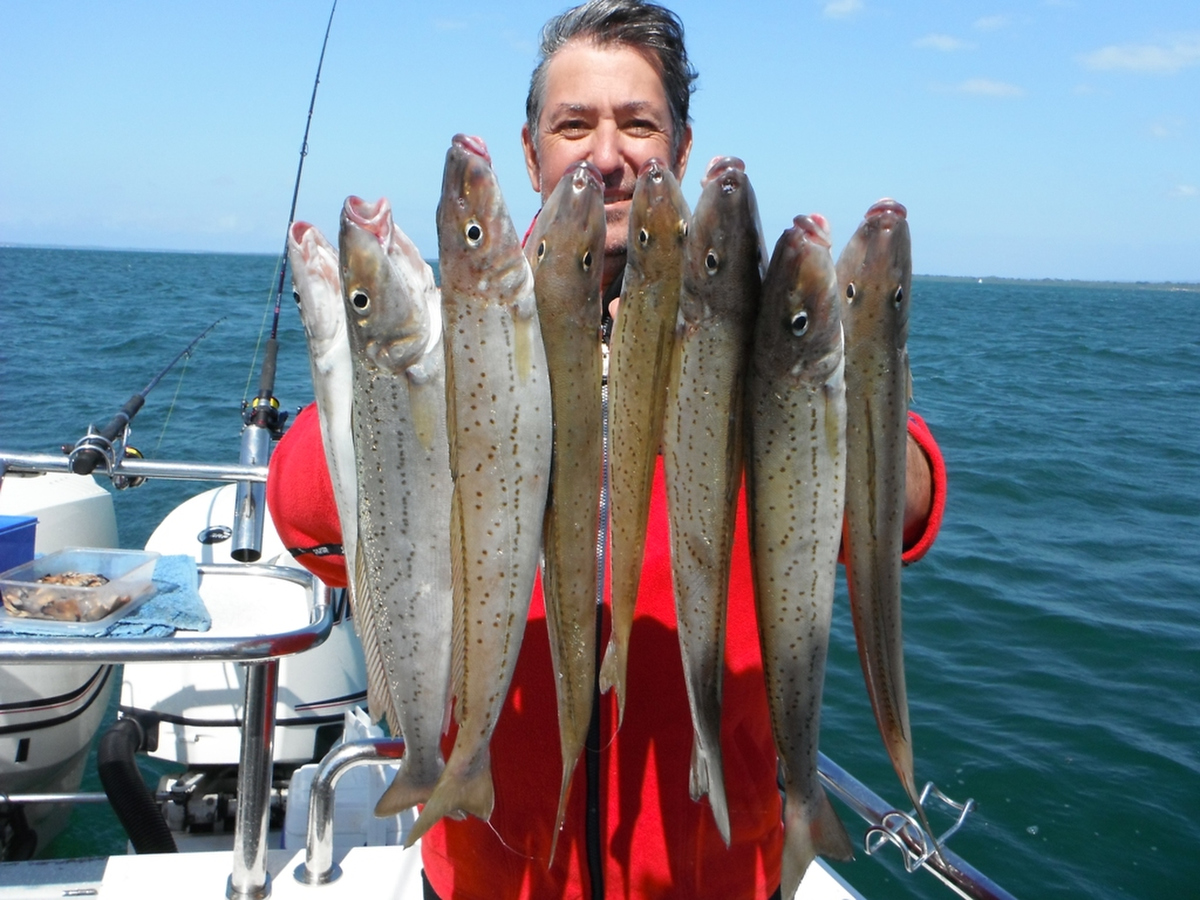 Even though the fishing was slow, my companions and I caught whiting when others didn't. I believe that was due to our use of berley. The odd thing was that all the whiting were on the same side of the boat, so the location was only half right.
As mentioned earlier, the bait should be below the sinker, whether you work a standard running sinker or paternoster variant. Hook size and style should be No. 4 long shank or Size 4 circle; and use fine diameter leaders wherever possible. On this day it was noticeable that the fine leader combined with a red bead on the leader atop the hook made a difference. It doesn't always.
Some days you can use a sliver of squid on a hook and catch all the whiting you want. On other days, the fish will only take shellfish; this was one of those "other" days, and all the whiting were hooked on mussel and pipi.
It was the first time I had fished the area for about a year. Last time I was at Pt Wilson the squid were pushing each other aside to grab my jig. This time the squid were nowhere to be seen.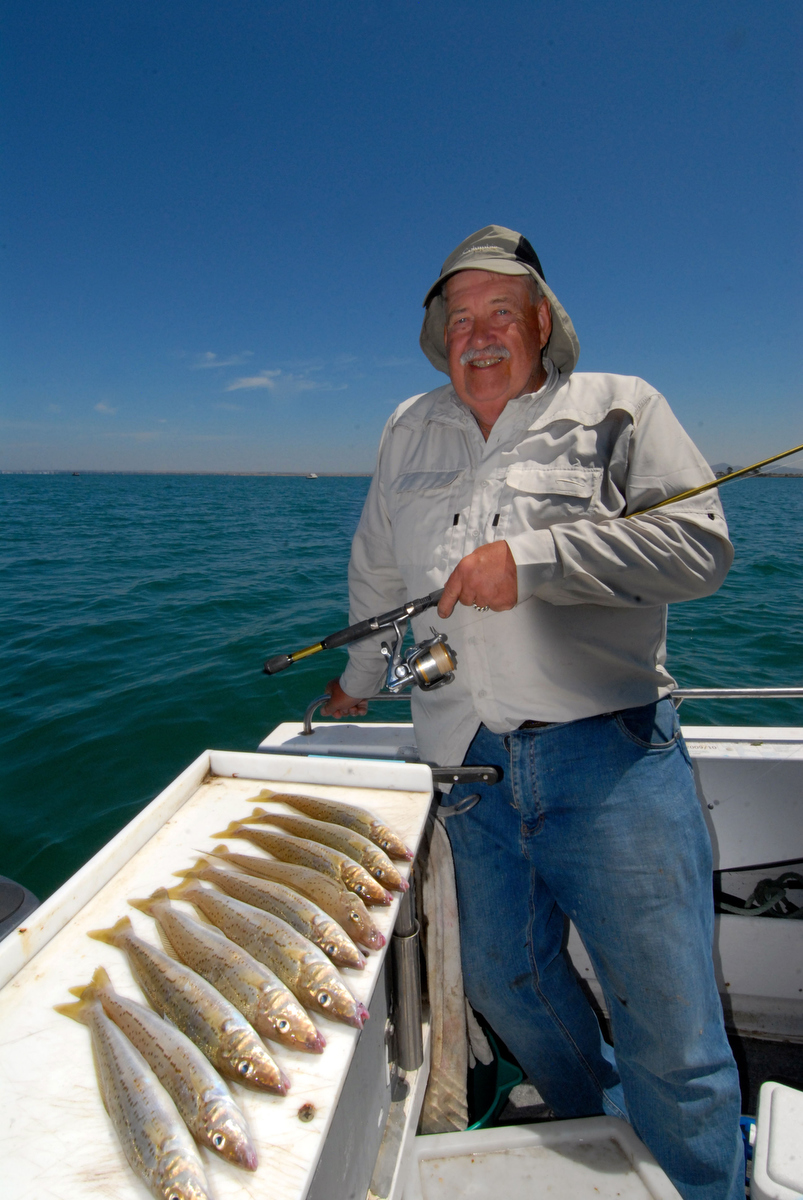 On the way back we stopped off at a weed bed below the Clifton Springs Golf Club to see if we couldn't find a squid. We caught nine in 15 minutes, not big squid but "big enough to eat," I was assured. During the brief period on the squid there were three wind changes, the last and strongest blowing northeast. Instead of pushing our drift along the weed bed it forced us across. It was time to head back to port.
That's what I like about bread and butter fishing; catch enough for a feed and leave the water before conditions deteriorate: it makes for a relaxing day when you are in good company.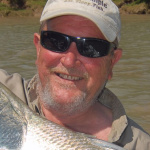 Author:
Steve Cooper
STEVE COOPER won two Walkley Awards for investigative journalism but his great love is fishing and he is renowned as one of Australia's foremost writers and broadcasters on the subject.
Comments
comments
0 comments