---
Reading Time:
5
minutes
ANGLERS welcome the return of the mighty yellowtail kings, fish with plenty of fight in them. STEVE COOPER reports:
YELLOWTAIL kingfish have a reputation as one of Australia's toughest inshore game fish. Anglers relish the opportunity for a hook up. What follows is an adrenalin-pumping surge of power, with the king diving for the shelter of the nearest reef.
In the 1970s and early 1980s, yellowtail kings were prolific in and around the notorious Rip, at the entrance to Port Phillip Bay. These were big kings, up to 35kg and, at that size, wore the "hoodlum" vernacular comfortably. There were some wonderful seasons when anglers and commercial fisherman alike took large numbers. Then fish numbers started to decline. Then the big kings were gone.
Subsequent seasons saw mainly smaller kings, averaging about 4kg, but none of the monsters of those glory years. Consequently, Melbourne anglers who wanted to hook large kingfish in Victorian waters had two choices: travel to South Gippsland and fish near Wilsons Promontory or, alternatively, drive to Portland, about four hours away.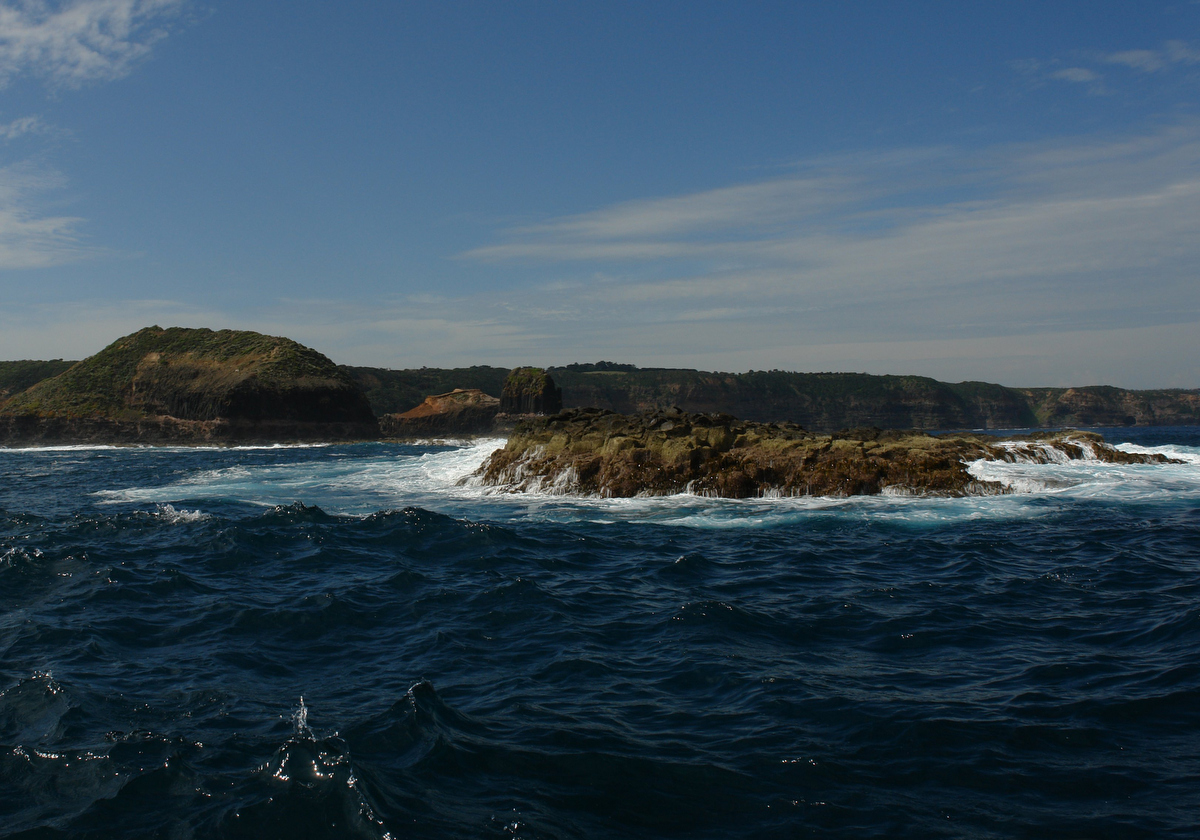 About three years ago the big kings started to reappear, and once again anglers are fishing for them. It is to be hoped that this time around more anglers practise catch and release rather than opting for the "killit and fillet" mindset of the past.
It's been a while since I fished for kingfish in Victoria. The last time was in company with Western Port anglers Brendan Wing and Gawaine Blake. At the time Brendan had a TV show called YouFish TV, and he and Gawaine were running a charter operation: Think Big Charters. The boys had been catching kings from about 7kg to 15kg in Bass Strait; top fish by anyone's standards.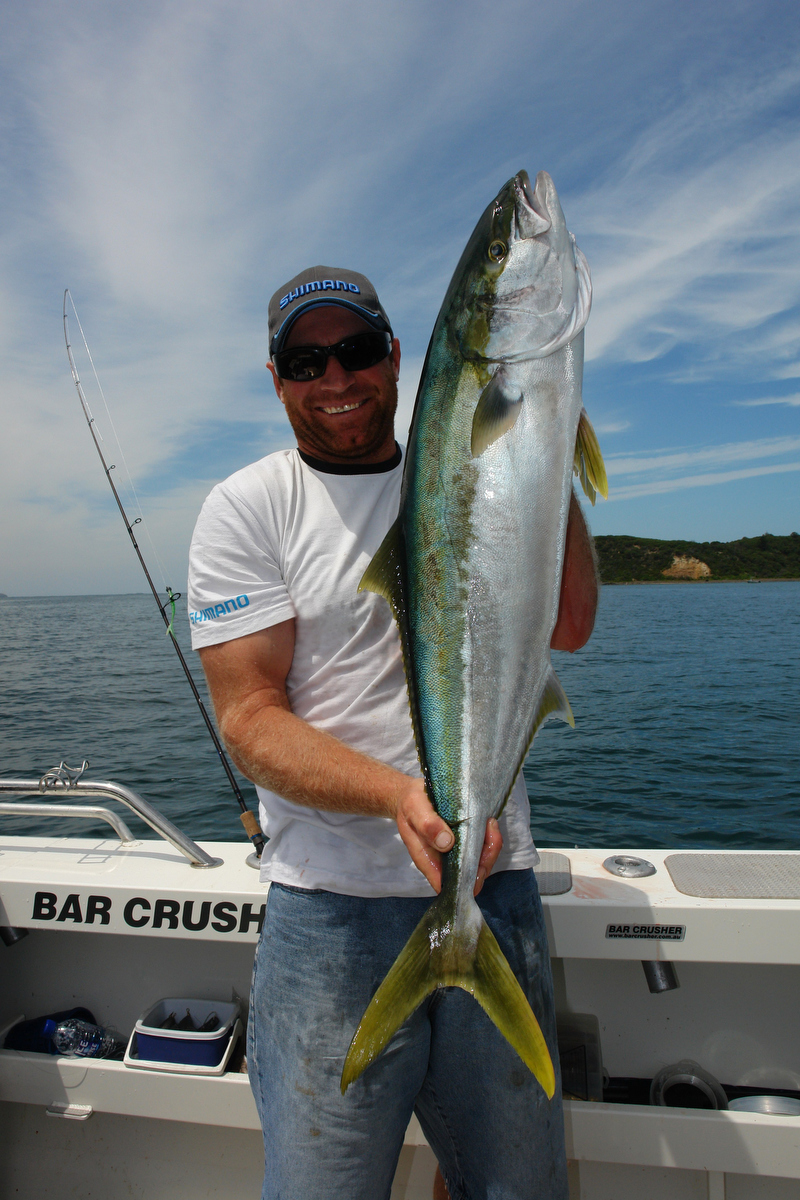 Brendan and Gawaine were alternating their grounds, working breaking reefs and headlands starting at Pyramid Rock on Phillip Island, Seal Rocks and west along the coast from West Head to Cape Schanck.
If you think a lot of water is covered, then you would be right. Our day started at the Stony Pt boat ramp at 5.30 a.m. when we launched Brendan's 6.2m Bar Crusher and headed for a nearby pier to catch live bait in the form of yakkas. The anchor was put down, a berley trail started and the yakkas attacked our baitfish jigs. Not all were landed; a one-eyed seal had a good feed, making the task of hooking and landing the bait that much longer.
With the live well full, Brendan pointed the boat south and motored towards West Head where we were to start the morning's fishing. The live baits were rigged and then lowered into the water. Trolling speed was barely walking pace and the boat was manoeuvred along the edges of white water zones, caused by the two metre swells that came in green before exploding into a white froth on the reefs and exposed rocks. It was a hairy business, not something beginners should try.
Brendan explained there was no single hot spot: "One day you will find the kings schooling on a reef near West Head; the next time they could be a kilometre offshore, or down near Pyramid Rock. We fish every likely area, using the sounder to locate reefs and baitfish, knowing that eventually we will locate the kings."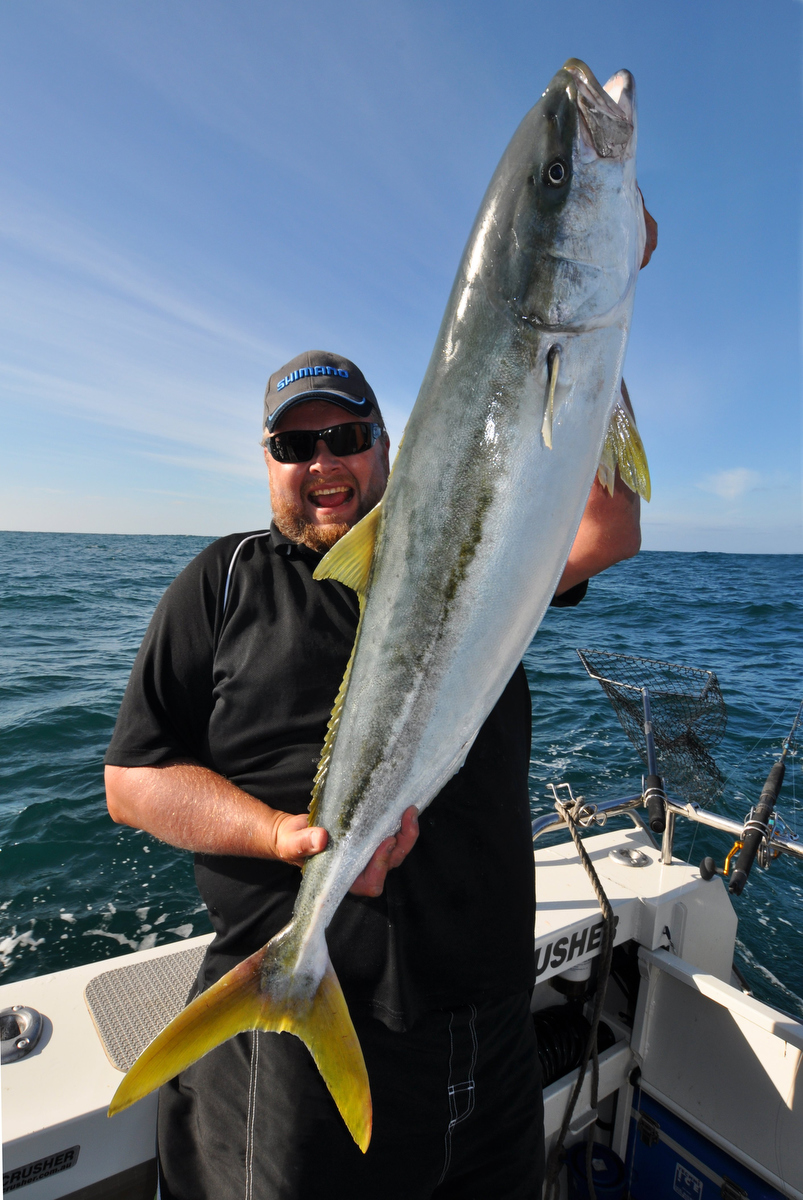 We were half way between Cape Schanck and West Head, a good 40km from Stony Pt, when the first positive signs showed. The sounder blanked out with huge balls of baitfish below, and about half a kilometre offshore we could see an angler hooked into a good fish. He said later that he was trolling a Halco Crazy Deep when the king hit. Sadly, the fight didn't last long, and the king got away — as many do.
One of our live baits bait was knocked but the there was no hook up. Then another king inhaled Gawaine's yakka, his rod doubled over, and line poured off the spool. Brendan gunned the boat to set the hook and move us away from the reef. A few minutes of hard pumping and it was all sweat and cheers as Gawaine's 8kg king was netted. It was a beginning. Two more kings were landed later in the day and several others missed.
METHODS
If you intend going after kingfish, then you will need a 15kg outfit. My advice is to use a quality threadline outfit suited to jigging and game fishing. This style of outfit will allow you to cast poppers and soft plastic lures, troll and bait fish. The only qualification other than strength is a smooth reel drag, and a well-oiled bail arm roller.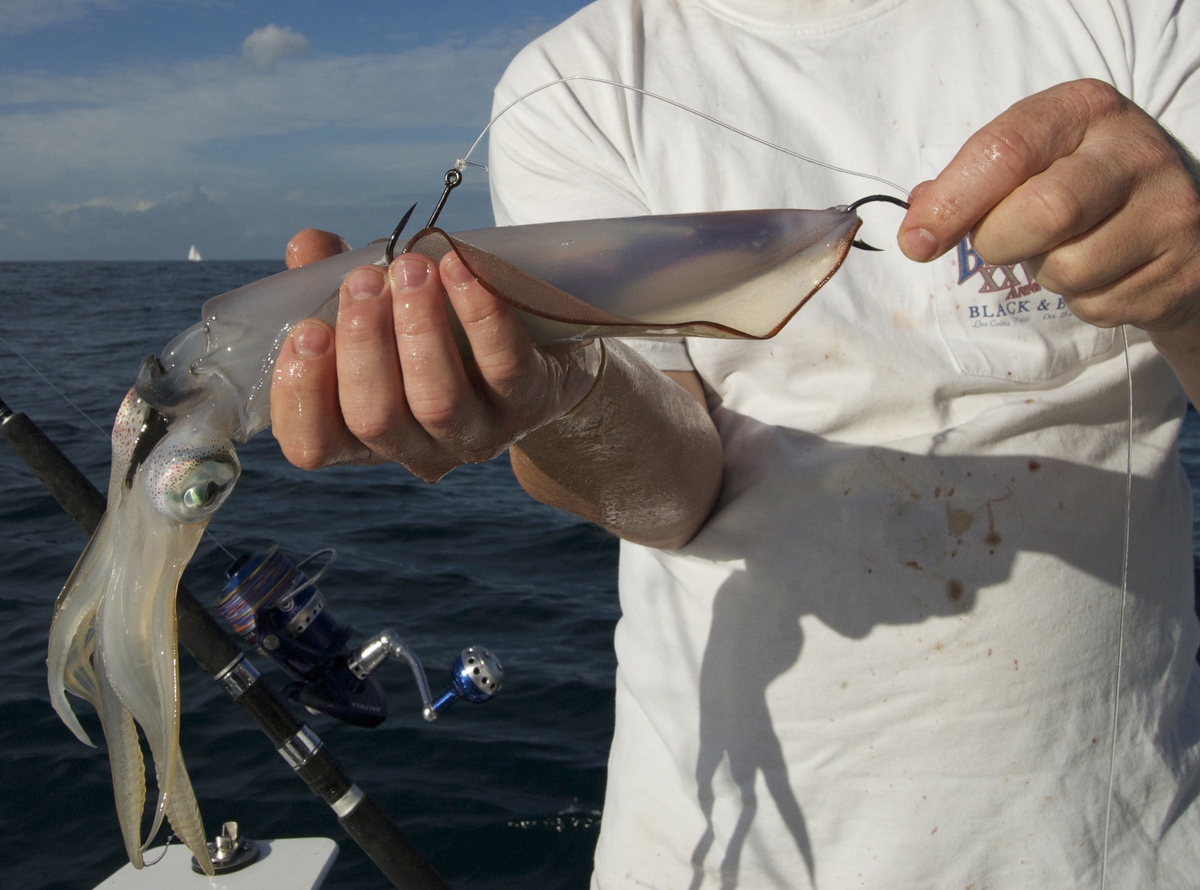 Kingfish can be caught on lures, live bait and squid strips. The choice of live bait is wide but yakkas, slimy mackerel, garfish and squid do well. Squid strips can be fished under a balloon, or they can be trolled with good effect. Soft plastic lures, poppers and large minnow lures will produce results.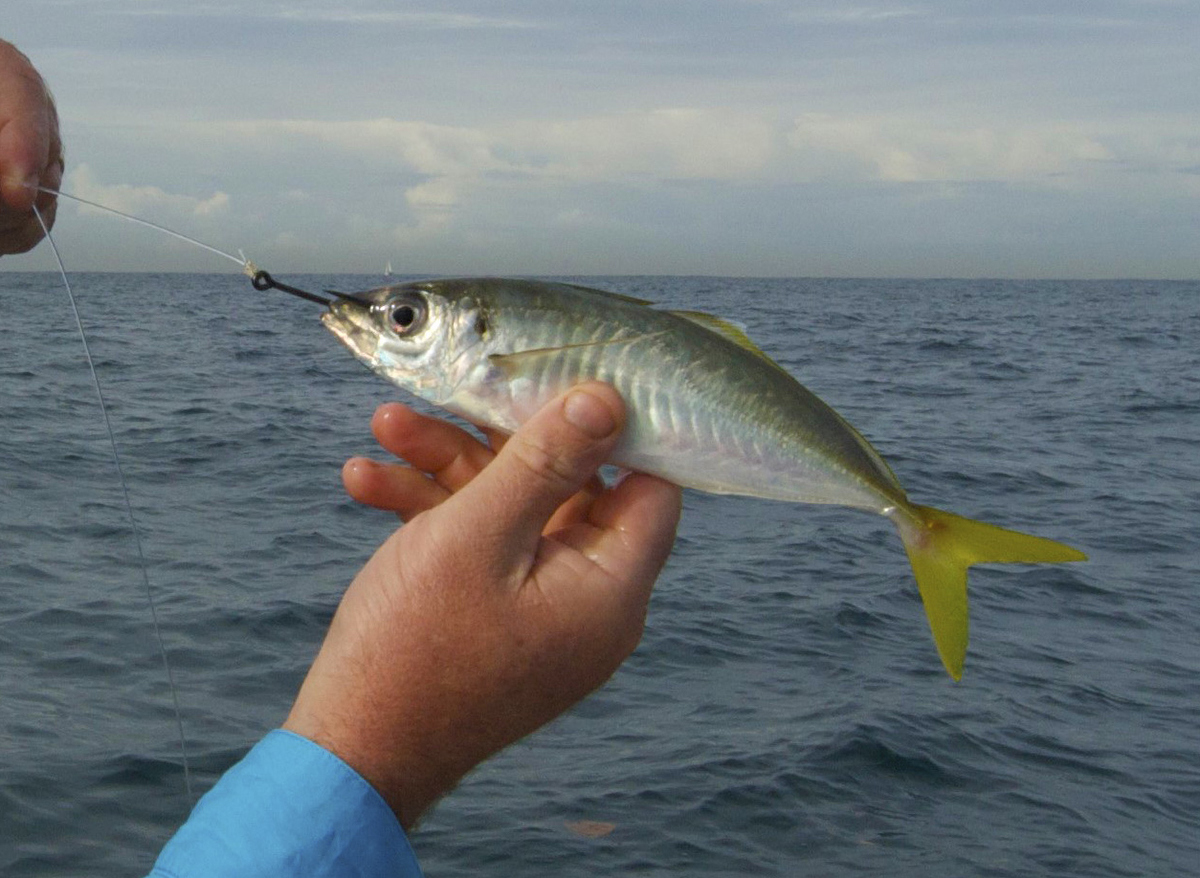 To avoid using a downrigger, due to the sharp undulating nature of the seabed, Brendan and Gawaine use the NSW alternative, which is a running paternoster rig. A heavy sinker on a light leader, tied to an Ezi-rig that runs along the main line, holds the baitfish deep. A sinker stops the Ezi-rig, and 37kg breaking strain monofilament leader, about 2-3m long with an 8/0 hook attached, is tied to the swivel. Sinkers are cheaper than downrigger bombs and the system works well. The live baits we trolled were bridle rigged, although some anglers prefer a simpler method of hooking their baitfish through the nose.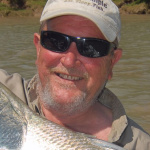 Author:
Steve Cooper
STEVE COOPER won two Walkley Awards for investigative journalism but his great love is fishing and he is renowned as one of Australia's foremost writers and broadcasters on the subject.
Comments
comments
0 comments