---
Reading Time:
5
minutes
TODAY Australia mourns one of its greatest champions, our original "Golden Girl" Betty Cuthbert. MIKE HURST has penned this special tribute:
MARION Cuthbert stumbled down the steps of the family's dilapidated weatherboard cottage in 1944, her six-year-old daughter Elizabeth blue in the face and gasping for air.
The child had swallowed part of an apple which had stuck in her trachea, blocking the airway.
As Mrs Cuthbert dashed outdoors looking for help, the jolting dislodged the obstacle from her daughter's windpipe.
An elderly neighbour propped up on his walked stick witnessed the scene of panic and heard the mother's calls for help as the child started to cough and splutter, then cry.
"God has a reason for saving that child," the old man said solemnly. "She has something special to do."
The child with a mission was Betty Cuthbert.
A dozen years later she became Australia's "Golden Girl" of athletics when she won three gold medals at the 1956 Melbourne Olympic Games.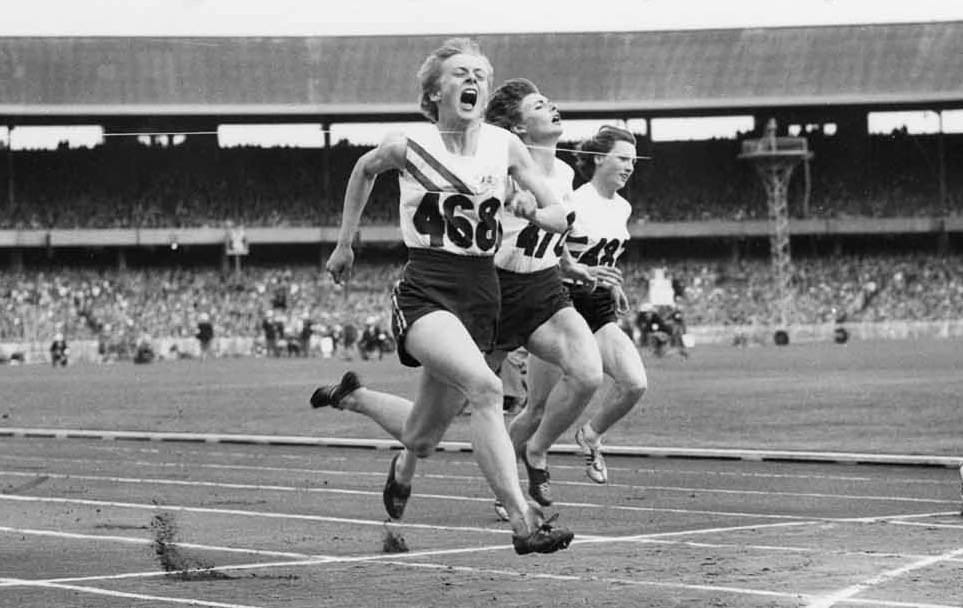 Cuthbert was then just 18 when she won the 100m and 200m individual sprint titles and anchored Australia's 4x100m relay. The women's track finals were the first scheduled on the program, so she became the first Australian to win Olympic gold on home soil.
Yet only a year earlier she had purchased tickets to those same finals, hardly anticipating she may be competing in them, much less racing into legend.
Her life ceased to become her own after the Games as she became the toast of the world.
The quiet, blue-eyed blonde with an engaging smile just wanted to return to her job at her father's nursery at Ermington in north-west Sydney.
"I slowly realised that my identity was disappearing and I was no longer a plain, ordinary girl but something different and unusual," she wrote in her 1966 autobiography, Golden Girl. "I was no longer Betty Cuthbert, the girl, but Betty Cuthbert, the athlete. My life wasn't my own anymore."
Although fame held no appeal for her, social engagements and a degree of indecision about what she wanted from life contributed to some indifferent seasons, disrupted ultimately by injury in 1960.
Nevertheless, honoured with the captaincy of the women's team, she went to the 1960 Rome Olympics where a recurrence of a hamstring muscle injury prevented her from advancing past the second of four rounds in the 100m.
She withdrew then from the 200m and relay. Without her, the relay team was disqualified in the heats.  Cuthbert's second Olympics were over and so too, it seemed, was her meteoric athletics career.
Cuthbert retired. She did not run a step for the next 18 months.
"I was washed up at 22. I had muscle trouble and felt terribly jaded," she said at the time.
"All I wanted to do was be able to go to dances and parties and enjoy myself like any ordinary girl of my age. So, I packed away my gear and decided I never wanted to go near a training oval again."
However, she came back for the 1962 Perth Commonwealth Games, reaching both sprint finals and showing a glimpse of her 1956 golden form by bringing Australia through to victory in the 4×110 yards relay.
Cuthbert retired seemingly for the last time after Perth, but as the 1964 Tokyo Olympics loomed she struggled with her destiny.
Working in her parents' nursery one day in 1963 she later told how a voice inside her kept telling her she had "something more to do".
Perhaps a further date with destiny to do what no athlete before or since has ever done: complete the sprint treble set of gold medals for 100m, 200m and 400m at the Olympics.
Read more: The Golden Girl was a worthy worldbeater
Moving up to the 400m, Cuthbert won selection for the Tokyo Games but Britain's Ann Packer was strong favourite going into the final after setting an Olympic record twice in the elimination rounds.
Then as she entered the darkest part of the tunnel leading into the main arena Cuthbert had an intuitive vision in which she won the Olympic title. She saw how she had to run the race and she felt the pain, but she knew all she had to do was follow her destiny.
Packer, the raging hot favourite, was humming a tune to settle her nerves as they walked down the tunnel. Cuthbert knew the tune and joined in. What an effect that must have had on the English rose.
Cuthbert ran the race as she had visualised and clocked 52.01sec, an Olympic and world record as the only faster time (51.9sec by North Korea's Sim Kin Dan) was not ratified.
Then Cuthbert retired, apparently complete. She had set 11 individual world records and contributed to five more relay world records.
Sadly, on September 10, 1969, destiny dealt Cuthbert a cruel blow. She was showering when she noticed red blotches all over her body accompanied by a tingle in her hands and an expanding numbness.
She believed these were the first symptoms of MS – multiple sclerosis – a chronic and progressive wasting disease of the central nervous system which scars the nerve sheaths of the brain and spine and destroys motor function.
Symptoms include loss of coordination, weakness, fatigue and muscular, vocal and visual deterioration which comes and goes. Some patients have remissions which last for years.
Nevertheless, she journeyed with the Australian team to the 1970 Commonwealth Games in Edinburgh where the famous Victorian sprinter Peter Norman recalled an instance which typified Betty.
"It was the Closing Ceremony when Betty volunteered to look after all our bags in the grandstand while we danced around on the track," Norman told me.
"We were frolicking around and I looked over my shoulder and there was Betty, joining in the fun. She told me: 'You've got to trust people.'
"Later we went to collect the bags and the only one missing was mine, with my wristwatch and camera inside it.
"But the next day I got a call from the Leith police station to come and collect my missing bag. Although it had been stolen, nothing had been taken. Betty's trust had seen us safely through."
In 1979 Cuthbert went public on her MS and for the next four years campaigned to raise public awareness and funds for the MS Society.
"I have finally found a purpose in life: helping others. And I wouldn't be able to do that if I didn't have this disability," she said. "I was meant to win in Tokyo. And if it was meant to be that I should get MS in order to help others, then that is what had to happen."
Since 1986 she has lived as a virtual recluse from public life in Mandurah, a satellite town 70km south of Perth, although she generously participated in several functions before and since the Sydney Olympics.
Although confined to a wheelchair pushed by Raelene Boyle, Cuthbert held the Olympic torch on its final lap of Stadium Australia shared by gold medallists Shirley (Strickland) de la Hunty and Debbie Flintoff-King before Cathy Freeman lit the cauldron on September 15, 2000.
According to one of her friends, who wished to remain anonymous, Cuthbert had isolated herself "because she was a charismatic Christian who may have become an evangelist".
The friend explained that Cuthbert "saw biblical visions, heard voices and took the bible literally. She was one of nature's beautiful people.
"She was naïve, simple, ordinary but one of the most extraordinary people in the world."
Ron Clarke, who captained the Olympic athletics team to Tokyo in 1964, recalled that Cuthbert "was always quite religious but kept it to herself."
Clarke, who set 19 distance running world records, explained: "It was typical Betty. If you didn't ask her, she didn't tell you.
"You would never know she was a gold medallist. What impressed me most about Betty was her calmness and how she let actions talk for her."
Cuthbert had struggled financially after a conman duped her out of her life's savings in 1998. She was obliged to sell her country property to settle her debts but she refused to sell the Olympic medals she had donated to the Olympic Museum at the Melbourne Cricket Ground.
Vale Betty Cuthbert, a great and gentle champion of Australian sport and society
Author:
Mike Hurst
As Australia's veteran athletics writer MIKE HURST covered numerous Olympic and Commonwealth Games and world championships for News Ltd while also pursuing a successful career as a coach.
Comments
comments
0 comments