---
Reading Time:
3
minutes
AUSTRALIA is headed for a bleak medals haul in athletics at the Commonwealth Games this year if the final Commonwealth rankings lists are anything to go by, as MIKE HURST reports:
THE FINAL event lists for 2017 released overnight predict Australia will win 10 medals on Queensland's Gold Coast in April, one more than the disastrous tally of nine at the previous Commonwealth Games in Glasgow in 2014.
Team captain Sally Pearson is the only Aussie runner ranked for a podium finish out of some 30 running events ranging from 100m to marathon and relays for both men and women.
On paper it does appear grim, but of course that depends on who decides to come from overseas and it is an often accurate truism that those who have travelled the most distance will find their form suffers the most.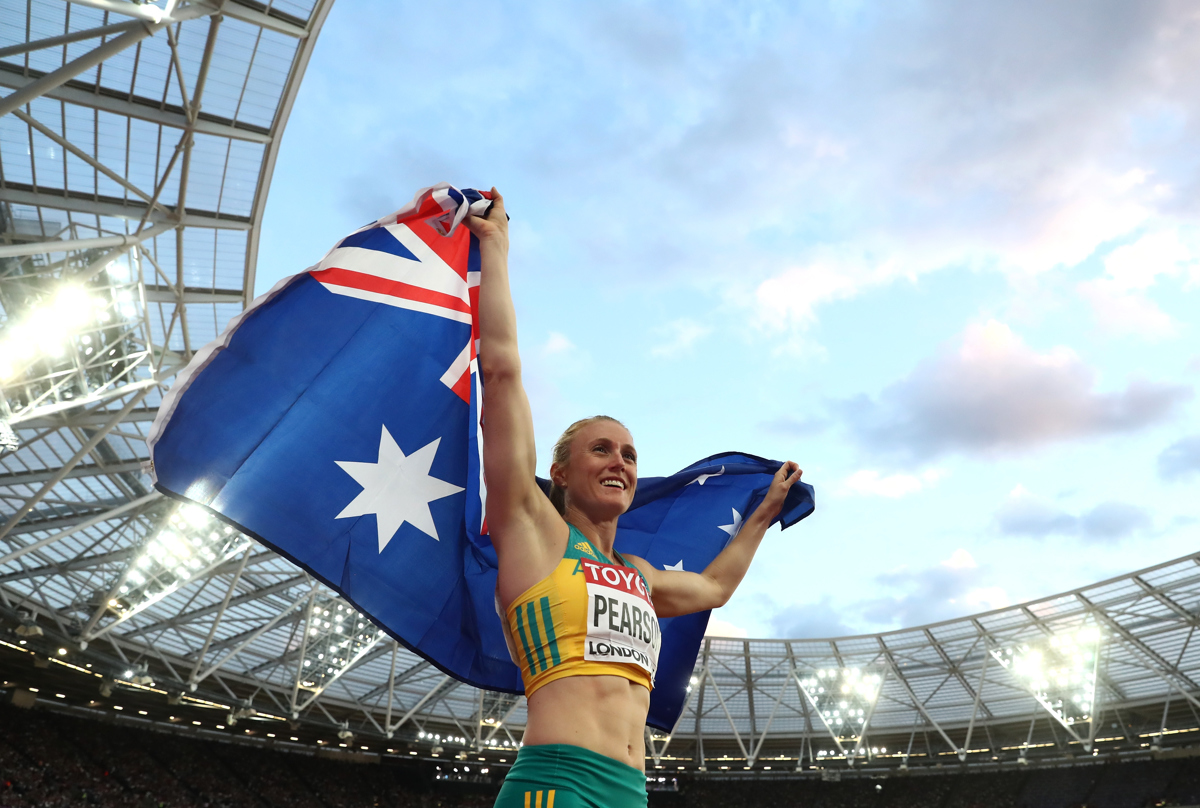 At the most recent "home" Games in Melbourne 2006, the host athletics team won 31 medals, including 12 gold among able-bodied competitors – the second highest haul in recent memory after the 13 gold won among a total 34 medals in Kuala Lumpur, Malaysia, in 1998 as Australia rode a wave of funding in the rush toward the impending Sydney Olympic Games.
Athletes with a disability (AWD) added an additional five medals, including two gold, to the Melbourne total.
AWD competitors have been a recent inclusion on the Games program but are not included on the new Commonwealth performance lists and any contribution they may make on the Gold Coast will of course be greeted by all observers.
Without three AWD medals at the most recent Games in Glasgow, Australia's able-bodied athletes won just six medals.
Only four Australian athletes are ranked No.1 and all are women. They include Dani Samuels (discus throw), Kathryn Mitchell (javelin throw), Regan Lamble (20km road walk) and world title-holder Pearson (100m hurdles).
Veterans Pearson and Samuels each won gold in Glasgow with Mitchell placed fourth. All are backing up from Glasgow except for Lamble who is new to the team as are fellow walker Bekki Smith (ranked No.2), Kelsey-Lee Roberts (ranked No.2, javelin) and Brooke Stratton (ranked No.3, long jump). Stratton was picked for Glasgow but had to withdraw injured.
No men are ranked to win an event but Rio Olympic silver medallist Dane Bird-Smith is No.2 in the 20km walk as is Games newcomer Kurtis Marschall in the pole vault, while the only other male rated for a medal is shot putter Damien Birkinhead who placed fifth four years ago and is now positioned for the bronze.
So the field and road appears to be where Australia must search for medals.
The last time Queensland hosted the Commonwealth Games in Brisbane in 1982 the home side won 22 medals.
Since then most medals have become harder to win as smaller Commonwealth nations, particularly the many island nations classified as Caribbean, have discovered that athletics can bring fame and fortune and these days even Jamaica has diversified from a nation known solely for sprinters to now include world class throwers and jumpers while distance-runner superpower Kenya tops the men's javelin throw list.
Of course if the medals were decided on rankings there would be no need to hold a contest. Darren Clark, who won the 400m gold medal and smashed a 20-year-old Games record in Auckland in 1990 was ranked only 18th the day the Games started. So anything can happen but these days it is rare for a complete outsider to win a medal at the Commonwealth Games.
But if the team is humbled as the rankings suggest may well be on the cards, questions are sure to be asked of the national federation Athletics Australia whose adventure with staging Nitro, an over-hyped melodramatic Punch-&-Judy-style pantomime exhibition around this time last summer came at the expense of more and better competitive opportunities for the greater majority of Australian athletes. And one question already posed is why has AA failed to fill the High Performance manager's job with an appropriately experienced coaching system administrator for the past 18 months.
Some would argue that AA actually has no HP system and for that matter no appropriate coach mentoring system either – all among recommendations of the Wardlaw review following Glasgow.
We live in interesting times. Bring on the Games.
Author:
Mike Hurst
As Australia's veteran athletics writer MIKE HURST covered numerous Olympic and Commonwealth Games and world championships for News Ltd while also pursuing a successful career as a coach.
Comments
comments
0 comments