---
Reading Time:
5
minutes
USAIN BOLT is the greatest track athlete in history but who takes over as the main man when the unbeatable Jamaican sprinter comes to the end of the road? MIKE HURST previews the world championships in London at the weekend:
AS the sprint king anticipates the imminent moment of his assassination or abdication at the 16th IAAF World Championships in London there has been much gnashing of teeth among those who love athletics and so fear for its future without Usain Bolt.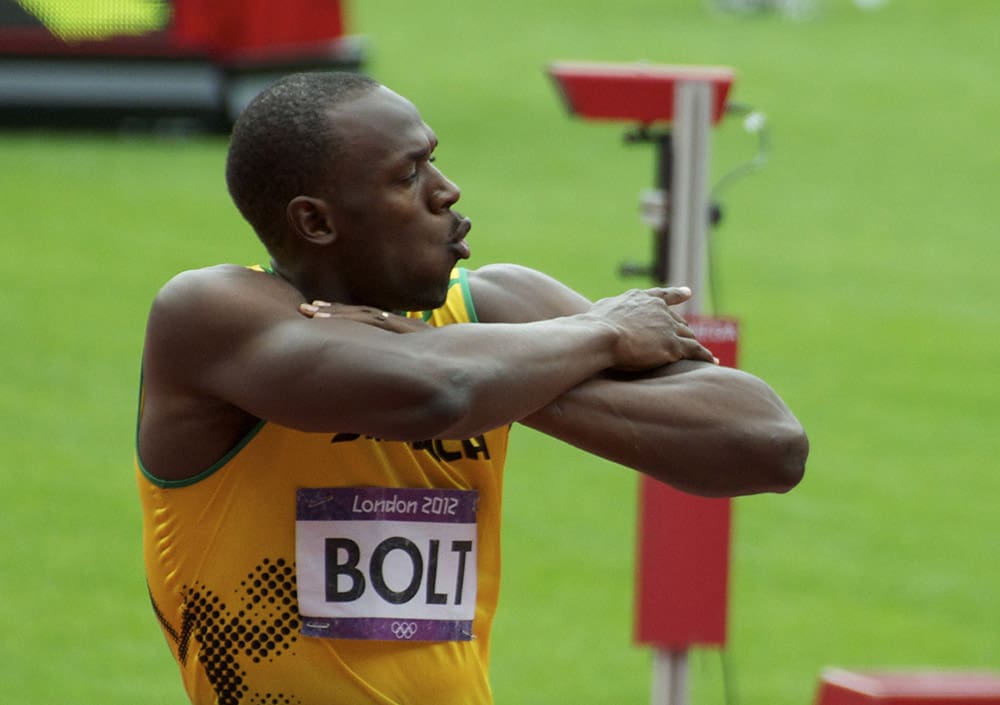 The only man to have won the Olympic sprint double twice much less a third time just last year in Rio, Bolt is the most dominant track star in the world, perceived to be "clean" (ie a non-doper) and he is most definitely immensely popular.
Bolt is the most recognised name in all of sport globally since three-time heavyweight champion Muhammed Ali; the only athlete known the world over as much for his cheerful disposition as his stunning displays of high velocity running.
Exceptionally tall (196cm/94kg) for a sprinter, this jovial Jamaican has set three world records at 100 metres, the fastest time being the 9.58 sec he clocked at the IAAF World Championships in Berlin in 2009.
That was long ago and Bolt is looking vulnerable to defeat in London over 100m given he has run slightly faster than 10 seconds only once this year. His lumbering 9.95s in Monaco on July 21, albeit for the win, ranks him only equal seventh in the world this year.
At the age of 30, biology is propelling Bolt on the downhill slide and even if he should somehow retain his world title in London it is inconceivable he could run anywhere near to his best 100m time of 9.58s.
Yet there is a man who sprinted almost that fast down the back straight in last year's Rio 400m final … and then continued to run a further 200m to set the world record over 400m.
To the mind of many sports lovers, Wayde van Niekerk's 400m victory was the highlight across all events in every sport contested in Rio. But the quietly-spoken South African seems to have crept up on the world, his 400m record of 43.03s shattering the 17-year-old mark of 43.18s set by Michael Johnson.
Van Niekerk, 24, is the only man ever to have run faster than 10 seconds for 100m, 20 seconds for 200m and 44 seconds for 400m.
Yet he was still third at the midway stage of his world record 400m despite clocking 9.8 down the 100m back straight.
America's LaShawn Merritt in fact clocked an unheard of 9.6 on the back straight to lead the final midway in 20.40 – faster than the Olympic entry standard for the 200m.
Merritt's time was fantastic albeit with the significant assistance of a 100m build-up flying start whereas Bolt ran only fractionally faster (9.58s) from a stationary start over the same distance.
Whenever Bolt abdicates or is dethroned, van Niekerk stands as the man who could be king and deserves to be. It remains to be seen whether his personality will endear him to the world in a way Ali and Bolt have been embraced.
In the meanwhile, van Niekerk has demonstrated he is here to stay with his star still very much on the ascent after smashing the world record for 300m with a time of 30.81s in Ostrava in late June this year.
Given London's frequently inclement weather it seems the elements may be against a 400m world record at these world titles but a barrier-smashing sub-43.0s remains a realistic prospect and may be what is required for the world to recognise a changing of the guard is well and truly under way.
And it is a change likely to affect not just the men's 100m in which Canada's slightly built 176cm/70kg Andre De Grasse looms as a contender for world's fastest man even though the 100m has often been defined as a race decided by "mass and momentum" so watch out also for twice-banned American national titleholder, anti-hero Justin Gatlin.
With Bolt and Gatlin non-starters in the 200m, this title could be fought out between van Niekerk and Botswana's Isaac Makwala, 30, who recently notched an historic same-day double in Madrid with his sub-44s 400m in 43.92s and 75mins later a sub-20s 200m in 19.77s. Makwala represents the biggest threat to van Niekerk in the 400m and perhaps also the 200m, while Botswana look to have the capacity to topple the USA in the men's 4x400m – an event historically among America's strongest.
The women's program is also stacked with interest but for me the 400m re-match between the Bahamas' Shaunae Miller-Uibo and America's Allyson Felix is a stand-out. Miller-Uibo beat Felix for the Rio Olympic 400m gold with what was described as a controversial "dive" across the line.
World records could be in the making by Ethiopia's Tirunesh Dibaba (10,000m) and Kendra Harrison (100m hurdles) who set the present world record shortly after failing to qualify for the US Olympic team last year.
There will of course be so many other exciting events at these world championships, but for a surprise keep an eye on US record-holder, front-running Evan Jager in the 3000m steeplechase as he attempts to dislodge the Kenyans who have dominated this event seemingly forever.
Australia has selected its biggest team to these world championships with 62 competitors including medal chances in Sally Pearson (100 hurdles), Dani Samuels (discus), Kathryn Mitchell (javelin), Dane Bird-Smith (20km walk), Jared Tallent (50km walk) and perhaps Ryan Gregson (1,500m).
FEMALE (33):
200m: Ella Nelson (NSW), Riley Day (Qld)
400m: Morgan Mitchell (Vic)
800m: Georgia Griffith (Vic), Britt McGowan (Qld), Lora Storey (NSW)
1500m: Zoe Buckman (Vic), Georgia Griffith (Vic), Linden Hall (Vic)
5000m: Madeline Hills (NSW), Heidi See (NSW), Eloise Wellings (NSW)
10000m: Madeline Hills (NSW), Eloise Wellings (NSW)
100m hurdles: Michelle Jenneke (NSW), Sally Pearson (Qld)
400m hurdles: Lauren Wells (ACT)
3000m steeplechase: Genevieve La Caze (Vic), Victoria Mitchell (NSW)
Long Jump: Naa Anang (Qld), Brooke Stratton (Vic)
High Jump: Nicola McDermott (NSW)
Pole Vault: Liz Parnov (WA)
Discus: Taryn Gollshewsky (Qld), Dani Stevens (NSW)
Javelin: Kathryn Mitchell (Vic), Kelsey-Lee Roberts (ACT)
20km walk: Regan Lamble (Vic), Beki Smith (NSW), Claire Tallent (SA)
Marathon: Milly Clark (NSW), Sinead Diver (Vic), Jess Trengove (SA)
4x400m Relay: Ella Connolly (Qld), Morgan Mitchell (Vic), Ella Nelson (NSW), Anneliese Rubie (NSW), Jess Thornton (NSW), Lauren Wells (ACT)
MALE (28):
400m: Steven Solomon (NSW)
800m: Peter Bol (Vic)
1,500m: Ryan Gregson (Vic), Luke Mathews (Vic), Jordan Williamsz (Vic)
5,000m: Morgan McDonald (NSW), Sam McEntee (WA), Patrick Tiernan (Qld)
10,000m: Patrick Tiernan (Qld)
110m hurdles: Nicholas Hough (NSW)
Long Jump: Henry Frayne (Qld), Fabrice Lapierre (NSW)
Pole Vault: Kurtis Marschall (SA)
Shot Put: Damien Birkinhead (Vic)
Discus: Mitchell Cooper (Qld), Benn Harradine (Qld)
Javelin: Hamish Peacock (Tas)­­
Decathlon: Cedric Dubler (Qld)
20km Walk: Dane Bird-Smith (Qld), Rhydian Cowley (Vic)
50km Walk: Jared Tallent (SA)
Marathon: Jack Colreavy (NSW), Josh Harris (Tas), Brad Milosevic (NSW)
4x100m Relay: Nick Andrews (NSW), Rohan Browning (NSW), Tom Gamble (Qld), Alex Hartmann (Qld), Trae Williams (Qld)
Author:
Mike Hurst
As Australia's veteran athletics writer MIKE HURST covered numerous Olympic and Commonwealth Games and world championships for News Ltd while also pursuing a successful career as a coach.
Comments
comments
0 comments