---
Reading Time:
4
minutes
ANOTHER ordinary day for Ricciardo as Miami opens the floodgates, writes PETER COSTER:
IT WAS a circus in Miami long before the victorious Max Verstappen was driven to the Grand Prix podium behind a police motorcycle escort with lights flashing and sirens blaring.
The Red Bull driver was joined on the podium by Ferrari's Charles Leclerc and Carlos Sainz, all wearing American football helmets.
Third place-getter Sainz didn't know what to make of it, so he saluted.
He was probably no less puzzled than he was during the post-race interviews by Willy T. Ribbs, the first black American driver to have driven an F1 car (it was a test in a Brabham in Bernie Ecclestone's team in the mid 1980s). Willy also drove in the Indy 500 in 1991.
A diversity advocate, the 67-year-old said he knew before he met Lewis Hamilton that "he was the second coming."
Hamilton, who is the only black driver in Formula One and convinced at least half the F1 drivers to "take the knee" for Black Lives. Matter, is usually first rather than second, although sixth in Miami.
Sergio Perez was fourth and Hamilton's new teammate this season, George Russell, was fifth.
But back to the three-ring circus.
It seemed as if thousands were on the track as commentator Martin Brundle on his pit walk said the floodgates had opened.
Brundle tried to talk to celebrities he didn't know. "Who are you?" he said to rappers and wannabes, such as a basketball star he thought was an American footballer. They all tend to be tall. Brundle, a former F1 driver, was a metre shorter. Social media loved it. They thought it was kinda quirky.
Embed from Getty Images
Many in the grandstands had a tear in their eye and held hand over heart as a little guy with a big voice belted out the Star Spangled Banner.
Some on social media thought the Americanisation of the race was "cringeworthy," but F1 owner Liberty Media would have been delighted.
The Americans love a show, even if they don't know very much about it and the hype is building for the second Grand Prix in the United States this year at the Circuit of the Americas in Austin, Texas on October 23.
Las Vegas will host a Grand Prix next season making it three GPs in the land of the free and the home of the brave.
The last time a GP was held in Las Vegas was in 1982, a year after 1980 Australian world champion Alan Jones won the race around the Caesar's Palace carpark.
Sunday's race in Miami was also held in a carpark, although the organisers did their utmost to turn it into a race around the harbour, which was the original plan.
When that failed to materialise, luxury boats were towed into the Hard Rock stadium and "moored" on a sea of blue wallpaper spread around the circuit.
So, to the race. Leclerc was on pole alongside Sainz with Verstappen third. But the Red Bull driver was past Sainz on the second corner and Leclerc by the ninth.
And so it remained until the closing laps when Leclerc got on his tail after a safety car catch-up after McLaren's Lando Norris was hit by AlphaTauri's Pierre Gasly.
That sent Noris spinning out of the race, leaving teammate Daniel Ricciardo to finish 13th after being as high as seventh before he made a pit stop.
It was another disappointing race for the Australian driver. Ricciardo crossed the line in 11th spot, still out of the points, but was dropped to 13th after.a five-second penalty for leaving the track and giving an advantage.
Ricciardo is popular in America and seemed to be mentioned over the trackside commentary as much as the race leaders.
Another disaster-filled weekend has continued the pile-on by his critics and while some may think his popularity might keep him in the driver's seat with three US GPs next year, it is also a potential reason for him being dropped.
McLaren team boss Zac Brown is backing his driver this year, but says he will talk to Ricciardo at the end of the season.
Brown admits he is already talking to three Americans, including Indycar driver Colton Herta, who says he doesn't wish ill upon Ricciardo, but he would like to replace him.
There are growing signs that Ricciardo is feeling the pressure of continually trailing Norris in qualifying and in races.
"This sport definitely still has the ability to rip your heart out from one day to the next. It hasn't been an electrifying start for me," he confessed earlier in the season.
"It's like I'm leaning new technique. It's still not 100 per cent natural for me. It's embarrassing"
Whatever, the reasons for his failures, Ricciardo knows that the benchmark for driver performance is comparison with your teammate and Norris has delivered whereas Ricciardo has consistently come up short.
Is it psychological for someone who has won eight Grand Prix (including Monza last year) and consistently rated among the top five drivers in the world's most expensive sport?
Money is also the reason why McLaren might eventually choose to part openly with the Australian next year, in spite of Ricciardo having another year on his contract.
Winning means points and points mean money in tens of millions and the Honey Badger's once keen teeth are blunted.
The desire for change is gathering momentum and Ricciardo must have only the rest of this year to turn his fortunes around.
The fans like him, maybe they love him, but that's not enough.
There is no point in going back over his decision to leave Red Bull, struggling with Renault, now Alpine and then switching to McLaren.
At the moment, the psychologist's couch might be a better fit than the seat in the McLaren.
What were the other main topics discussed as Verstappen cut Leclerc's lead for the world driver's championship to only 19 points after the fifth Grand Prix of a 22-race season ending in Abu Dhabi on November 20?
What sort of undies the drivers must wear and a ban on bling.
Some drivers prefer short underpants, not quite budgie smugglers, to fireproof long johns like their grandfathers (or great grandfathers) might have worn.
Sebastian Vettel wore his short underpants over his racing suit at Miami just to show how much he disapproved of attempts to rearrange his privates.
Bling seemed mostly aimed at seven-times world champion Lewis Hamilton. He turned up at a press conference wearing three watches, a bracelet, rings, earrings, necklaces and a nose stud.
He said when in the car he wore only "my earrings and my nose ring, which I can't remove."
Hamilton said he wouldn't race at Miami if he had to remove his jewellery and was rewarded with an exemption for Miami and the Spanish Grand Prix on May 22.
And there was something else, "One I can't really explain where it is," said Hamilton. "It's platinum, so it's not magnetic and it's never been a safety issue."
That has led to some interesting anatomical speculation.
Will there be a full reveal?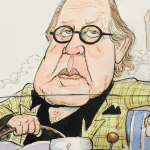 Author:
Peter Coster
PETER COSTER is a former editor and foreign correspondent who has covered a range of international sports, including world championship fights and the Olympic Games.
Comments
comments
0 comments