---
Reading Time:
4
minutes
LEWIS Hamilton is not ready yet to concede his title to the young challenger, writes PETER COSTER:
BEFORE the Brazil Grand Prix on Sunday, Max Verstappen might have doubted Lewis Hamilton's ability to stay at the pinnacle of Formula One.
The Dutch driver who leads the seven-times world champion in the world drivers' championship was philosophical.
Younger drivers replacing older drivers was the natural order of things.
Verstappen, who became the youngest driver in F1 at the age of 17, might have been talking about seven-times world champion Lewis Hamilton.
He didn't say so in an interview with Martin Brundle, but Hamilton at the age of 36 is one of the oldest drivers on the grid alongside former world champions Kimi Raikkonen and Fernando Alonso.
Raikkonen, who is 42 and won a world championship in 2007, is retiring at the end of this season and Alonso, who is 40, won world championships in 2005 and 2006.
Then there is Sebastian Vettel, who is 34 and whose four world championships with Red Bull were in 2010, 20011, 20012 and 20013.
Daniel Ricciardo, at 32, is still to win a world championship after winning eight GPs.
But defying time and turning Verstappen's theory of evolution back on him after his pre-race prognostications was Hamilton's victory on Sunday.
It was the full Brazilian. Nothing was left to prove after Hamilton overcame a total of 25 penalties across qualifying and sprint races, none of which were his fault.
He had been in first place in qualifying for the sprint race and was relegated to the back of the pack when it was discovered the rear wing on his Mercedes exceeded regulations.
He fought his way through the field to finish fifth but was then pushed back a further five places for Sunday's race because of an engine replacement.
Few gave the British driver a chance of victory or even finishing the race from the midfield as drivers bang wheels and shed wing and body parts in the starting chaos.
Hamilton had doubted his ability to cut through the pack and it was his father who reminded him he had done it before.
It was a long time ago, during an F3 race, which he won from the back of the field when similar odds were against him.
"Thanks, Dad," was his message to the father who worked at three jobs to finance his son 's career in go-karts when he was an eight year old.
In Brazil on Sunday Hamilton hunted down the field and, finally, the flying Max Verstappen who started on the front row with Hamilton's Mercedes teammate Valtteri Bottas who finished third.
Hamilton's progress was unrelenting. It was an inexorable march to victory. He was a man on a mission as all fell before him and then there was Verstappen.
The Red Bull that dominated the Mexican Grand Prix the previous week of the triple header did not have the pace of the Mercedes in Brazil.
Yes, there were differences in altitude and track temperature, which might have favoured Mercedes, which had a new engine.
Embed from Getty Images
But Hamilton won by more than 10 seconds after a passing duel that saw the Red Bull driver push the Mercedes off the track rather than let him pass.
Surprisingly, there was no investigation and no penalty for the Red Bull driver, who stayed in the lead, but Hamilton was not to be denied.
Verstappen put off the inevitable by opening his rear wing under DRS when he got close enough to cars he had lapped.
But when he had no one in front of him, it was Hamilton who got into Verstappen's slipstream and dashed past as he opened his own wing.
From 19 points ahead of Hamilton after Mexico, Verstappen is now 14 points ahead with three races remaining.
As controversy continues over Hamilton's rear wing disqualification, Verstappen was slapped with a 50,000 euro fine by the FIA for strolling over to Hamilton's car to give its rear wing a tweak.
Verstappen said he could handle that and Red Bull boss Christian Horner seemed to indicate he would be paying for it anyway with his driver due for a bonus for being first on the front row for the sprint race following Hamilton's rear-wing disqualification.
It wasn't the rear wing Verstappen gave a tweak to when the cars were in parc ferme. That seemed more to do with how much flexibility there might be in the Mercedes wing when compared with the Red Bull.
Pondering over such imponderables becomes an art form when drivers and constructors championships are so close with so few remaining races.
Without doubt, Hamilton and Verstappen are the two best drivers on the grid. No one is near them and no cars can match them.
Verstappen is right about the old being replaced by the young. The new gladiators, such as McLaren's Lando Norris, Ferrari's Charles Leclerc and Carlos Sainz and George Russell, who replaces Valtteri Bottas at Mercedes next year, are in the ascendancy.
Norris turned 22 on Sunday, Leclerc is 23, Sainz is 26 and Russell is 23.
Bottas, who goes to Alfa Romeo to make room for Russell, is 31.
But Hamilton at 36 is driving as he has never driven before, in spite of having won seven world championships.
So, when Verstappen finds himself waxing philosophical as he tries to hold off Hamilton, he might dismiss age as a factor.
For those of us who remember, Juan Manuel Fangio, who won five world championships, was referred to by his young rivals as "the old man," but they spoke of him in awe.
And for those who cannot be expected to remember, the old man's victory over Peter Collins and Mike Hawthorn in their Ferraris at the Nurburgring in 1957, when he was 46 years old, is still regarded as his greatest.
Fangio in a Maserati 250F on the old Nurburgring circuit was 51 seconds behind with 10 laps to go after a long pit stop when he reached into another dimension.
He took risks he had never taken before, braking later into corners he took in a higher gear to clinch his final victory and his final world championship.
"When it was all over," he said, "I was convinced I would never be able to drive like that again, never."
When he thought of what he had done, the old man said he couldn't sleep.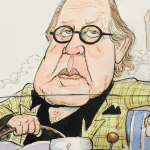 Author:
Peter Coster
PETER COSTER is a former editor and foreign correspondent who has covered a range of international sports, including world championship fights and the Olympic Games.
Comments
comments
0 comments