---
Reading Time:
2
minutes
Prior to his Test debut back in October 2018, Marnus Labuschagne was regarded as one of the brightest prospects in Australian cricket. In many ways, it's a testament to the 26-year-old's talent that his mannerisms replicate those of his idol, Steve Smith. During the ball-tampering scandal in Cape Town back in 2018, the country's cricketing reputation was at an all-time low. However, if anything positive came from the aftermath, it would be the rise of Labuschagne. So, let's take a look at how the all-rounder has stood out at the crease alongside Smith.
Being Half of a Free-Scoring Partnership
When Labuschagne walked to the crease at Lord's during the 2019 Ashes, the world of cricket perceived him as little more than the sport's first-ever concussion substitute. However, by the end of his innings, the right-hander had gained the respect of his peers. After being hit on the head with his first delivery from England's Jofra Archer, he stood firm to score a Test-equalising total of 59. In turn, this contribution would be pivotal in seeing Australia retain the Ashes.
Since then, the 26-year-old has taken his game from strength to strength alongside record-breaking Smith. For Australia, this upturn in form couldn't have come at a more crucial time, particularly given the inconsistency of their top-order batsmen. Impressively, across the first ten occasions in which they had batted as a pair, Labuschagne and Smith scored 821, as per Wisden. Their combined talent saw them become the highest-scoring partnership across all formats between September 2019 and January 2020, surpassing the likes of Aaron Finch and David Warner, along with KL Rahul and Rohit Sharma.
Teaching the Old Guard New Tricks?
Perhaps what's most intriguing about the partnership between Labuschagne and Smith concerns their equal contributions. Although the former Australia captain is one of the world's best batsman, playing alongside someone with such sporting pedigree doesn't faze the 26-year-old. According to Labuschagne's statistics at Cricinfo, he's scored 1,459 runs across 14 test matches. Regarding his average, at the time of writing, it sits at 63.43. Interestingly, by comparison, Smith's test-match standard is very similar at 62.84.
Since that pivotal day at Lord's, Labuschagne has not only stepped out from Smith's shadow but also put the pressure on his idol to perform. In the summer of 2019, the 31-year-old averaged 31.75 as he struggled to find his best form. Labuschagne, on the other hand, rose to the challenge and led by example. Going forward, if Australia are to clinch the T20 World Cup in 2021, which they are currently 4/1 to win with cricket betting, as of September 30th, then they will need Labuschagne and Smith to recapture their high-scoring form.
A Natural Successor?
In sports, it's a well-known cliche that you often find out more about a competitor in challenging times, and that is true of Labuschagne. Ultimately, scoring 59 as Smith's substitute after taking a ball to the helmet from Archer is a testament to his desire to succeed and mental toughness. Aside from his mentality, the 26-year-old has the natural ability to be Smith's natural successor.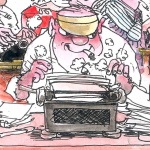 Comments
comments
0 comments