---
Reading Time:
5
minutes
A STAR on the footy field and in life, Richmond stalwart Michael Bowden has left an impressive legacy. MAX TOMLINSON reports:
THE spirit of former Richmond Tigers champion ruck-rover and Northern Territory indigenous educator Mike Bowden will continue to inspire future generations despite his untimely passing from motor neurone disease in April.
A fundraising committee has been formed to help develop the Michael Bowden Oval and associated facilities at O'Loughlin College in Darwin where Michael's son Rhett is principal.
The committee, chaired by former St Kevin's College schoolmate Brian McGuinness, aims to raise $250,000.
The appeal was launched by Rhett Bowden at O'Loughlin College on the eve of the Dreamtime clash between AFL heavyweights Richmond and Essendon in Darwin.
Doyen of the talented Rioli family, Willie Rioli Senior, also attended the launch.
Rhett Bowden said the Michael Bowden Oval would be a valuable asset to the college and a permanent reminder of Mike Bowden's generous contribution to AFL football and to indigenous education.
"The oval will be a wonderful new facility for thousands of students to enjoy and develop their sporting talents," he said.
"In particular, it will improve the lives of those indigenous students who attend or are involved in programs that would utilise the ground, including the hugely popular Clontarf and Stars programs.
"Ovals of this quality are rare in Darwin, and the Michael Bowden Oval will offer more scheduling options for AFL Northern Territory," he said.
"Additionally, the oval will further stimulate events in the suburb of Karama with increased community use and activities held on site."
Mr Bowden said ground hire fees would provide O'Loughlin College with a sustainable revenue source that will be used to finance curriculum and other program developments.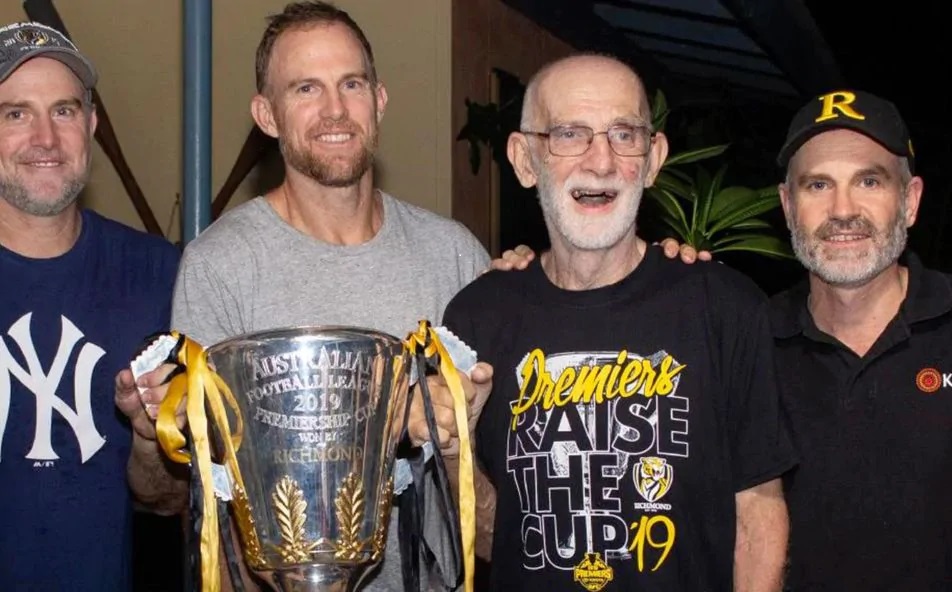 "The Michael Bowden Oval, when completed, will occupy a highly visible location and with high volumes of passing traffic, the oval will remind the people of Darwin in perpetuity of Mike's legacy," he said.
"It will be a tangible reminder of this late, great Territorian and, hopefully, continue to inspire generations of future Territorians."
Mike's death in April at the age of 73 triggered an outpouring of grief. Former Richmond teammates Kevin Sheedy and Kevin Bartlett and Territory sporting identity Charlie King were among those who paid tribute to the man for his life and work on the football field and in the classroom.
Fundraising committee chairman Brian McGuinness described his former St Kevin's College schoolmate as "a special human being".
"Anyone who knew Mike could not help but be inspired by the man," he said.
Mike Bowden was signed by Richmond after he caught the eye of Tigers talent scouts while playing for St Kevin's in the Associated Public Schools of Victoria competition.
He delayed his decision to play with the Tigers while he explored his calling to his beloved Catholic religion, spending two years at a seminary in Werribee.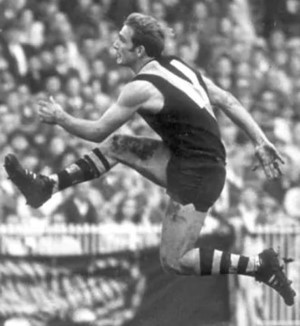 He played in the 1969 Tigers premiership team that defeated Carlton by 25 points in front of a record 119,000 spectators. The Tigers, coached by Tom Hafey, included legendary players Kevin Sheedy, Royce Hart, Roger Dean, Dick Clay, Kevin Bartlett and Billy Barrott.
Mike led the VFL with 194 handballs in a stand-out season.
Members of last year's victorious Richmond Grand Final team took the 2019 premiership cup to Darwin to celebrate the victory with the ailing former champion.
After his 59-game playing career, Mike declined the offer of a senior coaching job at North Melbourne, opting to coach Robinvale in Victoria's Sunraysia district. He later coached Camberwell in the VFA before moving to a remote Aboriginal settlement in the Northern Territory in 1983 with wife Judith and their five sons. Their daughter Majella was born in 1985.
Mike taught at Pukatja in the Pitjantatjara and Yankuntjatjara Lands, 150 kilometres south of Uluru before moving to Our Lady of The Sacred Heart College in Alice Springs.
His Catholic faith drew him to further studies, culminating in a Doctorate of Theology for his work on the links between Catholicism and Aboriginal dreamtime spirituality. He was awarded the Order of Australia Medal for his work in indigenous education.
In his final interview shortly before his death, Mike said: "I hope my life has been lived in good relationships with all other humans, all other life. I love creation and everything in it."
Mike is survived by his wife Judith and his six children – Sean, Joel, Rhett, Kane, Majella and foster son Charlie Kellett.
His children are all high achievers in sport and in their personal lives.
Sean Bowden, a lawyer based in Darwin, played for the Richmond Football Club and is the current Chairman of AFL Northern Territory.
Rhett Bowden is Principal of O'Loughlin Catholic College in Darwin, the site of the Michael Bowden Oval. Rhett represented the Northern Territory in junior football, played in a premiership in the WAFL and is coach of the O'Loughlin Catholic College Football Team.
Kane Bowden, Executive Director of Killara Foundation, which assists Aboriginal and Torres Strait Islander people into sustainable employment, is senior assistant coach of St Mary's Football Club. He has coached a senior premiership in the VAFA and many junior football teams from Under 9 to Under 16 level both in Victoria and the Northern Territory.
Joel Bowden boasts a 265-game career for the Richmond Football Club, and is currently a Member of Parliament in the Northern Territory. Joel previously worked for AFLNT and managed NT Thunder Football. He has had extensive involvement in football programs and currently coaches the Nightcliff Under 12s.
Patrick Bowden, Community Engagement Manager for the Melbourne Indigenous Transition School (MITS), played for both the Western Bulldogs and Richmond Football Club. He has coached in suburban Melbourne competitions and the WAFL and has coached a range of Indigenous junior teams.
Majella Bowden, a passionate educator, has worked across the Northern Territory with Indigenous young people from the early years through to senior secondary. She is editing Michael's upcoming book, Unbreakable Rock, which documents his experience living and learning with Aboriginal people in Central Australia.
Charlie Kellett, Michael and Judith's foster son, lives and works in Melbourne. He was a champion country Victoria footballer who went on to play at three AFL Clubs (Richmond, Carlton and Collingwood).
For more information, contact Brian McGuinness on 0438 859 628 or by email
Donations are tax-deductible and can be lodge here: https://asf.org.au/donate/michael-bowden-oval/
Comments
comments
0 comments