---
Reading Time:
3
minutes
TYRE choice proves a winner for Verstappen this time, writes PETER COSTER:
THERE was more to the 70th Anniversary Grand Prix at Silverstone than tyres. There was Max Verstappen and Honda.
But first the tyres: "I'm not going to drive like a grandma," said the Red Bull wunderkind when his race engineer warned him his tyre temperatures were soaring .
Verstappen added that his grandma was "pretty quick in a road car." All this as he was laying down the rubber around the circuit where the first Grand Prix of the world driver's championship was held in 1950.
Verstappen had failed by five seconds to snatch the British Grand Prix from Lewis Hamilton the previous week.
Hamilton's tyres were flying to pieces after similar problems had destroyed the chances of teammate Valtteri Bottas.
The six-times world champion finished the race on three wheels, but it was enough to deny victory to the fast finishing Verstappen.
This week, Red Bull opted to start Verstappen on hard tyres while the rest of the field chose mediums.
No one used the softs, which had failed to last more than a few laps in the previous race.
Verstappen was expected to be slower on the hard tyres but he proved to be as fast as the others and certainly his grandmother.
He only had to stop once. The others had to stop twice as their tyres gave out.
But then came Verstappen's driving. The Dutchman is a racer and he now appears to have a car that can match Mercedes for pace.
Ferrari has been relegated to the midfield and no one knows why.
Red Bull, on the other hand, is up to snuff. Honda's latest engine upgrades prompted Mercedes boss Toto Wolff to admit the Red Bulls were faster.
Not only that, they were a credible world championship contender.
The Japanese engine manufacturer pulled out of F1 in 2008 during the global financial crisis, returning in 2015, but failing to regain the success of their early years with McLaren.
McLaren turned to Renault as an engine supplier and will have Mercedes engines next year.
Embed from Getty Images
Conversely, Red Bull dumped Renault for Honda and their perseverance has paid off.
Head of Honda Motorsport Masashi Yamamoto wept tears of relief when Verstappen drove his Honda-powered Red Bull to third place at the Australian Grand Prix at Albert Park in 2019.
They turned to tears of joy when Verstappen then won in Austria, Germany and Brazil.
Verstappen and Red Bull have got inside the heads of Bottas and Hamilton as well as Toto Wolff.
Hamilton got out of his car at Silverstone querying whether Red Bull gained an unfair advantage because Pirelli altered the pressure it recommended for its tyres.
This followed the debacle for Mercedes at the previous race when their tyres gave out.
Bottas blamed the Mercedes team from being "sleepy" over strategy that allowed Hamilton to overtake him for second place.
Ferrari's Charles Leclerc seemed satisfied with fourth place while four-times world champion Sebastian Vettel could manage only 12th after being ignominiously dropped from the team for next season.
Next season, however, may be significantly better for Daniel Ricciardo. The Australian driver will replace Carlos Sainz at McLaren after the Spanish driver took Vettel's seat at Ferrari.
Ricciardo had a mixed weekend at Silverstone. He started behind the two Mercedes, Nico Hulkenberg in a Mercedes-powered Racing Point and Verstappen in the Red Bull.
Hulkenberg finished seventh in a remarkable performance after being dumped by Renault at the end of last year.
The Hulk has been racing in other formulas this year, but was pulled in at short notice to replace Sergio Perez when the Mexican driver tested positive for coronavirus.
His car failed to take its place on the grid for last week's British Grand Prix but this week's race was a revelation.
The German driver showed that he still has what it takes, although that has taken a very long time. He holds F1's unenviable record of 178 Grand Prix starts without a podium finish.
After the second Silverstone weekend, he may find himself back on the grid next year.
Ricciardo's 14th place came after a spin when he was dicing with Carlos Sainz.
Fourth at the same track a week before, third fastest in Friday's practice and a season-best fifth on Saturday in qualifying came to nothing.
Tyres once again raised their blistered heads. Ricciardo pointed to the Renault team's strategy in sending him out on a second set of mediums after the first had failed.
But there's always next year. Ricciardo was pipped for the seat at Ferrari by Sainz, but Sainz may be regretting the move as McLaren changes to Mercedes engines.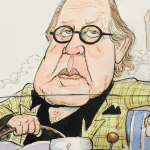 Author:
Peter Coster
PETER COSTER is a former editor and foreign correspondent who has covered a range of international sports, including world championship fights and the Olympic Games.
Comments
comments
0 comments