---
Reading Time:
6
minutes
THREE time premiership player Barry Davis, the game's purest champion, is the subject of a new limited edition biography, published by Sportshounds' KEN PIESSE:
Barry Davis is high in the pantheon of the greatest footballers never to win the Brownlow Medal.
The list includes some of the mightiest players of any era in Leigh Matthews, Ted Whitten, Wayne Carey and Gary Ablett snr.
Of all those champions, Davis was the purest and most sporting. Noted for his raking drop-kicks, anticipation and marking skills, Davis was a 'clean-skin', scrupulously fair and sporting in a rough-and-tough era of king hits and behind the play incidents.
It was a gentlemanly mindset he carried always – even into the high-pressured world of coaching.
One week, his Bombers were due to meet free-wheeling Geelong at Kardinia Park and Davis was worried about the potential influence of the Cat's in-form No.1 ruckman Rod Blake.
Going to his ruckman Peter 'Crackers' Keenan on the Tuesday night, Davis – completely out of character – asked Keenan if he could niggle him a bit and put him off his game.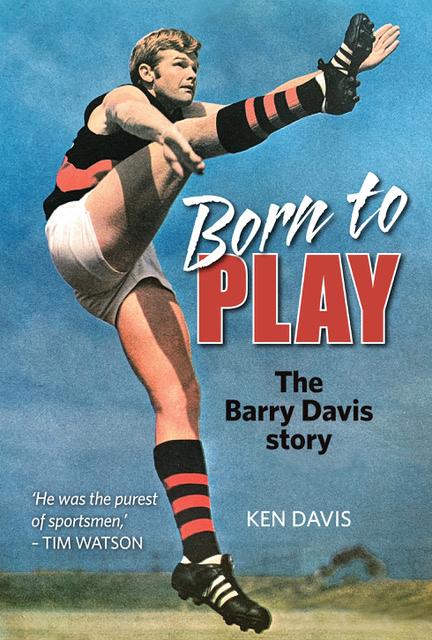 'Can you do that Peter?'
'Hell yeah.'
On the Thursday night, Barry spoke with Keenan again. 'Peter,' he said. 'I can't let you do it.'
Come match day Blake was downed early and had little influence.
Afterwards Davis approached Keenan again.
'How do you sleep at night Peter?' he asked.
'Sleeping pills, Barry, sleeping pills.'
David had handed Keenan a lifeline to continue his colourful career at Windy Hill and in addition to being his leading ruckman, Keenan also found himself the prime man in the planning for the club's post-season festivities.
'This particular year we were struggling for wins and almost as importantly, come July we had only $4000 in our players' end-of-season trip fund and we were getting desperate,' Keenan said.
'It was looking like we could afford a trip to Sorrento or Port Fairy; at best Wrest Point.
'I'd got a tip from my mate (champion jockey) Harry White. Captain Filou. Flemington. Saturday. Generous odds too. Everyone knew I had contacts in the racing game… and this tip was a beauty. I came up with a plan and put the proposal to the players: "Let's put the whole four grand on the Captain… everyone ok with that?" It was unanimous. Everyone was in. And it was at 10/1. You could imagine the boys were on tenterhooks during Saturday's game at Vic Park, waiting for the race results to be posted on the scoreboard. We were not going too well in the first half, a few of us kept looking up at the scoreboard for the race results to be posted. By half-time Collingwood had had 20 scoring shots to six. We were being slaughtered but as we ran out again, there it was the number we'd been looking for on the board. You beauty,' I said. 'It got up.' We were on a massive high and produceda big third quarter to take the lead.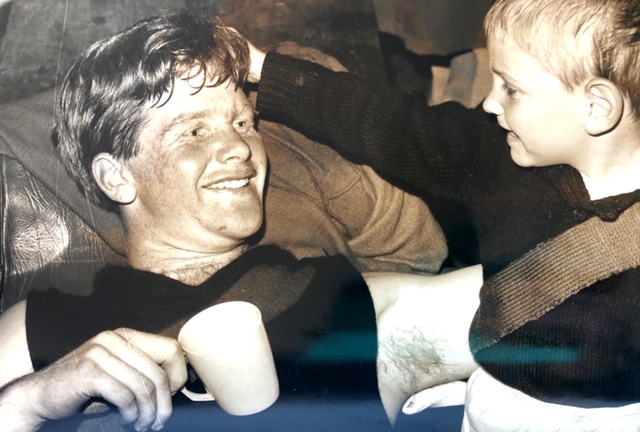 'Unbeknown to Barry, "the Captain" had got up to win at 10/1. Our $4000 had suddenly become $40,000!
'Barry couldn't fathom how we had suddenly turned our form around with every player lifting and taking on every contest like it was their last. We got beat, but only just and Barry approached me later, talking about our comeback. "How did you do that Peter?"
' "We did it for the Captain," I said.'
Having captained the Bombers, played in two premierships and formed part of the club's greatest ever half-back line of Davis, Shelton and Epis, Davis moved to North Melbourne after Essendon's new captain-coach Des Tuddenham had insisted he no longer play on the ball, where he'd twice finished runner-up for the Brownlow Medal and play back in defence.
He also rescinded his training and pre-season team fitness responsibilities.
Late in 1972, the League's 10-Year Rule was introduced in order to render the League immune from the sorts of 'restraint of trade' difficulties that were being experienced, by its Rugby League counterparts in Sydney and Brisbane.
Under the rule, 22 VFL players were eligible to move at no charge. Six did, including Davis, John Rantall and Doug Wade who transferred to cellar-dwellers North Melbourne.
Davis had refused his sign-on monies of $7000, enough to pay a hefty deposit on the trendiest cottage in South Yarra.
'It's not why I'm coming,' he told his suitors, North trio Allen Aylett, Albert Mantello and Ron Joseph. 'For me it's all about the challenge and the extra responsibility. Keep your money.'
At North Melbourne, 'super coach' Ron Barassi banned the use of drop kicks even for those expert at the kick like Barry and the WA wizard Barry Cable. It was like telling your lead violinist that they could now play only guitar. However, both did so easily and instantly started kicking drop punts with even more precision.
Davis and Barassi were poles apart, personality wise. But their respect for each other grew until they became powerful leaders in the club's climb to their first premiership. A physical education instructor, Davis ran North's pre-seasons and loved the responsibility of mentoring the younger ones.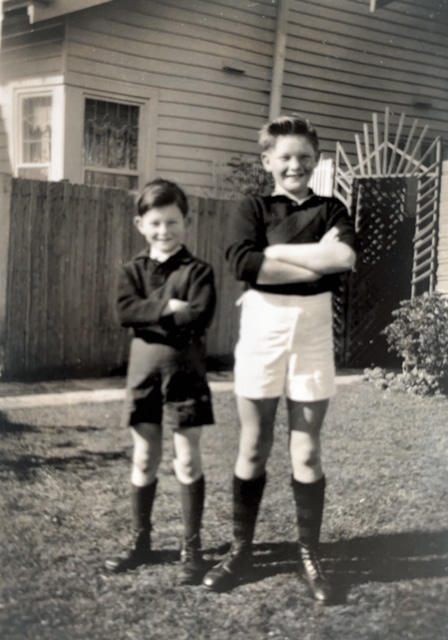 Once a fired-up Barassi ordered Davis from the ground minutes before half-time one very soggy day at Arden Street after what he perceived as his captain breaking team rules.
'Get Davis off now,' he yelled down the line to his runner Laurie Dwyer.
'Tell Ron I'm not coming off,' replied Davis.
An enraged Barassi was waiting in the race for his captain, ready to deliver a full-frontal 'pay'.
Just as Barassi was about to explode, Davis raised his arm and said: 'Don't you dare say a word until you cool down. We'll talk inside.'
And for once the vitriolic Barassi, the biggest name in football, backed off.
On Grand Final day 1975, after North had triumphed the photograph of Barassi hugging his captain is one of football's most iconic images.
Now 76 and still an avid spectator – albeit from his lounge room with the current lockdowns – Davis still loves football and in particular watching the Dons and the Roos.
Like many players of his era, he'd like to see less handball and more one-on-one contests.
He thrills at the brilliance and courage of the game's best like Patrick Dangerfield and Nat Fyfe but is puzzled why their kicking for goal is often less than exemplary.
He is a great admirer of players with poise and composure around goals like Dustin Martin, Gary Ablett jnr and Anthony McDonald-Tipungwuti.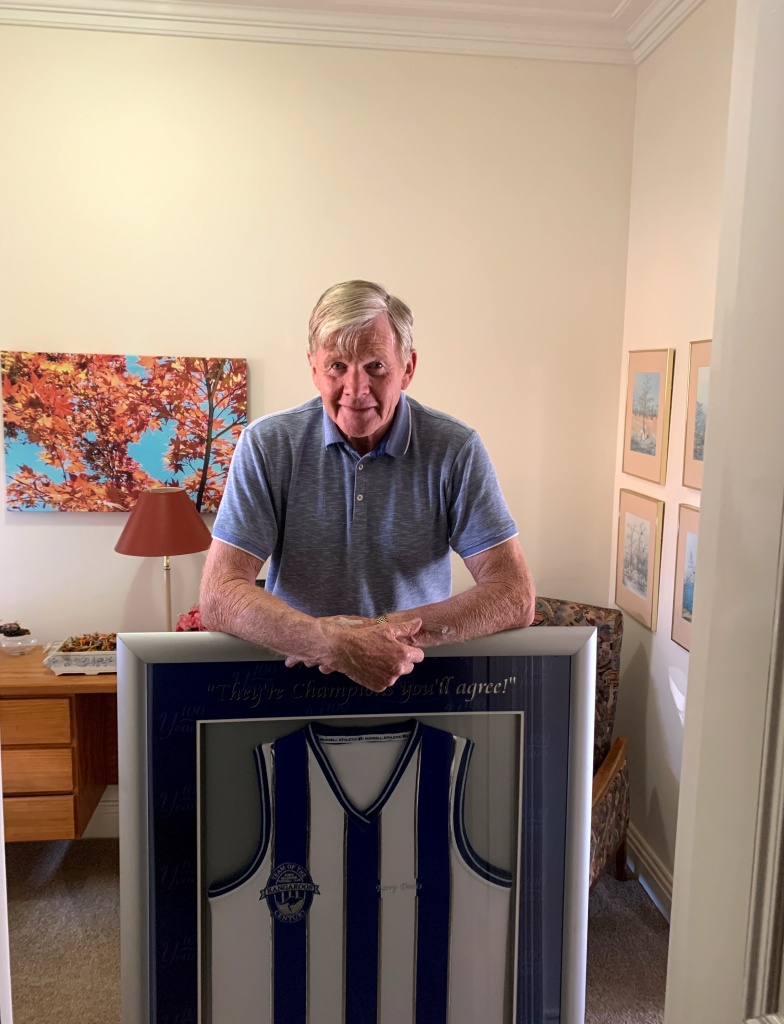 He loves the dash and dare of Charlie Cameron and Adam Saad, but is concerned about the masses around the ball that often produces slick handling and aggressive tackling under pressure but does little to highlight the exquisite skills of kicking and marking.
'The top players would all be standouts, in any competition in any era,' he said.
He remains 'gobsmacked' that his younger brother Ken has written his full-length biography, 60 years after he first rode his pushbike to Windy Hill and parked it outside the rooms.
For a time the Davis brothers were in total control at Windy Hill, Barry as coach of the football club and Ken as coach of the cricket club.
Barry also played District first XI cricket with Essendon, being a part of the famous final in 1965-66 when Northcote and Bill Lawry chased down 500-plus to win the match acclaimed the greatest club game of the 20th Century.
His 244-page book Born to Play has been released in hardback by Sportshounds columnist and leading author Ken Piesse and his publishing arm cricketbooks.com.au
It comes in two editions, the standard at $60 posted and the limited edition of just 50 which has been signed by Barry and five of his old mates Ken Fraser, John Rantall, Doug Wade, Keenan and Tim Watson, who has contributed the foreword. This version comes in a cardboard slips case and costs $225 posted. For more details contact Ken at [email protected] or phone Ken on 0419 549 458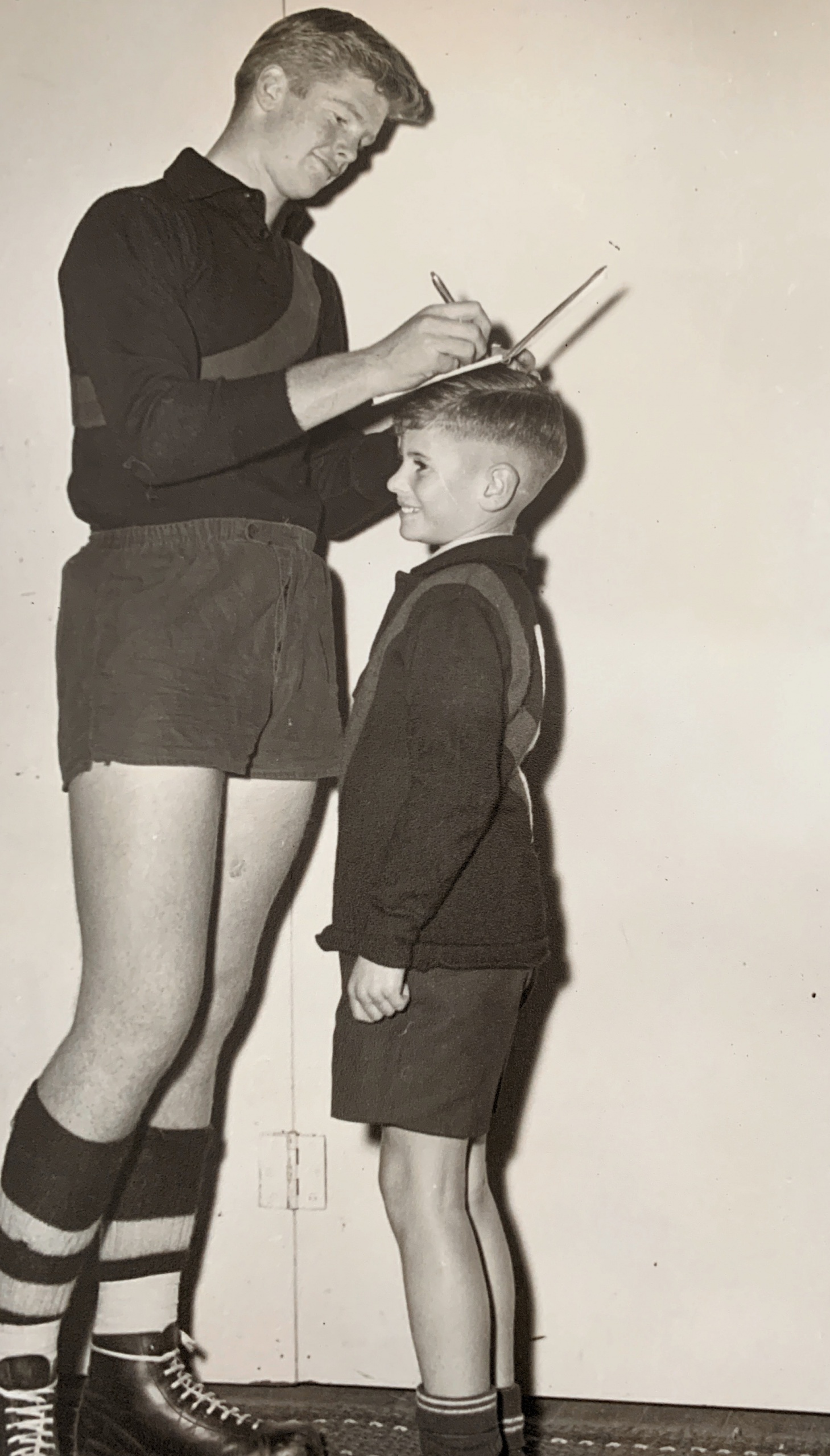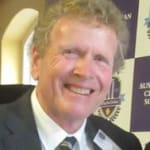 KEN PIESSE has covered cricket and football for more than 30 years in Melbourne. He has written, edited and published more than 70 sports books. His latest book, Favourite Cricket Yarns, is available from
www.cricketbooks.com.au
Comments
comments
0 comments