---
Reading Time:
4
minutes
GERMAN efficiency, which saw Lewis Hamilton win the last Grand Prix of the season at Abu Dhabi, was in sharp contest to the Italian farce at Ferrari. PETER COSTER REPORTS:
THE team and the drivers have taken it in turns to destroy Ferrari's chances against Mercedes this season.
Ferrari has squandered superior speed with team orders that have confused its drivers, while Sebastian Vettel and Charles Leclerc have made their own contributions to the chaos, colliding at the previous race in Brazil.
Leclerc finished third in Abu Dhabi behind Red Bull's Max Verstappen and Hamilton, with Vettel a distant fifth behind the Mercedes of Valtteri Bottas.
This time it wasn't driver error or team orders that left Ferrari red-faced. Team chief Mattia Binnoto is still looking for someone to blame for a humiliating miscalculation over the amount of fuel carried by his cars.
There was a difference of more than four kilograms in the fuel Ferrari said its cars were carrying and what was confirmed by the FIA testers.
The Italian team was fortunate to escape with a 50,000 euro fine. The FIA left its decision until after the race. Had Ferrari won the penalty might have been disqualification
What more can go wrong at Ferrari?
The Old Man must be spinning his wheels in his grave and would surely have sacked Binotto after a series of embarrassing and often ludicrous mistakes in his first year as team principal.
The Scuderia's problems started with its drivers as the 21-year-old Leclerc challenged the 32-year-old Vettel in his first year with Ferrari.
There were mistakes by Leclerc in the first half of the season, sometimes because of team orders that favoured Vettel.
Leclerc won in Belgium and Italy, where Leclerc failed give a tow to Vettel in qualifying as planned.
Vettel then won in Singapore when Ferrari inadvertently put Vettel ahead of Leclerc by calling him in first for fresh tyres to get ahead of Hamilton in second place. As it turned out it put him ahead of Leclerc who was leading.
Two races later in Russia, Vettel ignored another pre-race plan by not giving Leclerc back a place after a slipstream tow to put both Ferraris in front of Hamilton.
Vettel has form for ignoring team orders and pre-race agreements and those with longer memories will recall the Turkish Grand Prix in 2010 when Australia's Mark Webber was leading and Vettel barged into to him when attempting to pass.
It should have been a 1-2 finish for the Red Bull drivers who were leading the world championship.
As it was, Webber managed to finish third while Vettel could blame only himself for spinning out.
Hamilton and Jenson Button inherited the first two placings for McLaren.
There was another incident with Webber when the Australian driver was leading in the Malaysian Grand Prix in 2013 and the Red Bull drivers were again heading for a 1-2 finish. The team orders were "Multi-21".
The "2" referred to Webber and the "1" to Vettel, with the reverse order applying should Vettel have been leading. The order would then have been "Multi-12."
It turned out to be a disaster, not only because of team orders but because Vettel chose to ignore them.
The atmosphere in the drivers' cool-down room after the race was heated with Webber shouting at Vettel, "Multi-21, Seb, Multi-21".
Vettel ignored him and team principal Christian Horner said later that Vettel acted out of "revenge," blaming Webber for nearly putting him into the pit wall in the last race of the previous year in Brazil.
Now there is more trouble with a teammate with Leclerc emerging as Ferrari's lead driver as the teams move to Melbourne for the first race of the season next year.
Binotto, while blaming the drivers for "silly" mistakes, has been less than forthcoming about his own blunders.
Leclerc's back-to-back victories at Belgium and Italy might have turned into a hat-trick in Singapore before Vettel was called in first for fresh tyres.
Leclerc's manager, Nicolas Todt, who also happens to be the son of FIA president and former Ferrari boss Jean Todt, pursued Binotto around the pits after the Singapore shemozzle.
He was demanding an explanation, which didn't appear to be forthcoming, but it may be that it will be Vettel who leaves Ferrari and not Binotto.
And not necessarily to go to another team. The R-word comes up in most after-race interviews about the German driver.
The mishaps and mistakes are not always his fault and the Canadian Grand Prix saw his frustrations boil over.
Vettel was first across the finishing line but was penalised five seconds after stewards ruled he rejoined the race unsafely after sliding off the track.
That gave the race to Hamilton. When the cars arrived in parc ferme, a visibly angry Vettel swapped the one and two race markers in front of their cars.
After his convincing win at Abu Dhabi, Hamilton did nothing to deny discussing a potential move to Ferrari with Ferrari chairman John Elkann.
"Naturally, everything that happens behind closed doors is always private," said Hamilton, "whoever it is you end up sitting with.
"I love where I am, so it's definitely not a quick decision to go and do something else. But it's only smart and wise for me to think about what I want, if it is the last stage of my career."
Embed from Getty Images
It is obvious to everyone, including F1's owners, that it is Hamilton who will call the shots at Ferrari, not Vettel.
The Mercedes driver has surpassed Fangio's five world drivers' championships and is within sight of Michael Schumacher's seven world titles.
An eighth might also be possible and like all F1 drivers, Hamilton would like to drive for Ferrari, the greatest team of all.
Such is the esteem in which Hamilton is held that Toto Wolff at Mercedes admits there is a chance Hamilton might leave the Silver Arrows team at the end of 2020.
"I'm leaning out the window here," the Mercedes boss said at Abu Dhabi, "but I would rate it as 75 per cent."
He meant a 75 per cent change of staying with Mercedes. "There is a 25 per chance of which we are not in control."
Hamilton, not without a hint of immodesty, told journalists at the Abu Dhabi press conference he wished "we had some battles" during the race.
He was never challenged. His race engineer, Bono, called it "a master class," during which Hamilton failed to raise "a bead of sweat". Has Mercedes secreted a "sweat monitor" in its cars?
Hamilton cruised to his 84th victory nearly 17 seconds ahead of Verstappen.
"I noticed that you guys were battling," he said to Verstappen and Leclerc. "I saw it on the TV as I was driving past."
Just a pleasant Sunday drive for the six times world champion.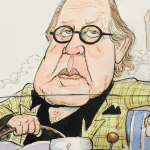 Author:
Peter Coster
PETER COSTER is a former editor and foreign correspondent who has covered a range of international sports, including world championship fights and the Olympic Games.
Comments
comments
0 comments