---
Reading Time:
4
minutes
IT'S tough enough beating your opponents on the GP circuits but fighting with your teammate is something else again. PETER COSTER reports on the battles raging inside the Ferrari camp:
"TRUTH is the first casualty of war," and while there was no Formula One in the 18th century, what Dr Johnson said back then has broken out at Scuderia Ferrari.
Four wheels have replaced four legs and horsepower has given way to kilowatts, but the good doctor's words hold true.
War has broken out at Ferrari between four-times world champion Sebastian Vettel and 21-year-old Charles Leclerc. That much is obvious.
The truth of what happened at the Russian Grand Prix at Sochi on the Black Sea is not so plain to see.
Vettel was first at Singapore the previous week after the team called him in ahead of race leader Leclerc, which gifted Vettel the race on fresh tyres as Leclerc fumed impotently over the team radio.
It wasn't "fair" that Vettel was called in first Leclerc, but "all's fair in love and war," as someone wrote a couple of centuries before Dr Johnson made his observation.
At Singapore, Vettel was happy that team orders gave him his first win of the season after being out-qualified once again by Leclerc.
But the German driver doesn't always obey team orders and those with long memories will recall the Malaysia Grand Prix in 2013 when he was behind his Australian teammate, Mark Webber, who was in the lead.
"Multi 21" was the Red Bull code for drivers to maintain their positions, in this case to preserve their tyres. In the drivers' cool-down room after the race, a furious Webber confronted Vettel, saying, "Multi-21, Seb, multi-21."
Even the Queen was interested in what happened when Red Bull boss Christian Horner was at Buckingham Palace for lunch after the race.
Horner later admitted that Vettel was driven by "revenge".
Vettel blamed Webber for squeezing him against the pit wall in the Brazilian Grand Prix the previous year.
Similarly, hostilities between the two Ferrari drivers were simmering at Sochi.
There was always going to be a problem at the start, where the long straight to the first corner leaves the pole-sitter punching a hole in the air to the advantage of the car immediately behind him.
The arrangement, later confirmed by the Ferrari team, was for Leclerc to keep to the left of the track to "tow" him past Hamilton in his slipstream, which he did only to then have Vettel pass him.
Vettel's speed build-up acted like a "slingshot" with the arrangement calling on Vettel to return the favour, allowing Leclerc to retake the lead.
As much was said over the team radio. Vettel was told to "swap" positions with Leclerc.
The first signs of defiance came when Vettel radioed: "I would have got him anyway. Let's break away for another two laps and let me know."
When Vettel was told on lap seven to "let Charles go by", he replied bluntly: "Tell him to close up."
By the next lap, Leclerc was on the radio telling Vettel, "You put me behind. I respected everything. We will speak later, but now is too difficult to close the gap, obviously."
Two laps later and Leclerc was told Hamilton was too close for a "swap" to take place.
Ferrari stepped in when Leclerc was called into the pits to change tyres.
Vettel was called in two laps later but had been slowing on worn tyres and Leclerc retook the lead.
But fate rather than team orders intervened when Vettel's car had an electrical failure on the same lap and he parked beside the track.
This brought out the virtual safety car, which gave Hamilton and Mercedes teammate Valtteri Bottas what amounted to a free pit stop as the field bunched up and they finished ahead of Leclerc.
"The agreement was very simple," Leclerc said after the race, although few would have thought so.
"I had to give the slipstream to Seb at the beginning, let him past at the second corner for us to be first and second and then to swap back."
Vettel, however, appeared to have suffered a memory lapse. "I don't know exactly what happened," he said. "We had an agreement. I spoke with Charles before the race and I think it was quite clear, but maybe I missed something. We will speak later."
That didn't mean speaking to the interviewer. "I don't want to share," said the four-times world champion truculently.
"I don't want to put the team in a bad position afterwards.
"I know it's not fair because I think people deserve to know. We were talking about a strategy to find a way past Lewis. I had a very good start and there were a couple of options. I prefer not to expand."
Ferrari team boss Mattia Binotto was less than expansive and found himself in much the same position as in Singapore, when Leclerc's personal manager, who happens to be the son of former Ferrari principal and FIA chief Jean Todt, had him bailed up in the pits.
At Sochi, there was more toing and froing than apparently ordered on the track.
Leclerc would give the slipstream to Sebastian and Seb would give the lead back if he passed Leclerc.
This is not racing and neither Leclerc nor Vettel can be blamed for turning a deaf ear to the team radio when it starts to crackle.
"We initially asked Seb to give the position back," said Binotto. "But fair enough to say that at some stage maybe Charles was not close enough and we would have lost some time. Later on Seb was quite fast and gained some advantage, so we knew we could decide to do it later."
Who said what and to whom would have been unnecessary had there been no team orders.
Your correspondent is full of literary allusions this week. To reverse Winston Churchill, "jaw-jaw has led to war-war".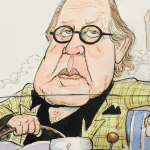 Author:
Peter Coster
PETER COSTER is a former editor and foreign correspondent who has covered a range of international sports, including world championship fights and the Olympic Games.
Comments
comments
0 comments