---
Reading Time:
4
minutes
WHEN Sebastian Vettel crossed the line in front of the Formula One field in Canada most people thought the race was is. But, as PETER COSTER writes, the stewards thought otherwise:
"NO, no, no," sang Amy Winehouse in Rehab. "No, no, no, no, no, no," screamed Sebastian Vettel when he lost the Canadian Grand Prix to a stewards' penalty.
It's the stewards who should be in rehab after penalising the Ferrari driver, who they said rejoined the circuit "in an unsafe manner" after he ran wide on the 48th lap.
A furious Vettel won the race on the track and replaced the No. 1 marker in front of Lewis Hamilton's Mercedes with the No. 2 board when the cars were in parc ferme after the race.
He will probably be penalised for that as Formula 1 sees another race decided, not by team orders, but by reversing what happened on the track.
Ferrari is challenging the stewards' decision and may have the clout to change a wrong result.
Vettel ran wide when his car's rear end refused to stick on a right-hander and he swung back on to the track, still in front of Hamilton who tried to squeeze his Mercedes between the Ferrari and the wall.
There wasn't room and he braked to avoid a collision.
But it was Vettel who was in front and Hamilton who would have to give way if he was attempting a passing manoeuvre on a corner and was blocked. The stewards should have declared what happened in Canada "a racing incident" with Vettel going on to win.
As it was, the Ferrari driver finished 1.5 seconds ahead of Hamilton and short of the time penalty imposed by the rewards.
"No, no, no guys," continued Vettel after he was told of the decision by radio. "They're stealing the race from us."
As the incident unfolded on the track, race commentator Martin Brundle, who drove in 158 Grand Prix, including a podium finish in Australia, said the stewards would not impose a penalty.
Nor they should have. It is this kind of interference that is infuriating F1 fans, particularly this season when team orders have forced drivers to give up track position in favour of Hamilton and Vettel.
Mercedes and Ferrari are the prime offenders in calling on Valtteri Bottas and Charles Leclerc to let their world champions pass after the two world champions have demanded the other drivers pull aside.
Embed from Getty Images
What happened at the Circuit Giles Villeneuve in Montreal, Quebec, only adds to the frustration felt by fans.
This time it is Ferrari that is furious. The "bloody red cars" of Enzo Ferrari, as they were described by Vanwall owner Tony Vandervell, occupy a unique position in Formula One.
Ferrari has a long-held right of veto over FIA regulations and has forced the sport's ruling body to backdown in the past.
There is now a challenge to the Scuderia's domination by Williams deputy team principal Claire Williams as the sport moves towards major changes in 2021.
Williams and other team owners say Ferrari has an unfair advantage while Ferrari, to no one's surprise, says its veto protects teams from sometimes ridiculous regulations. There has been more than enough of that in the past.
Changes can mean lives saved, or lost. The Tifosi were reminded of this as tributes flooded in for McLaren and Ferrari triple-world champion Niki Lauda who died three weeks ago.
Lauda was trapped inside the burning wreck of his Ferrari when he crashed at Germany's Nürburgring in 1976.
The Austrian suffered severe burns before other drivers stopped and pulled him from the wreck.
Now the "halo" has been introduced, which may cost a driver his life as he struggles to climb out of a burning car.
A test showed Valtteri Bottas taking nearly 10 seconds to escape from his Mercedes when the FIA stipulated getting out in seven seconds and that had been increased from a previously mandated five seconds.
The FIA seemed to think a fire would wait a couple of seconds longer, whereas it was more likely drivers would be injured while clambering to get out of a car.
Lauda's death came after a double lung transplant last year because of badly seared lungs while he was trapped in the wreckage.
Niki Lauda inhaled toxic fumes when he was trapped in his Ferrari. A halo would have made it worse.
There has been an instance of the cage-like frame saving a life, as when Fernando Alonso's McLaren flew over Charles Leclerc's Sauber at last year's Belgium Grand Prix.
Alonso's car flew over the Sauber after a collision with Nico Hulkenberg's Renault at the start of the Belgian race.
Had it not been for the halo, Leclerc would certainly have been killed. The deep gouges on the halo from Alonso's McLaren would have been across Leclerc's helmet had it not been there.
Whatever happens as a result of the Ferrari appeal in Canada, it is another case of a race being decided by off-track interference. Not only stewards and teams are involved in changing the ways races are won, computers also contribute to mistakes.
Leclerc was held back from running another lap in qualifying at Monaco because computer software decided he had a sufficient gap over other drivers.
But the others simply drove faster and Leclerc found himself starting 15th and crashing while trying to do what is almost impossible at Monaco, pass another car.
Some drivers and teams, notably Lewis Hamilton and Mercedes, have differing opinions over the Canadian result.
Former world champion Nico Rosberg says Vettel was in the wrong and the five-second penalty was "absolutely fully deserved". Just in case anyone was in doubt.
Rosberg thinks Vettel had an opportunity to get back on the track without impeding Hamilton after he ran across the grass at the first chicane on lap 48.
"He could easily have left more space, but he didn't," said Rosberg.
There are two things to be said about this. Vettel said he was "out of control, where do you want me to go"?
Secondly, Rosberg is a former world champion for Mercedes.
Enough said.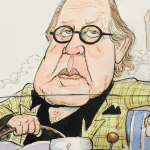 Author:
Peter Coster
PETER COSTER is a former editor and foreign correspondent who has covered a range of international sports, including world championship fights and the Olympic Games.
Comments
comments
0 comments